Victoria, it's time to stretch your legs and get on the beers; you have well and truly earned a holiday. We've hand-picked some of the most tantalising tiny homes near Melbourne so you can jump on bookings for the weeks and months ahead.
While some of these highly coveted escapes book out at the drop of a hat, there is some good news. To the rest of Australia, Victoria is still off-limits – so you're just competing against yourselves.
The 12 coolest tiny homes near Melbourne
The House on The Hill Olive Grove, San Remo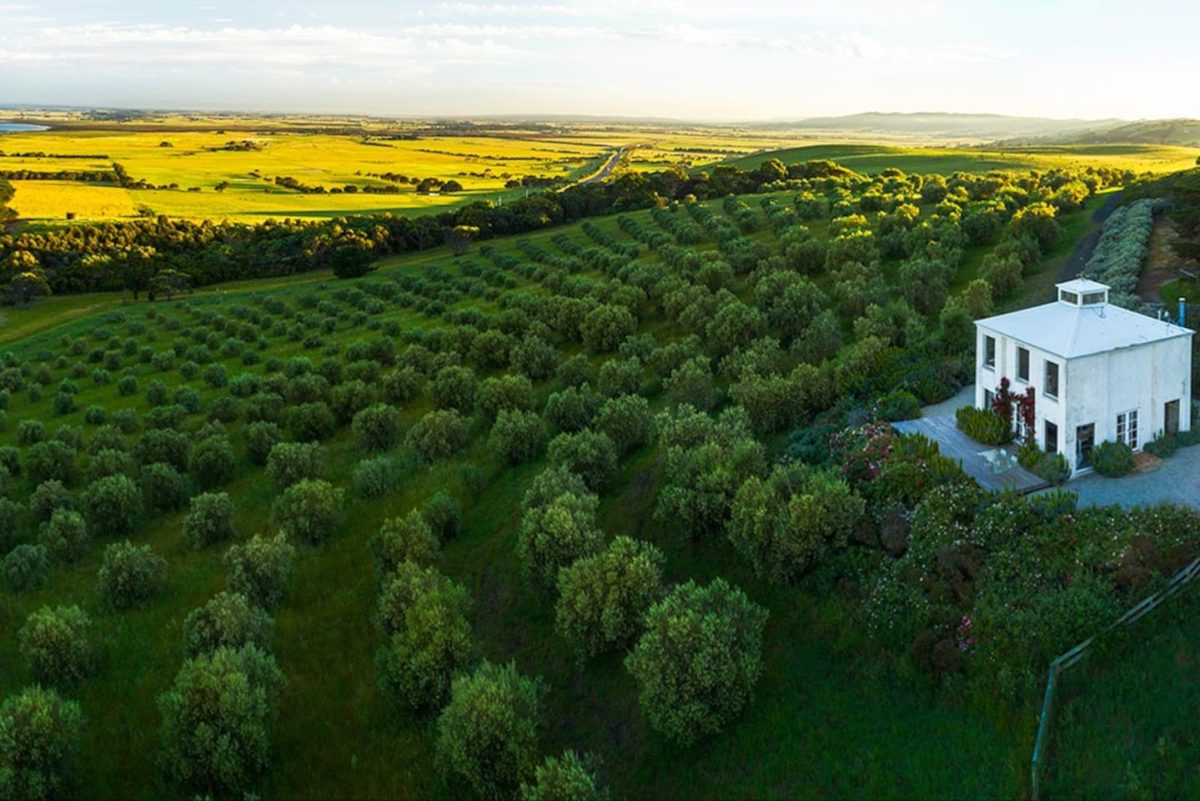 This Mornington Peninsula villa might be the closest you'll get to Tuscany this year, but we promise, you won't be settling. The private double-storey abode sits amongst a thousand olive trees with panoramic views of Philip Island and Westport Bay. This one is actually so enviable, we're hesitant to share it. Perfect for a weekend getaway, or the perfect mid-way pit stop en route to Wilsons Promontory.
---
---
Distance from Melbourne: 1 hr 30 mins
Cost per night: $320
---
Shacky, Yarra Valley
To truly switch off, go no further than the fast-growing off-grid cult brand, Shacky's. At only 2.5m wide and 8m long, their Yarra Valley wine region offering still packs a punch, boasting floor to ceiling doors, a queen-size bed, generous bathroom space and unending views of rolling hills, creeks and bushland. Your pooch is welcome to join you, as you meander the 1500-acre cattle farm. Situated on the doorstep of Yellingbo and Yarra Valley vineyards, be sure to bring back a few bottles of red to enjoy by the outdoor fire pit.
Shacky also offers two other premium tiny homes near Melbourne.
Distance from Melbourne: 1 hr 10 mins
Cost per night: $199 (weeknights) & $249 (weekends)
---
Breakneck Gorge Oikos, Hepburn Springs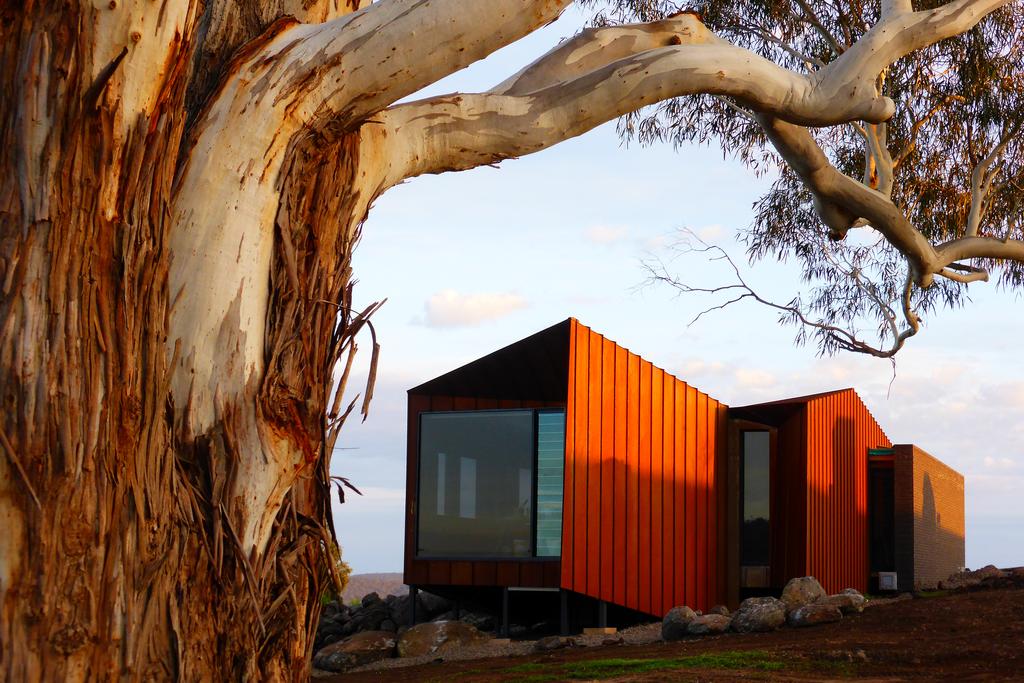 Lads, this one is pure drama. This multi-award winning sculpture is the perfect fusion of architecture and tiny cabin-porn. You'll find it sitting on the side of a ridge, atop an 18-hectare property overlooking Hepburn Springs and Daylesford. The rusted Corten steel exterior was designed to blend into the landscape, but the jaw-dropping interior is designed to stand out. It's fitted with an expansive viewing deck, glass-framed cowhide daybed, designer furniture, and a freestanding black polished cement double bath overlooking the gum trees.
They also have an equally as tantalising second offering "Akora" on the same property.
Distance from Melbourne: 1 hr 30 mins
Cost per night: $350 (weeknights) & $440 (weekends)
---
---
---
Grayling's Gift, Lexton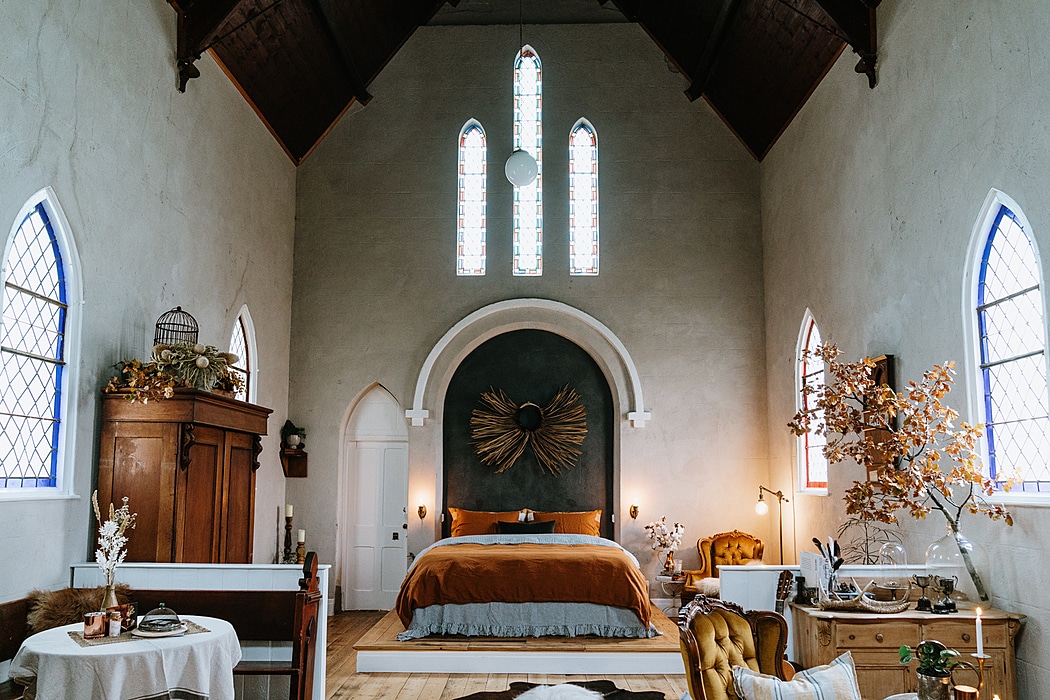 If you manage to score a booking at this 19th-century church conversion, take one for the team and pray 2021 will be a smoother ride for all of us. Indulgently styled to reflect its 140-year-old heritage, the space has everything you need to relax including Chesterfield lounges and a hearty complimentary breakfast.
Distance from Melbourne: 1 hr 50 mins
Cost per night: $275 (weeknights) & $325 (weekends)
---
Japanese Zen Retreat, Gippsland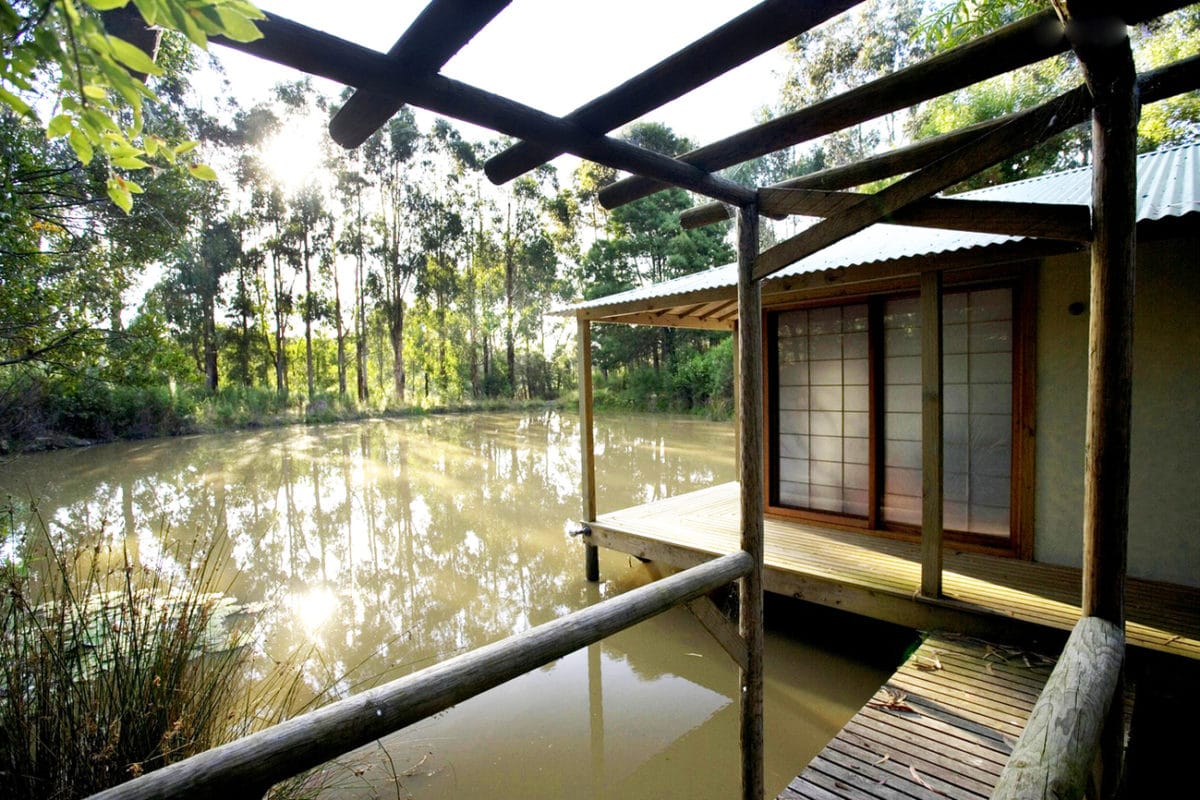 Serenity now. Achieve maximum zen at this retreat, where Kyoto palatial styling meets 22 acres of Australia bushland. The two-bedroom home is built to traditional Japanese spec; featuring tatami mat floors and spacious wooden verandas. Restore and rejuvenate in the surrounding Japanese gardens or alternatively venture into Mount Baw Baw.
Distance from Melbourne: 1 hr 25 mins
Cost per night: $250 (weeknights) & $300 (weekends)
---
Callignee II Eco Bush Retreat, Gippsland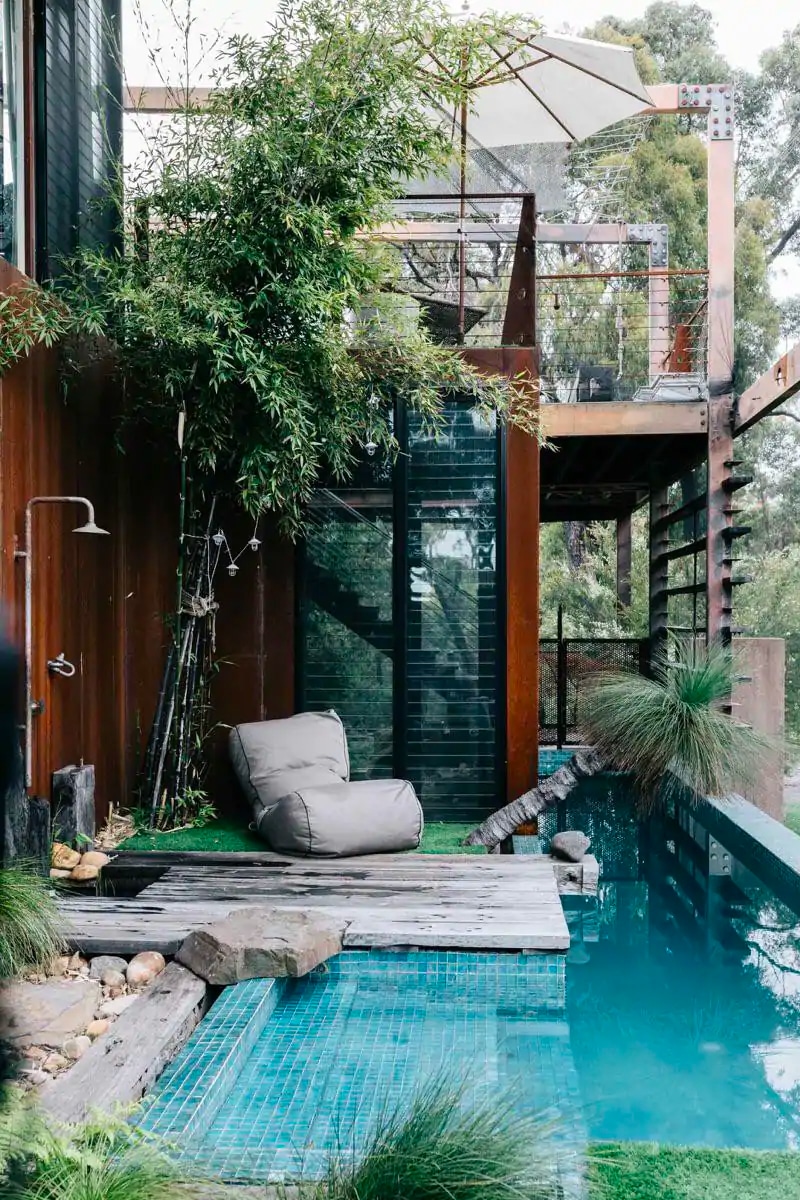 If this one rings a bell, you probably frothed over it on the first-ever episode of Grand Designs Australia. This 100% off the grid property is truly nirvana. The main bedroom on the lower level features a kingsize bed and an ensuite masterpiece with open glass double head shower. The guest bedroom takes over the mezzanine level. The perfectly blurred outdoor living, culminating in a spectacular nineteen-meter lap pool. Not exactly a tiny home by definition, but it's was tiny enough that we couldn't leave it out.
Distance from Melbourne: 2 hr 10 mins
Cost per night: $345
---
Tiny Pip, Heathcote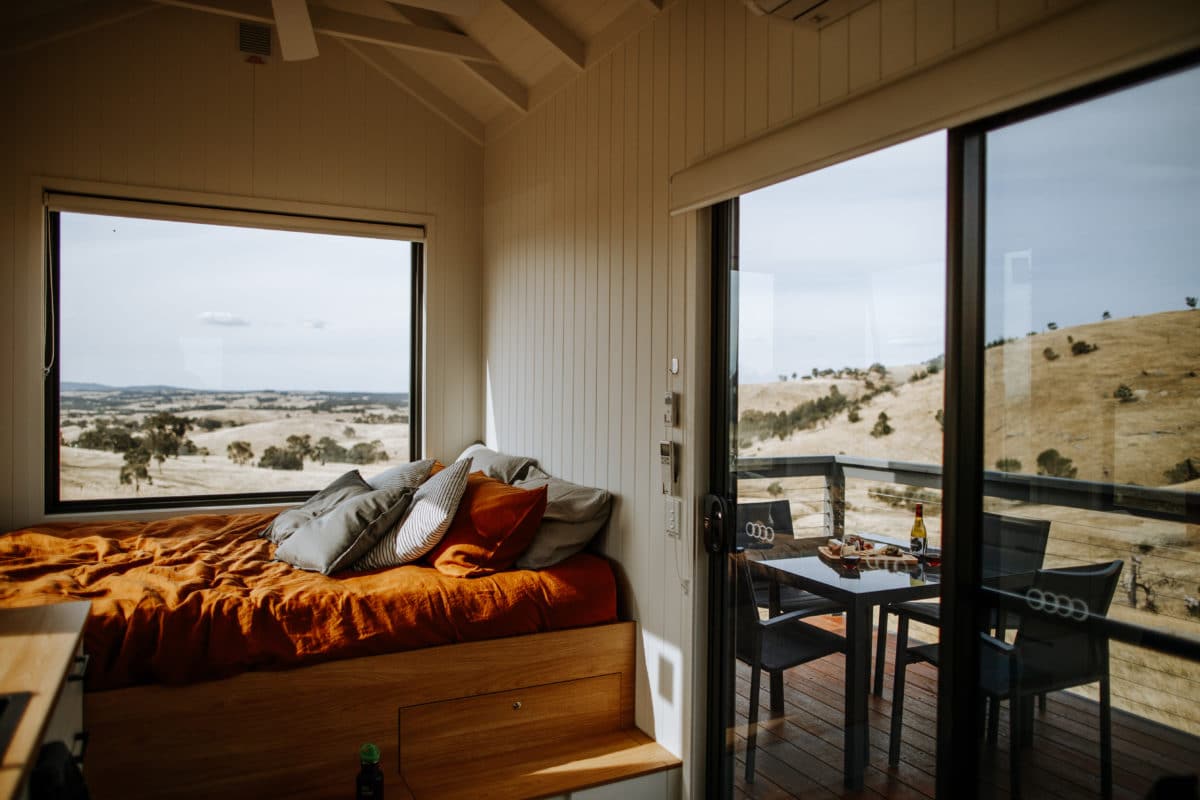 Tiny Pip is an off-grid tiny home bang on 100km's from Melbourne in Heathcote's wild and rugged Shiraz region. Pip sports In2thewild's new premium cabin design, allowing for more spacious lazing and grazing for up to four in Carlotta & Gee luxury french linen… perfect for that dusty morning after a day exploring the local cellar doors. As well as all the off-grid living comforts you'd expect, the new design even incorporates full power points (for sneaking in enough charge for a movie before bed). A bit of forewarning – the pull to disconnect will be strong, but the pull towards a cracking local Cab Sav will be stronger. Enjoy a glass while taking in unadulterated sunset views over a dramatic landscape of rolling hills and mobs of kangaroos.
Distance from Melbourne: 1 hr 30 mins
Cost per night: $289 (weekdays) & $359 (weekends)
---
---
---
The Cabin Lorne, Lorne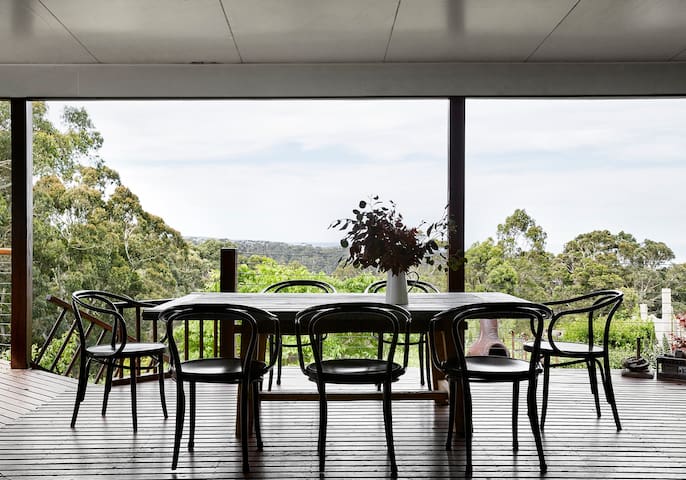 This hand-built Scandinavian hideaway sits atop six acres of lush gardens which gently slope to reveal Lorne ocean views. Spend your day seaside in Lorne, exploring the Otway State Forest or foraging the property's own veggie patches, which formerly supply Cecconi's restaurant with herbs and fruits.
Distance from Melbourne: 2 hrs
Cost per night: $277
---
Sea Joy Studio, Jan Juc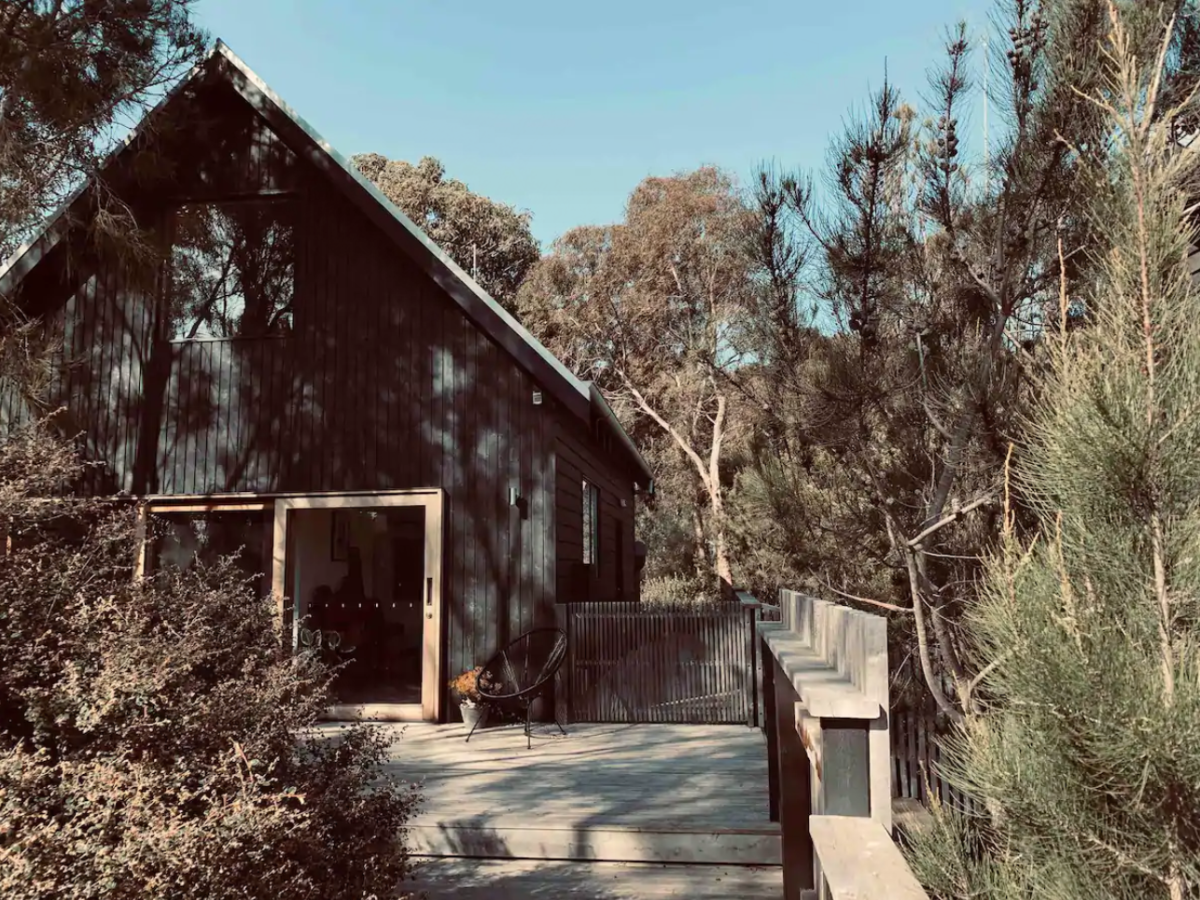 Grab your longboard, as just steps from Jan Juc, is the perfect coastal retreat to explore some of our states best beaches, including Bells Beach, Winki and Bird Rock. After a day of riding, relax back to this open plan loft that boasts an expansive north facing deck and open fire pit. The home is situated on the existing family property, but guest privacy is paramount.
Distance from Melbourne: 1 hr 25 mins
Cost per night: $227
---
The Stables, Daylesford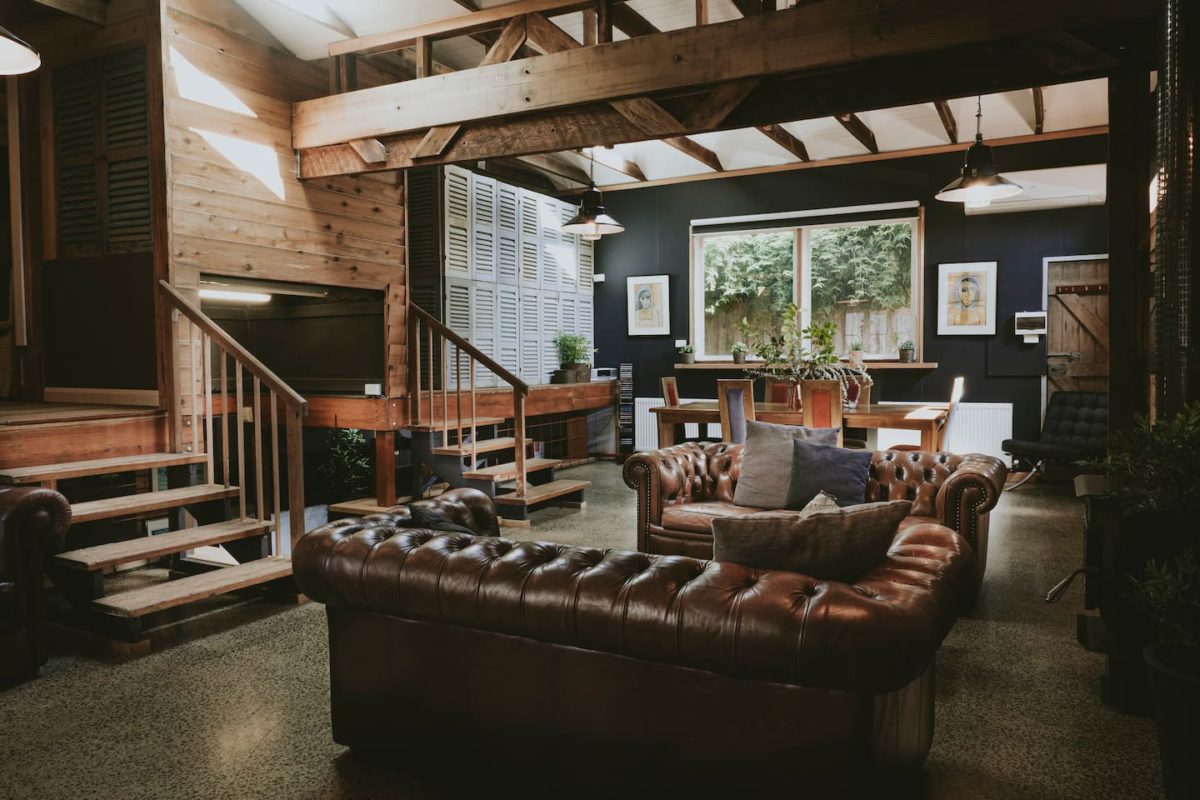 Chesterfield lounges galore at this elegant Daylesford offering and former bus depot. The split-level haven boasts exposed beams, polished concrete flooring, a wood-fired heater and impossibly high ceilings. You're just steps from Daylesford's elite culinary offerings, including 'Cliffy's' Cafe, the town's best breakfast, and 'Sakana', the casual offshoot of Melbourne's premium Japanese 'Kazuki.'
Distance from Melbourne: 1 hr 30 mins
Cost per night: $265
---
Unyoked Anant, Central Gippsland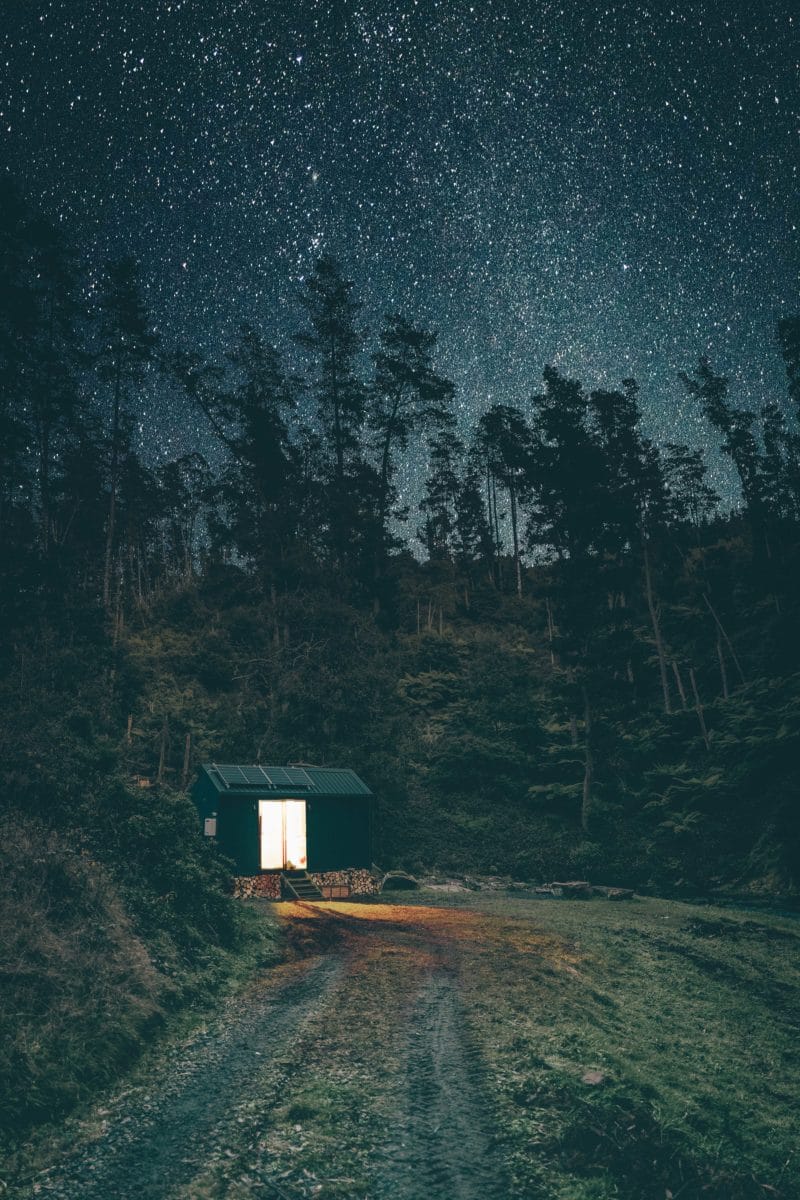 Less is more is the mantra of this Unyoked forest escape. The cabin is handcrafted with sustainable materials and 100% off the grid. The soothing sounds of the nearby running creek are included, but you'll be pleased to know that Wi-Fi is not. This is the option if you want to camp out in comfort completely disconnect from the outside world. Bedding, towels, stove, and fire pit are included. If the dates have filled up, try cop a booking at the other five Unyoked tiny homes near Melbourne.
Distance from Melbourne: 2 hr 15 mins
Cost per night: $223 (weeknights) & $253 (weekends)
---
---
---
In2thewild's Elliott, The Grampians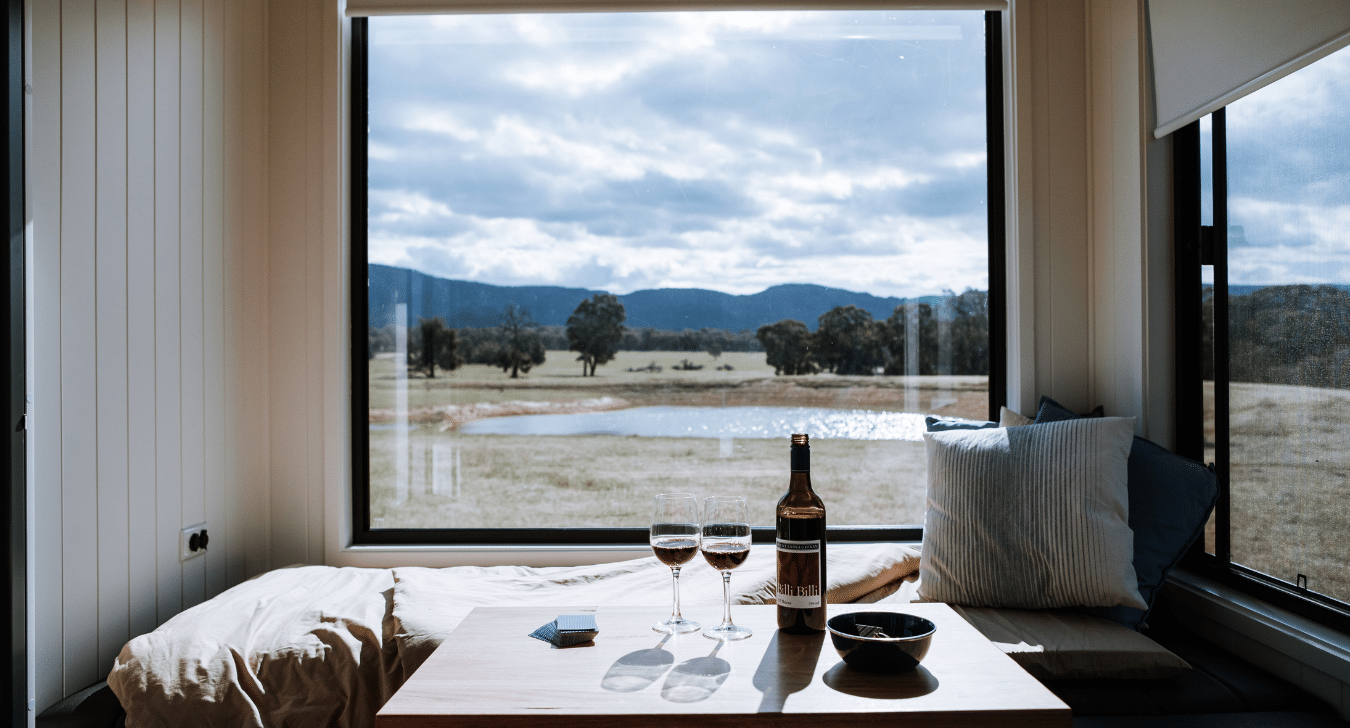 Elliott is In2thewild's newest off-grid tiny home in the Grampians. The address will only be revealed just days before arrival, but spoiler, you're going to have the best of both worlds; completely secluded on a sleepy property but minutes from the action in Halls Gap. The cabin sleeps up to four, so take your pick between a romantic getaway or a weekend with your mates. You have a fully equipped kitchen with fridge, hot rain-water shower, barbeque and fire pit. You can be as lazy or active as you want here, but don't count on mobile reception; its a laptop-free zone and the USB charging points are sun-dependant. Giving you scroll-free time to explore the hikes and wineries in the region.
In2thewild have plenty of tiny homes throughout VIC, NSW and QLD each with its own perks and unique offering.
Distance from Melbourne: 2 hr 30 mins
Cost per night: $349 (weekdays) & $399 (weekends)
Once you've ticked off the coolest tiny homes near Melbourne, jump on our top picks for New South Wales with the 10 coolest tiny homes near Sydney