We're not going anywhere fun for a long time, and boy is it a tough pill to swallow. If you were quick enough, though, and swapped your Eurotrip savings for one of these tiny homes near Sydney, you might have copped bookings at some of the most in-demand and Instagrammable getaways in NSW.
Some of the cabins on this list have been verified by yours truly, and the rest recommended personally to me by friends and colleagues.
So dust off your R.M.'s, fellas, because if your other half isn't already planning your long-awaited tiny home escape, you should be. Here are some of New South Wales' coolest, most romantic and most secluded tiny homes near Sydney.
The 10 Coolest Tiny Homes Near Sydney
Hideout, Moss Vale
After opening its doors earlier this year, Hideout Cabin is the latest tiny home addition to the Southern Highlands. Perched above a dam on a beautiful 140-acre working property in Moss Vale, this luxe little cabin is meticulously designed and properly plush for anyone who's after a rural substitute for a five-star hotel. A deluxe queen bed looks over the ample deck space surrounding the home where guests can relax, sink a few bottles of red under the stars and cook up a storm. There's also a roaring outdoor fire pit, premium amenities and horse riding experiences on offer.
Check out the video above from our stay back in July.
Distance from Sydney: 1 hr 30 mins
Cost per night: $399
---
Gumtree Lodge, Grose Vale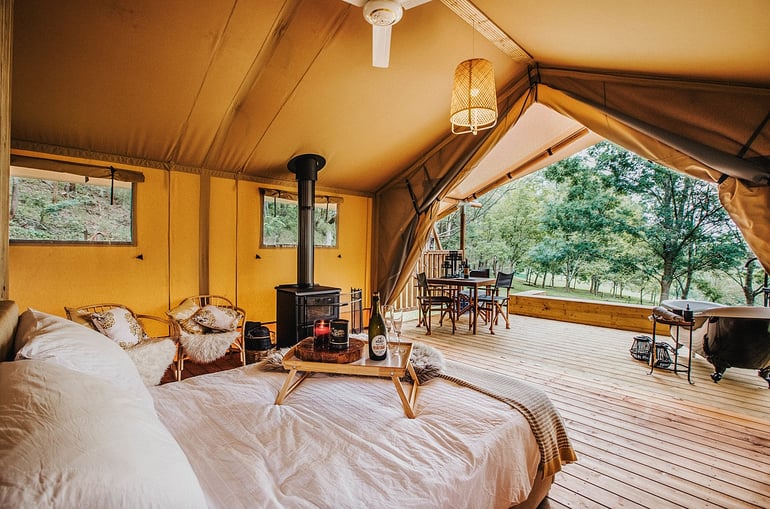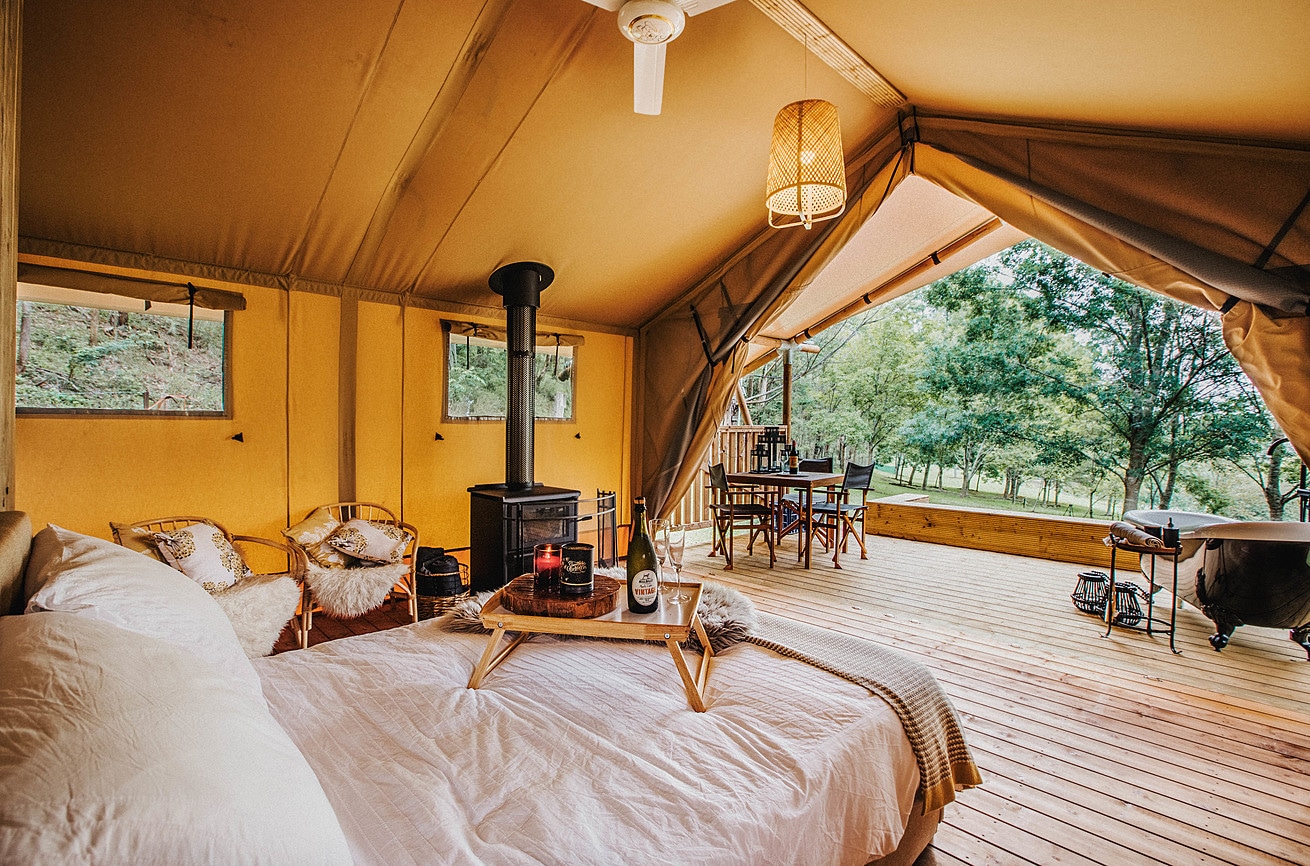 We've recently stayed here also – twice, in fact – we had that much of a good time. It's called Gumtree Lodge and it's a beautiful tented villa with two fireplaces and an outdoor bathtub at the base of the Blue Mountains. This slice of country paradise is hidden in the back corner of a property surrounded by towering trees and an enchanting little dam. In the early hours, fog rolls over the hill as the fireplace crackles and the bath fills up for a leisurely morning soak. What's better, is that it's only a touch over an hour's drive from the CBD, yet you feel like you're the only two people for miles.
Distance from Sydney: 1 hr 15 mins
Cost per night: $385
---
Coralie, Kangaroo Valley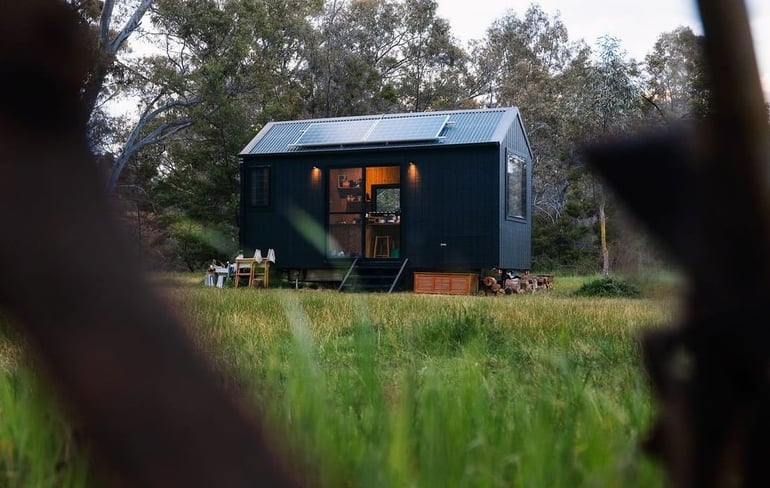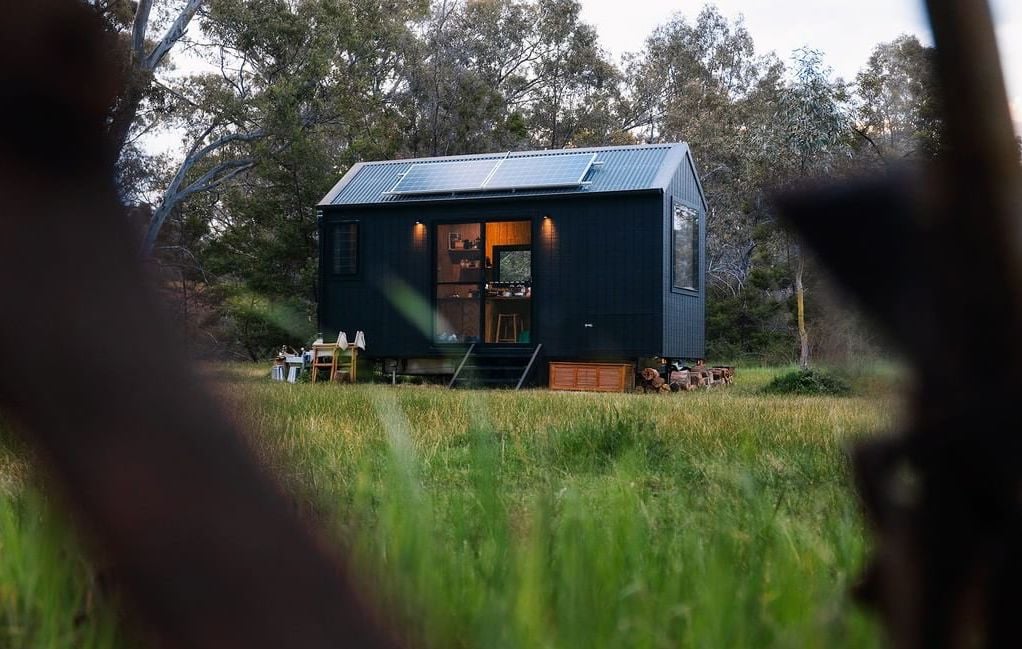 Unyoked has three tiny homes near Sydney, dotted up and down the NSW coastline. 'Coralie' as it is known, is their cosy two-person wilderness cabin nestled in Kangaroo Valley. Just two hours drive from Sydney's CBD, Unyoked claim that it is "close enough to civilisation to not feel weird, but far enough to be wild and free." Guests can bring their pets along, and use the surrounding valley for near-limitless bushwalks and hikes.
Distance from Sydney: 2 hrs
Cost per night: $233 (weeknights) & $253 (weekends)
---
6Sixteen The Banks, Hawkesbury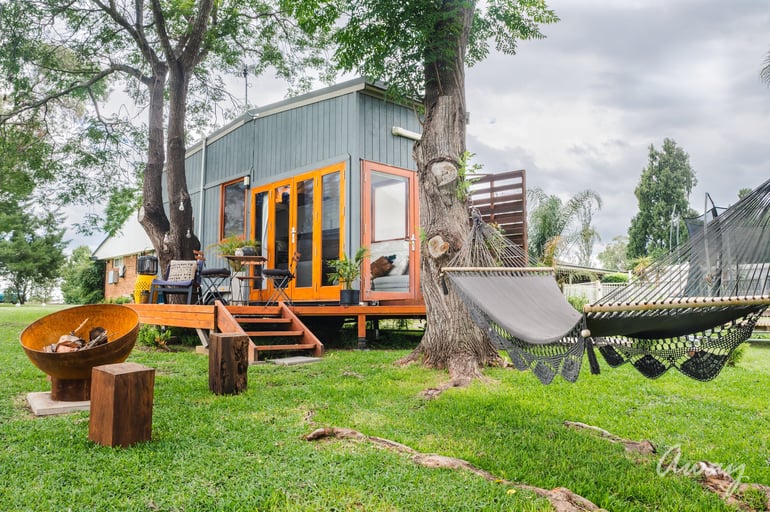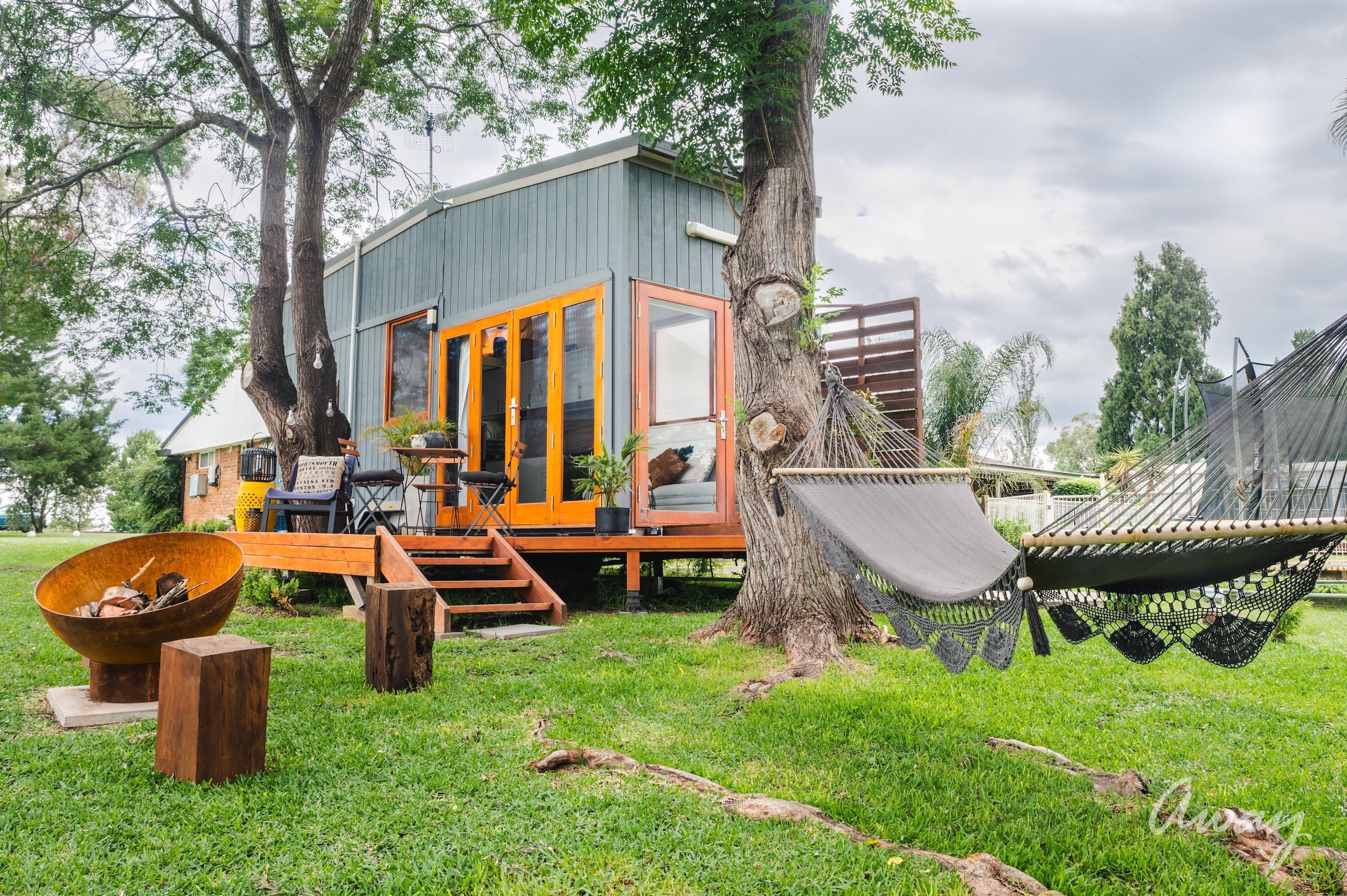 On the banks of the Hawkesbury with the stunning Blue Mountains in the background, 6Sixteen is perfect for families that don't want to venture too far from the city. With room for 4 guests (two adults and two little ones), this rural playground has plenty to do on-site and in the nearby towns.
Distance from Sydney: 1 hr 10 mins
Cost per night: $179
---
Morning Bay Boatshed, Morning Bay
Part tiny home and part boat shed, the Morning Bay Boatshed on Sydney's Pittwater is one of our favourites on this list. It's a self-contained cabin with crystal clear waters lapping at its doors and a ladder leading up to a cosy loft-style double bed. It's secluded, it's quiet and it's only accessible by boat, making it all the more exciting for a cheeky romantic escape. A double kayak is included for exploring the area and a hot shower is attached to the cabin to rinse off the saltwater after your sunset dip.
Distance from Sydney: 1 hr 30 mins + 10 min boat ride
Cost per night: $179
---
Arabella, Kangaroo Valley
Previously part of the CABN network, this Kangaroo Valley tiny home has recently been re-listed on Airbnb as 'Arabella'. The showpiece of this luxe little timber cabin is its award-winning outhouse that boasts a freestanding bathtub from which you can see out of, but no one can see in – thanks to some sneaky one-way glass mirrors. Arabella is just 15 minutes from the Kangaroo Valley township and is entirely solar-powered.
Distance from Sydney: 2 hrs
Cost per night: $381
RELATED: 11 Of The Most Beautiful Secluded Hotels In The World
---
The Boat Shed, Worrowing Heights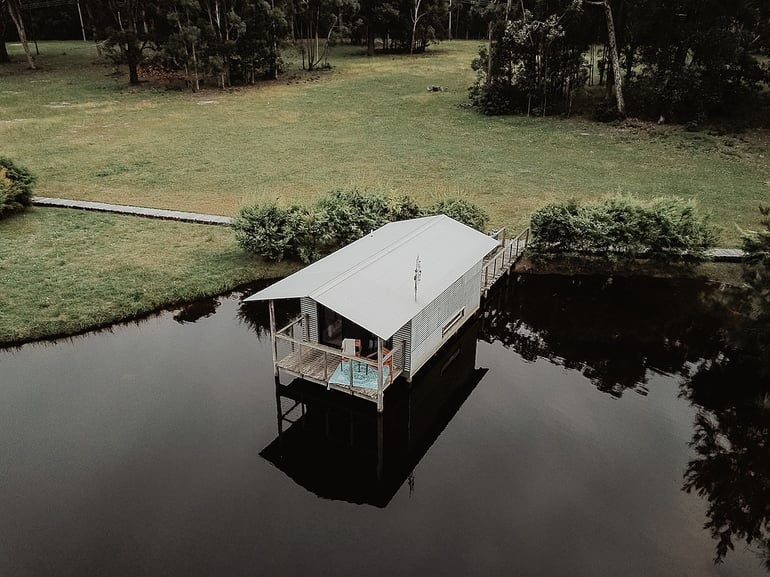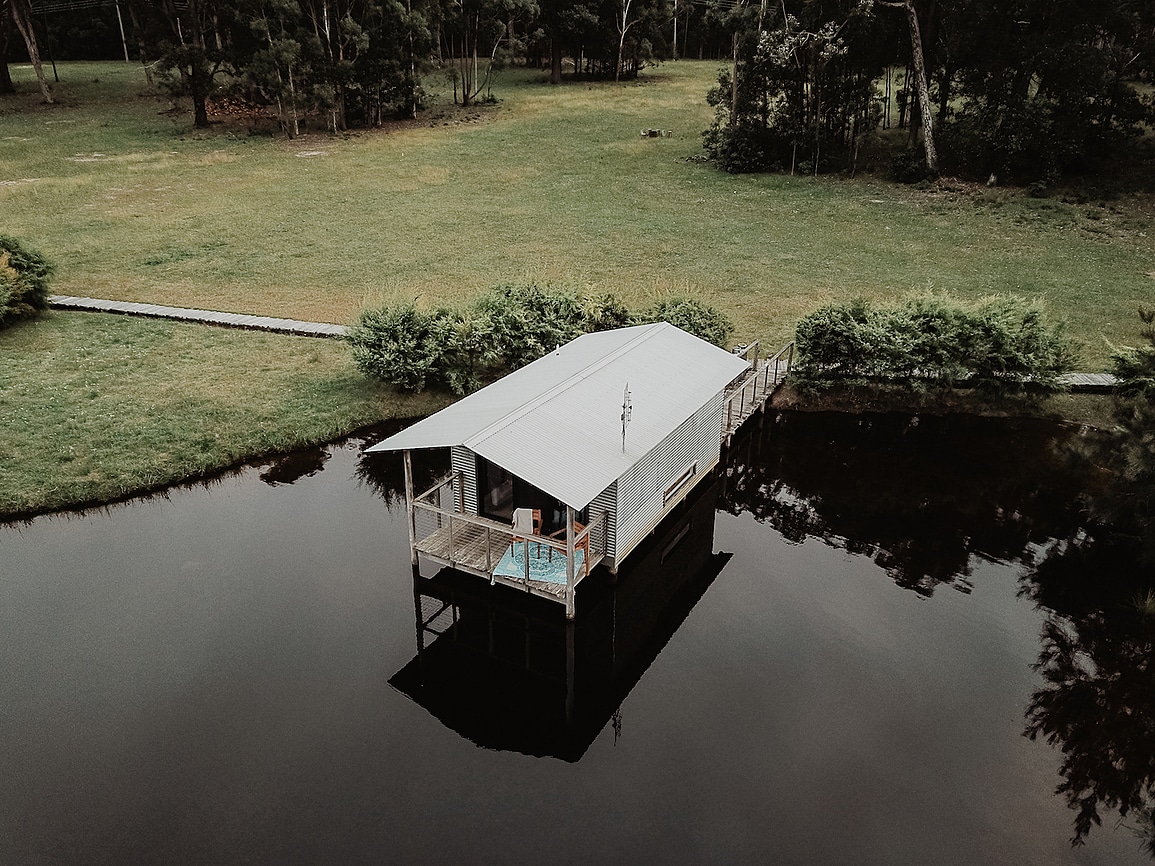 A stone's throw from the famous white sand beaches of Jervis Bay, The Boat Shed has been built above a dam using reclaimed beach house timbers on a 250-acre working property. Big floor-to-ceiling doors open to a veranda that overlooks still waters surrounded by towering trees. It's a blissful spot to start your day with a coffee and good book in hand.
Distance from Sydney: 3 hrs
Cost per night: $270
---
River Treehouse, Berowra Waters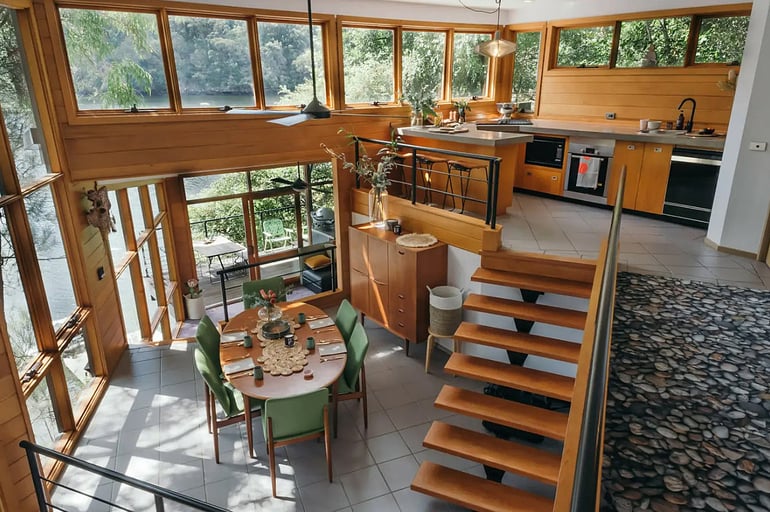 While the River Treehouse isn't exactly a tiny home by definition, its earthy style and unique boat-only access make it a worthy addition to this list. In fact, it's so not-so-tiny that it can sleep up to 10 adults comfortably. Boat pickups from a nearby car park down-river are included, and a tinny with a full tank of fuel is available to guests for exploring the local area.
*Bookings for River Treehouse are currently on hold while the owners take a short break. Check back soon for more dates.
Distance from Sydney: 1 hr + 10 min boat ride
Cost per night: $450
---
Banjara Retreat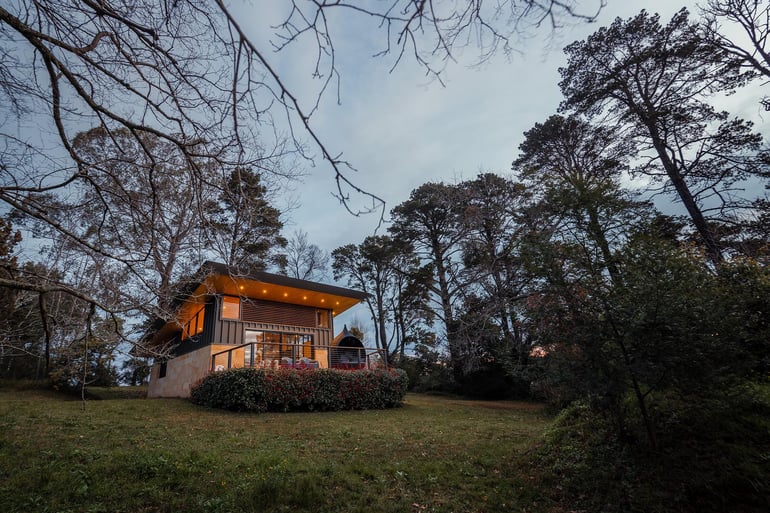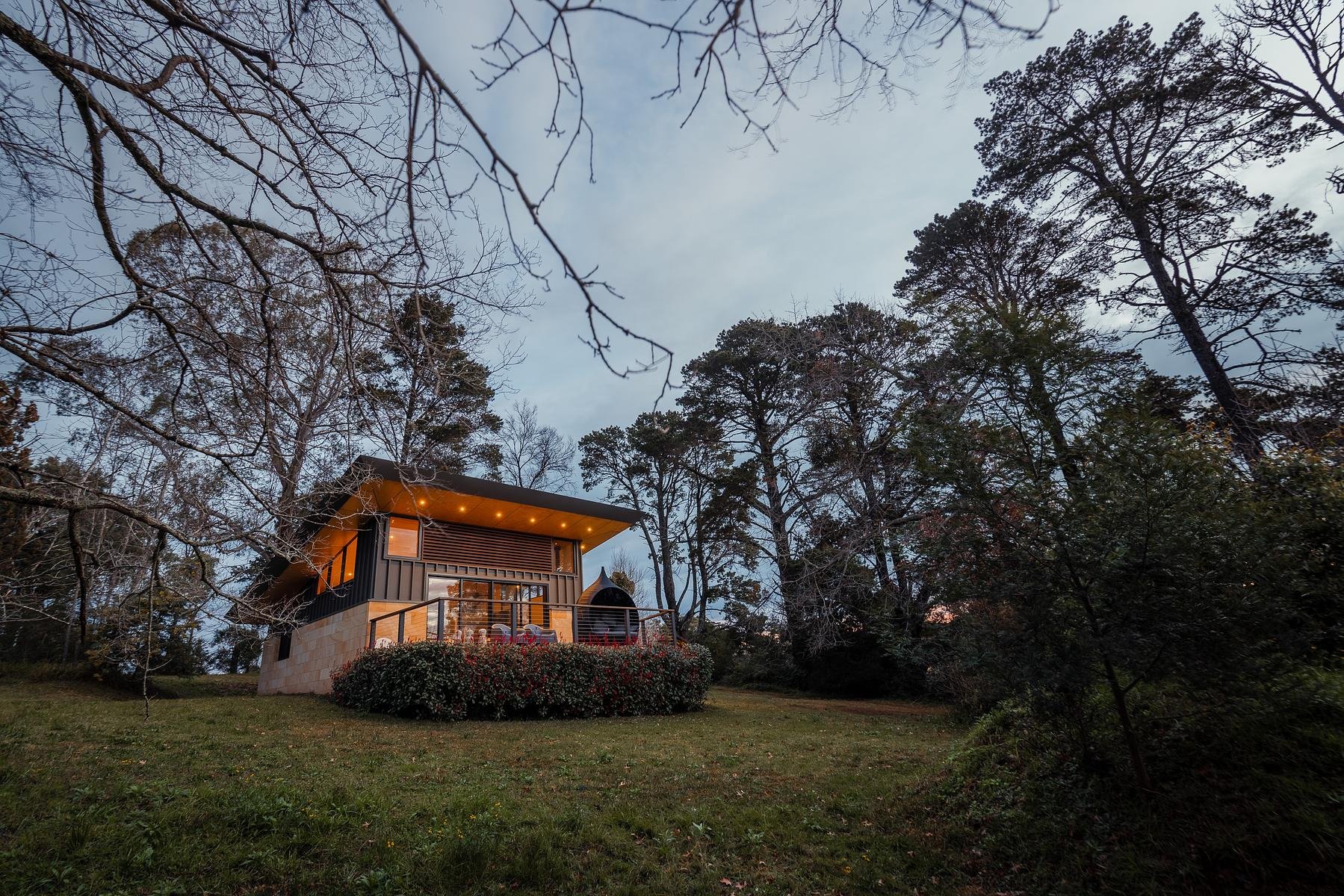 On the edge of Wollemi National Park in Bilpin are two new 'luxury suites' known as Banjara Retreat. Not exactly rustic tiny homes – rather well-appointed cabins – they feature large modern spaces, beautiful spotted gum
floors and large glass doors that open to the outdoor decks. The views over lush green meadows and the Blue Mountains beyond are especially juicy at sunset.
Distance from Sydney: 1 hr 30 mins
Cost per night: $385
---
Piccolino, Wolgan Valley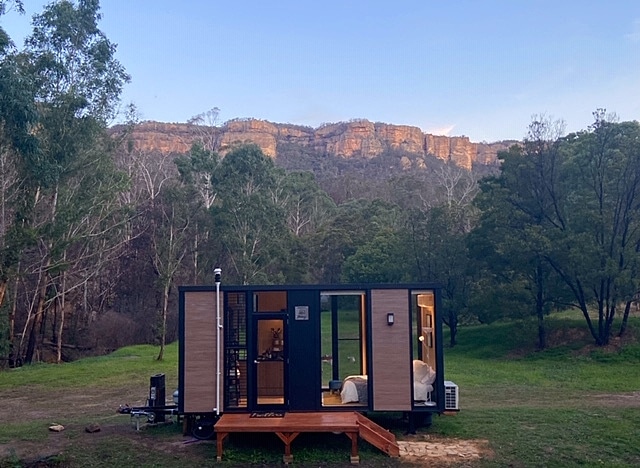 Those making the effort to get to Wolgan Valley better be prepared to reset and recharge, as there's absolutely no phone reception down on the valley floor at the 'Piccolino' tiny home. Breathe in crisp mountain air and fall asleep to the trickling sounds of the nearby creek at this self-sufficient tiny home, where you'll be the only two people for miles.
Distance from Sydney: 3 hrs
Cost per night: $199