If you think a night at Crown Towers in Melbourne or the Shangri-La Hotel in Sydney is a splurge, then look away now.
Luxury accommodations will forever be in demand with hotels and resorts looking for every edge over their competitors to provide travellers with the ultimate stay, offering money can't buy experiences (well, you can, but for a small mortgage) with incredible amenities at prices that'd give most punters a stroke.
From a two-level Penthouse overlooking the Vegas stirp to an underwater suite in the Maldives, here are the most expensive hotel rooms in the world right now.
North Pole Igloos, Arctic Circle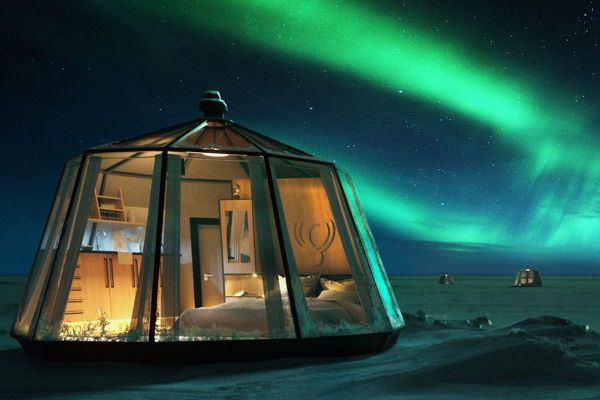 It should come as no surprise that the northernmost hotel in the world is also the most expensive. Just one night in these heated glass igloos will set you back a whopping AU$150,000. Thankfully, the price also includes two nights in Svalbard, Norway, flights between Svalbard and the North Pole and a sightseeing tour during the day where you'll meet the indigenous people of the area and learn about their culture. You'll also have access to a camp manager, Arctic wilderness guide, on-site chef and security team, just in case any polar bears wander into camp during the night.
Cost per night: AU$150,000
Northpole Igloos, Arctic Circle
The Empathy Suite, Las Vegas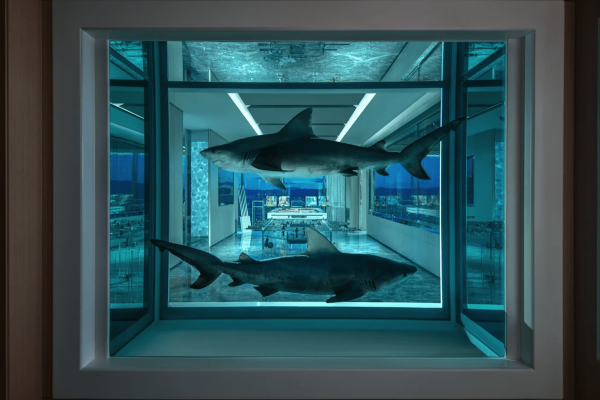 The brainchild of British artist Damien Hirst, this 9,000 square-foot hotel suite is spread across two floors and offers spectacular views of the Las Vegas strip. The opulent suite within The Palms Hotel features six unique artworks from Hirst, including two sharks suspended in formaldehyde. The AU$140,000 price tag gives you access to a 24-hour butler, chauffeured car service, exclusive A-list access to all the nightclubs, bars and a recording studio, along with a bonus AU$10,000 in credit to spend in the hotel. But be warned, there's a two-night minimum, so you'll be forking out a tidy AU$280,000 for a weekend jaunt. You better start hitting the poker the tables and hope you win big if you want to stay here.
Cost per night: AU$140,000
Palms Casino Resort, Las Vegas
The Royal Penthouse Suite, Geneva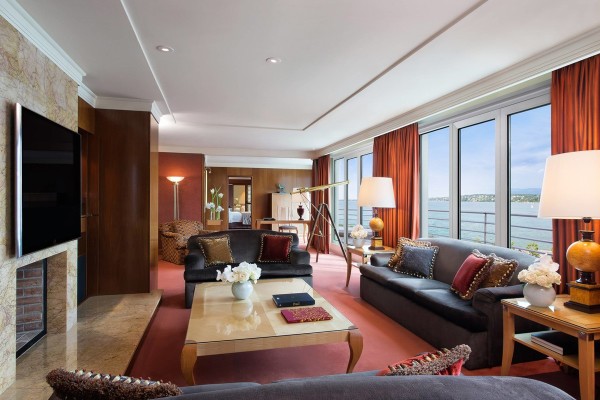 Taking up the entire eighth floor, The Royal Penthouse Suite at the acclaimed Hotel President Wilson in Geneva, Switzerland, is Europe's largest hotel suite. The 12-bedroom residence comes with a living room decked out with a pool table, grand piano and rare book collection, while the bathroom features an array of Hermès toiletries. Amenities include access to a 24-hour personal assistant, chef and butler, a private en-suite gym and your own private access elevator. One night here will cost you a cool AU$116,000, so get the crew together, split the costs and enjoy the sites and sounds of Geneva together.
Cost per night: AU$116,000
Hotel President Wilson, Geneva
Mark Penthouse Suite, New York City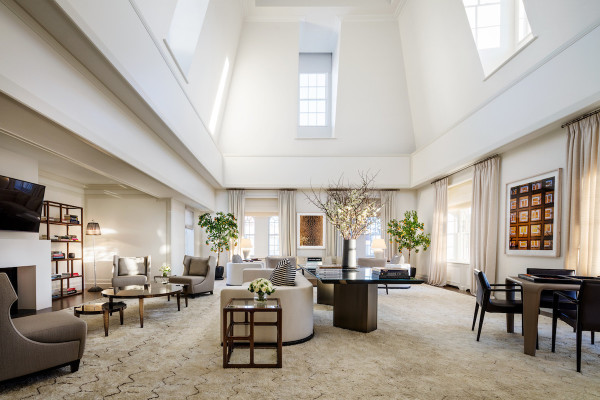 This expansive hotel takes over two floors of real estate across 10,000 square-feet, including a spectacular 2,500 square-feet rooftop terrace overlooking Central Park. The penthouse suite at The Mark Hotel comprises of five bedrooms, six bathrooms, two powder rooms, two wet bars and a huge living room that can be transformed into a full-sized ballroom. A stay in The Mark Penthouse Suite also includes in-suite dining by Michelin-star chef Jean-Georges Vongerichten, chauffeured car service and a two-hour cruise around New York harbour on The Mark's private sailboat.
Cost per night: AU$109,000
The Muraka Suite, Maldives
The birthplace of the overwater bungalows, The Maldives also, remarkably, has birthed the first concept of the underwater hotel suite. Situated 16-feet below sea level, The Muraka Suite, part of the Conrad Rangali Maldives Resort, features a master bedroom with a 180-degree curved acrylic dome, ceiling to floor windows and an underwater viewing tunnel. You'll also have your own private butler and chef, access to a fleet of jet skis as well as a speedboat and an above sea deck with an infinity pool. The kicker, however, is the four-night minimum stay. You're looking at just a touch under AU$300,000 to experience life under the sea, of which the novelty will probably wear off by the end of night two…
Cost per night: AU$72,000
RELATED: One&Only's 'The One Above' is the most extravagant penthouse in Cape Town