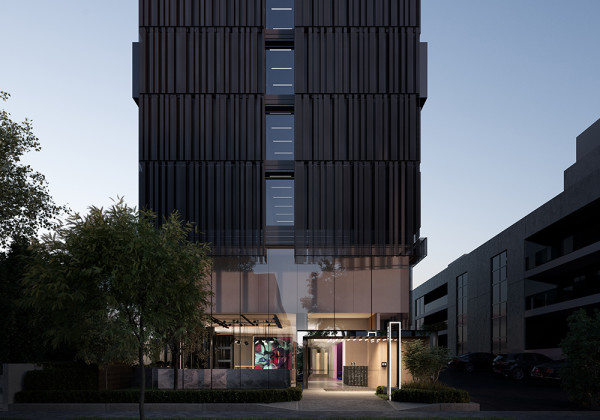 The age of smart travel is upon us, and the traditional paradigm of fully equipped hotels that only charge expensive rates is under threat. At the forefront of that battle is Australia's newest hotel brand, providing everything the tech-savvy traveller needs without any of the excess that often weighs down the hotel experience. TRIBE Perth offers style and accessibility, pitching itself towards business travellers and urban explorers who are looking for a smart destination experience at an affordable price.
Situated across from Kings Park in the heart of WA's capital city, TRIBE Perth is the first of four proposed TRIBE sites around Australia and features 126-rooms across 9 levels. Melbourne-based architecture firm Idle Architecture Studio and interior designer Travis Walton are responsible for the hotel's pared-back look, it's striking black design catching you off-guard at first glance as it juts out from its West Perth surroundings. Walking distance from Perth's CBD, my north-facing room had stunning views of Domain Stadium through its floor-to-ceiling windows, while the opposite side of the hotel looks directly over Kings Park, the iconic Aussie bushland feeling like it's almost creeping into every room.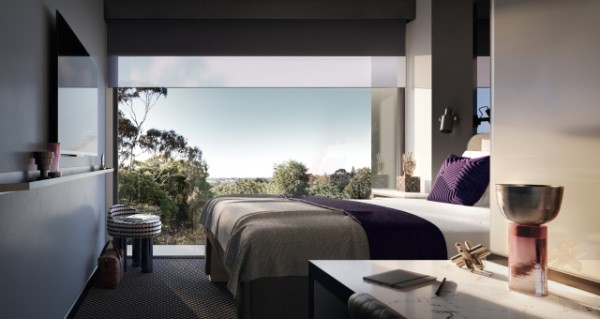 But it's not just location that sets the boutique offering apart. At its core, TRIBE Perth is as youthful and modern as it is functional; intelligently-designed rooms and shared spaces that are luxurious and chic, with cutting edge technology, entertainment and office facilities as standard. Every room features integrated storage solutions and is equipped with smart TVs, a digital reading collection, Foxtel and free movies on demand, plus free and unlimited WiFi in every part of the hotel.
---
---
"The contemporary traveller no longer checks into a hotel, they check into a destination. When we created TRIBE, we re-evaluated the hotel model to prioritise the benefits they would want." – TRIBE group founder Mark Peters.
Focusing on the needs of the modern traveller is priority number one, so gone are the outdated and unwanted services, inefficient check-ins and checkouts, room service, and overpriced mini bars and restaurants. In their place, the hotel boasts a contemporary living space featuring a café by day and bar by night in TRIBE Foods, with menus by Melbourne chef Tobie Puttock, common areas with guest iMacs and USB outlets throughout (even offering printing via smartphone streaming), original artwork from contemporary Australian artists plus design touches from Jean-Paul Gaultier and Moroso. Sitting downstairs in the outdoor courtyard on the Mac while enjoying breakfast and a coffee in WA's June sun is hard to beat coming from Melbourne, but seeing the transition from launch party venue the night before to modern common area and cafe the very next morning was equally impressive.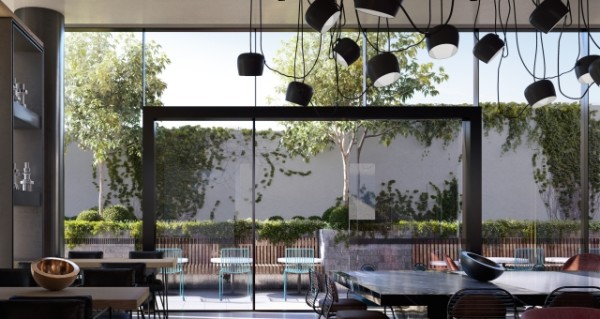 Design-wise, TRIBE Perth's title as Australia's first integrated modular design hotel again sets it apart from traditional accommodation, with contemporary modular design and efficient construction technology meaning everything above the 2nd floor has been built in southern China and shipped to Perth for fitting. Modular hotels are common in Western Europe, and their ability to streamline design and construction methods makes seeing this technology for the first time in Australian hotels exciting, whilst also making TRIBE Perth a pioneer in the industry.
"We've focused on what matters so that we don't pass on costs to our guests for the things that don't, by paring back and refining our offering and using cost effective and smart modular construction we're able to share significant savings with our guests, making TRIBE an aspirational space at an accessible price," – TRIBE group founder Mark Peters.
Whether it's a business trip, weekend at the footy or just escaping the east coast winter blues, TRIBE Perth will exceed your expectations on what luxury hotels can offer at an affordable price.
To book, visit TRIBE's website.