An underwater wine cellar in Croatia may be the last thing you'd expect to find while scuba diving around the jagged Peljesac Peninsula, but such is the unique aging process employed by Edivo Vina. The classic scene of a family-owned winery perched on the Adriatic Coast, sucking the cooling sea breeze for climatic perfection is twisted and taken to an unusual extreme by the boutique winery, which is located near the small resort town of Drace – about an hour's drive from Dubrovnik.
Edivo Vina winery – land-based despite its inventive technique – is but one of many multi-generational vineyards peppered across the rugged peninsula, sitting in a region most famed amongst locals for its bountiful trawl of mussels, fish, and oysters. Adding wine to that scope of marine produce may seem strange, but Edivo Vina's team doesn't seem to think so.
Masterminded by Edi Bajurin, who co-founded Edivo Vina with Ivo and Anto Segovic, the idea of aging wine underwater was sparked by pure speculation. First, Bajurin theorised that aging wines 20 metres underwater would be better for consistency in temperature, keeping the wines constant while they form their unique character. Second, he assumed that the pin-drop silence on the seabed would help wines cultivate a demonstrably smoother profile.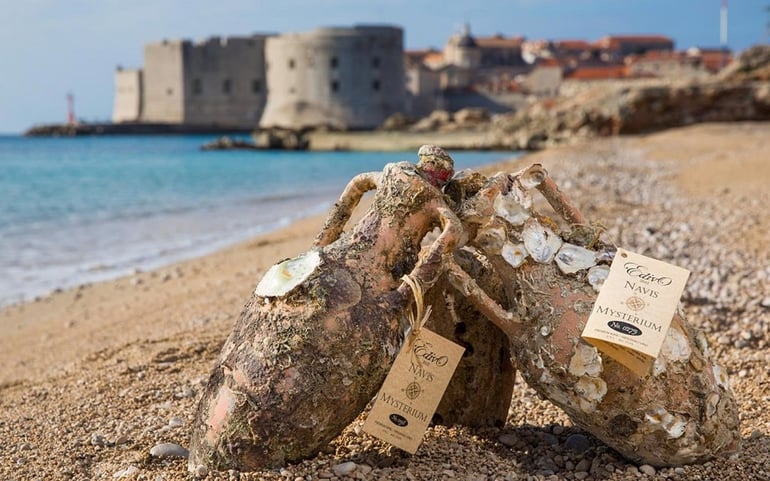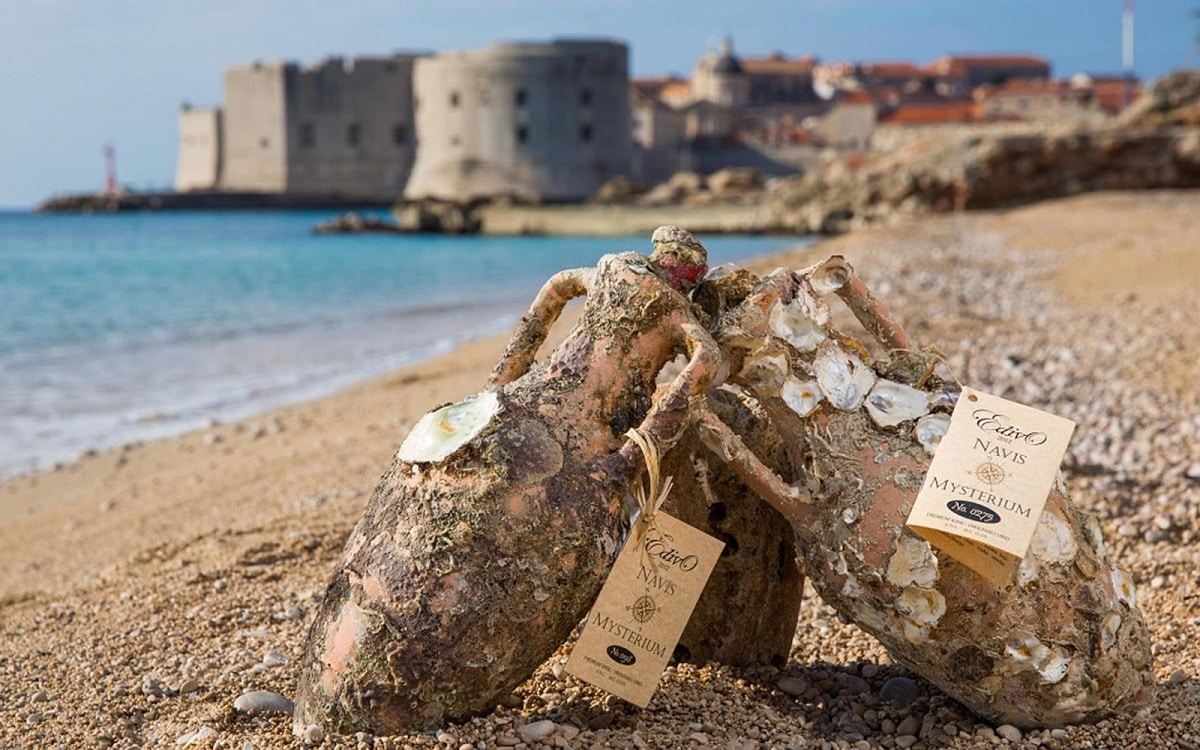 RELATED: Australia Now Holds The Southern Hemisphere's First Underwater Museum Of Art
It took some experimenting, but eventually, Bajurin zoned in on the correct way to handle these submerged wines. Initially, the Edivo Vina team would use ordinary corks to seal large clay vessels known as amphorae, thought to protect the wine bottles from the surrounding sea. That didn't work. Instead, it forced the team to get creative with the vessel. Trial and error led them to coat corks in two layers of wax and aging the bottles in clay before submerging them upside down in locked, custom-built cages at a depth of 18-25 metres.
The winemaking, of course, begins above ground at the actual winery where Plavac Mali grapes – the primary red wine varietal grown along the Dalmation coast – are crushed and made into wine before being aged for three months. They are then taken to the sea and submerged, forming a limited edition collection named 'Navis Mysterium' – roughly translated as 'The Sea Mystery'. 
After 18-to-24 months, the wine emerges with a distinct pinewood aroma, looking much like undiscovered treasure, their imposing clay encasing glistening with a sea patina flecked with seashells and barnacles. The wine itself is described as having strong fruity and spicy notes.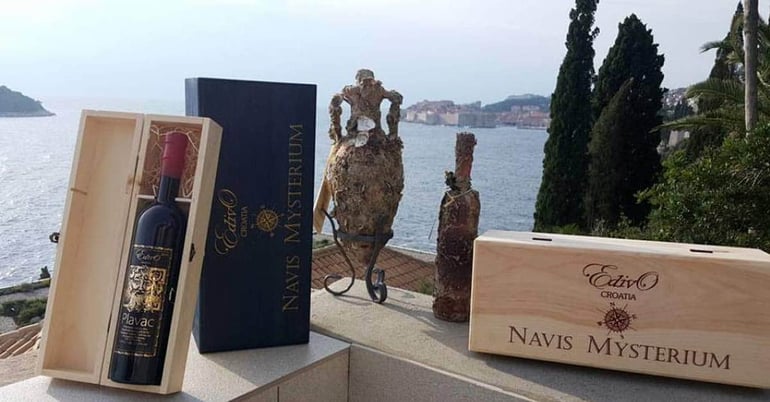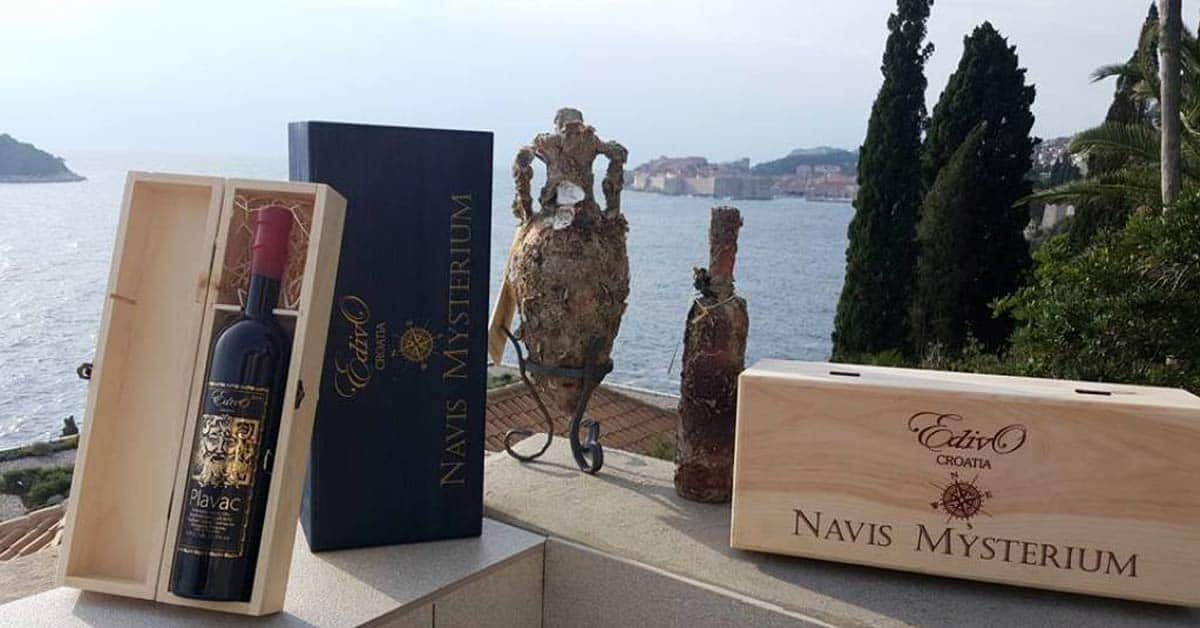 Other European countries lay claim to wineries that follow a similar process of submerging their produce, but this collection in Croatia is the only underwater cellar where visitors can dive and visit the wines while they age on the ocean floor. As well as exploring a nearby sunken ship at Mali Ston Bay, scuba and wine enthusiasts alike who regularly come from all over Croatia can handpick their own bottle from the underwater wine cellar. 
Wines can be purchased in their original bottles from the actual winery, but those wanting their prized drop in its original amphora can expect to fork out anything up to US$400.