As of January 2020, United Airlines have taken corrective action against sexual harassment on their aircraft with improved training for flight attendants. The training is designed to combat in-flight sexual harassment, reinforcing United's zero-tolerance policy for pornography on personal devices during flights.
This comes after a 2018 incident where United found itself in court involving a nasty staff sexual harassment case. Pilot, Mark Uhlenbrock, was accused of stalking, harassing, and posting revenge porn of his stewardess ex-girlfriend online. Due to a reasonable lack of action, United Airlines was sued by the US federal government's Equal Employment Opportunity Commission and ordered to pay $321,000 in back pay and compensatory damages to the female flight attendant. Ulhenbrock received 41 months in prison.
It seems United have since learned their lesson and heard all public complaints regarding the rising number of incidents wherein passengers have been exposed to hardcore pornography in tight quarters during flights. This step has been hailed as a victory by The National Center on Sexual Exploitation, which had previously listed United Airlines on their 2019 'Dirty Dozen' list (an annual listing that names and shames the top mainstream contributors to sexual exploitation and abuse each year).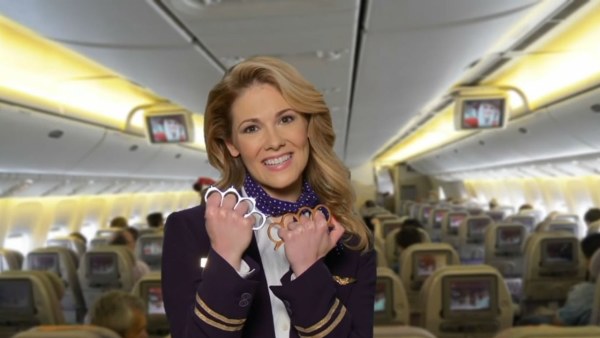 Following the new announcement, the airline released the following statement to the public:
The safety of our customers and colleagues is our top priority. Sexual harassment, inappropriate behaviour, intimidation, or predation have absolutely no place anywhere in our society — including, and especially, in our industry and on our aircraft.
The airline famous for inviting customers to 'fly the friendly skies' has recently been praised for making taking this step in the right direction.
"Sexual harassment includes but is not limited to, unwanted sexual advances or attention including physical actions, speech, and viewing pornography in the presence of a child or non-consenting adult," says Haley Halverson, Vice President of Advocacy and Outreach for the National Centre on Sexual Exploitation.
"The National Centre on Sexual Exploitation applauds and thanks United Airlines for recognizing the importance of training flight crews on the topic of pornography, and we call on other airlines to follow United's example."
The 2020 Dirty Dozen List will be released from February 6th at DirtyDozenList.com.
RELATED: Delta Airlines' CEO Confirms The Airplane Etiquette For Reclining Your Seat.