The recent push away from the traditional hotel model towards 'boutique and funky' brings with it some larger questions about the guest purchasing process, such as: why do people choose one hotel over the other?
Are holidaymakers drawn in more by good value, a promising location, interesting design, comprehensive amenities, or the idea of astute service? Maybe it's just that killer rooftop pool. Looking at the number of fresh hotels launching across the country, it's apparent that design in particular has never been pushed harder as a drawcard.
W Brisbane's use of design to intrigue visitors and influence the guest experience is masterful. It gives the hotel an identity and a personality that makes it feel vastly more special than just a building. You can interact with the intent and feeling behind the hotel, and in the case of W, align yourself with it.
---
---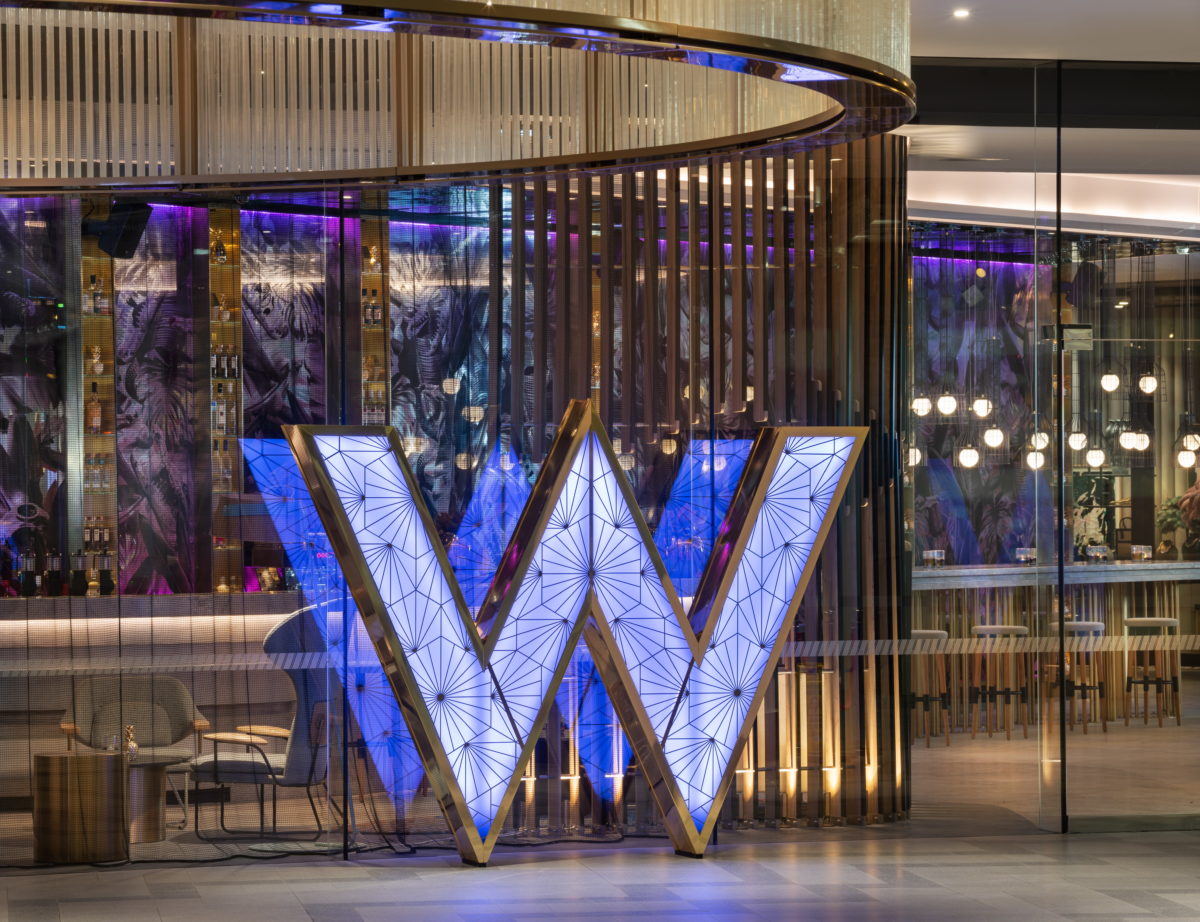 The W group has an impressive precedent around the world as a fresh, funky and cool luxury brand. Videos of slick poolside discos in picturesque tropical locations are mainstays on Instagram's explore feed to the point of jealous annoyance. Unlike other boutique hotels popping up, W isn't a boutique in its size. It has 66 locations around the world and it's the real deal. Plenty of chains this large tend to lose their soul as they grow, but W seems to capture all the benefits of both.
The Brisbane outpost opened to acclaim in 2018, boasting 312 rooms over 34 levels. Being the first 5-star hotel in the CBD in two decades – and from an objectively cool global player – W caused quite the stir. The launch party was the most entertaining and over the top I've ever been to. Some three years later, we figured we were due for a stay, so checked in to see what the fuss is all about. Is it all fancy design or is there more to it?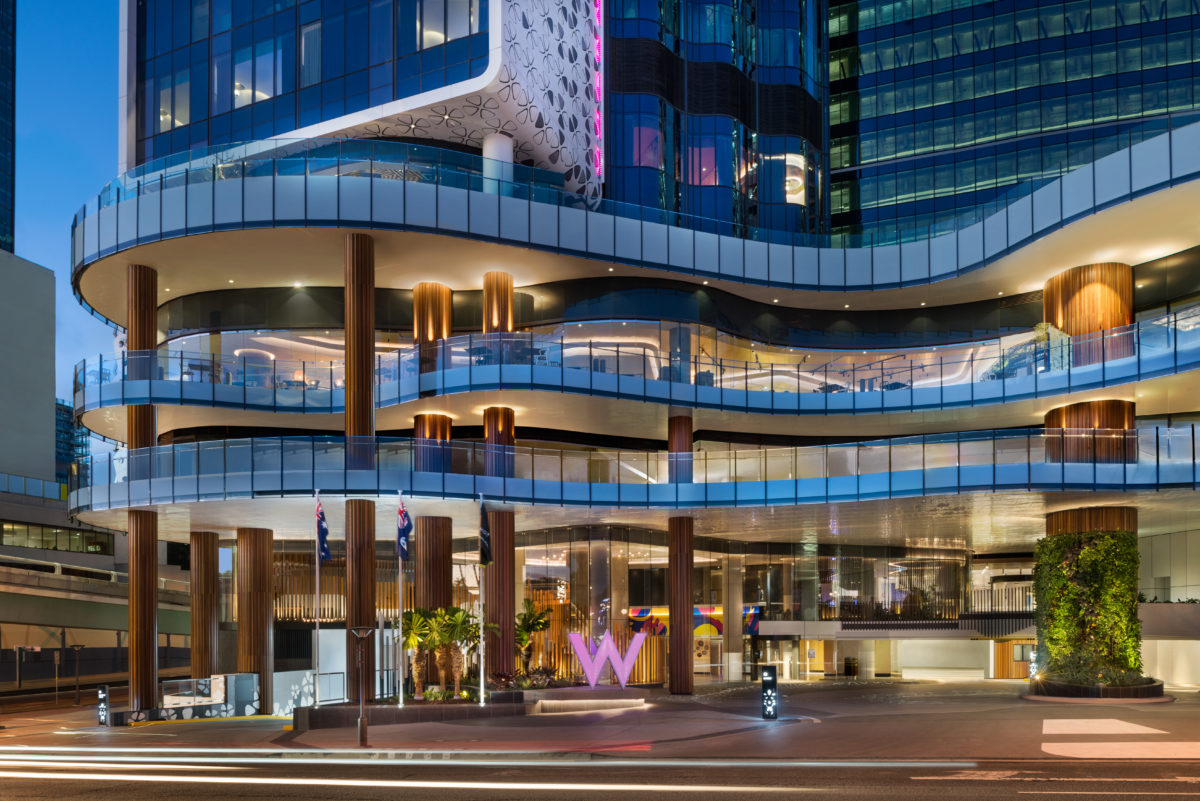 The first unique feature of the hotel is its location on the eastern side of Brisbane's CBD on the bank of the Brisbane River. It sits as a lone player in the area, but has just as much action available within walking distance. The location affords a spectacular view south west over South Brisbane and Mount Coot-Tha, mostly uninterrupted thanks to the winding river. The road in front of the hotel can be a nuisance, but a higher room puts it out of sight and mind.
Inside, the hotel's design themes are immediately apparent and bold in their execution. There are elements inspired by Australian identity and Queensland's unique flora and fauna interwoven with a playful vibe. Traditional hotel facets have been cleverly transformed to fit this ethos, such as the room baths being fashioned as cattle drums and the main lobby staircase presenting as river reeds. It's shiny and new, but also has drops of rustic and historical pieces throughout. Overall, the blend of new-age and heritage is impressive and makes the hotel one of the most striking places to occupy in Brisbane.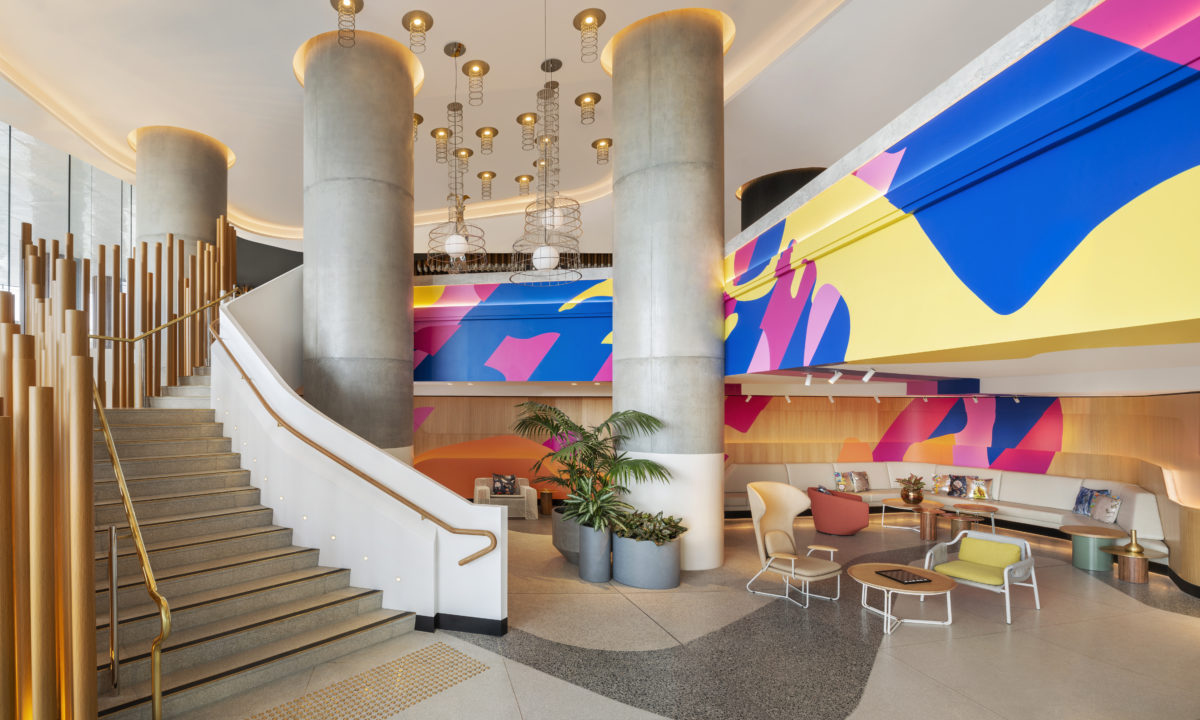 The guestroom range is equally diverse, offering a host of suite types to suit all tastes and budgets. The entry-level offering is the Wonderful Room, which will set you back roughly $340 for the night with a partial river view. For value, we like the mid-range Spectacular Room ($380), with its higher floor level and all the usual five-star touches. Those looking for a bit more space can opt for a Marvellous or Fantastic Suite ($620) – they feature a separate lounge area and bar. At the pinnacle of the range sits the Extreme Wow Suite, a wonderfully crazy 200-square-metre penthouse with sprawling living and dining areas. Check out BH's walkthrough of W Melbourne's E-Wow Suite for an example of just how over the top this thing can be.
Across all rooms are eclectic and quirky design elements with lashings of bright colours, mirrors and natural patterns. We particularly enjoyed the birdcage wardrobe and the hidden minibar that slides out of a chest of drawers. Credit is also due for the additional space – hotels usually love squeezing rooms in, but W Brisbane provides a more spacious minimum of 40 square metres per room.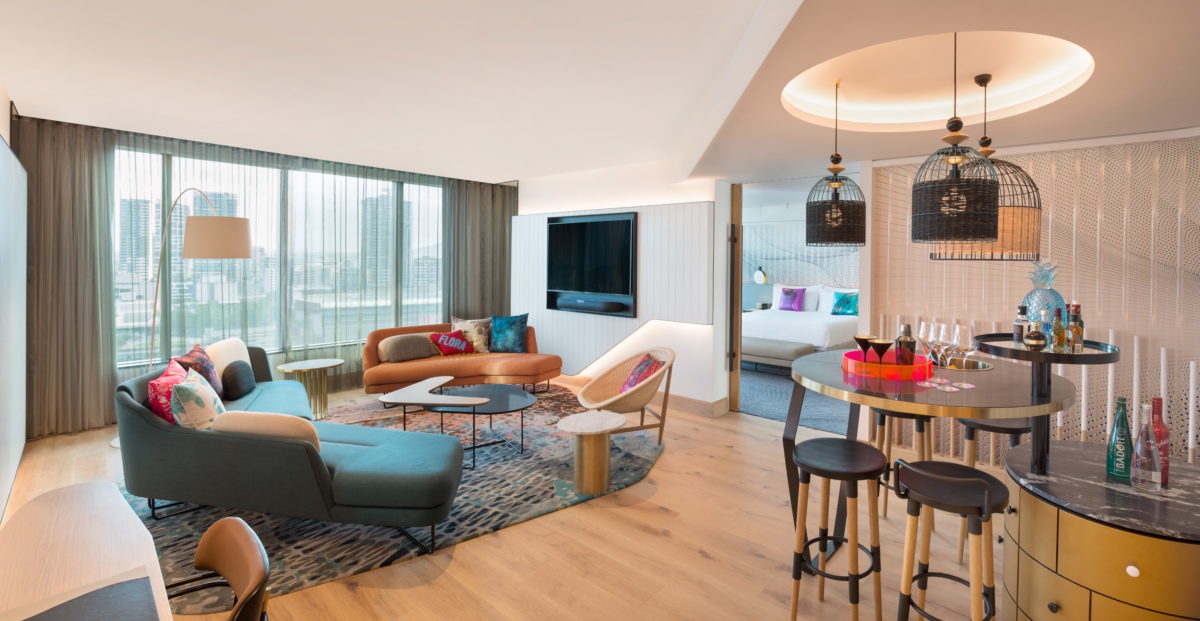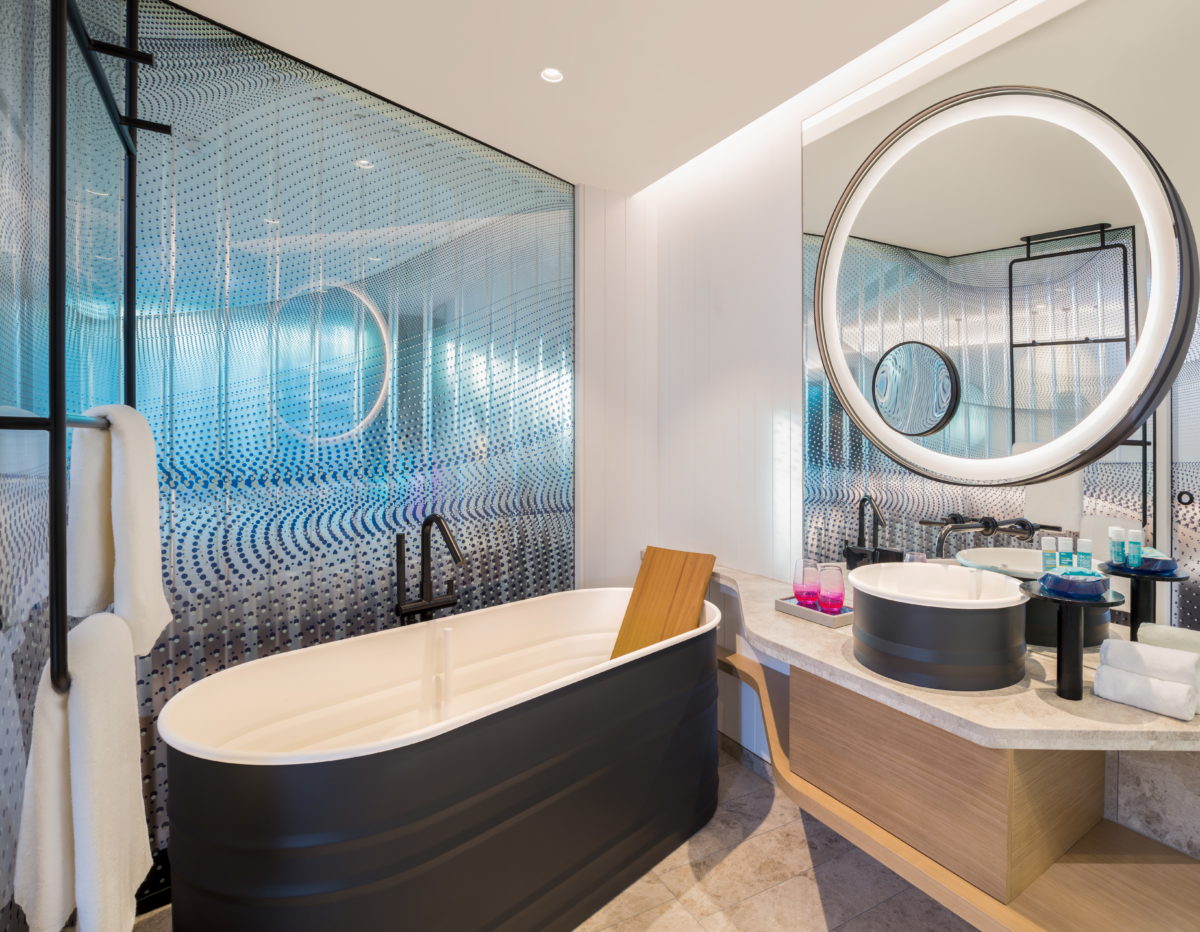 The WET Deck on Level 4 is the closest thing to a hotel playground for adults. Here, guests will find a pool area that wouldn't look out of place in a gallery of modern art. Abstract patterns of mirror and light fly around the roof and pillars above the water, while sleek loungers line the perimeter.
---
---
Past the pool is a vibrant and pulsing bar overlooking the river. An impressive array of cocktails, pumping music and cool clientele make it a perfect spot for a sunset or pre-dinner tipple. The pool deck consistently plays host to events such as 'float-in cinemas' and pool parties, while the bar's theme changes frequently so it always feels fresh. A bit more sun would be a treat (given the pool is covered by a roof) but such is the price of being in the city centre.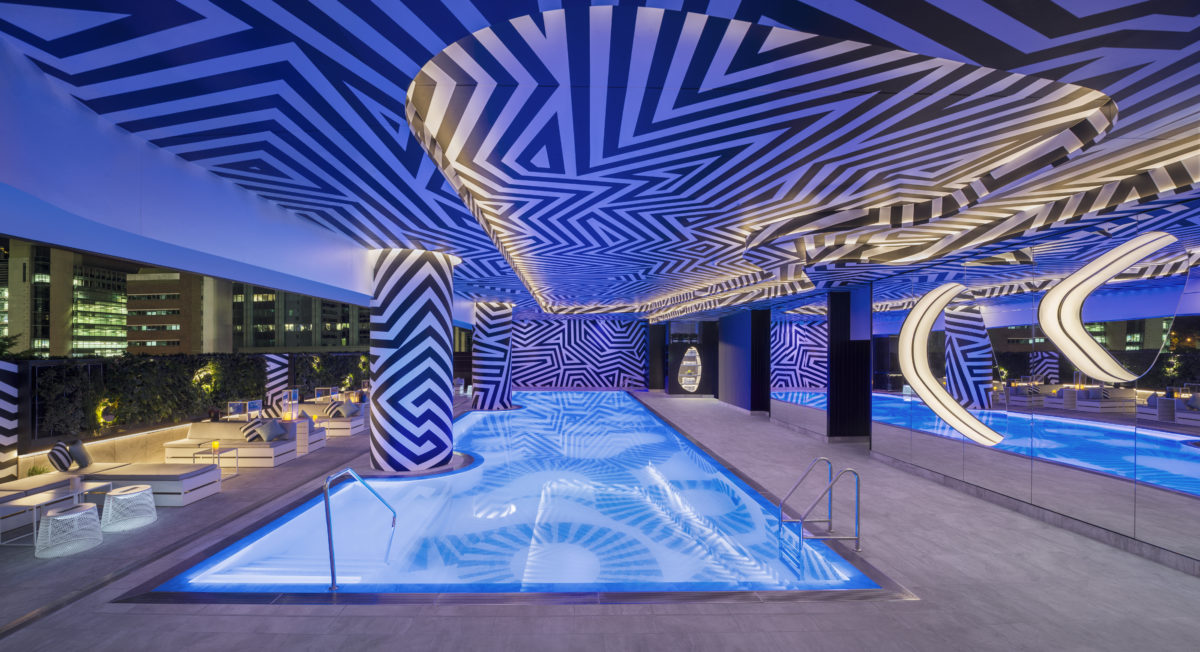 Brisbane has had its fair share of new dining stock hit the market in recent years, but the multiple venues within the hotel itself are still city standouts. Three Blue Ducks (of Byron Bay fame) is the main restaurant and sits on Level 3, once again capitalising on that mesmerising vista. While we didn't get a chance to sample the dinner offering, breakfast was outstanding in both quality and variety. Think Spanner Crab omelettes, smoked salmon with labneh on sourdough and chipotle mushroom tortillas to your heart's content.
It's an $80 per-night premium to your room rate to have breakfast included – which sounds high – but W will also throw in a $50 food and drink credit per day, so it's actually a compelling deal. Venture to Level 1 and you'd find the Living Room Bar, a whimsical lobby-style bar that is more popular than any hotel bar has a right to be. It's a good spot for a quick cocktail on the way in or out and has an impressive array of snacky morsels.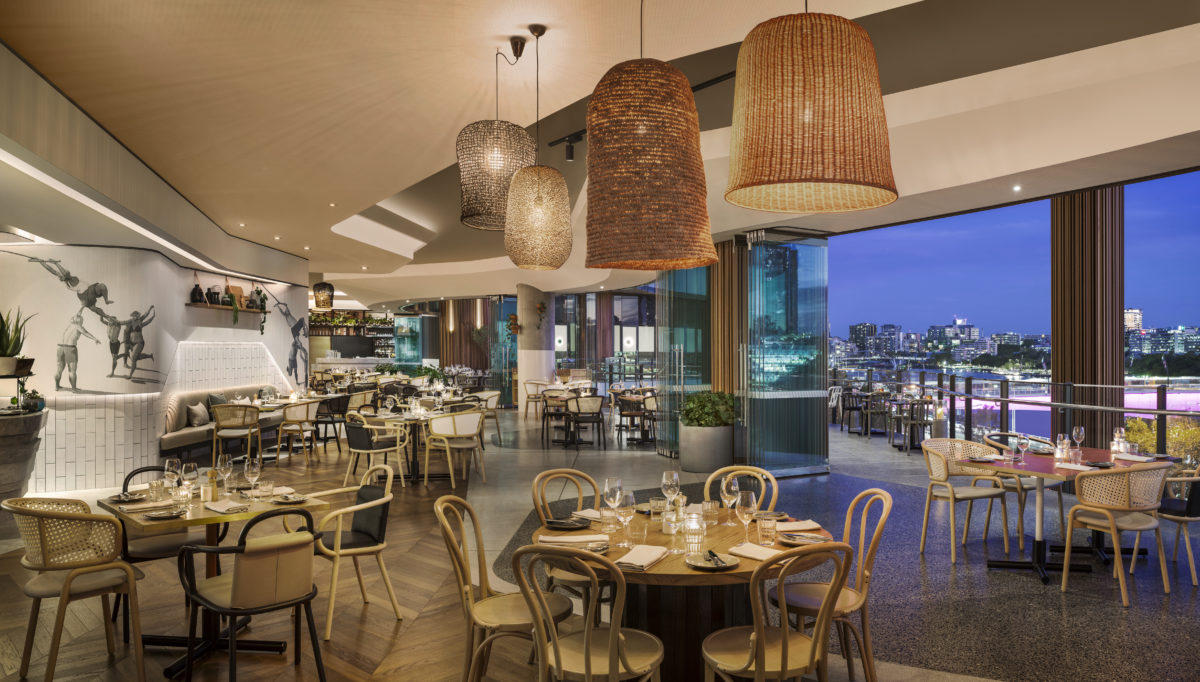 No five-star hotel worth its salt is complete without a luxury spa. W Brisbane is home to AWAY Spa, an elegant space with modern finishes that blend into the broader design of the hotel. Gone are the overplayed tropes of the traditional tired hotel spa – AWAY is sharp, clean and feels like a spa might in 2050. Facilities include mineral pools, saunas and aromatherapy steam rooms. It's also backed by a solid treatment menu including body experiences, massages and cosmetics delivered over six treatment rooms. Products are sourced from Skeyndor and Australian-made Sodashi, some of the most innovative brands in the world of cosmetics. For those looking to get a sweat on, there's also a gym with all the bells and whistles.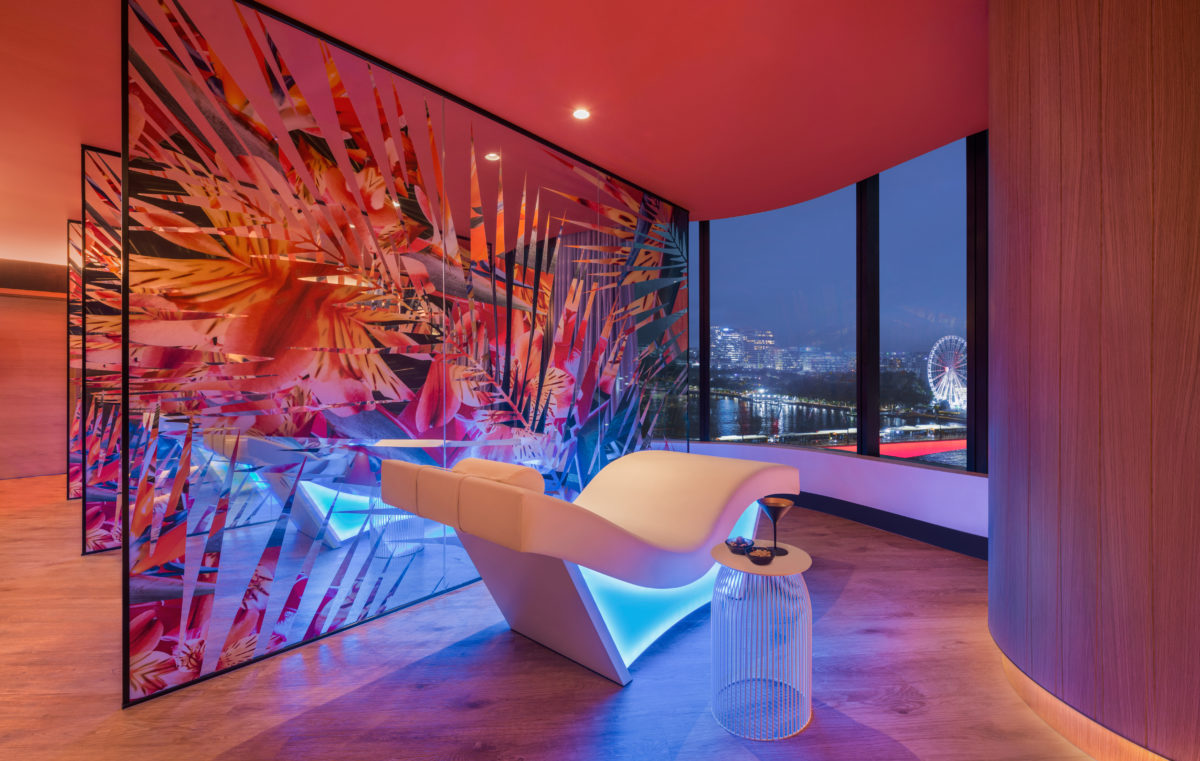 Overall, W Brisbane is certainly one of the best hotels in Brisbane. It might even be the best. Against other contenders like The Calile and Emporium, it feels fresher and has a more energetic soul. It's ultimately going to come down to what experience you're looking for, as each hotel has its own style and target market. For W Brisbane, your money gets you futuristic luxury, unique aesthetics and impeccable service. There's a youthful energy about the hotel and the staff that's contagious and adds to the experience. A boutique and funky design alone may not be enough to get a prospective guest over the line, but W Brisbane has so many other talents it's hard to find a reason not to click that 'Confirm Booking' button.
Head over to W Brisbane's website for more info and to book your stay.