Those who know me know that skiing has long been one of my favourite things to do, so when I woke up on a Monday morning to an email inviting me to an 'instameet' comprising a week's skiing in France with Club Med, it took me about 5 groggy seconds to reply with an emphatic yes.
Fast forward two months and I was jumping on a plane to Geneva (approximately three hours drive from the slopes) to spend the week with an awesome group of Instagrammers and bloggers from the Asia Pacific region.
I had previously been to a Club Med as a child so had an inkling of the kind of vibe to expect, but the reaction of the group when we arrived at our first resort, Club Med Peisey-Vallandry, and got our first taste of the Club Med spirit with about 30 GO's (Gentil Organisateur – Club Med's front of house staff) clapping us off the bus, was quite funny to watch – the reaction when we got our first view from the terrace at Peisey-Vallandry was even better.
---
---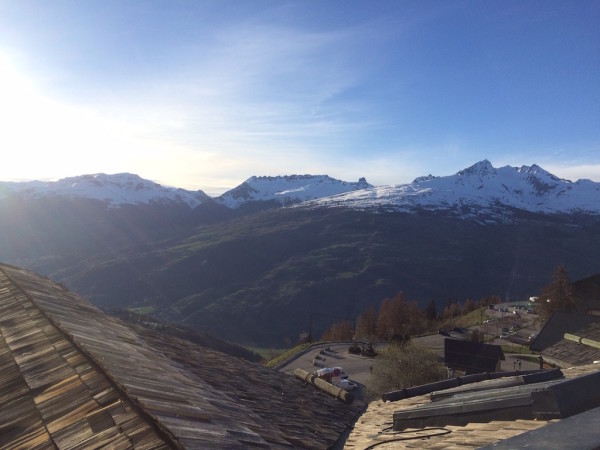 After quickly getting settled into our massive rooms, we made our way down to one of the two restaurants at the resort and laid our eyes on one of the more extravagant buffets you're likely to see. Without being too cliche or going into too much detail, there is something to cater to literally everybody's tastes. French (obviously), Italian, Seafood, Asian, American – you want it? They got it. Needless to say, for every meal it wasn't uncommon amongst our group to have two entrees, two mains, and then finish off the meal with a couple of desserts to boot.
Excessive? Perhaps, but when Club Med say it's all inclusive, it really is all inclusive – the amount of food put in front of you from the moment you wake up to the moment you go to bed is truly staggering and it takes a whole lot of willpower (of which I was severely lacking on this trip) to avoid putting on a few kg's over the week. My favourite meals over the course of the week were generally the grab and go food that I'd get at lunchtime – quick, easy, delicious, and the perfect way to get some sustenance before getting back out on the slopes.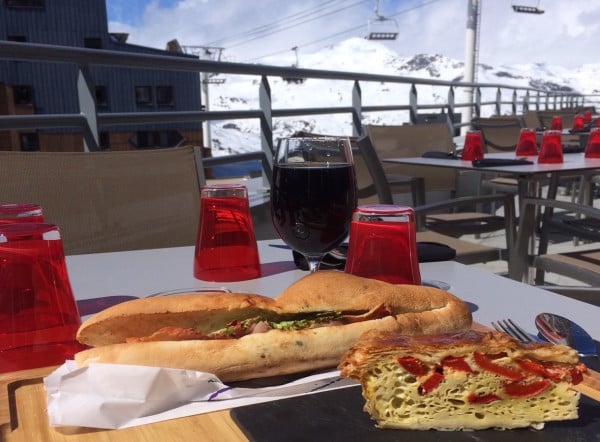 The next morning after waking up to a spectacular view and grabbing an excessively large breakfast (think pancakes, charcuterie, fruit), I walked downstairs to the ski room to find my rental skis and ski pass already sitting in my locker, as well as fresh croissants and a shot of pastis to wake me up, it was really only then that I started to realise why Club Med is such a popular option on the slopes. It's just so easy – from the minute you walk in the door you literally do not have to touch your wallet until you leave at the end of the week. For those of you who have skied before, you'll know that this is pretty much the opposite of a normal experience at the snow, where it seems like you spend more time at the ATM than you do on your skis.
Our trip to Club Med Peisey-Vallandry was at the end of the season, with the lifts closing the week after we left, so the snow wasn't quite at its best, but on the plus side we had some incredible weather to enjoy the the beautiful Paradiski area, which covers Peisey Vallandry, Les Arcs 1800, 1950 and 2000, and is twinned with neighbouring La Plagne – offering enough terrain to rival the Trois Vallées (the world's largest ski area and home to the next stop on our itinerary, Val Thorens).
I won't bore you with the detail of our days on the slopes, but the below video pretty much sums it up (skiing and beers in the sun). I could certainly think of worse ways to spend a week.
While the first few days of the trip were fairly tame at the more family oriented Peisey-Vallandry, the second half was at the much more party focused Val Thorens – it goes without saying we had a good time getting stuck into the all inclusive Oxygen Bar at Club Med Val Thorens Sensations (myself and James Want from The Versatile Gent may have taken the all inclusive alcohol part a little too literally).
---
---
For those of you who haven't 'done' a Club Med trip before, it's a very unique atmosphere – the nightly shows at the nightclub involve a whole lot of singing and dancing, and a fair bit of Club Med 'kool-aid' if you know what I mean – but if you're willing to have a laugh at yourself and get involved on the d-floor, it's a lot of good old fashioned fun.
Speaking of fun, Val Thorens is also home to one of the world famous La Folie Douce day clubs on the slopes. On a sunny day in VT you get 500 people in their ski gear dancing on tables while a DJ, singer, and saxophonist pump tunes – it's really one of the most fun things I've done at the snow and a must do for anyone who visits the French Alps.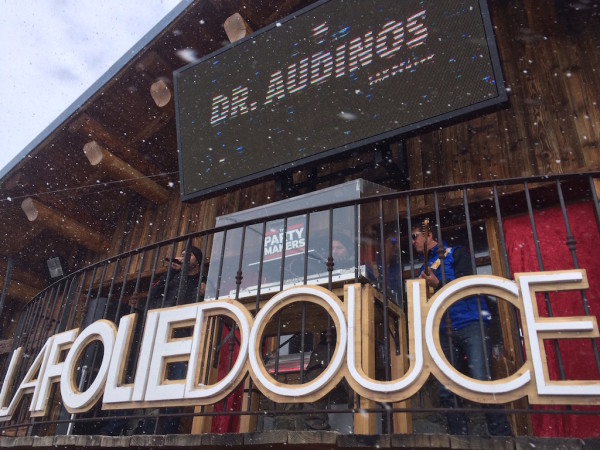 The team at Club Med put together a brilliant week for all involved – they brought together some awesome influencers from around the Asia Pacific region and made it a super enjoyable (and easy) week from the minute we got off the plane to the moment we boarded again in Geneva . Some great friendships were made, some great times were had, and some epic crashes were witnessed. Whether you're a group of mates looking for a week of skiing and drinking, or a young family getting their first taste of the snow; if you're looking for the ultimate no hassle ski holiday you really can't go past Club Med in the French Alps.
To learn more about Club Med's alpine offerings – just click here.
P.S. If you're looking for a laugh, here's my last run of the week.