Tasmania may be the Island State, but Queensland's tidy collection of tropical islands gives it some stiff competition for the title of the crown. Amongst Queensland's collection of golden sand treasures is the exceptionally beautiful K'gari/Fraser Island. Heritage listed as the world's largest sand island, it's an adventurer's paradise, surrounded by idyllic waters, blanketed with lush rainforest, dotted with natural swimming holes, and alive with local wildlife. A detour off the highway to enjoy what it has on offer is an essential part of any circumnavigation of Australia.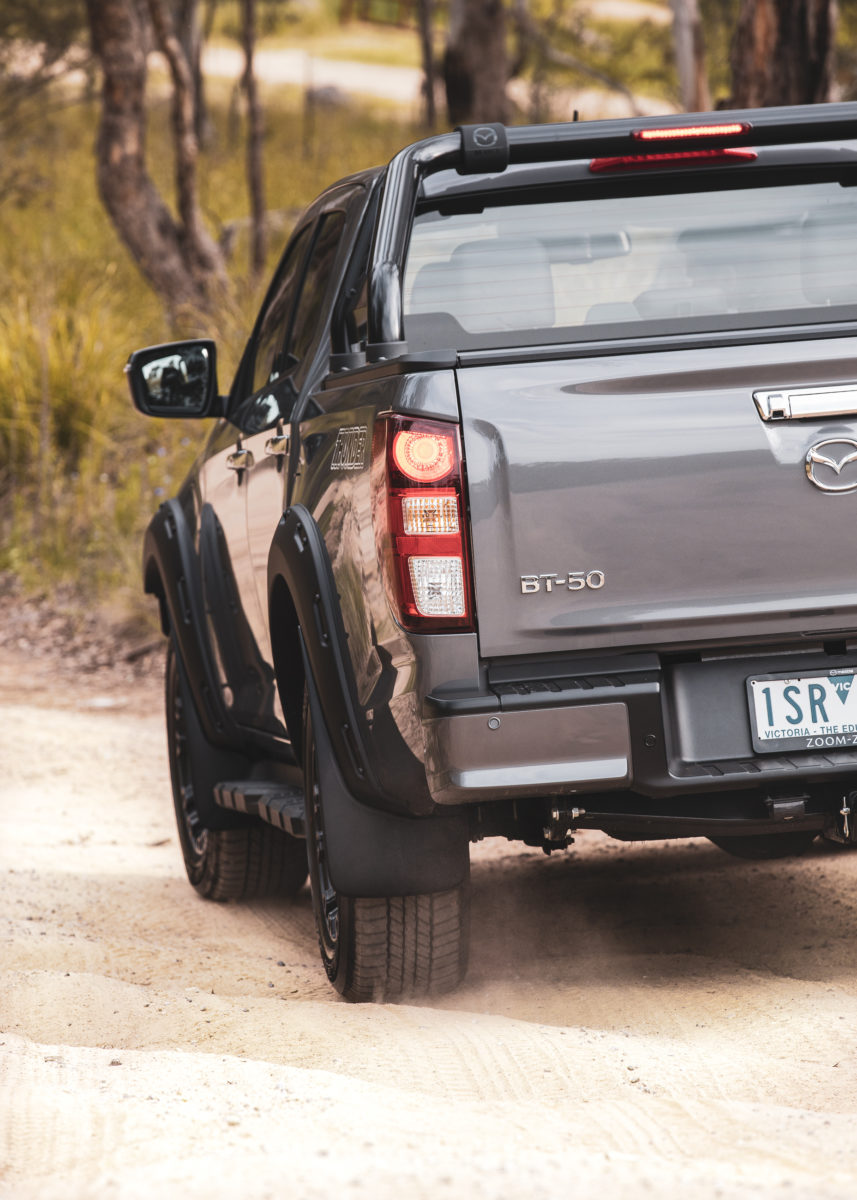 Friday
The size of Fraser Island requires a solid couple of days' worth of exploring, so start your trip off early on a Friday, as it's a decent 4 hour journey from Brisbane to the ferry that will take you and your Brand-New Mazda BT-50 Thunder across to Fraser. It's no doubt tempting to veer off the Bruce Highway in search of an ocean swim – and by all means, go for your life – but when your destination is one giant beach, it could be a smarter use of your time to swing through Noosa Heads, bypass the beach and refuel at the original Betty's Burgers. A quick walk along the boardwalk should do the trick and help you digest the scrummy 2000 calories you've unashamedly just downed.
Arriving in the humble town of River Heads (just south of Hervey Bay), of the two ferries that can take you across, the Kingfisher Bay Ferry is the one you want. It is strongly recommended you book in your BT-50 Thunder ahead of time, as there's a solid chance you won't make either boat if you just decide to rock up. The names may be a giveaway, but the ferries bear more semblance to small industrial barges rather than the larger ship-like courier you may have been expecting. With a cruisy 45-minute journey across the water, there's little to do other than close your eyes and feel the fresh sea breeze as the engine chugs beneath you.
---
---
It's worthwhile doing your research when choosing your ferry time, as the Kingfisher Bay Ferry will drop you at the resort, whilst the Fraser Venture will drop you on the western side, both only accessible by 4WD. It may seem a paradox – a heritage-listed natural wonder and 4WDs – but off-roading on Fraser Island is touted as some of the best in the country, and the BT-50 Thunder is well and truly up to the job.
The convenience of the Kingfisher Bay Ferry when staying at the luxurious Kingfisher Bay Resort should be an obvious choice for most. Parking the car at the resort, the sheer size of the hotel may surprise you. As the premier eco-resort on the island, it sits along the calm waters of the Great Sandy Strait and is set up with multiple restaurants, villas, beach houses and hotel rooms, but done so with careful consideration of its surrounding habitat. Unless camping is more your style (in which case, there are plenty of campsites around the island), there's no doubt this resort will have a room to suit your style.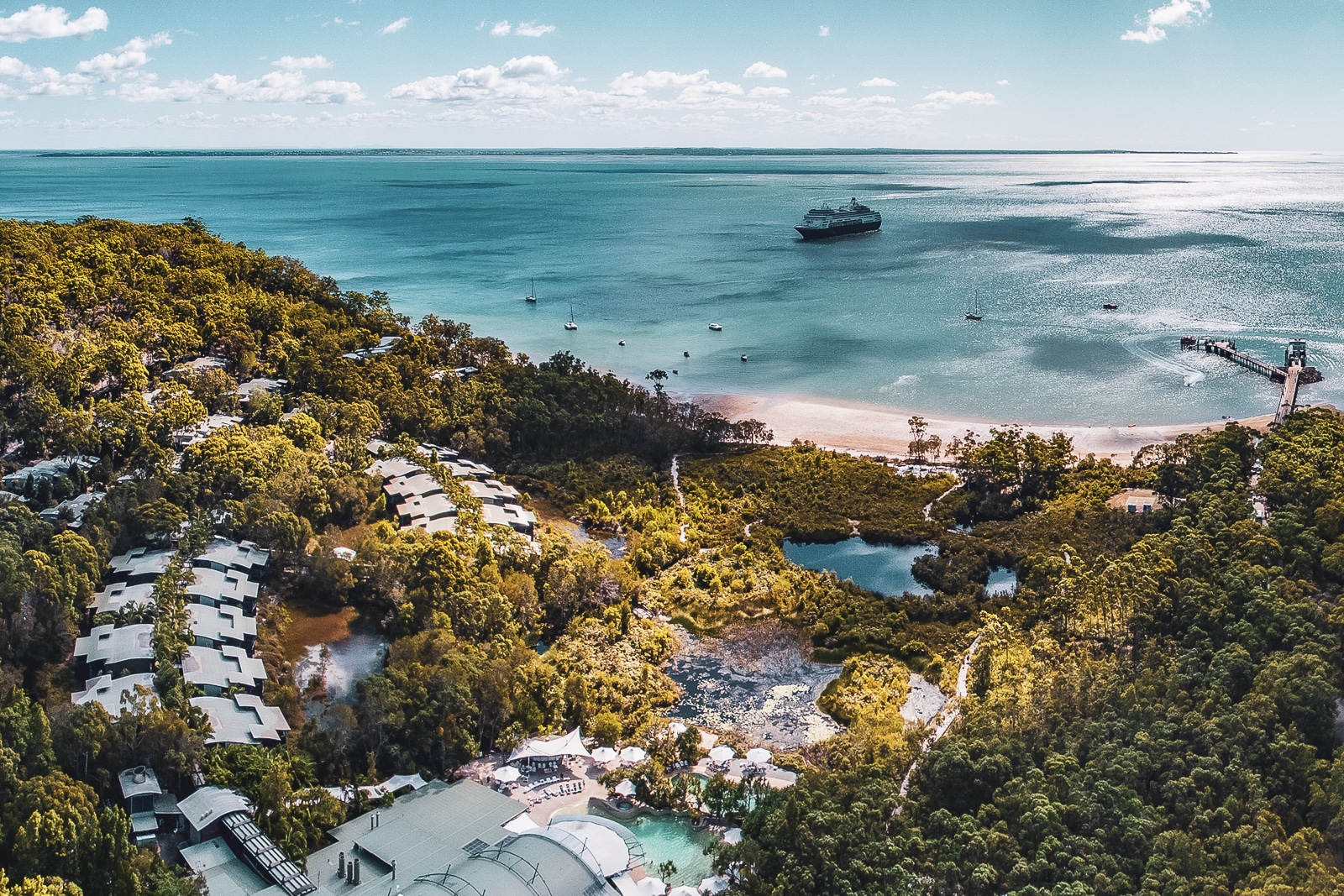 Saturday
Fraser Island is big, so waking up early to cover as much ground as possible is essential to making the most of your weekend. One piece of information that should be rammed into your subconscious from the start – leave two hours on either side of low tide if you're planning on driving and/or parking on the beach. The thought of the humiliation, let alone the costs of having to be towed out of the lapping waves serves as a welcome reminder to bring a phone usb charger to connect to the car to ensure that there's no way that times and tides will get away from you.
Taking the off-road route, this is what thrilling sand driving should feel like, made easy by a locking rear differential, low-end torque and 18-inch wheels that grip and release like hand-held puppets.There are few journeys to a resort that will leave you feeling as elated and sweaty (in a good way) as this one. Thank God for the dual-zone climate control. Exploring the island can be a trip and a half.
Pro Tip: the Queensland government's park services website provides ample information around maps and safety for many of the drives around Fraser Island. Make sure you print/screenshot what you need before heading out on your drive.
Loading up the car with flippers, snorkels, towels and a picnic, it's off from Kingfisher Resort on a scenic drive to the island's many Southern and Central Lakes, eventually arriving at Dilli Village. Over the course of the day, you'll drive past Lake Boomanjin, Lake Benaroon, and Lake Birrabeen. Surrounded by woodlands of gums and banksia trees, Lake Boomanjin is an idyllic spot to spot for an early lunch and a dip in its unusual red/brown hued water.
Continuing on to the Central Lakes, the road drifts between hard dirt and soft sand throughout. The dynamic stability control transitions the car almost seamlessly between the two, until a grunt from the engine and a little tug at the wheel reminds you that you may actually have to eventually switch from 4H to 4L. With pleasure. Yesterday's adrenaline and sweat-inducing heat returns, and the azure waters of perhaps Fraser Island's most famed swimming spot, Lake Mackenzie, calls you into the cool lake as soon as the car is in park.
---
---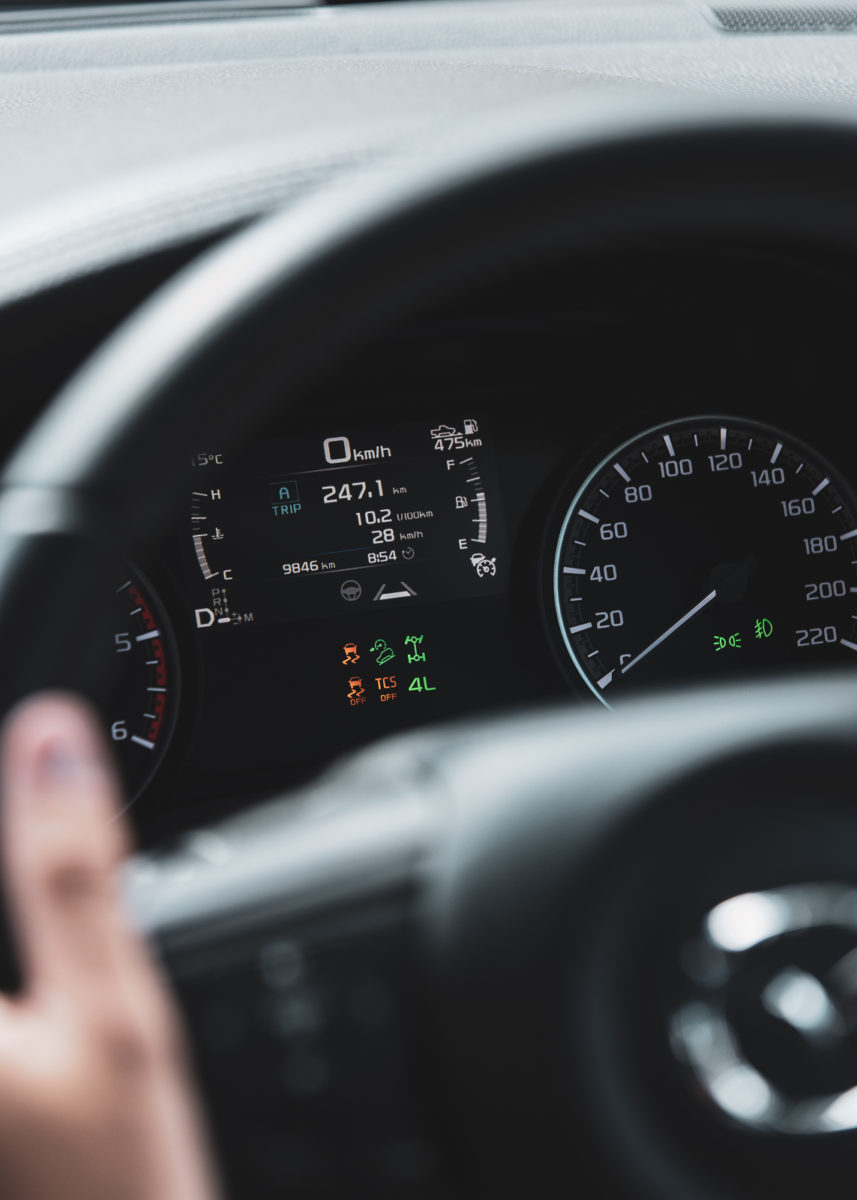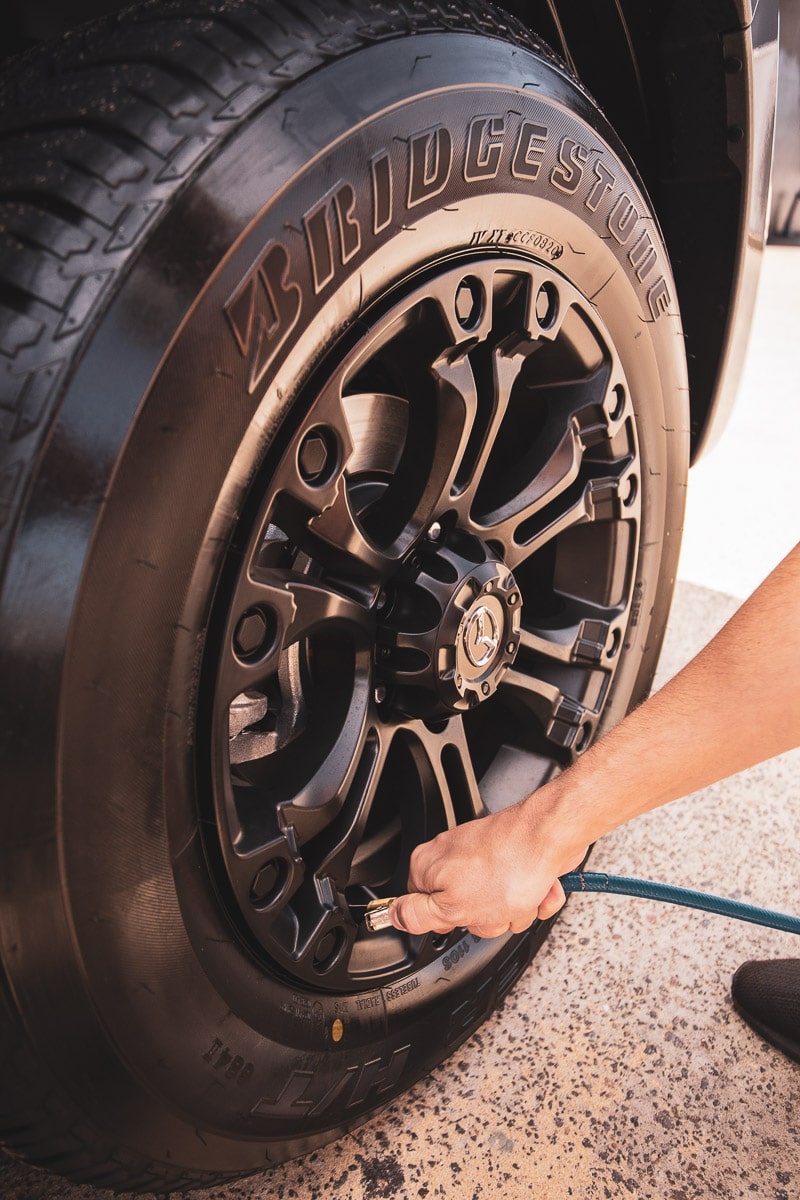 Bring sunnies, as the white sand here is almost blindingly so. Spending an hour swimming, diving and floating, then throw the wet gear into the tray for a speed-dry. If you've opted to explore Lake Wabby, know that there are some steep dunes to navigate in order to get to Wabby, and the low-end torque really cranks into gear as you hit that last high note over the final dune before taking in one of the most spectacular little swimming spots you've probably ever seen.
What it lacks in circumference, it makes for in 11m of depth, Lake Wabby makes for a startlingly beautiful dune lake, and is filled with 12 species of (protected) fish. Towels laid out on the now-shady sand, the crowds will have most likely already left if you've made Wabby your final destination. It is absolutely polarising.
After a day spent in your togs riding rough and bumpy tracks, returning to the resort for a bit of luxurious R&R doesn't go astray. Dinner is at Seabelle, a casual fine-diner tucked into Kingfisher Bay Resort that does true justice to locally caught seafood and native ingredients grown in the resort's own nursery.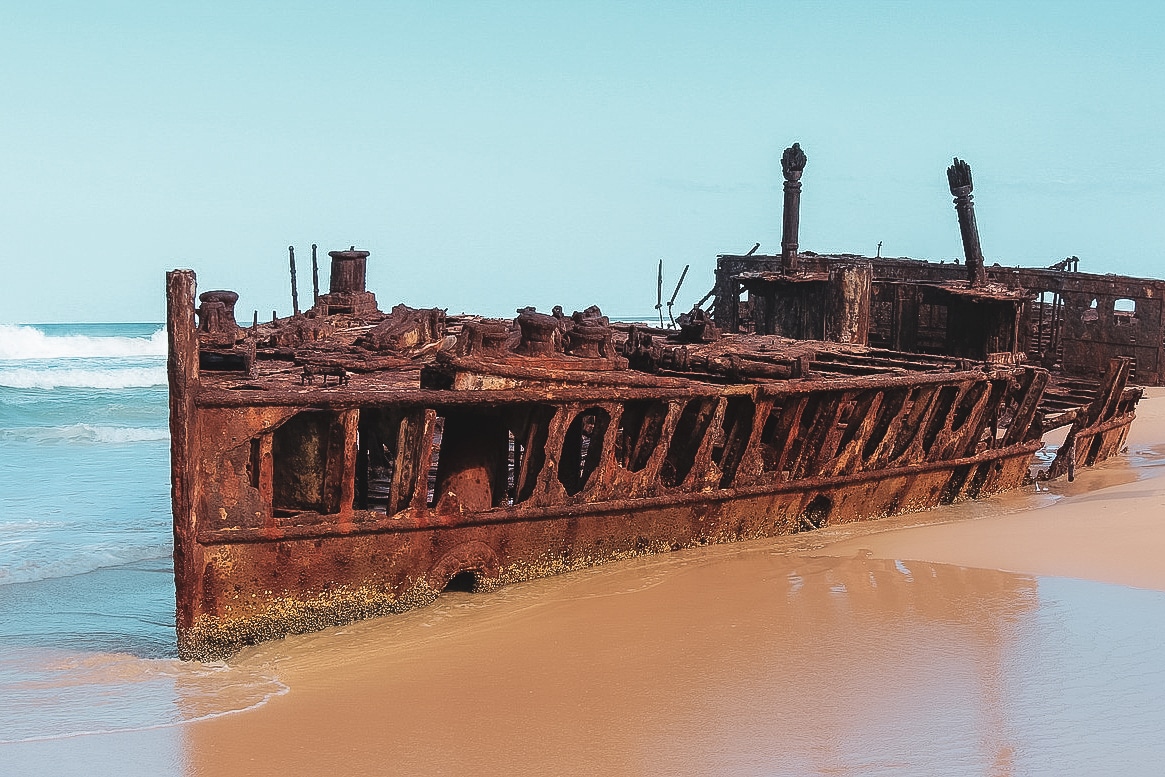 Sunday
Knowing that the weekend is nearing its end, and that your hours on the island are now limited, it's up and at it once again. There's the option for an early morning dolphin and whale-watching trip, or perhaps a nature-walk guided by the resort team.
For us, seeing an old shipwreck up close trumps both of these without question this morning. One of Fraser's most famous landmarks is the wreck of SS Maheno, a 5,000 tonne merchant ship driven ashore in 1935 by a cyclone and once used as target practice by RAAF bombers during WWII. Today you may not be able to climb it, but arriving early ahead of the crowds and taking in a 100+ year-old rusted shipwreck is an eerily beautiful way to start the day.
Race for the afternoon ferry home with the firm sand beneath allowing for a bit of pace to be built up driving along the beach. It's the kind of drive that Mazda ads are made of.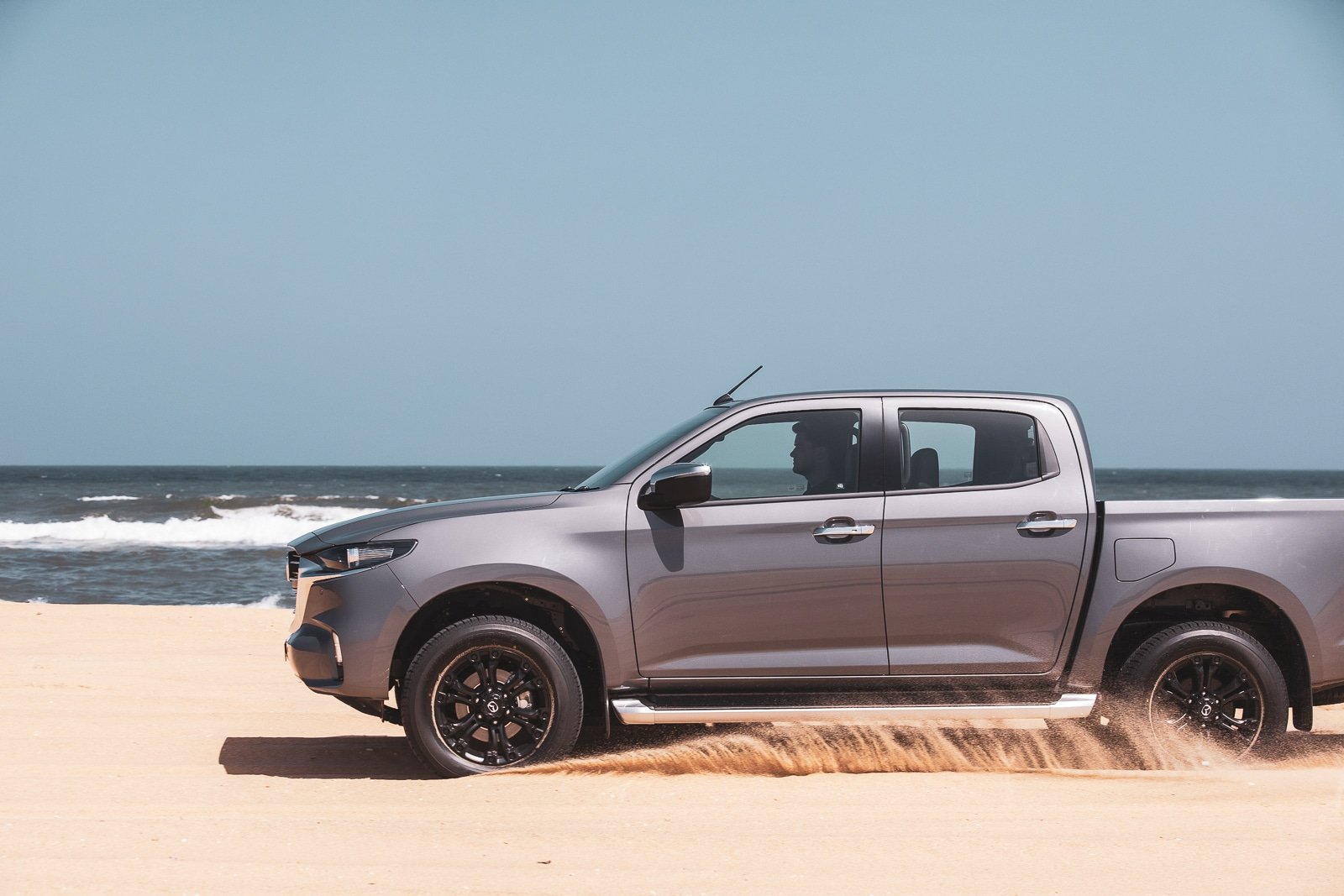 This article is part of a series, proudly presented in partnership with Mazda. Thank you for supporting the brands who support Boss Hunting.