One of Queensland's greatest holidaying institutions, the sun-devoted town of Noosa is all about endless summers, natural beauty, a lively food scene and low-key fun. For a little respite from the daily grind, you'd be hard pressed to find a more popular recommendation than Noosa.
And it's no wonder why. Noosa has way more to offer for the discerning traveller, having recently returned to its former glory out from under the shadow of Byron Bay. An easy two-hour drive up the M1 from Brisbane, the accessibility to Noosa only adds to the appeal. With the dual-zone air conditioning cranking to keep you cool from the midday sun, the Brand-New Mazda BT-50 is the perfect partner to take you from A to Beach this Easter long weekend.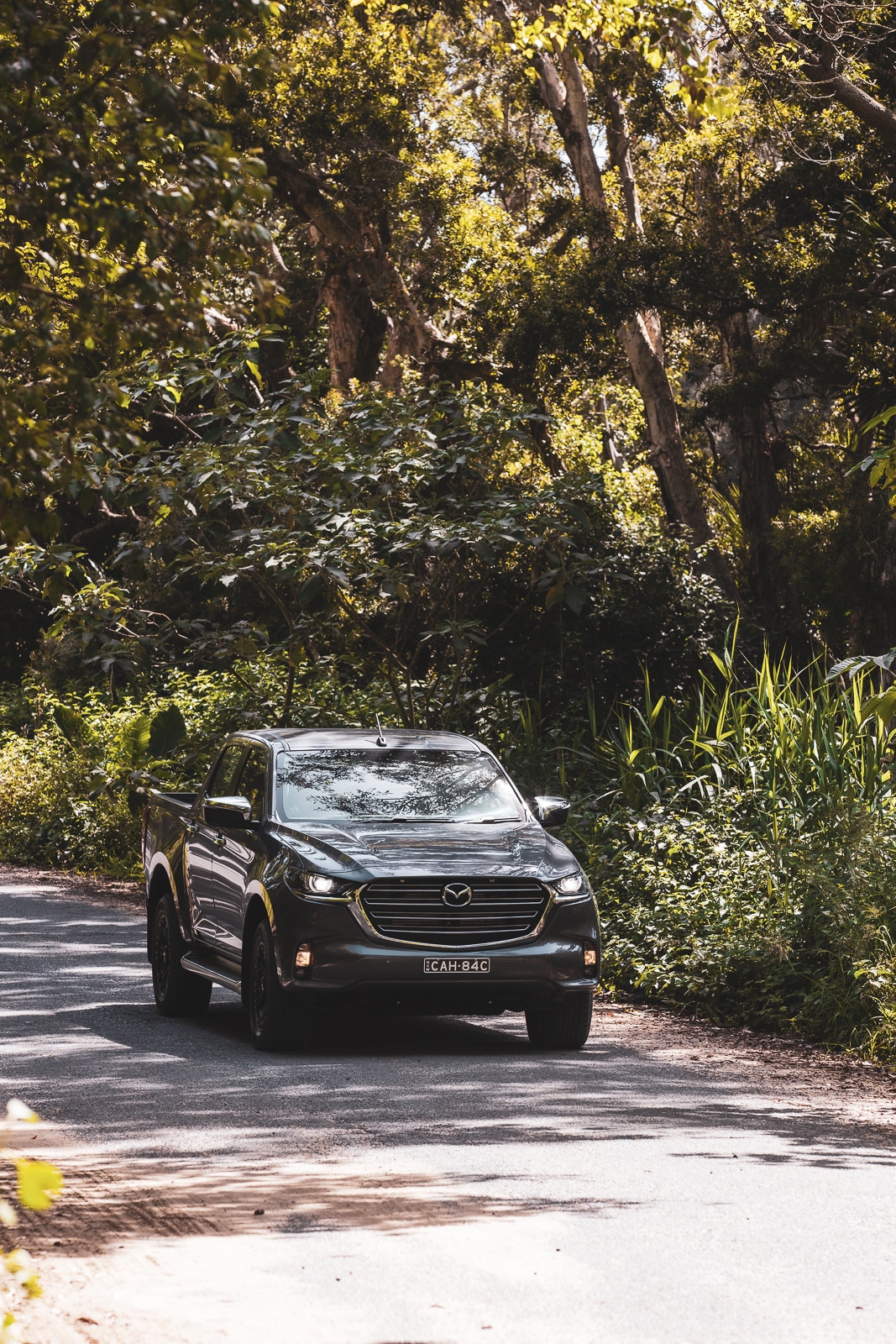 Friday
Journeying towards Noosa from Brisbane, an excellent way to stretch the legs is by stopping off half-way in for a quick nine holes at Caloundra Golf Club. A gently undulating course with Championship status, Caloundra interestingly also hosts a daily bird feeding at 4pm, with hundreds of rainbow lorikeets descending on the club house for a colourful frenzy.
---
---
Arriving in Noosa, there's an abundance of ocean-front apartments or river-front houses to choose from, but if you're looking for something a little more removed from the hustle of Hastings Street, Luxico's Azure is the baller choice. An infinity pool looks out towards the ocean, an all-white and blue colour scheme drapes the indoor/outdoor living areas, and with an abundance of hotel-style luxuries, Azure is about as close to Mykonos as you can get this side of the Aegean.
Noosa's food scene has quietly exploded in the past decade and offers a plethora of casual and fine-dining options for all tastes and budgets. If watching the sunset over the ocean from your private terrace has you vibing a European Summer more than an Australian one, Somedays in Noosa Junction serves up just about the best pizza in the state. The chef hails from Naples, the ingredients are all sourced locally, and there's a lot of love in every pizza that comes out of the oven. Over at Sunshine Beach, Sum Yung Guys serves up a stunning selection of Asian influenced dishes and cocktails to match. The Prawn Toast and Hiramasa Kingfish will have you salivating – if you can score a seat! An obligatory stroll to Massimo's after dinner will mark the first of many visits to Noosa's mainstay gelato legends before heading home and calling it a night.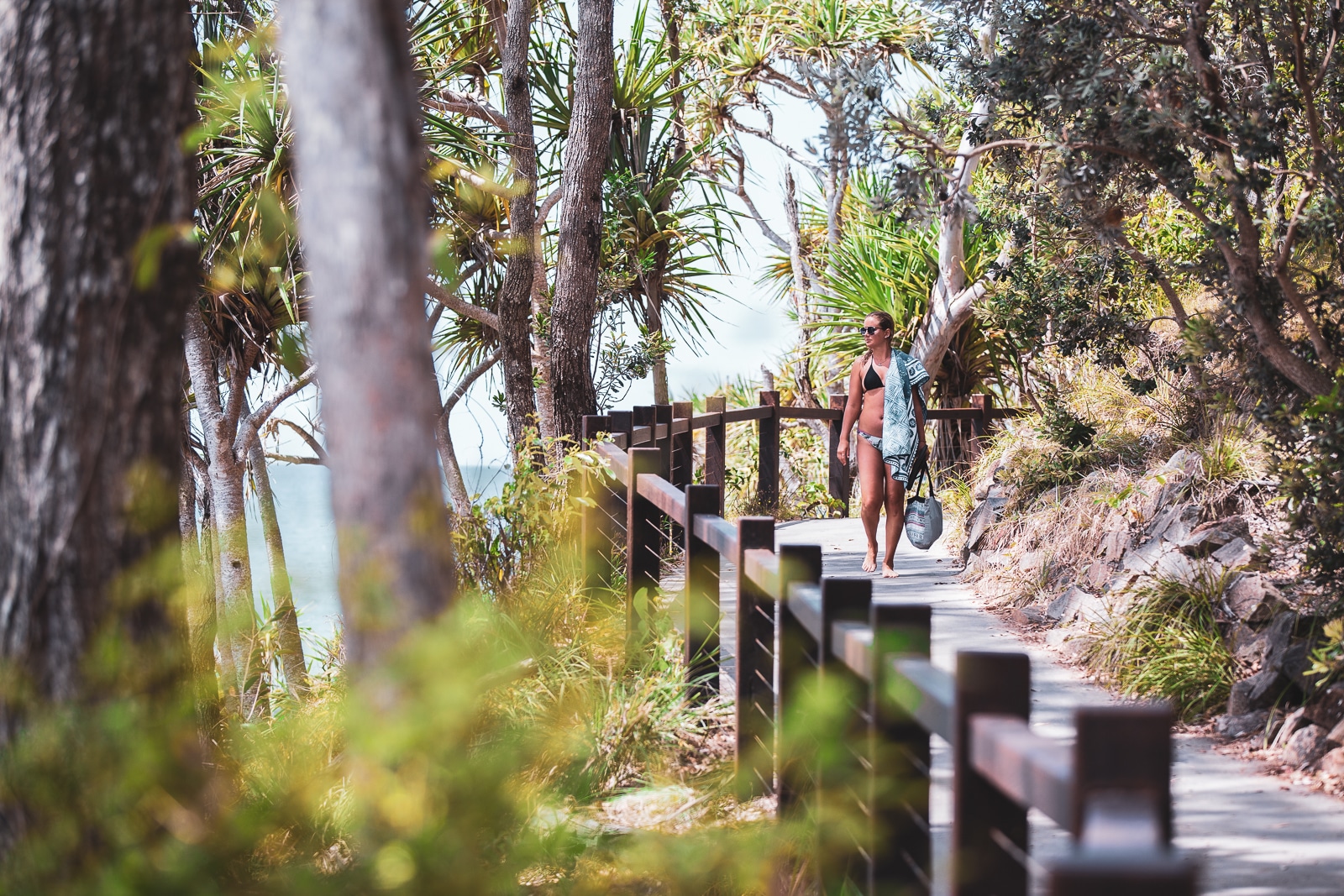 Saturday
One of the best ways to start the day in Noosa is with a walk or run in the national park. A 5km trail will take you through a protected, dense rainforest that breaks out to spectacular coastal scenery across Noosa's headlands. Birds, lizards, cicadas, and the odd-goanna amplify the natural beauty of this very special part of Australia, and experiencing it on holiday really makes you realise how lucky we are to be able to soak up the coast as Mother Nature intended.
After a brilliant start to the morning, it's time to crank it up a notch and head for the water. The 3.5-tonne towing capacity of the Mazda BT-50 means hauling a couple of jetskis to hit the water at Noosa's river mouth is as seamless as it is spirited. The reverse camera makes backing skis into the balmy water an absolute dream, and you'll embark on one of the most thrilling ways to see Noosa. Don't have your own ski? You can always rent one from Noosa Jetski Hire located in the middle of Gympie Terrace, right on the banks of the Noosa River.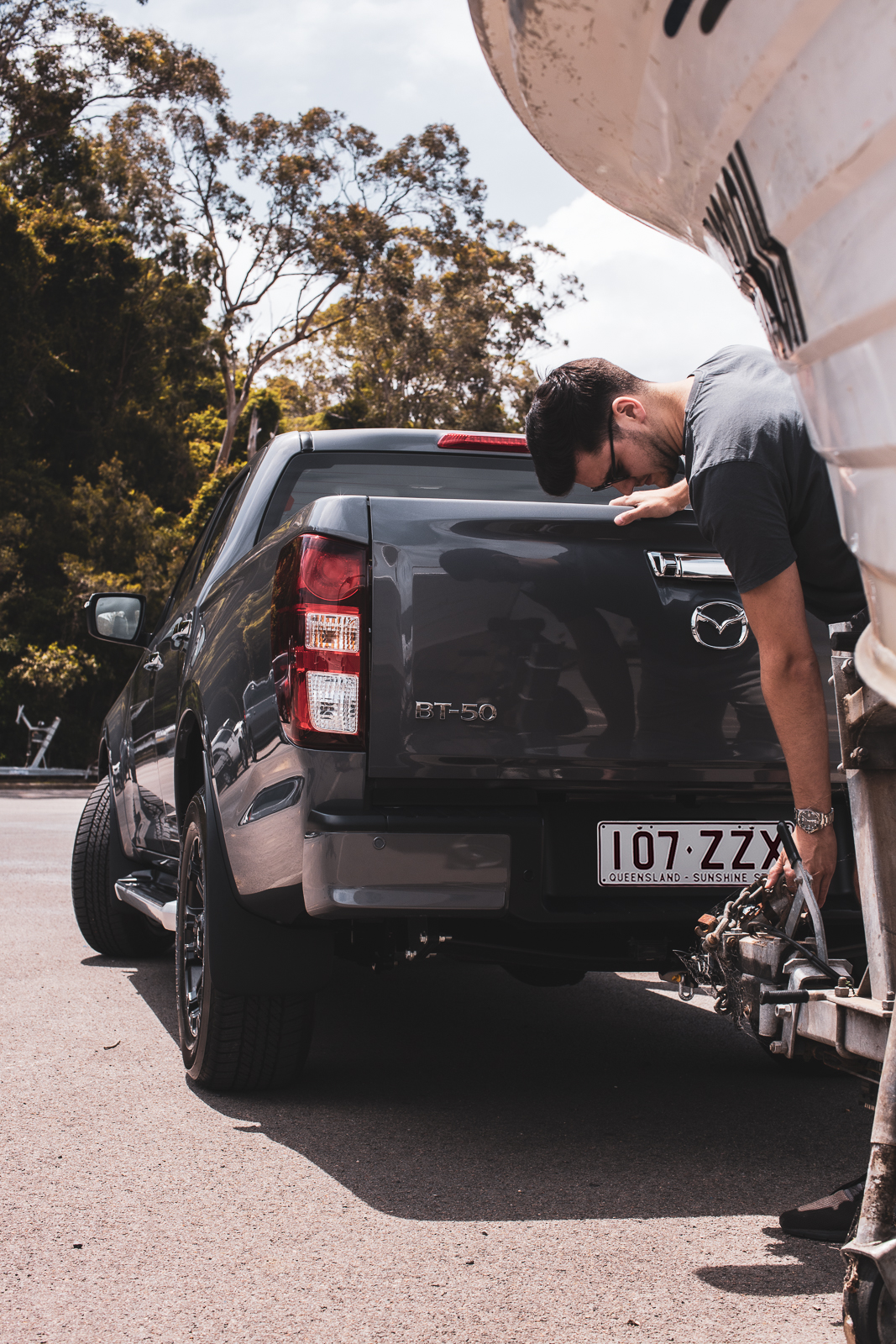 The BT-50's Hill Launch Assist ads an additional element of ease, dragging the trailer up the boat ramp and back to the house without breaking a sweat. Before too long, it's back to the house for a rinse in the infinity pool, and a quick change of clothes for an afternoon at Noosa Main Beach. Entering the National Park from the opposite side to this morning, a sunset stroll up to Little Cove is the perfect way to chill out and watch a few salty dogs make riding waves on their longboards look far too easy – it's also our pick if you want a secluded day at the beach.
Strolling back towards the beach boardwalk, an indulgent and fresh-as-it-gets seafood feast is always a fan-favourite Sails. A perfect day and a perfect meal are capped off by the restaurant's selection of Domaine de la Romanee-Conti – widely regarded to be the rarest and finest drops in the world. Like a moth to a flame, we are drawn once again for a post-meal gelato at Massimo's. Coconut and white chocolate is a flavour combination that is pretty hard to beat.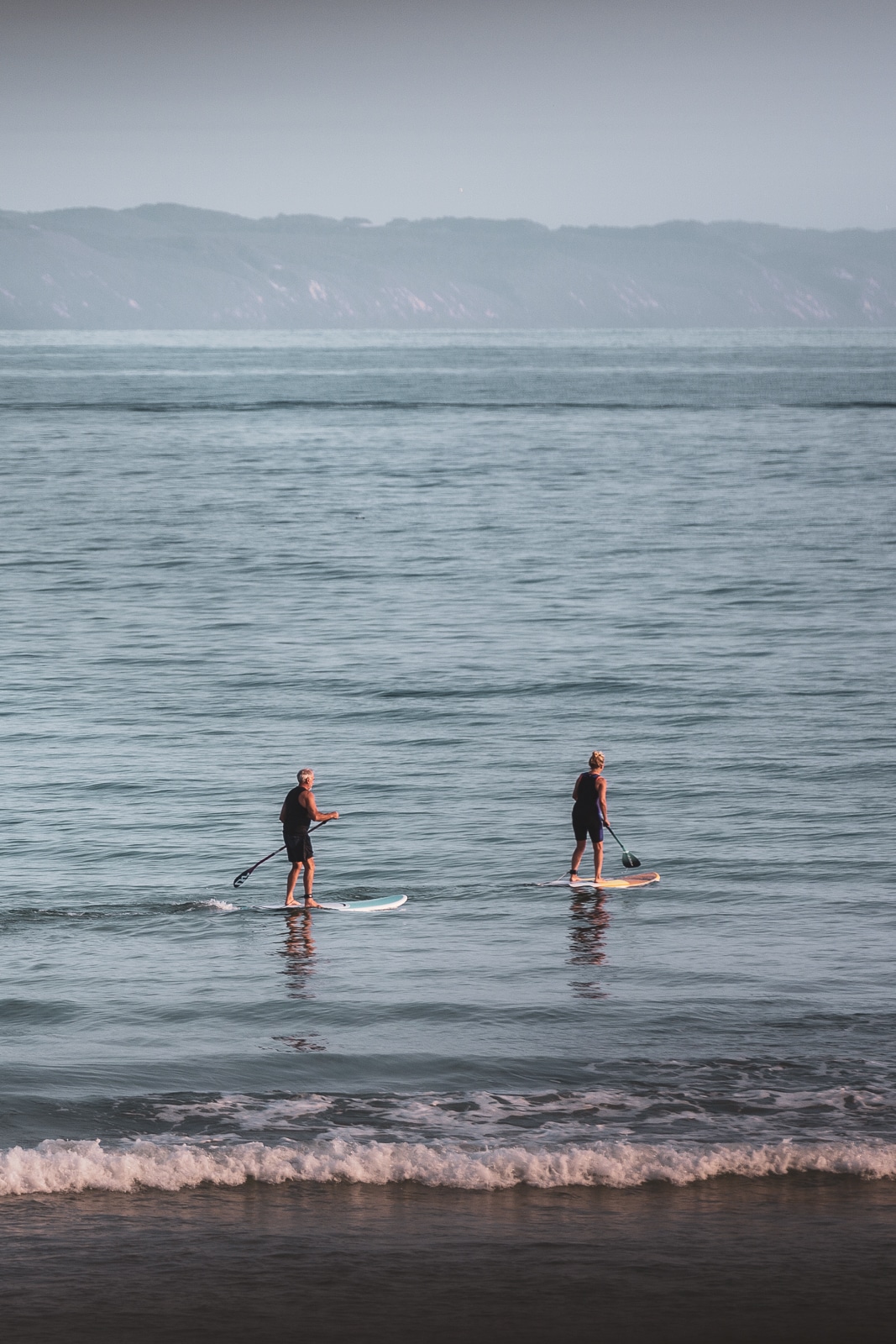 Sunday
Nestled amongst the gum trees of Noosaville is the Noosa Footy Club, where every Sunday the local Farmers' Market puts on a masterclass of food and produce. On a sunny day, the market is packed and the BT-50's intelligent parking sensors will be put to good use for what is a very loose interpretation of a carpark. Outside of holidays, the atmosphere at the market is cute and local. Walk around the stalls while nibbling locally grown macadamias, or grab some avo toast and a smoothie while a busker serenades the crowd with some easy listening guitar.
---
---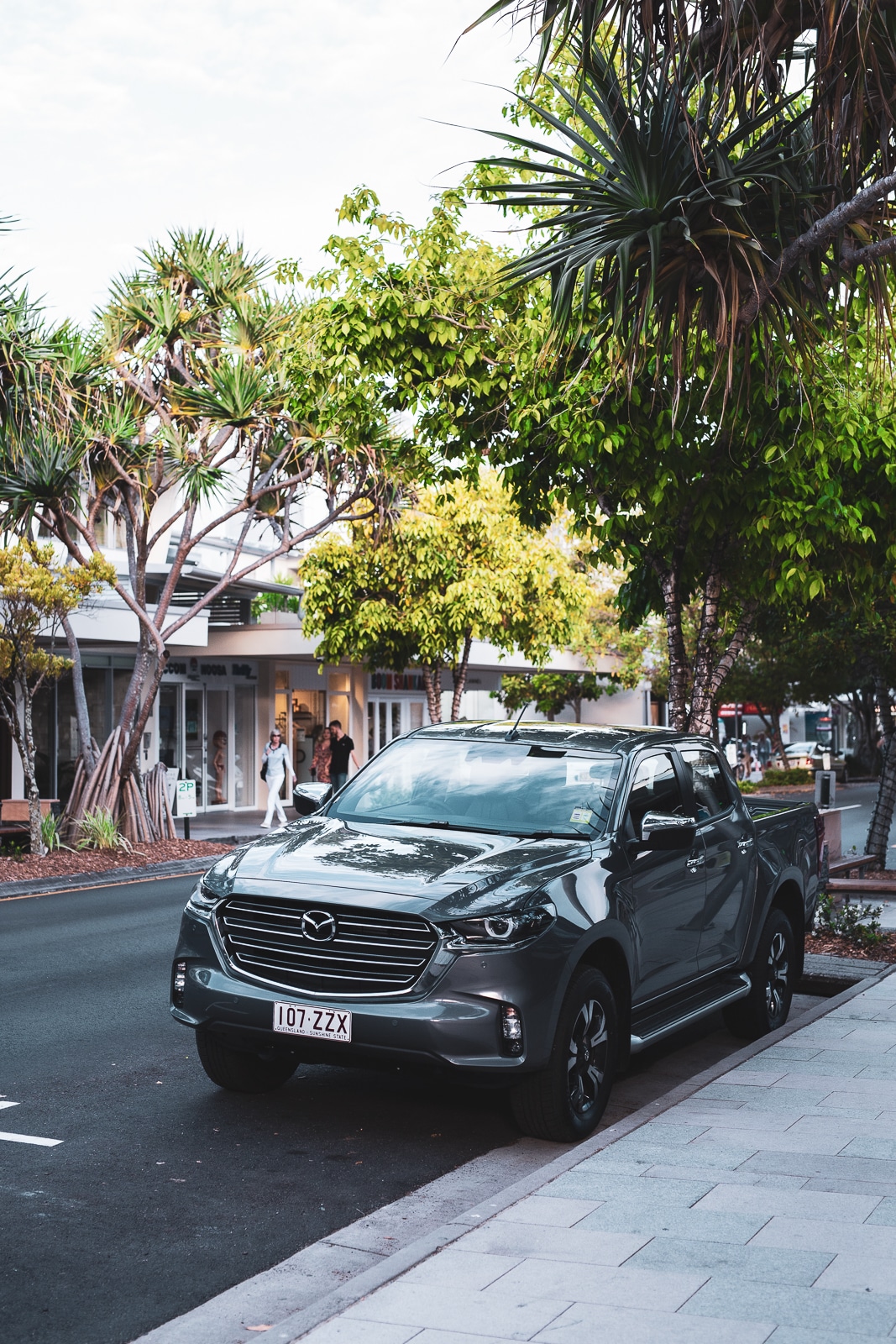 Leaving Noosa early in the afternoon provides ample time for one last pitstop before real 'home time', this time just a couple of kilometres from Maroochydoore Airport at Mudjimba Beach. Had you brought your own, there would have been ample space in the BT-50's tray for a couple of single kayaks, but hiring a few on the spot is just as easy. One kilometre out to sea is 'Old Woman Island', where the water surrounding you is clear blue, there's an old ruin on the island to investigate, and a decent chance of catching a sight of a turtle in between dips in the water. It's the polar opposite to yesterday's jet skiing thrill, but a pretty perfect Sunday afternoon activity.

After a long weekend spent in Noosa, it's no wonder it's been a go-to for holidaymakers for this long.
This article is part of a series, proudly presented in partnership with the Brand-New Mazda BT-50. Thank you for supporting the brands who support Boss Hunting.