Perth to Exmouth – a rite of passage for Western Australians and an absolute bucket-list-worthy road trip for the rest of us. Clocking up 1200km without crossing a border feels sensationally freeing, and the drive up the stunning Coral Coast is a blend of dazzling views and dizzying straights that lead to a World-Heritage listed oceanic paradise. Without a doubt, one of the most beautiful holiday destinations this land of plenty has to offer – and better yet, it's whale shark season on the reef right now.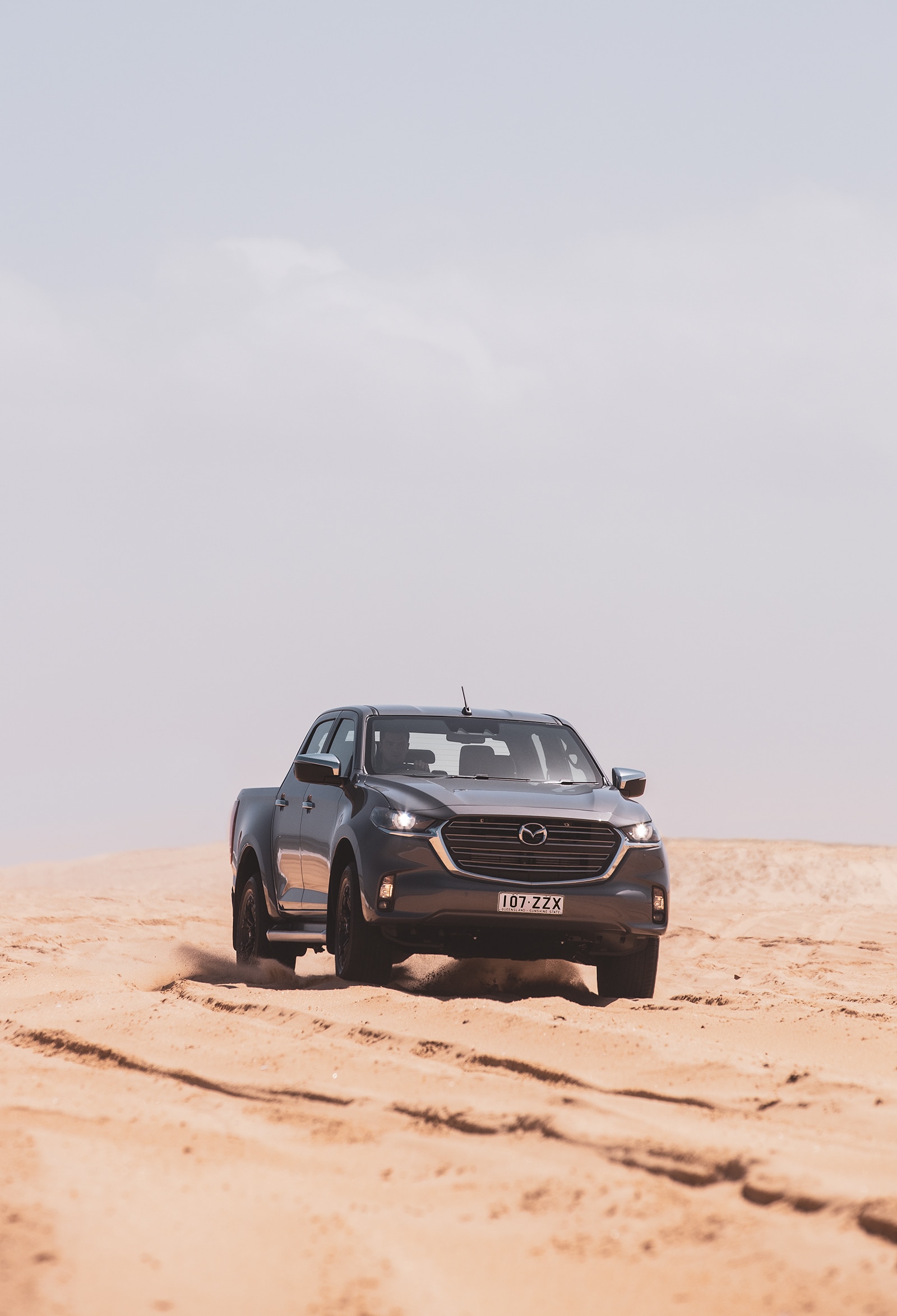 Day 1
It may be daunting and difficult to believe that two full days of driving in one direction will barely cross the half-way mark of WA's coastline, but the sheer expansiveness of this journey is part of what makes it a once-in-a-lifetime trip. Take some time off, and enjoy it. One of the most important things when setting off for a trip of this size is ensuring your 4WD capabilities – and the Brand-New Mazda BT-50 is sorted with traction control, hill descent control, hill launch assist and a rear diff lock – making it the perfect steed.
Just north of Indian Ocean Drive before Cervantes, The Pinnacles Desert is an impressive off-road taste-tester through free-standing limestone towers. Perfect for beginners, no off-road experience is required and will whet your palette for what's to come.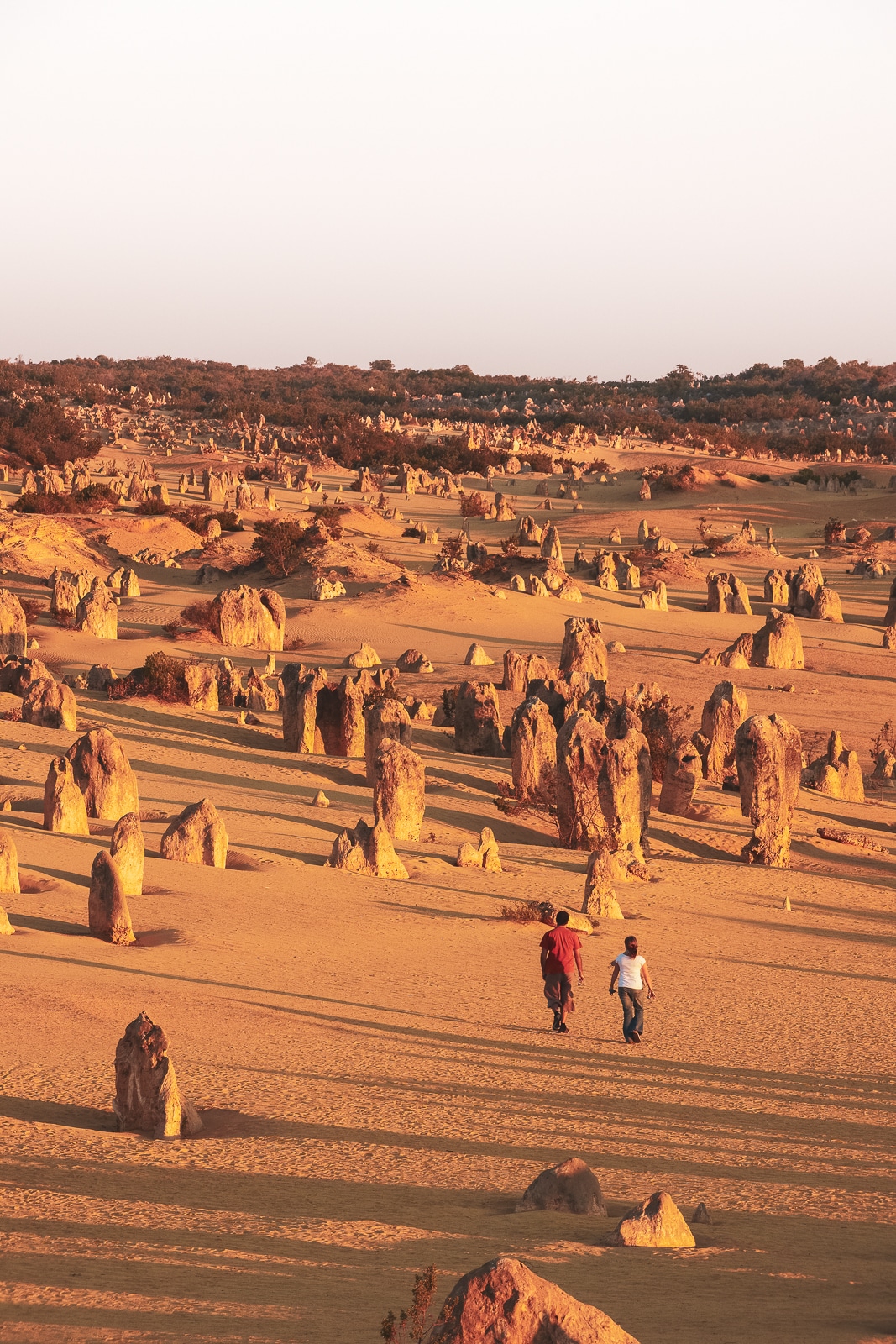 Before the desert roads kick in, sail down Band Highway for 430km, where the scenery around you transforms from green farmland into the scrub, a telling sign that your pitstop in Geraldton is imminent. The town of Geraldton, though only a third of the way into your trip, is your last good chance to stock up on food, supplies, a jerry can of fuel (just in case) before pitstops become more scarce as you travel further north. There's Bunnings, BCF, Woolies and Coles, but if you make it to town by 3pm, then be sure to stop by local haunt Salt Dish for some of their oven-baked pancakes. If you're planning to hit one of the many campsites along the coastline, Geraldton is also a hub for picking up a caravan to tow along with you; but even with the 3.5-tonne towing capacity of the BT-50, any stretch of road without a tow behind you is a win worth taking.
Spend the night in Geraldton, or, if it's still early days, get back on the road and with the carefree assistance of lane departure warning & prevention, continue to head north. Outside of the town, the road thins into single lanes and cars on the road become few and far between. Flick on adaptive cruise control to give your legs a rest and ensure any accidental speeding is avoided – an easy trap to fall into on lengthy trips where the traffic falls away and the lengthy roads blend into one.
Around 400km later, rest those weary eyes and check in to On The Deck @ Shark Bay, a B&B that overlooks where the red outback sand meets the startling blue waters. It may be dark when you arrive, but the compelling view will be there to greet you when you wake up.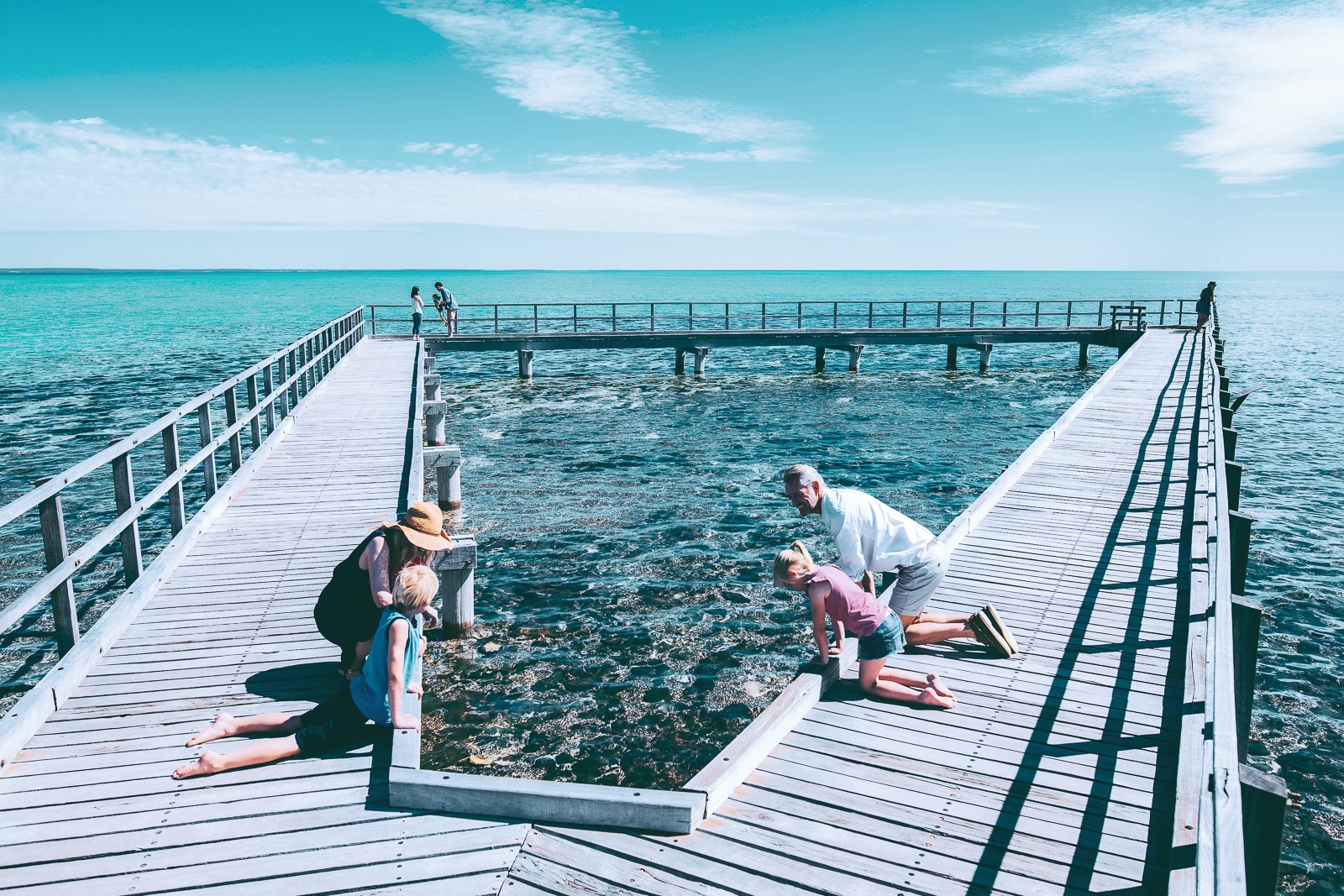 Day 2
Waking up with most of the grunt work behind you, enjoy a leisurely start to your morning on your second day. Despite its name, Shark Bay is perfectly safe to swim in, so after a morning walk in the dust, head to Shell Beach (incidentally, exactly what its name describes) for a dip in the ocean. While here, don't miss Hamelin Pool and the world's most diverse and abundant example of Stromatolite out there. Also referred to as 'living fossils', stromatolites are the oldest forms of life on Earth, and show what marine ecosystems would have looked like three billion years ago.
The drive onwards from Shark Bay to Exmouth and Ningaloo Reef is red, vast, and flat, though it has its fair share of bumps in the road. Luckily, with a little over 500km ahead of you, the comfort of the BT-50 front and dual-cab room make a second day on the road feel first-class. Make one final pitstop just 75km out of Shark Bay in the unassuming town of Carnarvon. With the sun high above you, stop in at Bumbak's for what could be the sweetest and most refreshing mango smoothie of your life.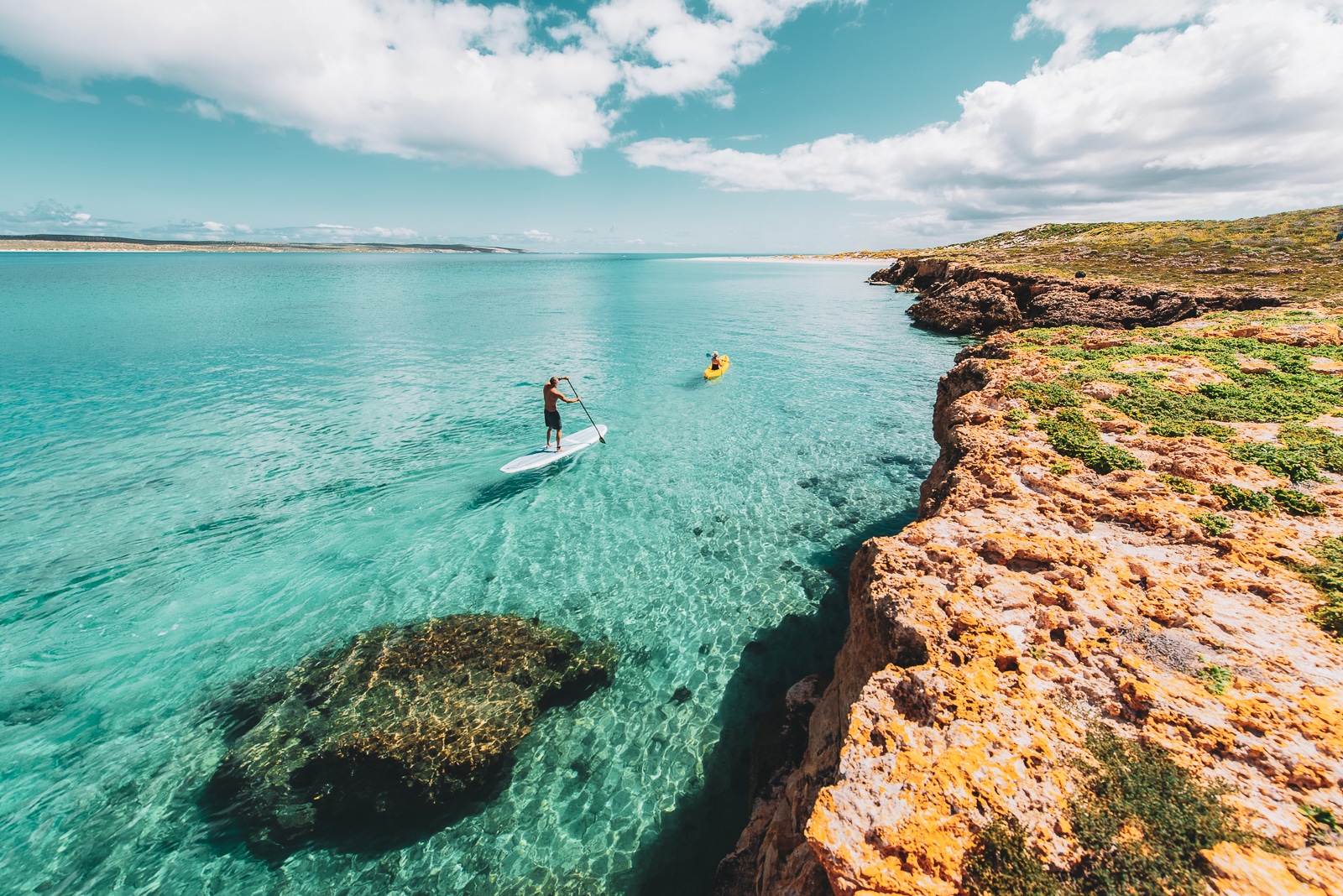 Driving this final stretch in the scorching WA sun, stay cool with the BT-50's ice-cool climate control that takes away the pinching heat of the outdoors and keeps you as comfortable as you need to feel. Smelling the ocean before you see it, wind down the windows and crank open the sunroof as you finally touchdown and catch your first glimpse of the incredible Ningaloo Reef and the endless Indian Ocean.
After such a long journey, a little opulence is only fair. Sal Salis Ningaloo Reef is an exclusive, eco-luxe beach safari camp perched right on the cusp of where the sand meets the water. The natural surroundings of this place practically beckon you to explore them, so spend your day snorkeling the reef at your doorstep. With over 500 species of fish, 250 species of coral, rays and turtles, it's not likely that this is an activity you'll get bored of any time soon.
Evenings at Ningaloo are spent under a blanket of hundreds of thousands of stars, sharing the freshest seafood and glory stories of your respective road trips with your fellow guests at San Salis.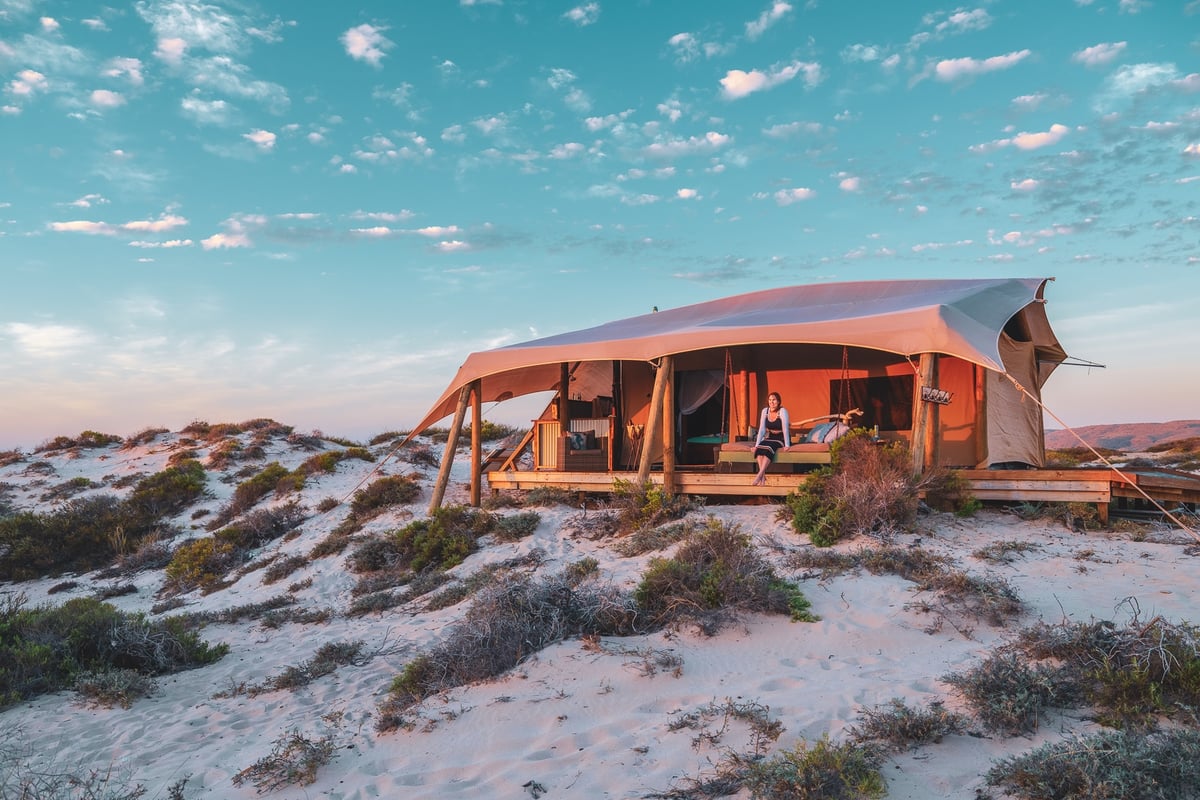 Ningaloo
Alarm clocks out here come in the form of local birds singing or the wallabies thumping past your tent. Days can be spent doing little else but sunbathing, swimming, and even more snorkeling, but one of Ningaloo's greatest attractions arrives each year between March and July, as the enormous and gentle migration of whale sharks moves slowly past the reef. There are several small and larger tour operators to choose from when you decide to swim with these gentle giants (San Salis runs its own private tours), and floating alongside the world's biggest fish is an experience not to be missed.
If you're visiting Ningaloo between August and November, you can still head out to the water and catch the migrating humpbacks breach and leap out of the water.
Ningaloo may seem to be all about the water adventure, but on-land adventures prove to be just as awe-inspiring. Head out early morning or late afternoon (or risk the wrath of that desert sun) to explore Yardi Creek Gorge with a guided tour, or grab a map and head 2km behind the camp to Mandu Mandu Gorge on your own.
If you're a sucker for a good view, take in all that the land and reef have to offer with a flight on Ningaloo Aviation's six-seater plane. You can customise your itinerary to see what sites appeal to you, and expect to see manta rays, dolphins, dugongs, sharks, and whale sharks when in season, as well as the stunning coastline.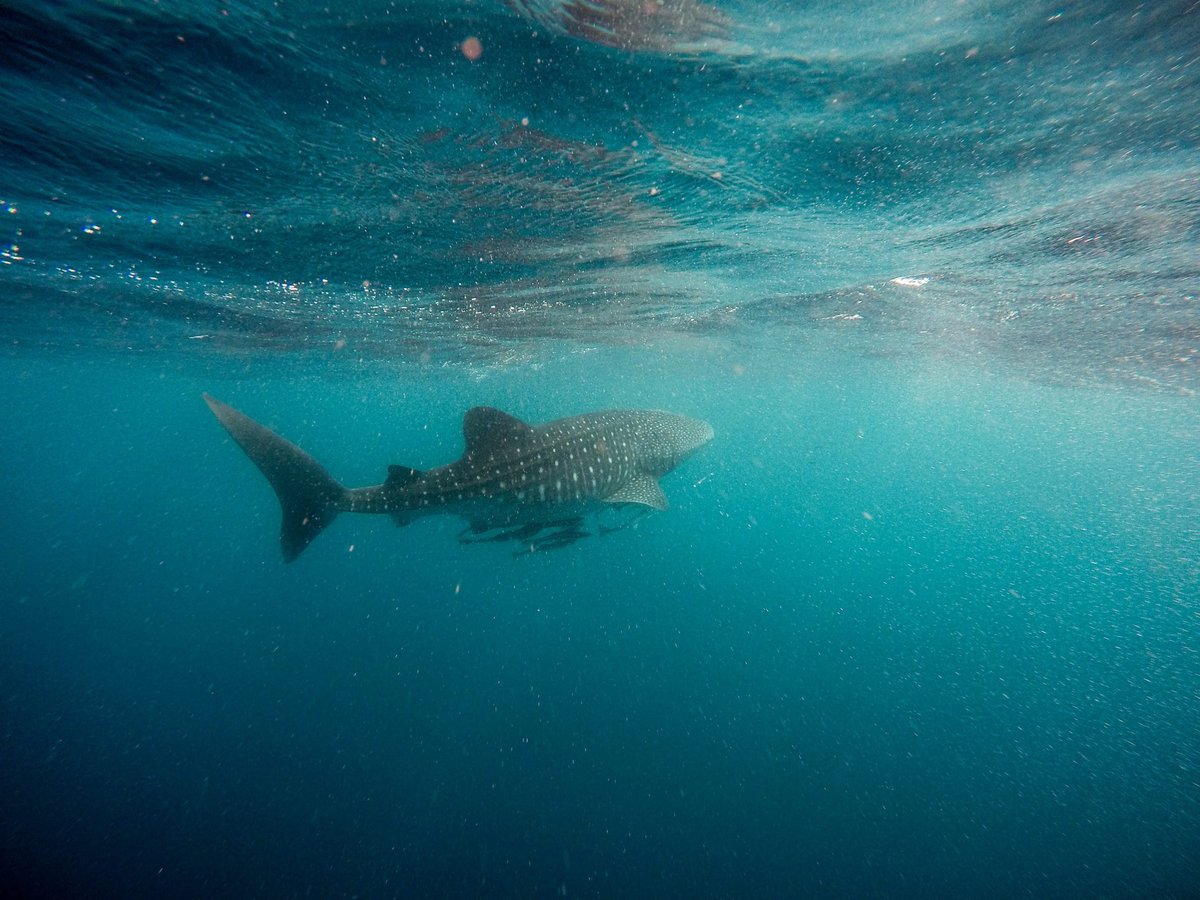 Returning to Perth
The trip back down to Perth may not have a lot of different scenery (out here, it's a 'one road in, one road out' kind of vibe), but your pitstops still hold a treasure trove of unique experiences to take on. If the endless sea of red starts to wind you down, now is the perfect opportunity to turn up the BT-50's eight-speaker audio system and that new podcast that every man and his dog is talking about.
One pitstop you may have missed on your way up? Billabong Roadhouse. Surrounded only by nests and bush, grab a token bit of road-trip merch and a hand-picked bag of mixed lollies for that glorious long road home.
This article is part of a series, proudly presented in partnership with the Brand-New Mazda BT-50. Thank you for supporting the brands who support Boss Hunting.