Set at the foot of the Alpine Ranges and fronting onto crystal clear Lake Wakatipu, Queenstown is a world-class destination. Dubbed the 'Adventure Capital of the World', Queenstown offers much more than just tranquil scenery and unparalleled landscape. With an abundance of adventurous, adrenaline inducing, or even relaxing activities, you'll have no shortage of entertainment choices.
We took a trip down there and got to experience first-hand the finest that Queenstown has to offer. Here lies your 72 hour guide – filled with the hidden secrets and set plays so that you don't have to waste a minute.
72 Hours – Spend it wisely!
Queenstown is a resort town with a small city vibe that hums all year round. The core of the postcard worthy township is all within walking distance, although ,the true beauty of the region lies beyond the bustling streets – you'll need a car for this.
---
---
With activities ranging from serene hot pools to premiere heli-skiing and everything in between, Queenstown has plenty to provide all year round.
Choosing the best time to go however does provide its challenges. For us, winter was a no brainier with (almost) everything open plus the attraction of some world class ski resorts. The other seasons still leave a lot to be desired – warm lakes, unparalleled golf courses, mountain biking, wineries, festivals and much more.
See The Sights In Style
If you're going to get familiar with the area, get familiar fast. Look no further than the team at Ignition Self Drive Adventures who will set you up with one of their exotic European cars. Hands down, one of the best experiences I've ever had!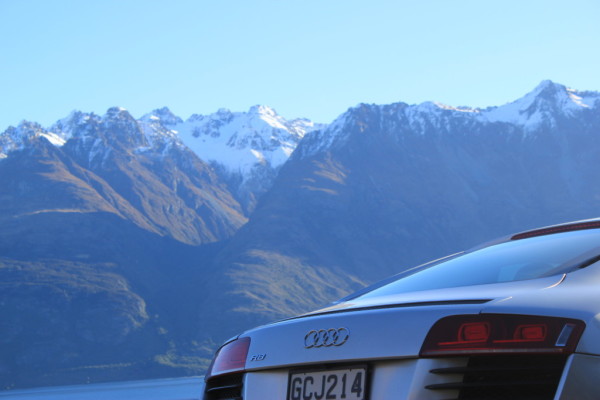 Our personal favourite was the Audi R8 although other options include a Lamborghini Gallardo Spyder, Porsche 911 and Aston Martin Vantage. If a sports car doesn't tickle your fancy, hire one of their luxury SUV's, a Porsche Cayenne Turbo or Audi Q7.
There's no need to waste time with your standard Toyota Camry – hiring one of these bad boys is the only way to go. Ignition is owned and operated by Laura and Barry Moore who realised that the most beautiful roads in the world required some equally beautiful cars to drive them.
Some of the most friendly people you'll meet, Laura and Barry are passionate about cars and also run M Developments – Queenstown's VW, Audi and Porsche specialists. Great news for us, these cars are super reliable and run like the day they were born.
We took the R8 through town gaining appreciative glances from passers-by as it hummed through the main streets heading north. Making your way to Glenorchy is an absolute must with the pristine Lake Wakatipu on your left offering some of the most stunning views around. The somewhat windy road typically takes around 45 minutes – you'll do it in much less providing you don't take too many stops to capture the beauty of your surroundings. Stop for a coffee or quick bite and head right on back – the drive is all you're here for.
---
---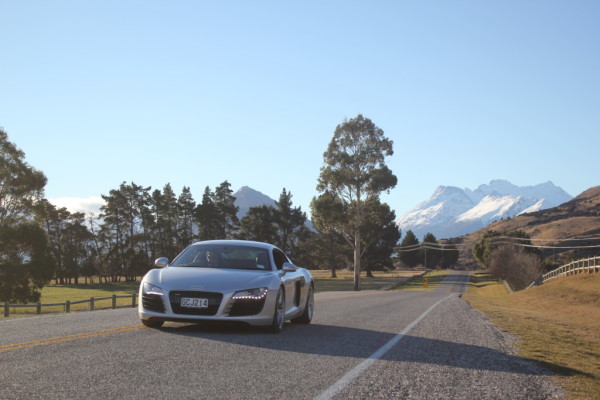 When back in town have a wander – you'll want to stretch your legs before this next part. The drive to Wanaka is equally mesmerising offering a slightly different view of the mountain range, cliff tops and turquoise blue rivers. The only negative is getting stuck behind the abundance of tourist drivers (often very slow) although taking the wide route through Cromwell will solve this.
Stop by a couple of infamous Central Otago vineyards, our personal favourites Mt Difficulty and Rippon in Wanaka. Don't get too carried away on the wine, Wanaka itself has a host of restaurants that will put you in good stead. When heading back to Queenstown, try and avoid the 4pm rush hour which is particularly bad on weekends.
Unwind At The Sofitel
Look no further than The Queenstown Sofitel Luxury Hotel and Spa for your lakeside accommodation. With your days jam-packed, there's no better place to relax and unwind. Located right in the centre of town, everything is within walking distance, too.
The friendly staff are committed to making the experience as stress-free and as effortless as possible. Settle into the generously sized rooms (with super comfortable beds) and mammoth bathrooms. Ours was equipped with a colossal shower, two shower heads, a sizable bath and epic TV.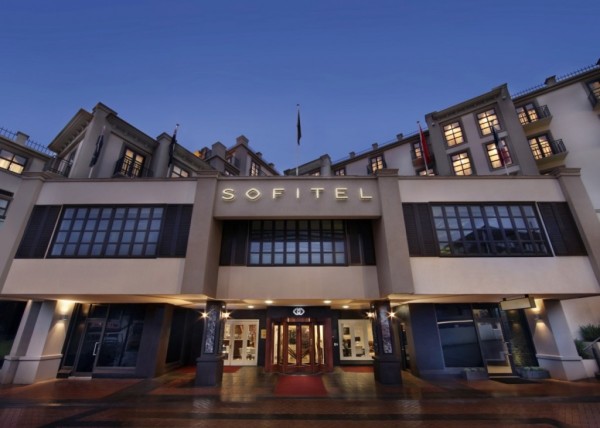 If for some reason you feel the need to leave the room, the hotel also offers a premium spa service with massages, saunas, steam rooms and more. The 1789 themed wine & jazz bar Left Bank Café and Jervois Steakhouse will also have your food and beverage needs sorted.
The buffet breakfast is another must, fuelling up is essential for the next day's activities. If you don't fancy the full continental option, you can also order straight from the menu and be sure to grab yourself a barista made coffee.
Over The Top
You've seen it all from the ground but you can't leave Queenstown without taking to the sky to truly appreciate Central Otago. Look no further than Over The Top who have an extensive range of options for any time of the year.
For winter goers, the alpine snow landing or glacier experience are the top picks. The snow landing gave us a one-off chance to look down on Queenstown from the snow capped Cecil Peak which provided 360 degree views.
---
---
In the summer, Over The Top operate one of the most picturesque par 3's in the world, perched some 4,500 feet, the fly, drive and putt is a must do for any golfing enthusiast.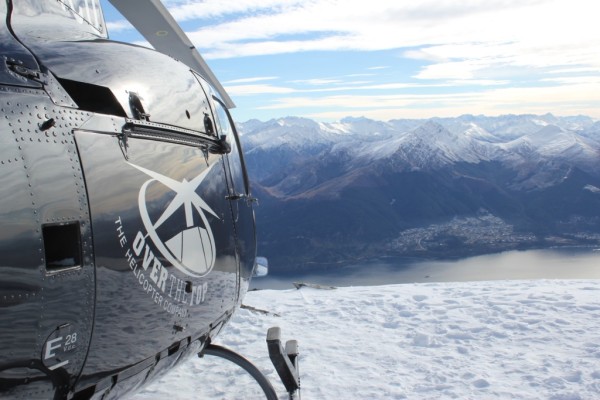 Snow Guide
The biggest draw card to Queenstown's winter season is the abundance of mountains available at your doorstep. Coronet Peak and The Remarkables are within 30 minutes drive while nearby Wanaka also boasts the likes of Cardrona and Treble Cone.
Spoilt for choice, each mountain has slightly different characteristics and can cater to your style. Whether you're looking for big air, fresh groomed tracks or untouched pow, you'll find it here.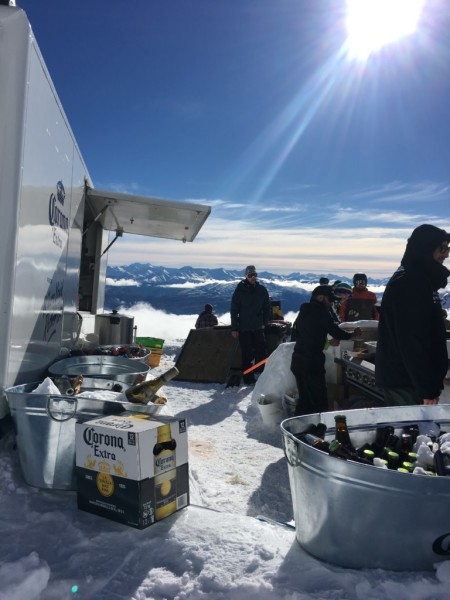 The Remarkables offers all of the above – clean trails, plenty of back country options as well as a sizeable park. Get in early for the freshest runs, their groomers ensure the tracks are at their best for the early birds. Take a break at the Corona bar midway up the mountain with epic views, brews and food. With a bit of liquid courage, hit the park or take the 'Shadow Basin Chair' and explore some untouched goodness.
Coronet Peak is another mountain well worth checking out – we tried our hand at night skiing and weren't disappointed. Catch a glimpse of the long lasting sunset dwindling over the Southern Alps and hit the runs under the floodlights and stars. Stop by the base for a few vinos and pizza – the outdoor deck is equipped with roaring fire pits and a wicked DJ amping you for the night ahead. Shuttle buses run frequently to and from Queenstown so no need to go easy.
Eat & Drink
You won't be short of food and beverage options with Queenstown offering some of New Zealand's best dining experiences. With an abundance to choose from, we've sought out a couple of options as well as a few bars worth a drop in should you have the appetite.
Madam Woo is a groovy option to kick your night off. Located super central, you can move straight onto the bars after some epic Asian Fusion. Stratosfare is also worth getting to. On top of the Skyline Gondola, this gives you another chance to see the epic winter sunsets (weather permitting) and tuck into some of the best local produce.
It wouldn't be a trip to Queenstown if you didn't stop by Fergburger. Be careful not to go in peak times, the line is especially long. Well worth the wait, these burgers actually do live up to the hype.
---
---
The nightlife hums all week round and it doesn't matter what you're feeling like, there'll be something to do. We recommend starting at Habana Boutique Rum Bar for cheeky cocktail or Atiqua for a beverage with a view.
Click here for our full list of the best restaurants in Queenstown.
72 Hours Not Enough?
It's quite likely that 72 hours won't be enough, particularly if you're snow junkies like us. Other notables to check out also include Heli Skiing, AJ Hackett Bungee and Shotover Jet as well as some of the world-class golf courses (summer) and local vineyards.
If you are heading in winter, be sure to stock up on some Mons Royale gear. Wanaka locals, these guys have some wicked gear that'll keep you wrapped up.