It was the mid-2000s, when dial-up internet became a distant memory and a new generation of online enthusiasts embraced a high-speed future. But, as is so often the case, it was porn that moved most nimbly to benefit from the technological leaps and bounds.
According to The Economist, worldwide industry revenue skyrocketed to an estimated $40-$50 million in 2005. Thanks mostly to Tube-style websites like PornHub (don't pretend you don't know it,) RedTube, and XVIDEOS, which not only changed the way we watched porn… but who we watched.
Legacy stars like Jenna Jameson and Lisa Ann made way for a class of self-starters, actresses determined to shake up an industry that had grown stale.

And none caused more of a stir than Sasha Grey.
It was 2006 when an 18-year-old Sasha Grey appeared in her first X-rated film, Fashionistas Safado: The Challenge.
Her only scene was an orgy sequence alongside Italian actor Rocco Sifreddo. Determined to make her mark, Sasha turned to Siffredi during the scene and said, "Punch me in the stomach."
It was a spectacularly bold move for a first-timer and would set the tone for the remainder of her career. Unpredictable and unafraid, Grey was set out to make porn work for her – not the other way round.
Her brief but prolific career spanned across five years and more than 200 films, turning Grey into the most popular porn star on the planet. In 2008, she won the AVN Award for Female Performer of the Year – the Oscars of porn – cementing her status as a star.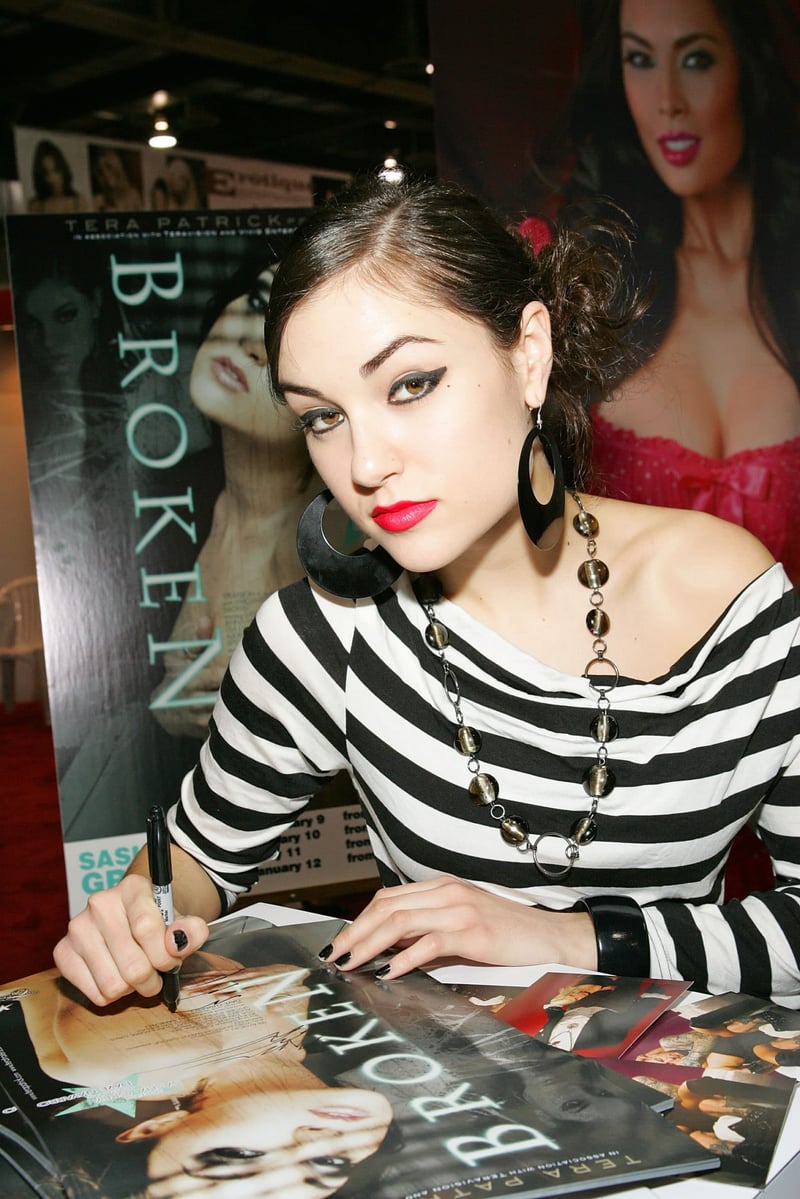 Along the way, Sasha managed to achieve what so few adult actresses have done before her: mainstream success. First, she popped up in film clips for The Smashing Pumpkins and Eminem before landing the lead role in Steven Soderbergh's 2009 arthouse film, The Girlfriend Experience.
This led to more acting work, most notably a memorable stint as Vincent Chase's girlfriend in Entourage.
By 2011, Sasha Grey was finished with porn and, much to the dismay of fans worldwide, announced her retirement from the adult industry. Fast forward a decade, Grey is happily living the life of a millennial slashie. When she's not writing a slew of successful novels, she's hosting thousands of viewers on Twitch. Then there's her career as a DJ, the occasional acting job, and an online talk show.
She seems wonderfully content when her instantly-recognisable face pops up on Zoom for an interview with Boss Hunting. Bunkered down in Los Angeles, Sasha jumps right into a chat about the state of porn, refusing to do OnlyFans, and why Entourage has failed to stand the test of time.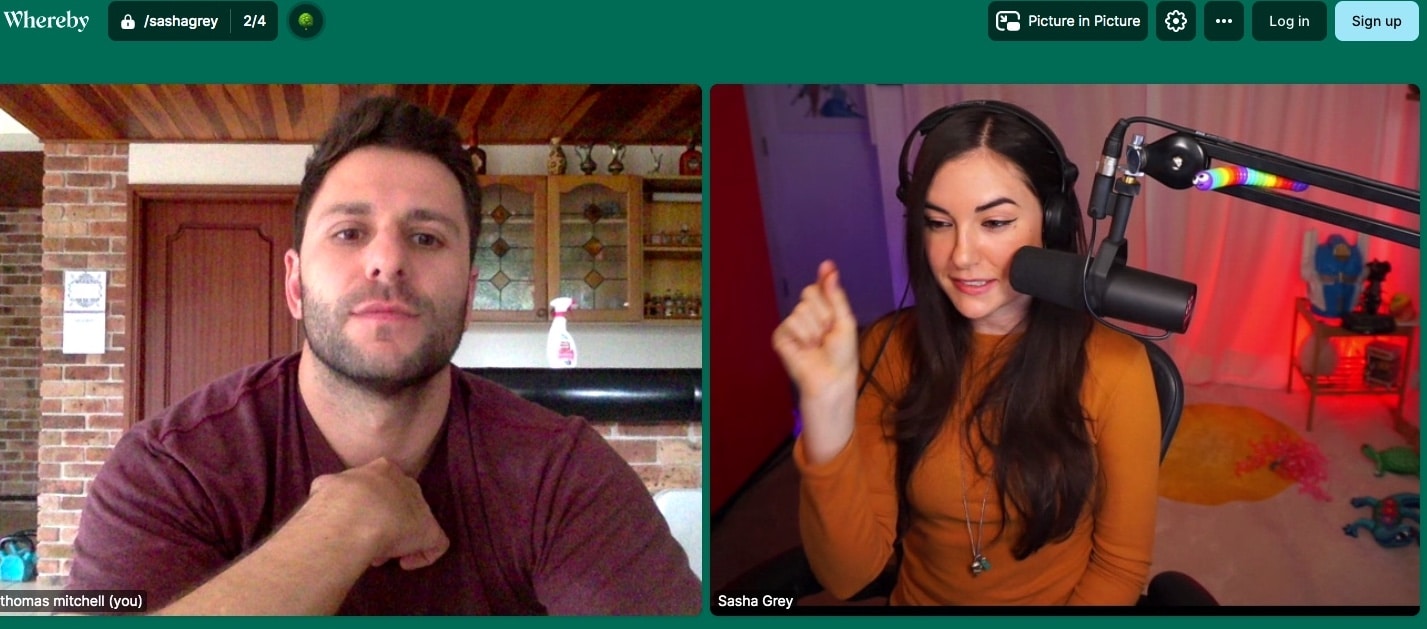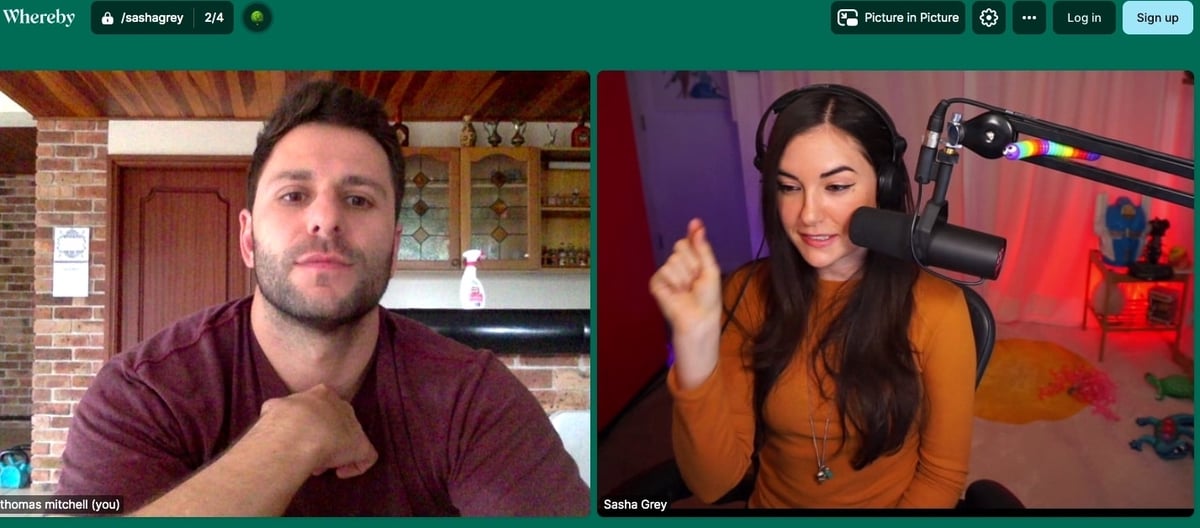 You grew up in Sacramento, started waiting tables after high school, and then high-tailed to Los Angeles when you turned 18, determined to become an adult film star. Did it just click in your head?
Yeah, so it was actually during that period of working tables that I started thinking about it. I remember asking a few people to get a sense of what the response would be. Then I did the research to figure out who to contact, how to get in touch with people – I remember writing porn stars on MySpace asking for advice.
I also contacted several different agencies and many of them just straight up turned me down because I didn't look the part.
Huge mistake.
I know, right? And then, once I saved enough money to move to Los Angeles, I did it.
Can you remember your first day on set? It might sound like a weird comparison but any first day in a new job is always nerve-wracking.
Absolutely yeah, like I can remember it clear as day. It was such a large set, like any other big TV or film production but with sex. So there were a huge amount of people around in terms of the crew and the camera operators.
There was a lot of waiting, and I think that made me more anxious because I arrived at 8 AM and I'm pumped, and I'm super excited, and now I'm sitting here for like five hours thinking, "Alright… when the fuck is this going to happen?!"
But when the time came, it was actually one of the best experiences anybody could ever have. I felt like there was less pressure on me [because I was new], so I could kind of observe everybody else and take it in, and for that, I'm lucky.
Did it seem at that time that this was an opportunity or did it feel like just a job?
It definitely didn't seem like just a job. I had come in with this intense desire to explore my sexuality and fulfil these things that I was told were wrong. So no, it didn't feel like a job. I felt like all eyes were on me. I remember at the end of the day, my agent showed up on set, and he was like, "Alright, kid! It's all downhill from here!" Because it was such a professional experience, he warned me it would get a little grungy from here.
You became known for both the extremity of what you were willing to do on camera and applying yourself to porn with absolute seriousness. Was that always your intention?
It was a combination of both, like when I was writing to different agencies, I had a whole fucking mission statement. I've been accused of taking things too seriously, but at the end of the day, I take what I do seriously. And when I'm passionate about something, I put all of myself into that – whatever that is. And that happened to be porn at the time. But also, I grew up with a tremendous amount of shame and guilt towards my own sexuality.
Is it the Catholic background?
Yeah, but it's complicated. My mum is Catholic, but my dad was not. My dad raised me like a boy; he would tell me things, give me the cold hard truth. But with my mum, if I tried to ask any questions about sex or sexuality or intimacy, it was like, "That is a conversation for man and wife." And I just think that's a really dangerous approach to have, especially with young people. Now there are more tools, there are more resources, and there are ways for young people to learn how to be sex-positive.
The porn industry often gets a bad wrap. As someone who was the face of the adult industry, what was your experience with it?
It was almost all positive. I've made this comparison before, but I've had better experiences in the adult industry than I have, like just being in Los Angeles in the entertainment industry in general.
But you have to learn how to navigate it pretty quickly. I recall having a few problems where I was like, "Uh, I feel like they shouldn't have taken these extra photos or shot that scene – I didn't get paid for that." And the response was usually: "Well, you should have said something."
I was fortunate enough to stand my ground and learn very quickly. My bad experiences were all monetary, like feeling like I shouldn't ask for my worth because if I ask for my worth, then I was like a hoe. You know?
RELATED: Lana Rhoades – An Exclusive & Candid Interview
Do you find that money can be more corrupting than sex or can manipulate people differently?
When I got into the adult industry, I didn't set out thinking, "I'm going to do this, and it's going to make me rich!" Of course, I made some money, but to be honest, it didn't give me a certain lifestyle or income that was insane. It was definitely more than your average 18-year-old college student earns for sure. But it's not what it is today with the change in social media and girls being able to monetise their fame from the adult industry into things like Snapchat and OnlyFans.
You don't have an OnlyFans. Have you considered it?
No, I haven't. People ask me almost every day.
What's your take on it, though?
Yeah, I'd rather own OnlyFans than be on OnlyFans.
It frustrates me that celebrities are hopping onto the platform, Travis Scott and Bella Thone, that aren't using it properly. For me, somebody who came from the adult industry, it's very frustrating to see people that crowd the space meant for adult work.
You quit porn in 2011. Was that a lightbulb moment or were you just done with it?
In 2009 I started a porn production company which failed very quickly, like within the first three months. That was also when I shot The Girlfriend Experience [with Steven Soderbergh], so I was doing all these different things, and I decided that I had accomplished what I wanted to achieve as a performer.
Were you worried that the fandom you have built up as 'Sasha Grey: the porn star' may not be there when you try to rebrand as 'Sasha Grey: the actress/musician/author?
For sure. It's one thing to be a porn star who also acts in mainstream movies because that's part of the fascination. People want to watch you because you're in porn. But what happens when you remove that? Some of that buzz does die down… it's not as dangerous or as exciting.
Does it kind of become a double-edged sword in the way that each time you try and do something, new people thrust your past back at you? I scrolled through your Instagram comments, and no matter what you're posting or promoting, endless guys are commenting, "Come back to porn, miss you, love you."
It's bizarre. I'm always going to be proud of what I did. I don't have anything that I'm trying to run away from, but the past is the past, you know. It's been 11 fucking years, what am I supposed to do?
As I said, I've always been one of the guys, but even my approach to porn itself was always fucking weird. So I'm not going to sit there and pose in a bikini – that's not who I am. That doesn't fit my personality.
I can't say that I sit there and scroll through comments. I learned early on not to engage with those sorts of people. I've dealt with so many stalkers, I've dealt with horrible situations, so yes, it is a double-edged sword. In many ways, I'm grateful to have an audience, but in other ways, you're always sort of tiptoeing on edge. I think that's why I like Twitch so much, because there is this built-in bubble, and you really do create your community, so it's not just somebody on their phone mindlessly scrolling. They're actually engaging with you.
On the subject of the way things change, your multi-episode arc in Entourage is still celebrated as one of the show's high points. But in some people's eyes, Entourage has not stood the test of time. Instead, it's seen as a celebration of outdated bro culture. Do you still get fans asking you about it?
I have people hitting me up about Entourage every day. It's either one of two things – "Oh, I loved you on Entourage" or "You ruined Vince's life." I don't regret it. A friend recently said, "I loved Entourage and now I'm embarrassed to say that I did!" But at the end of the day, it's just a show, a lot of it is sensationalised, but certain behaviours or the way people act… that is Hollywood.
Finally, there is sometimes an assumption that being a porn star may forever impact your sex life or your relationship with sex. Did it feel weird having sex again after leaving the industry?
Oh, 100%. The first couple of years after leaving porn, it was like rediscovering sex. Because I had so much sex in front of the camera, which obviously isn't real. Don't get me wrong, it's enjoyable, but in a different way. So without the camera, it felt bizarre slipping back into 'normal sex.' But it's cool because it allows me to enjoy more freedom and to be more open with sex and more open with people.