As we've all learned from such classic flicks as Fight Club, Troy, and Quentin Tarantino's Once Upon A Time In Hollywood, knocking some heads around is the second best thing you could ever watch Brad Pitt do on screen; the first, oddly enough, being whenever he eats. Thanks to director David Leitch (John Wick, Atomic Blonde, Deadpool 2), the 57-year-old thespian is now transitioning from playing a stuntman to actually throwing plenty of slickly choreographed punches in the upcoming action spectacle, Bullet Train.
Following in the tradition recently established by Keanu Reeves as John Wick and Charlize Theron as Lorraine Broughton, Brad Pitt has reportedly accomplished an impressive 95% of his own stunts, portraying an assassin known as Ladybug – and at an age where most would take the Clint Eastwood route a la The Bridges Over Madison County, no less.
"Brad did 95% of his physical stunts – the fighting," says Greg Rementer, second-unit director and stunt co-ordinator.

"He's like a natural-born athlete. He really got in there!"
---
---
RELATED: 'Ghost Of Tsushima' Movie To Be Directed By Chad Stahelski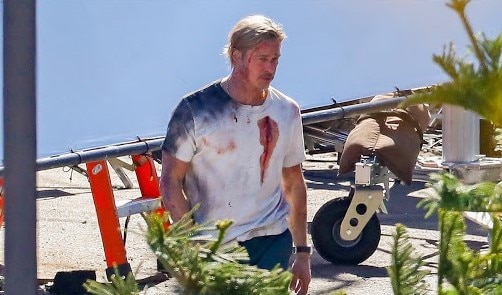 Pitt, however, isn't an outlier on the set of Bullet Train. As Rementer would later elaborate in his interview with Vulture, the ensemble cast featuring names like Sandra Bullock, Aaron Taylor-Johnson, Brian Tyree Henry, Zazie Beetz, Joey King, Michael Shannon, Lady Gaga, Logan Lerman, Hiroyuki Sanada, Andrew Koji, Masi Oka, and Bad Bunny have all doubled down in this regard.
"Never have I ever done so many huge actors in one feature where all of them excelled at the physical movement of our training. So Brad, Brian, Michael Shannon, Hiroyuki Sonada, Andrew Koji – who was already a stud in terms of where he comes from with the show Warrior – all these actors put out some great action and did a lot of their [own] stuff."
RELATED: The Workout You'll Need To Get Brad Pitt's 'Fight Club' Rig
"You need those actors to want to do it, otherwise you won't get those genuine characters on the screen," Leitch had previously stated.

"I have found with the stuff we've been doing in our directorial careers is getting the actors trained up and keeping them in the action as much as possible."
Based on the graphic novel Maria Beetle by Kōtarō Isaka, Bullet Train will tell the story of five assassins who find themselves on a Japanese bullet train. It doesn't take long before they realise their individual assignments and targets are directly related to one another. In concept alone, it merges the most compelling aspects of the original Old Boy – particularly the hallway fight sequence – The Raid, and of course, fan favourite flavours from Leitch's oeuvre. And just to add another layer of novelty to this entire affair… David Leitch used to be Brad Pitt's stunt double.
Bullet Train is wrapping up production as we speak – release date to be announced.
---
---