Slowly but surely, Hollywood is giving us reason to be excited about its tentpoles once again. You know, the outrageously fun popcorn flicks featuring ridiculous concepts, ensemble cast, and a stylistic director that doesn't really make you work too hard (but still rewards you with entertainment in spades). Like Bullet Train starring Brad Pitt and Sandra Bullock, which now has a trailer that promises nothing but an irreverent good time – Gloria Gaynor's version of 'Stayin' Alive' and all.
Based on Kōtarō Isaka's graphic novel Maria Beetle (published in English as Bullet Train), the upcoming action comedy involves an assassin by the name of Ladybug brought to life by the magnetic Brad Pitt. In line with the classic trope, Ladybug has his heart set on walking away from this life… after one last job. On paper, it's an easy gig. Board a bullet train from Tokyo bound for Morioka to extract a single briefcase. Shit gets a little more (read: a lot more) complicated when he realises said bullet train is packed with fellow assassins, who soon discover "their objectives are all connected."
RELATED: Brad Pitt Did 95% Of His Own Stunts In Upcoming Action Flick 'Bullet Train'
---
---
Ordinarily, the presence of Pitt and Bullock would be enough to warrant the price of admission. This is, however, no ordinary scenario. It's a certifiable all-star affair. The A-listers have been joined by Joey King as Prince, Aaron Taylor-Johnson as Tangerine, Brian Tyree-Henry as Lemon, Andrew Koji as Kimura, Zazie Beetz as Hornet, in addition to Hiroyuki Sanada, Karen Fukuhara, Masi Oka, Logan Lerman, Michael Shannon, as well as Benito "Bad Bunny" Ocasio. All of whom have reportedly taken this production very seriously.
"Brad did 95% of his physical stunts – the fighting," Greg Rementer, Bullet Train second-unit director and stunt coordinator, reveals to Vulture.
"He's like a natural-born athlete. He really got in there!"
"Never have I ever done so many huge actors in one feature where all of them excelled at the physical movement of our training. So Brad, Brian Tyree-Henry, Michael Shannon, Hiroyuki Sanada, Andrew Koji – who was already a stud in terms of where he comes from with the show Warrior – all these actors put out some great action and did a lot of their [own] stuff."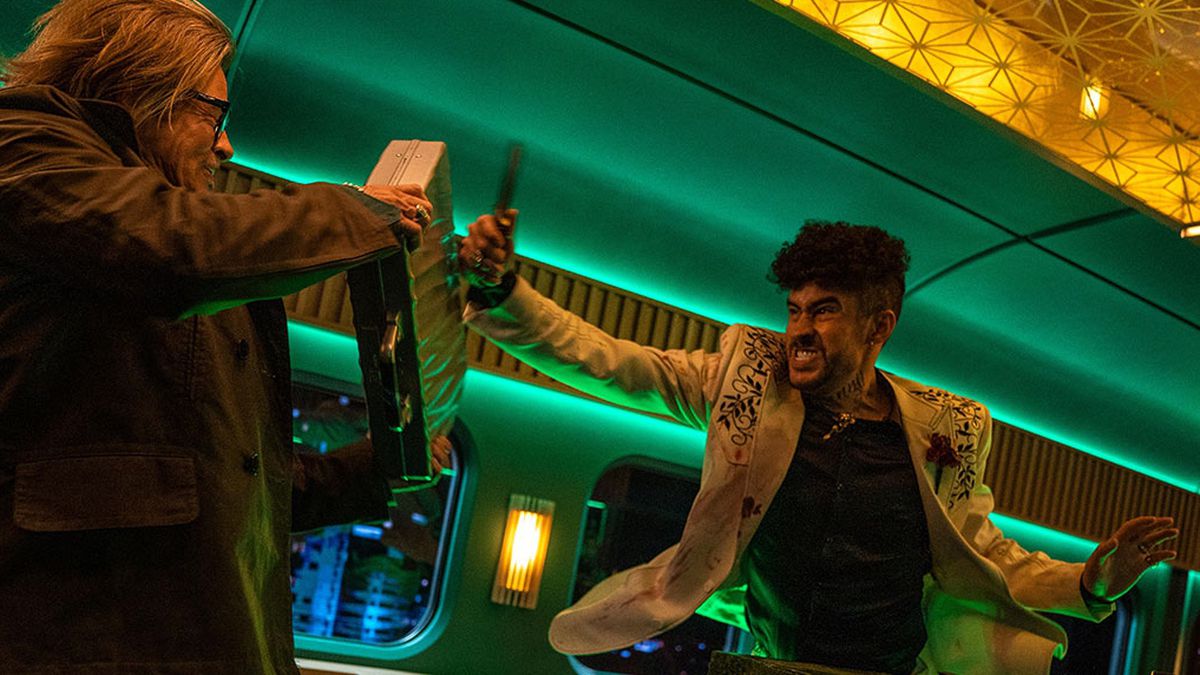 "You need those actors to want to do it, otherwise you won't get those genuine characters on the screen," director David Leitch stated previously. You may know Leitch best as one-half of the neon-obsessed creative duo behind the John Wick franchise, the man behind Atomic Blonde starring Charlize Theron, Deadpool 2, and Hobbs & Shaw.
"I have found with the stuff we've been doing in our directorial careers is getting the actors trained up and keeping them in the action as much as possible."
The story has been adapted into a screenplay by Zak Olkewicz (Fear Street: Part Two – 1978). The film has been produced by David Leitch himself alongside Kelly McCormick, and Training Day director Antoine Fuqua.
---
---
Bullet Train has a scheduled release date of July 15th, 2022 – check out the synopsis below and the trailer above.
Trained killer Ladybug (portrayed by Brad Pitt) wants to give up the life but is pulled back in by his handler Maria Beetle (portrayed by Sandra Bullock) in order to collect a briefcase on a bullet train heading from Tokyo to Morioka. Once onboard, he and the other competing assassins onboard discover that their objectives are all connected.