The sheer ubiquity of Star Wars makes it hard to imagine our culture without the pop mythology. But back in 1977, right before the limited release of what we now refer to as Star Wars: Episode IV – A New Hope, it didn't appear as though that would ever be the case. In fact, creator George Lucas himself had written off the galaxy far, far away so pre-emptively, he escaped to Hawaii during the film's opening weekend accompanied by close friend/legendary director Steven Spielberg to avoid the "fallout."
"I didn't think the film was going to be successful," George Lucas admitted during a 2015 Tribeca Film Festival panel hosted by Stephen Colbert.
"The studio, the board [at Fox] didn't have any faith in it. Even when we showed it at an American Graffiti screening and everybody loved it."

RELATED: Sean Connery Once Gave Disney The Ultimate "Fuck You"
---
---
"I showed it to all of my friends early on, but it was mostly filled with stock footage of old war movies and all kinds of stuff. They saw it and said, 'Poor George. What were you thinking?'"
"Steven [Spielberg] had jumped up, and said, 'This is going to be the biggest movie of all time.' Everybody in the room looked up at Steven and said, 'Poor Steven.'"
The potential for grand scale failure after a lifetime of dreaming about his epic space opera was – at the time – a tough pill to swallow. But like all hard-to-swallow pills, the prospect was made slightly easier by getting a dose of sun, sand, and sea ("I don't read the reviews. I just go, lay on a beach."). So off to Hawaii George Lucas and Steven Spielberg went. Now… here's where things get downright incredible.
As we've established, the eventual blockbuster success of Star Wars is the furthest thing from a secret in this modern context. There's a brand new series hitting Disney+ every other month, probably to break another streaming record… video games and merchandising continue to be a cash cow… you get the gist. What you might not have known, however, is another iconic film franchise was birthed by the two auteurs that very weekend during their sojourn away from the mainland.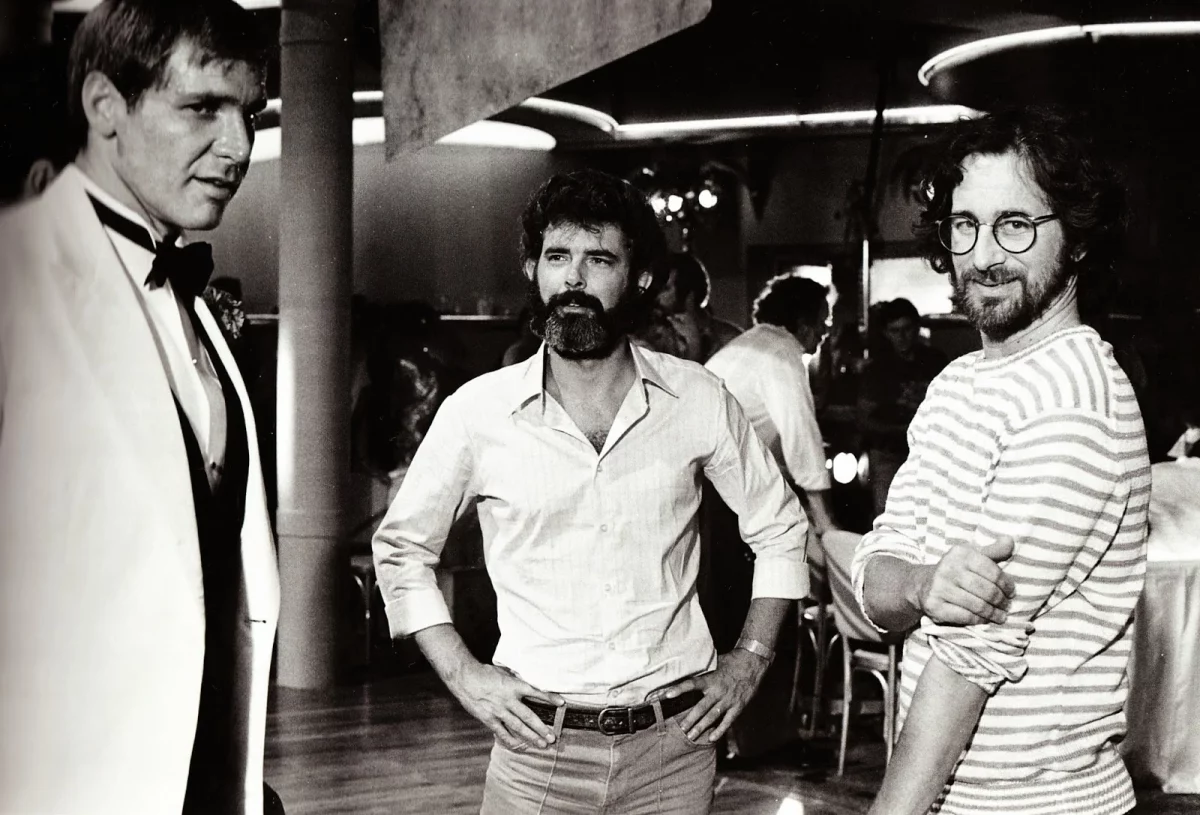 Whether the grown men were actually building sandcastles together when the pivotal conversation occurred as Cheatsheet asserts is up for debate (although an extremely adorable mental image, nonetheless). Whatever the case, Lucas and Spielberg got to chatting about the classic adventure flicks from the 1930s and 1940s, along with all the other flicks which inspired their respective careers.
At some point, Spielberg expressed his desire to direct a James Bond movie. That's when Lucas decided it was the perfect time to pitch an idea he'd been brainstorming for a few years. An idea involving a travelling archaeologist named "Indiana Smith" tasked with finding the Ark of the Covenant before Adolf Hitler and the Nazis got their rotten mitts on it, circa 1936.
Before long, the fellas were cooking with gasoline, and just a few short years later, cinema history would once again be written with Indiana Jones: Raiders of the Lost Ark – starring Han Solo thespian, Harrison Ford; written by The Empire Strikes Back and Return of the Jedi scribe Lawrence Kasdan.
---
---
RELATED: The Best Star Wars Movies (According To BH)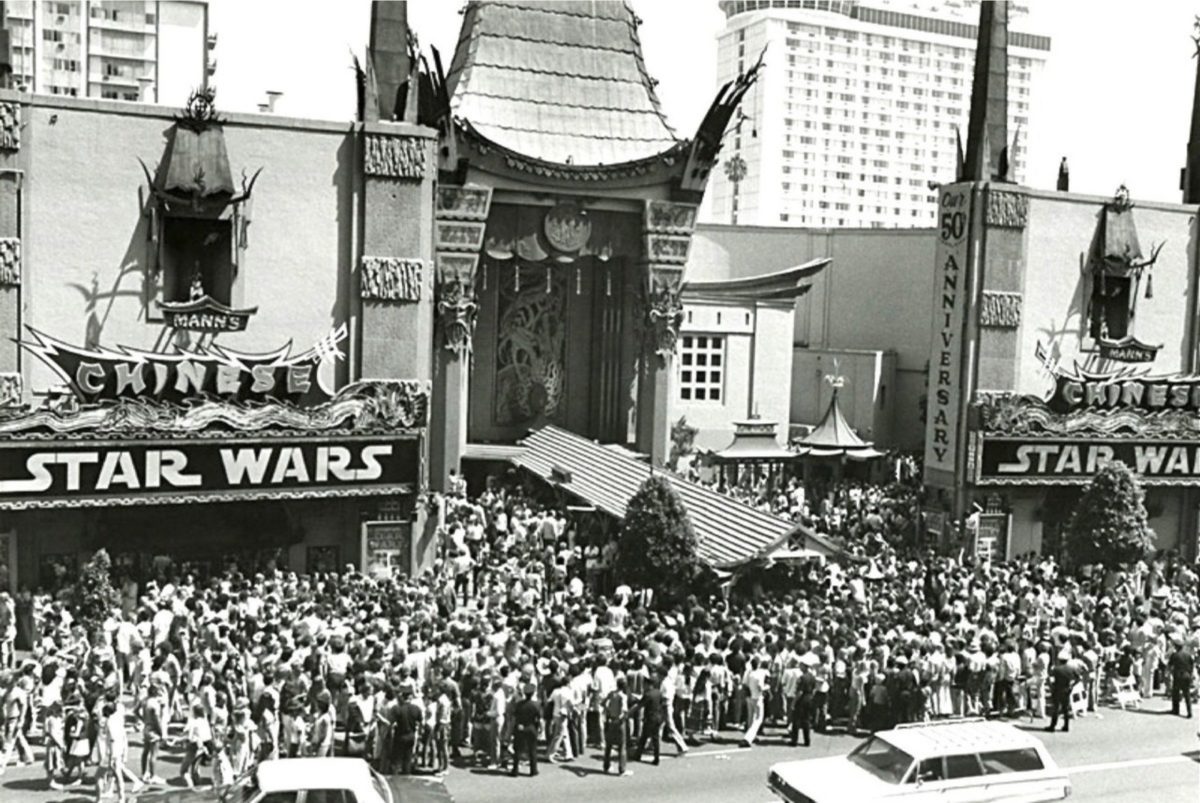 As for the matter of Star Wars…
"I got a call from [20th Century Fox President Alan Ladd Jr] after the first weekend. It was really like in the middle of the week," recalled George Lucas.
"He called and said, 'George, turn on the news.' I said, 'What?' He said, 'Turn on CBS. Turn on the news. Walter Cronkite.' You gotta see it.'"
"So I said, 'What is it now?' I turned on the news, and they had this huge story on the sensation of Star Wars and lines around the block. Everybody was going berserk about it. That was the first time I understood that it was a big hit."
In 2012, Disney would acquire the entirety of Lucasfilm in a US$4.05 billion / AU$5.3 billion cash-and-stock acquisition, projecting George Lucas to the status of history's wealthiest filmmaker.
Including the latest trilogy and its off-shoots (i.e. Rogue One, Solo), the total box office revenue of all 12 Star Wars films would eventually exceed US$10 billion / AU$13 billion – generated from a budget of just US$1.6 billion / AU$2 billion.
And as of 2020, the entire Star Wars franchise was valued at an estimated US$70 billion / AU$91.75 billion (the fifth highest-grossing in media of all time).
---
---