If you had to distil the broad strokes of Guillermo del Toro's filmography (or at least the bulk of it) into a single key sentiment, it'd be: nothing is what it seems. Something you'll encounter in more ways than one with his forthcoming star-studded affair led by Bradley Cooper, Cate Blanchett, and Willem Dafoe – Nightmare Alley – which now has a first teaser trailer.
The most obvious aspect in which the aforementioned sentiment applies is the subject matter. Based on the 1946 novel of the same name written by William Lindsay Graham, at its very core, Nightmare Alley is about deception spiralling out of control. The other aspect is how at face value, everything – including del Toro's own reputation – would suggest audiences are in for another supernatural tale informed by classic horror elements. Rest assured, the only horrors will be of the mind and man.
"This has no supernatural element," explains the director.

"It's based completely in reality. There is nothing fantastic. It's a very different movie from my usual. But yes, the title and my name would create that [impression]."
---
---
RELATED: Christopher Nolan's Next Movie Will Be Another WWII Drama
"In approaching Nightmare Alley, I said I'm not going to do any of the clichés associated with the [film noir] genre. I'm not going to do an artifact. I'm not going to do the Venetian blinds, and voiceover, and detectives walking with fedoras in wet streets."
"I wanted to do the universe of the novel, which is a little gritty, but also strangely magical. It has a very strange, mystical allure – and mythical. I was very attracted to that possibility."
The synopsis for Nightmare Alley is as follows:
Stan Carlisle (portrayed by Bradley Cooper), an ambitious carny with a talent for manipulating people with a few well-chosen words, hooks up with Dr Lilith Ritter (Cate Blanchett), a psychiatrist who is even more dangerous than he is.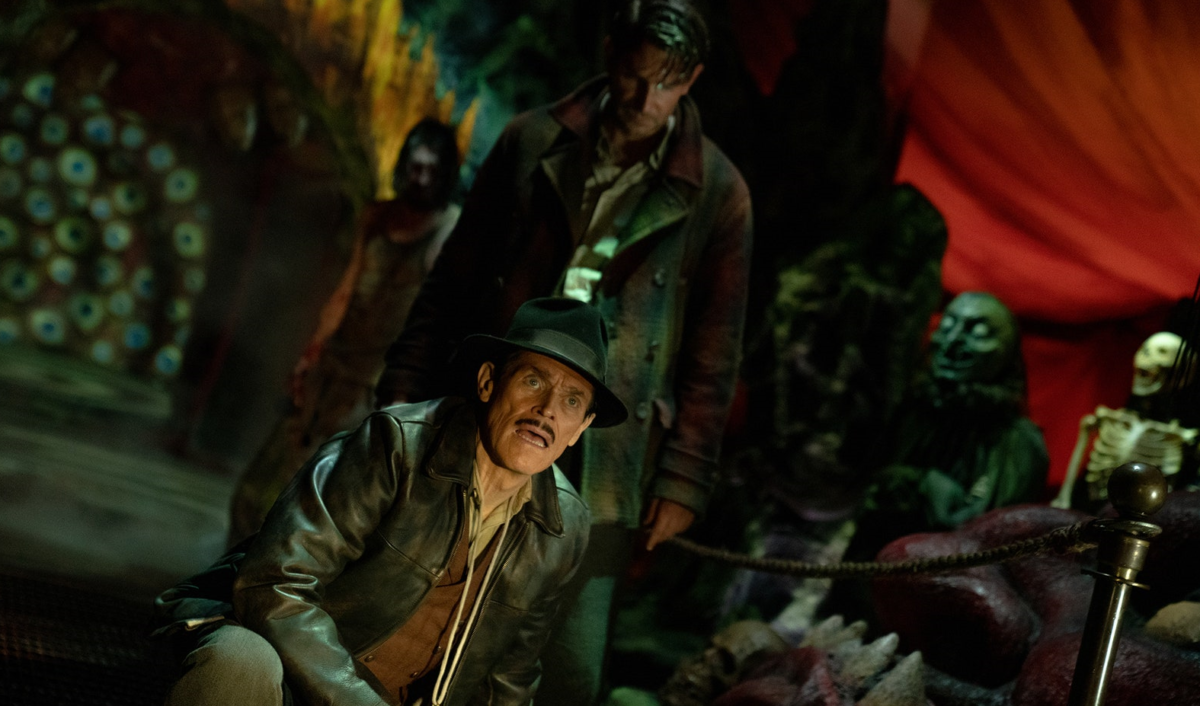 RELATED: 'Dune' Receives 8-Minute Standing Ovation At World Premiere
Cooper and Blanchett will be joined by Willem Dafoe, Rooney Mara, Toni Collette, Richard Jenkins, and former Hellboy, Ron Perlman. Guillermo del Toro has adapted the original William Lindsay Gresham novel for screens alongside Kim Morgan, while the cinematography has been achieved by Dan Laustsen – a longtime del Toro collaborator who has previously provided his talents for The Shape of Water, Crimson Peak, as well as other familiar flicks such as Silent Kill, John Wick: Chapter 2, John Wick: Chapter 3, in addition to the Keanu Reeves-led franchise's upcoming fourth instalment.
Guillermo del Toro's Nightmare Alley starring Bradley Cooper, Cate Blanchett, and Willem Dafoe is scheduled to hit Aussie theatres on January 20th of 2022 – watch the first trailer above.
---
---