Long before the Marvel Cinematic Universe introduced Tom Holland as Peter Parker/Spider-Man, before Andrew Garfield's heart would ultimately be broken by Sony's soulless + money-hungry ways, and even before Sam Raimi enlisted Tobey Maguire for an iconic 2000s blockbuster trilogy, James Cameron was interested in adapting the comic book hero via his own project. One he calls "the greatest movie I never made" – and was on track to star Maguire's childhood best friend slash the Oscar-winning filmmaker's future Titanic star, Leonardo DiCaprio.
"I think it would've been very different," James Cameron tells Screencrush; who was about to recover from 1989's financially disappointing The Abyss with Terminator 2 when Carolco Pictures approached him for the gig.

"The first thing you've got to get your mind around is it's not Spider-Man. He goes by Spider-Man, but he's not Spider-Man. He's Spider-Kid. He's Spider-High-School-Kid. He's kind of geeky and nobody notices him and he's socially unpopular and all that stuff."
Similar to Raimi's interpretation of the character originally conceived by Stan Lee & Steve Ditko, Cameron wanted to portray superpowers as "… that untapped reservoir of potential that people have that they don't recognise in themselves. And it was also in my mind a metaphor for puberty and all the changes to your body, your anxieties about society, about society's expectations, your relationships with your gender of choice that you're attracted to… all those things."
---
---
RELATED: Cillian Murphy Almost Played Batman In The Christopher Nolan Trilogy
While the metaphor in question reads pretty nuanced here, it would manifest in slightly less subtle ways throughout the story. For example, the "controversial" organic web-shooters featured in the Sam Raimi trilogy was initially pitched by James Cameron; due largely to the fact he didn't believe the scientific innovation of the built web-shooters was feasible for a broke high school kid. And young Peter Parker's discovery of this ability post-spider bite was comparable to that of a wet dream.
The horny factor wasn't limited to that one story element, either. Described as a "basic sexually pent-up adolescent" and socially awkward virgin, this iteration of Peter Parker/Spider-Man spies on love interest Mary Jane Watson through her window while she changes. Eventually, the creepy seduction at a distance culminates in an extremely R-rated sex scene on the Brooklyn Bridge that was meant to mimic how actual spiders mate, while incorporating light BDSM through the use of Spidey's sperm web. Yes, really.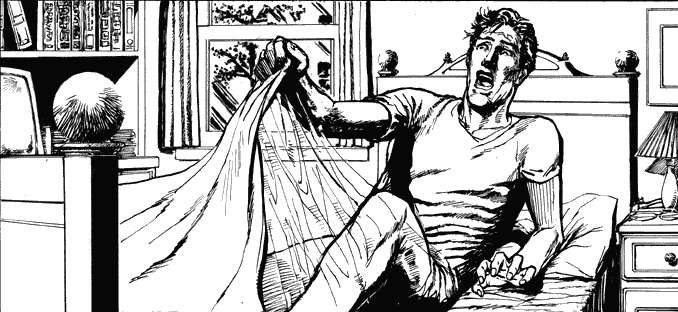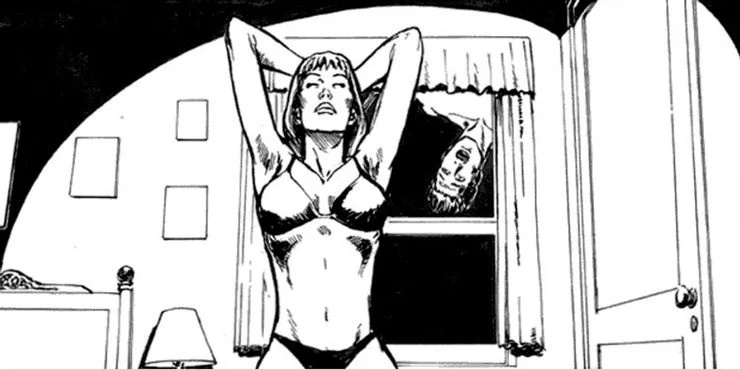 Other mildly adult details include the heavy use of profanity and violence that rivalled the first Raimi instalment; other mildly strange details include Spider-Man's career as a late night talk show guest and the final battle which would've occurred on top of the – get this – World Trade Centre.
"I wanted to make something that had a kind of gritty reality to it."
"Superheroes in general always came off as kind of fanciful to me, and I wanted to do something that would have been more in the vein of Terminator and Aliens, that you buy into the reality [of it] right away… I wanted to ground it in reality and ground it in universal human experience. I think it would have been a fun film to make."
RELATED: Quentin Tarantino Once Got Shitfaced With Pierce Brosnan & Pitched A James Bond Film
---
---
Leonardo DiCaprio was to be joined by the following familiar names:
Kevin Spacey as Norman Osborn/Green Goblin
Nikki Cox or Robyn Lively as Mary Jane Watson

Katharine Hepburn or Maggie Smith as May Parker

Michael Biehn as Boyd/Sandman
Lance Henricksen as Carlton Strand (instead of Max Dillon)/Electro
Arnold Schwarzenegger as Otto Octavius/Doctor Octopus

Michael Douglas or R. Lee Ermey as J. Jonah Jameson

Robert Guillaume as Robbie Robertson
Bill Paxton as The Burglar (i.e. the fella who gunned down Uncle Ben)
Although the unproduced adaptation of Spider-Man which was being helmed by James Cameron would eventually die in development hell – something to do with a screen right issue, nothing new – as you will have gathered by now, a good portion of its DNA survived in the screenplay penned by David Koepp for Sam Raimi (beyond the puberty angle and organic web-shooters).
You can read the complete Spider-Man script treatment (scriptment) co-written by James Cameron, Barry Cohen, and Ted Newsom here and compare notes. Plus who knows… maybe we'll see Leo pop in for the ambitious crossover/multiverse event being teased in Spider-Man: No Way Home's marketing.