As much as J.A. Bayona's Jurassic World: Fallen Kingdom and Colin Trevorrow's Jurassic World killed it in the box office – generating approximately $3 billion in total while setting a record or two – many will contend the franchise jumped the shark Mosasaurus a long time ago. Even with all the charms Chris Pratt and Bryce Dallas Howard has brought to the table, as well as the all-new heights modern CGI has taken us, this latest trilogy has always felt lacking in soul. But it would appear Universal Pictures intends to finish strong with Jurassic World Dominion; which has reunited the beloved collective of Sam Neill as Dr Alan Grant, Jeff Goldblum as Dr Ian Malcolm, and Laura Dern as Dr Ellie Sattler.
It's almost a cliché in modern cinema at this stage to trot out the OGs from a classic franchise for the reboot to cash in those easy nostalgia points. It's also something we – read: the author of this very article – will happily indulge. From the opening narration featuring the late Richard Attenborough's John Hammond to the appearance of Dr Alan Grant, Dr Ian Malcolm (his second in the current trilogy), and Dr Ellie Sattler… the Jurassic World Dominion trailer alone is liable to induce spine-tingling chills. And transport audiences of a certain age back to a simpler time when cinema had the ability to make us dream about something beyond the oft-suffocating confines of reality.
RELATED: 'Obi-Wan Kenobi' Series Release Date Confirmed For May 2022
---
---
For those of you who (understandably) never bothered with the previous instalment, Jurassic World Dominion takes place four years after the events of Fallen Kingdom, when genetically engineered dinosaurs were rescued from Isla Nublar by Chris Pratt's Owen Grady and Bryce Dallas Howard's Claire Dearing. Some were auctioned off to companies from all across the globe, while others were released on the US mainland. Effectively, it ushered a new era where humans and dinosaurs learned to coexist. The honeymoon period was, however, short-lived.
Humanity is now threatened by a different kind of ecological disaster. One which not only entails ordinary folks losing dominion to nature, but "becoming subordinate" to it, as Dr Ian Malcolm so eloquently explains. Cue obligatory footage of people being chased out of drive-in theatres, running away from velociraptors on rooftops, and general mayhem. Because as we know: dinosaurs, much like house cats, are an ungovernable force to be reckoned with.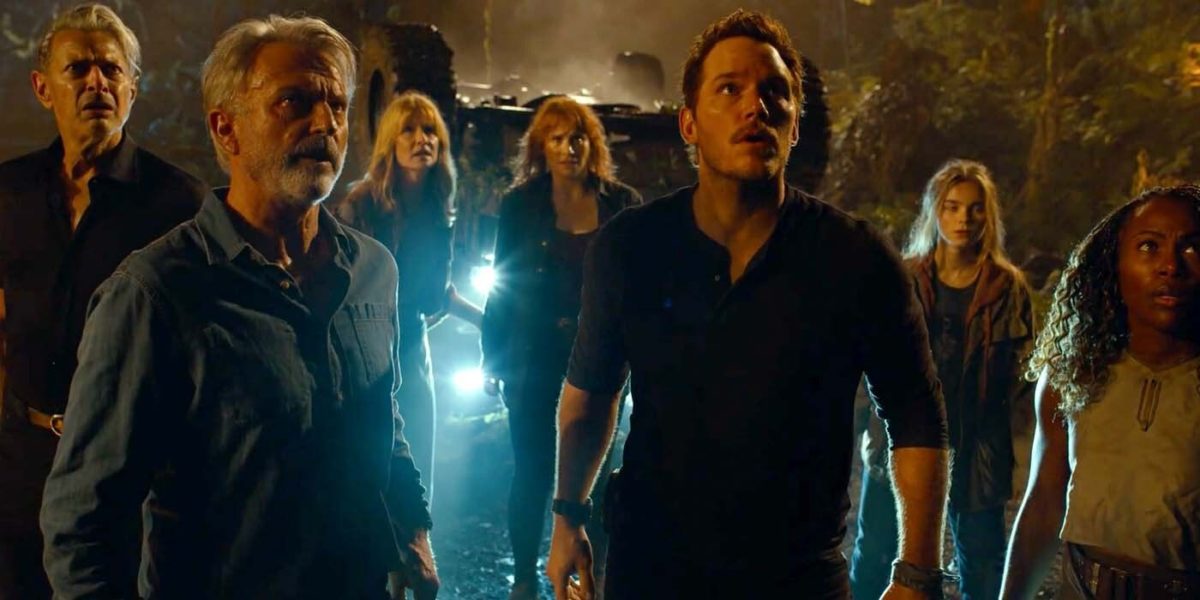 Chris Pratt, Bryce Dallas Howard, Sam Neill, Jeff Goldblum, and Laura Dern (re)joined by BD Wong who reprises his role as Dr Henry Wu, Omar Sy as Barry Sembene, Justice Smith as Franklin Webb, Isabella Sermon as Maisie Lockwood, Mamoudou Athie, Scott Haze, Dichen Lachman, Daniella Pineda, plus Campbell Scott. Colin Trevorrow has returned as the director a la J.J. Abrams and Star Wars, the former having also penned the screenplay with longtime collaborator Derek Connolly (Safety Not Guaranteed, Jurassic World, Star Wars: The Rise of Skywalker).
Jurassic World Dominion starring Chris Pratt, Bryce Dallas Howard, Sam Neill, Jeff Goldblum, and Laura Dern has locked in a June 9th of 2022 release date – check out the official trailer above.