From The Aviator to Revenant, Leonardo DiCaprio has soundly proven he isn't one to shy away from a challenging role. One which edges him outside of the vanilla + safe, ruggedly handsome leading man paradigm, and deep into far more interesting, Oscar-winning territory. Now, Deadline reports MGM has secured a feature-length Jim Jones film via seven-figure deal, with Leonardo DiCaprio himself in final talks to lead as the notorious religious cult leader behind the Jonestown massacre of 1978. And dare we say it, he might just have lined up his most compelling role yet.
Taking a page out of Christian Bale's book – who recently signed on to play charismatic pastor turned drug smuggler John Lee Bishop; which you can read all about here – while DiCaprio hasn't been confirmed as the Jim Jones star at this very moment, he has been locked in as a producer alongside Jennifer Davisson through his production company Appian Way. The screenplay has been penned by Beautiful Girls, Con Air, Gone In 60 Seconds, and High Fidelity scribe, Scott Rosenberg. More recently, Rosenbery has also penned Venom, Jumanji: Welcome to the Jungle, and Jumanji: The Next Level – but we won't hold that against him (everyone's got bills to pay). Currently, no further casting details nor a director has been announced.
RELATED: Inside The Cowboy Industry Of 'Cult Deprogramming'
---
---
For the uninitiated, the Jonestown massacre marked modern history's single largest – and most prolific – instance of mass suicide; not to mention, the event is where we derive the phrase "drink the Kool-Aid." As per Deadline's own succinct description:
"Jim Jones founded the Peoples Temple in Indianapolis circa 1955 and promoted it as a fully integrated congregation promoting Christian Socialism. By the 1970s, he openly rejected traditional Christianity and claimed that he was God. He constructed Jonestown in Guyana in 1974 and spurred a following to live with him there as he touted a socialist paradise free from US government oppression."
"Amid rumours of human rights abuses, the US government sent a delegation led by US Representative Leo Ryan in November 1978. Ryan, along with four other Jonestown defectors, would eventually be gunned down by Jones' followers. Following the shooting, Jones orchestrated a mass murder-suicide of his followers, which took 918 commune members, 304 of them children, in an act that entailed drinking Flavor Aid laced with cyanide."
As for the matter of when you'll actually get to experience Leonardo DiCaprio in brand new media next, on Christmas eve this year (December 24th, 2021), he'll be gracing your Netflix streaming queue alongside Jennifer Lawrence for Don't Look Up. Directed by Adam McKay – who worked his way up from Saturday Night Live head writer to become the Academy Award-nominated director of The Big Short, Vice, and HBO's Succession – DiCaprio portrays a low-level astronomer who undertakes a giant media tour to warn mankind of an incoming extinction event.
Here's the official synopsis:
Kate Dibiasky (portrayed by Jennifer Lawrence), an astronomy grad student, and her professor Dr Randall Mindy (portrayed by Leonardo DiCaprio) make an astounding discovery of a comet orbiting within the solar system.

The problem — it's on a direct collision course with Earth. The other problem? No one really seems to care. Turns out, warning mankind about a planet-killer the size of Mount Everest is an inconvenient fact to navigate. With the help of Dr Oglethorpe (portrayed by Rob Morgan), Kate and Randall embark on a media tour that takes them from the office of an indifferent President Orlean (portrayed by Meryl Streep) and her sycophantic son and Chief of Staff, Jason (portrayed by Jonah Hill), to the airwaves of The Daily Rip, an upbeat morning show hosted by Brie (portrayed by Cate Blanchett) and Jack (portrayed Tyler Perry).

With only six months until the comet makes impact, managing the 24-hour news cycle and gaining the attention of the social media-obsessed public before it's too late proves shockingly comical — what will it take to get the world to just look up?
(You can read more about Netflix's Don't Look Up here.)
RELATED: Netflix's 'Don't Look Up' Is Somewhere Between 'The Big Short' & 'The Other Guys'
---
---
"I would say this one is a tad more of a comedy than The Big Short," Adam McKay explains on the Happy Sad Confused podcast.
"I don't know if the Ferrell movies… because they're so uniquely Will Ferrell – but somewhere in between The Other Guys and The Big Short, I'd say, is where this one lives."
Additionally, King Leo has reunited with legendary filmmaker Martin Scorsese for yet another crime drama steeped in real-life history. Based on the bestselling non-fiction book by journalist David Grann, Killers of the Flower Moon will see DiCaprio share a screen with fellow serial Scorsese collaborator, Robert De Niro.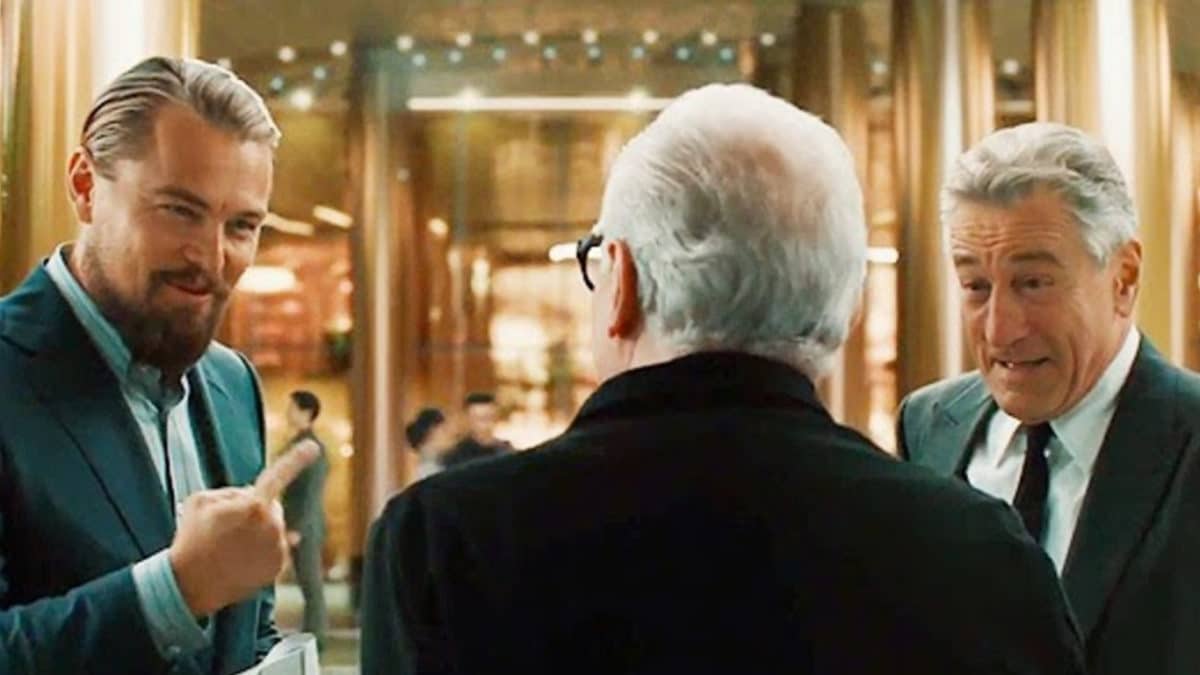 Here's a brief over of what you can expect:
In the 1920s, Native Americans from the Osage tribe became the "richest people in the world" after large oil deposits were discovered beneath their reservation. Not long after, several members of the tribe were murdered one by one in various ways – consistent with the ongoing narrative of America whenever resources come into play. Officially, the body count reached at least 20. Investigations since have estimated the real figure is somewhere in the hundreds.
Acknowledged as "one of the most sinister crimes" and "one of the highest-profile serial killings" witnessed by the US during the 20th century, Killers of the Flower Moon also involves the birth of the FBI and its first Director, J. Edgar Hoover; which were tasked with investigating the entire ordeal. Incidentally, DiCaprio has previously portrayed Hoover for Clint Eastwood's 2011 film J. Edgar. This time, however, he'll be portraying the villainous conspirator Ernest Buckhart, with De Niro taking on the role of Ernest's equally malevolent uncle, William Hale. DiCaprio's Appian Way once again has a role in the project's production; distribution of the $200 million endeavour is being handled by Paramount Picture and Apple TV+.
(You can read more about Martin Scorsese's Killers of the Flower Moon here.)
Stay tuned for updates regarding the status of MGM's Jim Jones – potentially fronted by Leonardo DiCaprio.