The Academy Award-winning director Chloe Zhao just can't seem to miss these days. Barely a month on since taking that coveted golden statuette home for Nomadland starring Francis McDormand, the world has been put on notice about her next potential hit, as Marvel releases the first full-length Eternals trailer.
Richard Madden of Bodyguard and Game of Thrones fame alongside the one and only Angelina Jolie leads an all-star cast, portraying what the majority of us deem to be a lesser known Marvel property. Similar to Guardians of the Galaxy, however, this may very well become the major international debut which renders characters such as Ikaris, Sersi, Thena, and Dane Whitman household names on par with the main Avengers.
As for the story, Eternals will follow the eponymous immortal race of aliens created by Celestials – the latter of which was first portrayed by Kurt Russell in Guardians of the Galaxy, Vol. 2 – after an "unexpected tragedy" following the events of Avengers: Endgame. Having secretly inhabiting Earth for over 7,000 years, silently guiding humanity throughout the ages, they're forced to reunite and undertake some firmer intervention against their malevolent counterparts: the Deviants.
---
---
RELATED: WATCH – Marvel Drops A 'Shang-Chi & The Legend Of The Ten Rings' Trailer
This upcoming tentpole film has been adapted for screen by director Chloe Zhao in collaboration with Patrick Burleigh, who has previously offered his writing talents for Ant-Man & The Wasp. The stunning cinematography has been accomplished by Ben Davis, who you may be familiar with through an entire runsheet of notable flicks such as Layer Cake, Kick-Ass, Seven Psychopaths, Guardians of the Galaxy, Avengers: Age of Ultron, Doctor Strange, Captain Marvel, and Three Billboards Outside Ebbing, Missouri. Incidentally, Richard Madden and Kit Harrington's fellow Game of Thrones alum, Ramin Djawadi, has signed on to compose a soundtrack.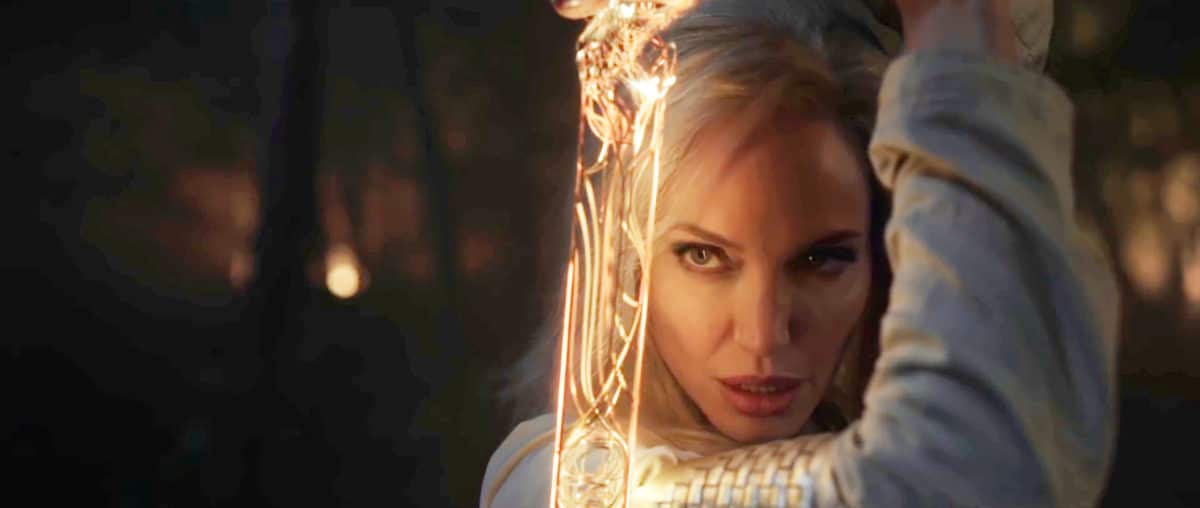 As previously mentioned, Marvel's latest joint features a certifiably stacked all-star cast. Here's a breakdown of who's who teased in the Eternals trailer, as described by the studio themselves:
Richard Madden as Ikaris
"The tactical leader of the Eternals who can fly, project cosmic energy beams from his eyes, and has superhuman strength."
Gemma Chan as Sersi
"An empathetic Eternal with an affinity for humankind who can manipulate matter. She has been in love with Ikaris for centuries, and poses as a museum curator on Earth."
Kumail Nanjiani as Kingo
"An Eternal who can project cosmic energy projectiles from his hands. Enamoured with fame, Kingo becomes a popular Bollywood film star to blend in on Earth."
Lia McHugh as Sprite
"An Eternal who can project lifelike illusions. Sprite appears to be a 12-year-old child, but she is stronger and cleverer than she looks."
Brian Tyree Henry as Phastos
"An Eternal and an intelligent cosmic-powered inventor who secretly helps humanity progress technologically."
RELATED: Marvel Studios Is Relocating To Sydney For The Next Five Years
Lauren Ridloff as Makkari
"An Eternal who uses her cosmically powered super-speed to scout planets."
Barry Keoghan as Druig
"An aloof Eternal who can use cosmic energy to control the minds of others. He becomes withdrawn from the other Eternals because he disagrees with their interactions with humankind."
Don Lee as Gilgamesh
"The strongest Eternal who can project an exoskeleton of cosmic energy. He becomes Thena's partner in their exile from the other Eternals."
Salma Hayek as Ajak
"The wise and spiritual leader of the Eternals, who has aided the advancement of human civilization and is able to use her abilities to heal. Ajak can communicate with Celestials."
Angelina Jolie as Thena
"A fierce warrior Eternal who can form any weapon out of cosmic energy, and develops a close bond with Gilgamesh over the centuries."
Kit Harington as Dane Whitman
"A human warrior who wields a mystical sword."
Marvels Eternals hits theatres on November 4th of 2021 – check out the first full-length trailer above.