If you were enjoying the reprieve from superhero flicks in the last year or so, brace yourselves. As their first two original series' – Wandavision, The Falcon & Winter Soldier – wrap up on streaming platform Disney+, Marvel Studios has confirmed the release dates for its positively stacked Phase 4 line-up, revealing previously undisclosed details, titles, and teaser footage surrounding the next ten films scheduled to hit cinemas from 2021 to 2023.
One of the more notable showcases is Eternals helmed by Oscar-winning director of Nomadland, Chloe Zhao. Starring Angelina Jolie, Richard Madden, Kumail Nanjiani, Brian Tyree Henry, Salma Hayek, Gemma Chan, and Lauren Ridloff as the eponymous Eternals – an immortal alien race who have secretly lived on Earth for over 7,000 years – the all-star cast will unite to protect humanity from their characters' sinister counterparts, the Deviants. The video above represents the first substantial look we've been offered of the forthcoming film.
In addition to a handful of films which have been previously alluded to in the press on numerous occasions – i.e. Black Widow starring Scarlett Johansson and Florence Pugh, Shang-Chi & The Legend of The Ten Rings starring Simu Liu and Tony Leung, Thor: Love & Thunder starring Chris Hemsworth, Christian Bale, & Natalie Portman – Marvel also took the time to disclose the Black Panther sequel being directed by Creed's Ryan Coogler will officially be titled Wakanda Forever; and announce the coming arrival of The Marvels, which is on track to serve as both a Captain Marvel sequel and Disney+ series Ms Marvel. There was, however, a rather large omission which many could not ignore – Mahershala Ali's Blade reboot.

And to cap it all off, there was a sly hint that the new Fantastic Four adaptation to resolve the property of its past sins is currently underway.
---
---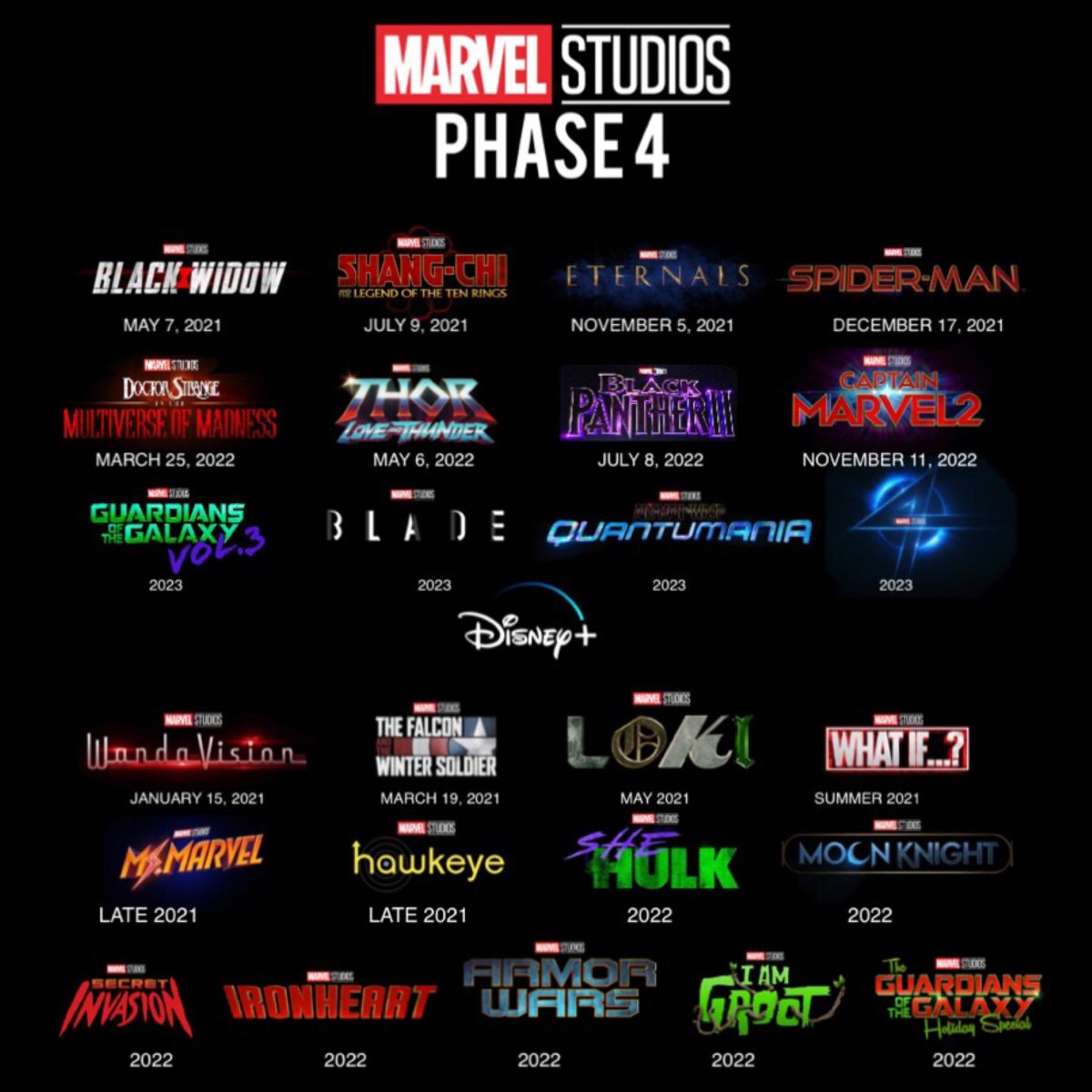 RELATED: Marvel Studios Is Relocating To Sydney For The Next Five Years
Marvel Phase 4 release dates confirmed (Australia)
Black Widow – July 8th, 2021
Shang-Chi & The Legend of The Ten Rings – September 2nd, 2021
Eternals – November 4th, 2021
Spider-Man: Now Way Home – December 16th, 2021
Doctor Strange in The Multiverse of Madness – March 24th, 2022
Thor: Love & Thunder – May 5th, 2022
Black Panther: Wakanda Forever – July 7th, 2022
The Marvels – November 10th, 2022
Ant-Man & The Wasp: Quantamania – February 16th, 2023
Guardians of The Galaxy: Vol. 3 – May 4th, 2023
Fantastic Four – TBA
Revisit the entire Marvel Cinematic Universe via Disney+ today.