Less than two months away from hitting streaming queues, Netflix has unveiled the first full-length trailer for its long-awaited Marilyn Monroe biopic Blonde starring present-day bombshell Ana de Armas as the beloved Hollywood icon.
Directed by New Zealand-born talent Andrew Dominik of Chopper, Mindhunter fame – and based on the best-selling historical fiction novel authored by Joyce Carol Oates – the upcoming film promises to be a career highlight for all parties involved.
"Blonde boldly reimagines the life of one of Hollywood's most enduring icons: Marilyn Monroe. From her volatile childhood as Norma Jeane Baker, through her rise to stardom and romantic entanglements, Blonde blurs the lines of fact and fiction to explore the widening split between her public and private selves."

---

---

Official synopsis via Netflix
RELATED: Ana De Armas Didn't Speak English When She Was Cast In 'War Dogs'
Anticipation reached all-new levels when it was revealed Blonde had obtained a spicy NC-17 rating over in the US. How does this differ from your bog-standard R rating? While the under-18 punters are allowed to rock up and see a movie rated R, NC-17 prevents anyone aged 17 and under from entering. Here in Australia, the domestic equivalent is R18+ and X18+. Depending on how explicit the content.
"There's something in it to offend everyone," said director Andrew Dominik.
"If the audience doesn't like it, that's the fucking audience's problem. It's not running for public office."
"It's not like depictions of happy sexuality. It's depictions of situations that are ambiguous. And Americans are really strange when it comes to sexual behaviour, don't you think? I don't know why. They make more porn than anyone else in the world."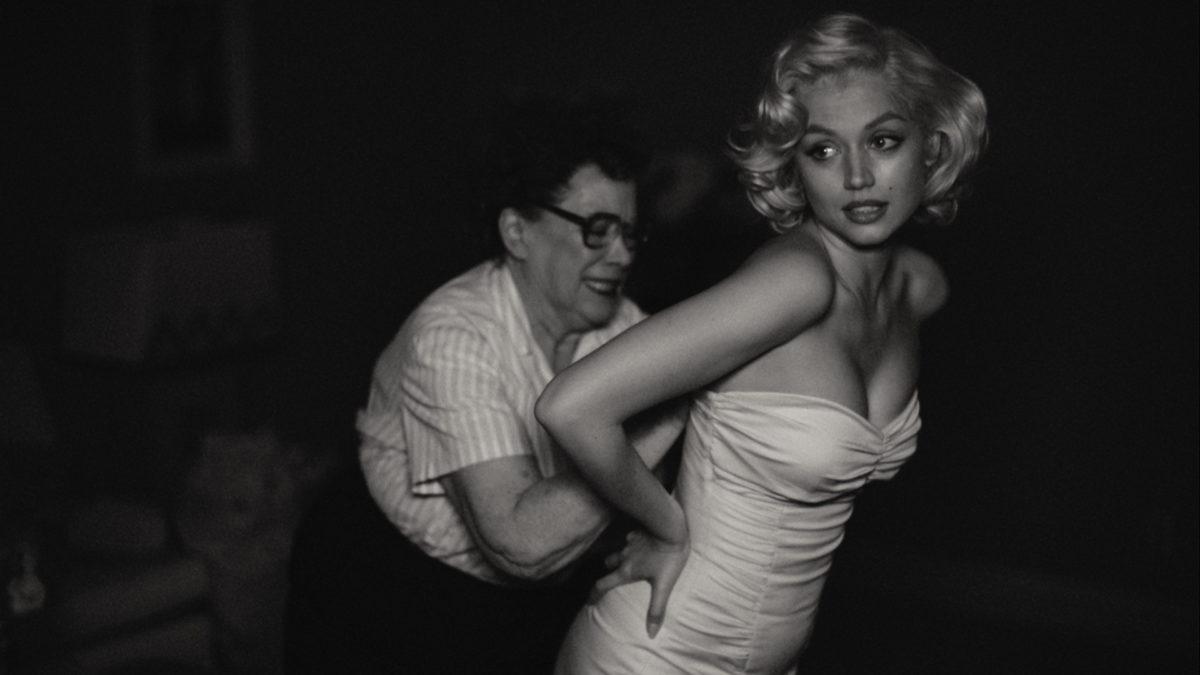 "Andrew's ambitions were very clear from the start — to present a version of Marilyn Monroe's life through her lens," Ana de Armas recently told Netflix Queue.
"He wanted the world to experience what it actually felt like to not only be Marilyn, but also Norma Jeane. I found that to be the most daring, unapologetic, and feminist take on her story that I had ever seen."
---
---
"We worked on this film for hours, every single day for almost a year," added de Armas.
"I read Joyce's novel, studied hundreds of photographs, videos, audio recordings, films — anything I could get my hands on. Every scene is inspired by an existing photograph. We'd pore over every detail in the photo and debate what was happening in it."
"The first question was always, 'What was Norma Jeane feeling here?' We wanted to tell the human side of her story. Fame is what made Marilyn the most visible person in the world, but it also made Norma the most invisible."
RELATED: Stop What You're Doing, Christopher Nolan's 'Oppenheimer' Has A Teaser Trailer
"It's a film about the human condition," director Andrew Dominik explained to Collider a little further back in 2016, around the time it was reported Jessica Chastain had stepped up to replace Naomi Watts as the lead.
"It tells the story of how a childhood trauma shapes an adult who's split between a public and a private self. It's basically the story of every human being, but it's using a certain sense of association that we have with something very familiar, just through media exposure."
"It takes all of those things and turns the meanings of them inside out, according to how she feels, which is basically how we live. It's how we all operate in the world. It just seems to me to be very resonant. I think the project has got a lot of really exciting possibilities, in terms of what can be done, cinematically."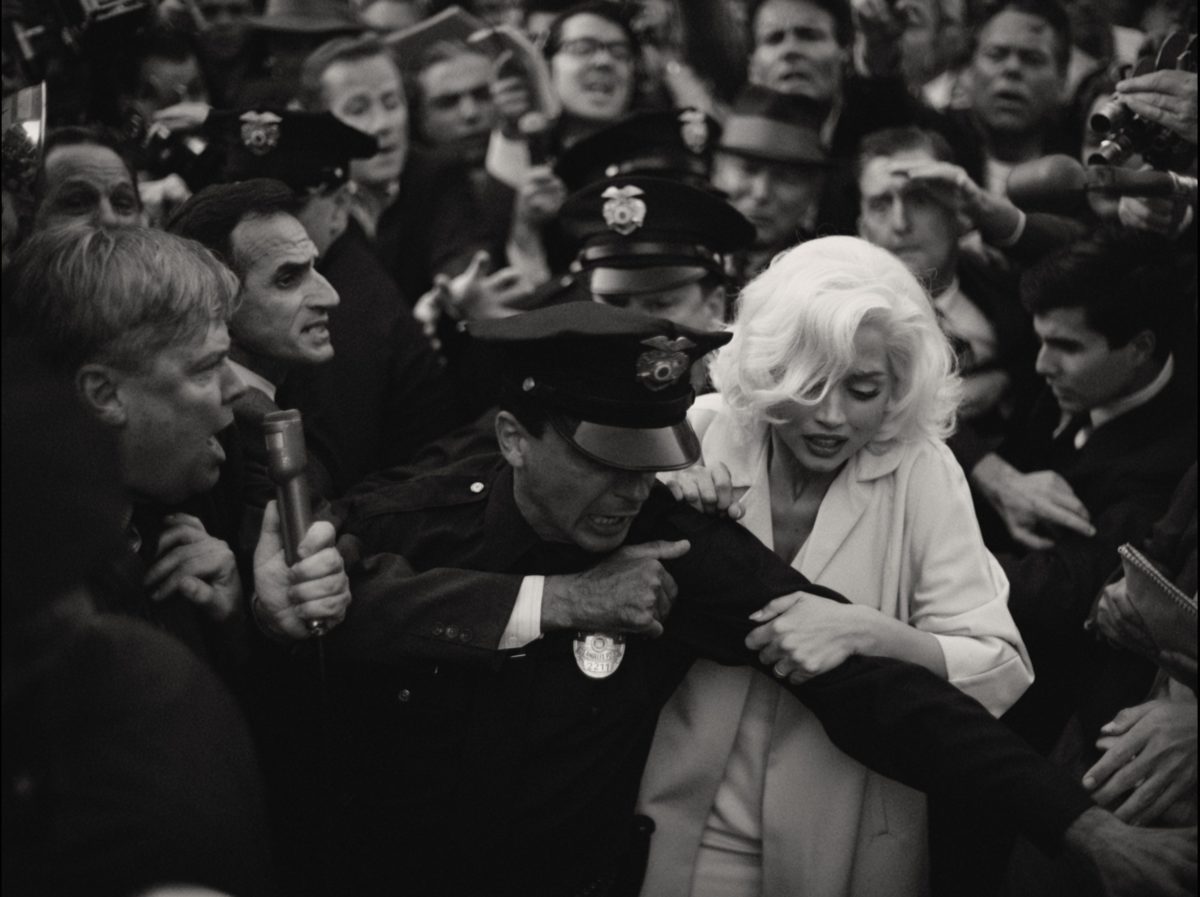 Ana de Armas is joined by a heavyweight cast comprised of Adrien Brody as famed writer Arthur Miller, Bobby Cannavale as legendary baseball player Joe DiMaggio, Julianne Nicholson as Monroe's mother Gladys Pearl Baker, Toby Huss as Monroe's personal makeup artist Allan "Whitey" Snyder, Caspar Phillipson as US President John F. Kennedy, Xavier Samuel as Charles Chaplin Jr. and more.
---
---
In addition to serving as the production's director, Blonde has been adapted for screens by Andrew Dominik himself, with Dede Gardner, Jeremy Kleiner, Tracey Landon, Scott Robertson, and Brad Pitt signed on as producers. The cinematography has been accomplished by Chayse Irvin (BlacKkKlansman), the editing by Jennifer Lane (Hereditary, Tenet) and Adam Robinson (Spring Breakers, Patriots Day), while the music can be credited to Nick Cave and Warren Ellis.
Netflix has confirmed September 23rd of 2022 as the global release date for Blonde starring Ana de Armas – check out the full-length trailer above.