Ordinarily, the concept of scientists warning the world of its imminent doom only to fall on deaf ears would be a little too real for laughter. But under the guidance of a versatile, satirical genius such as Adam McKay – who worked his way up from Saturday Night Live head writer to becoming Academy Award-nominated director of The Big Short – and based on the full-length trailer released today, Netflix's forthcoming black comedy Don't Look Up starring Leonardo DiCaprio and Jennifer Lawrence might just succeed.
As McKay himself describes it, the film represents a natural evolution of his oeuvre. Although many will have anticipated this, given how he hasn't exactly strayed too far away from humour in The Big Short, Vice, and HBO's Succession (despite exploring conventionally dramatic subject matter). Tonally, we're in for something in between The Big Short and The Other Guys.
"I would say this one is a tad more of a comedy than The Big Short," Adam McKay reveals on the Happy Sad Confused podcast.

"I don't know if the Ferrell movies… because they're so uniquely Will Ferrell – but somewhere in between The Other Guys and The Big Short, I'd say, is where this one lives."
---
---
RELATED: 'Succession' Season 3 Release Date Confirmed… And It's Earlier Than Expected
Here's the official synopsis for this all-star affair:
Kate Dibiasky (portrayed by Jennifer Lawrence), an astronomy grad student, and her professor Dr Randall Mindy (portrayed by Leonardo DiCaprio) make an astounding discovery of a comet orbiting within the solar system. 


The problem — it's on a direct collision course with Earth. The other problem? No one really seems to care. Turns out, warning mankind about a planet-killer the size of Mount Everest is an inconvenient fact to navigate. With the help of Dr Oglethorpe (portrayed by Rob Morgan), Kate and Randall embark on a media tour that takes them from the office of an indifferent President Orlean (portrayed by Meryl Streep) and her sycophantic son and Chief of Staff, Jason (portrayed by Jonah Hill), to the airwaves of The Daily Rip, an upbeat morning show hosted by Brie (portrayed by Cate Blanchett) and Jack (portrayed Tyler Perry). 


With only six months until the comet makes impact, managing the 24-hour news cycle and gaining the attention of the social media-obsessed public before it's too late proves shockingly comical — what will it take to get the world to just look up?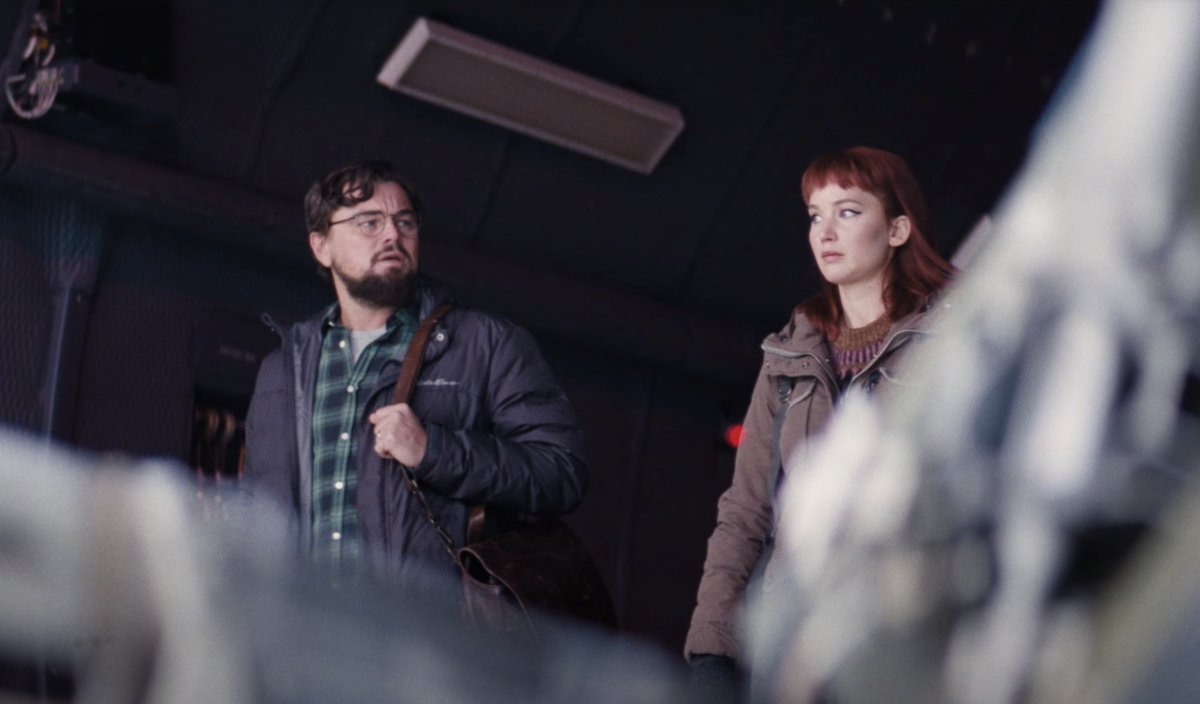 RELATED: Netflix's 'The Guilty' Starring Jake Gyllenhaal Has A Thrilling Trailer
"It's not the most high-concept bizarre idea — the idea of a disaster movie in which people don't necessarily believe that the disaster is coming," Adam McKay tells The New York Times.
"It goes back to the trope of the mayor from Jaws: 'Love to prove that, wouldn't you? Get your name into the National Geographic?' So it's two midlevel, very sincere astronomers who make the discovery of a lifetime, which is a killer asteroid headed toward Earth. They have to warn everyone and have to go on a media tour."
"It's them navigating our world. It's them navigating their equivalent of Twitter. It's them navigating the political landscape. It's them navigating talk shows and how they're perceived."
Other headline-making names in addition to the likes of DiCaprio – who is apparently getting paid US$30 million this time around – include the following:
---
---
Timothée Chalamet
Matthew Perry
Ariana Grande
Kid Cudi
Himesh Patel
Melanie Lynskey
Mark Rylance
Ron Perlman
Don't Look Up starring Leonardo DiCaprio and Jennifer Lawrence hits Aussie cinemas on December 8th before arriving to Netflix on December 24th (Christmas Eve) – check out the first full-length trailer above.