There's an argument to be made that Nicolas Cage simply plays different versions of himself in movies (each character featuring varying levels of unhinged-ness). In The Unbearable Weight of Massive Talent, however, the man quite literally plays himself. Or at least a tongue-in-cheek portrayal of the Nic Cage we know, love, and are constantly mystified by. The result? A certified fresh Rotten Tomatoes of 100%.
Continuing the hot streak established by his other genuinely solid flick, Pig, wherein the shaman-thespian hybrid inhabited the role of a chef turned reclusive truffle forager searching for his missing porcine companion – side note: do yourself the favour and check it out – Cage has now turned in another performance worthy of our non-ironic attention. This time within the realm of intentional comedy, as opposed to, well… you know.
The film centres on a fictional Nicolas Cage who's accompanied by "Nicky" – a figment of the man's imagination which just so happens to resemble himself during his younger years. Nic's cross to bear in The Unbearable Weight of Massive Talent is that he feels unfulfilled, getting absolutely nowhere with his career. He's also living out of a hotel and up to his eyeballs in debt.
---
---
RELATED: Nicolas Cage Paid Off His Debt With Shit Movies… But Doesn't Regret A Single One
The story takes a hard turn when Nic accepts $1 million to attend the birthday of a Mexican crime lord slash billionaire super fan, Javi (portrayed by Pedro Pascal), who takes Cage worship to all-new levels. The story takes another hard turn when CIA Agent Vivien (portrayed by Tiffany Haddish) ropes him into a covert operation related to Javi's entire seedy world. As the official synopsis describe it:
Nic is forced to become a version of some of his most iconic and beloved characters in order to extricate his ex-wife (portrayed by Sharon Horgan) and daughter Addy (portrayed by Lily Sheen) from the fan who is a notorious drug lord.
"It was written for Nic. He was not attached to this movie. This was a shot in the dark that we would end up getting him," director Tom Gormican tells Entertainment Weekly.
"If Nic said he did not want to do the movie, it was just a pile of garbage. It was very specifically for him. As a pure business decision, as a writer-director, it was probably the stupidest thing we could have done, but we just really, really believed in this particular story."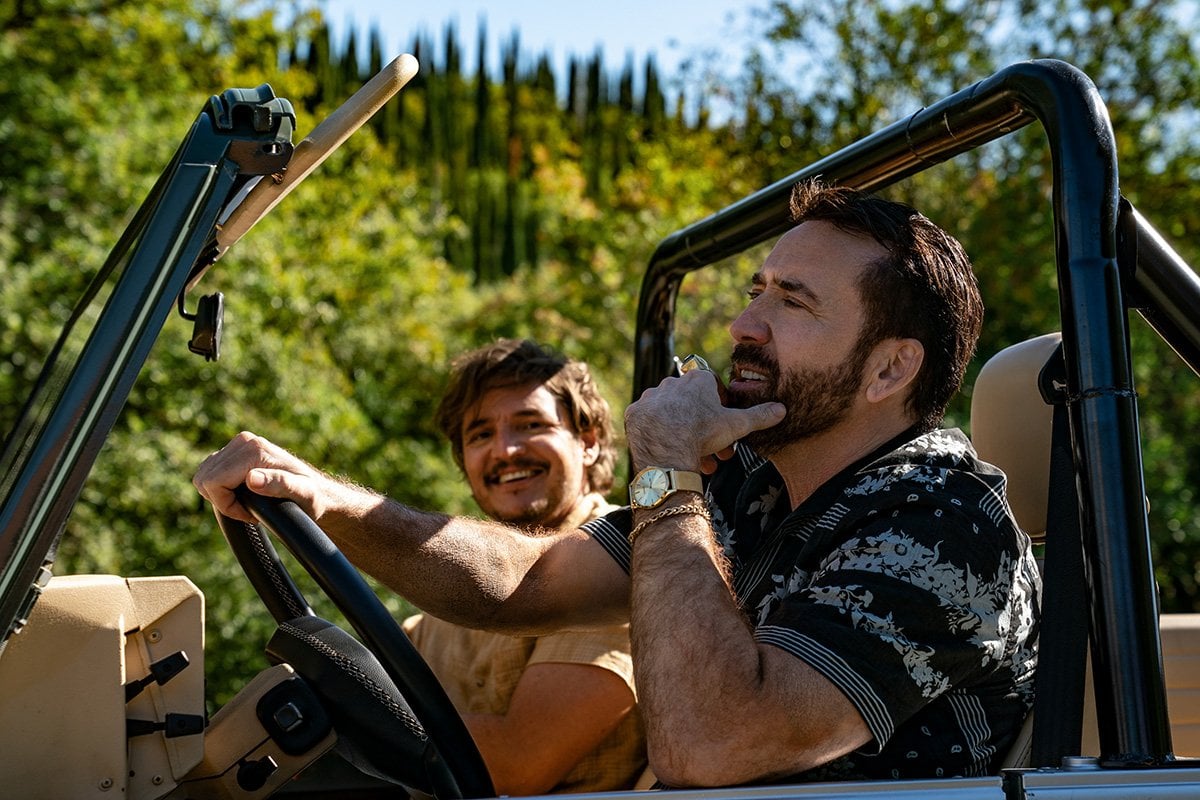 "I think it took a lot of courage for Nic to embrace this type of role where you're playing yourself, but it's a character who's not in a great place."
Nicolas Cage, Pedro Pascal, and Tiffany Haddish are joined by Jacob Scipio, Ike Barniholtz, Paco Leon, as well as Neil Patrick Harris who appears to be Cage's equally fictitious agent.
As previously mentioned, this artistic endeavour of the action-comedy variety has been directed by Tom Gormican, who is most notably known for penning other comparable hijinks-filled joints such as Ghosted and That Awkward Moment. Gormican has also written the screenplay this time around, this time in collaboration with Kevin Etten (Late Show with David Letterman, Reaper, Scrubs, Workaholics).
---
---
The Unbearable Weight of Massive Talent is scheduled for release this month on April 22nd of 2022 – watch the trailer above.