Well, who would have thunk it. Marvel's biggest film has just scored the biggest opening weekend of all time. From Friday to Sunday, Avengers: Infinity War garnered $641 million USD in global box office sales. For reference, in the span of three days, IW's starting revenue was only $16 million USD short of Justice League's total multiple month run in cinemas.
This weekend debut has edged out Star Wars: The Force Awakens, Star Wars: The Last Jedi, and Jurassic World. Disney just can't seem to quit. On track to cross the big B within the next two weeks, it's safe to say the Russo Brothers directed joint will more than make back their $400 million USD budget. It's also safe to say the ten year investment by Marvel Studios has more than paid off.
The real juicy part? They didn't even open to the world's largest market yet. It will be more than interesting to see the numbers once China gets their audiences around this one.
---
---
Congratulations were not sparse, as everyone from fellow Disney partner Lucasfilm to Ryan Reynolds clamoured to give some online kudos.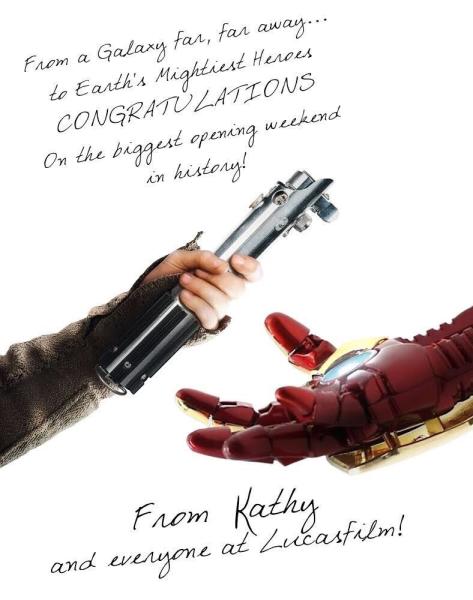 From a guy who never knows when to quit, I'm glad you guys never did. Congrats #Avengers. pic.twitter.com/voJshTKx5E

— Ryan Reynolds (@VancityReynolds) April 29, 2018
Here's to another decade of Marvel greatness, and what is shaping up to be (essentially) box office dominance.
(Note: you just know Kevin Feige is Scrooge McDucking into a pool of money right now.)