Rick & Morty season four has been streaming for some time now, but Australian fans have been forced to get in on the action via… um… less than legal means. But that's all about to change, with the announcement that the entire season will be available on Australian Netflix by December 22nd. Just in time for a family Christmas viewing.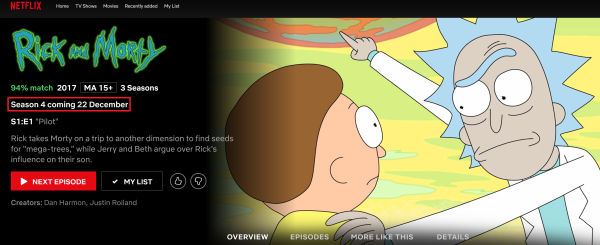 As it turns out, Australian Netflix has been waiting for all the episodes of the season to finish airing on Adult Swim before making the full-run available in one complete hit:
'Edge of Tomorty: Rick Die Rickpeat'
'The Old Man and the Seat'
'One Crew over the Crewcoo's Morty'
'Claw and Hoarder: Special Ricktim's Morty'
'Rattlestar Ricklactica
Understandable on their part, really. Anticipation is part of the satisfaction.
---
---
Until then, all we can do is wait and… view. However you decide to accomplish the latter is entirely up to you. Not that we at BH are condoning anything. Or judging.