In precisely a month's time, the global audiences will be treated to Matt Reeves' highly-anticipated The Batman starring Robert Pattinson as the iconic vigilante, the latter of whom has now hinted a sequel is on the cards. At least according to how the film ends.
I know what you're thinking. Shock. Horror. A superhero film receiving a follow-up instalment in 2022? It's almost unheard of (/s). The only things more certain in this life are death and taxes. But keep in mind this is DC we're talking about. Continuity hasn't always been the highest priority, and despite its record-breaking success, we're still not sure we'll ever see Joker 2 starring Joaquin Phoenix with Todd Phillips at the helm. In an interview with Total Film (via AVClub), here's what Robert Battinson / The Pat-man himself revealed:
"When I saw it the first time – even from the first shot – it does feel incredibly different, tonally, to the other movie. And it's so strange, and kind of… It's sad and quite touching. It's a really, really unusual Batman story, and it almost seems harder for me to imagine it being a series afterwards. I mean, they always have that little bit at the end, that's like: '… and coming up!' But other than that, it feels strangely personal. I think people will be quite shocked at how different it is."
---
---
RELATED: 'The Batman' Has Killer Early Audience Reactions
Elsewhere, during an earlier interview with Empire, Robert Pattinson expressed his interest in undertaking an entire trilogy – not just a sequel – going so far as to draw a blueprint for his version of Bruce Wayne's evolution.
"I've made a kind of map for where Bruce's psychology would grow over two more movies. I would love to do it."
"As the first standalone Batman in ten years, the hope is we can lay a foundation that you can build stories upon," notes producer Dylan Clarke.
Speculation surrounding what Matt Reeves' The Batman sequel might resemble involves two key pieces of evidence we've previously covered. At the risk of playing detective / conspiracy theorist too hard, we'll just present the exhibits here and let you make up your own minds…
The Batman Sequel: What Direction Will The Story Take?
Exhibit A – Early Audience Reactions From A Test Screening
Although specific details haven't been revealed for obvious NDA-related reasons, here's what we know so far thanks to a Twitter thread from @blurayangel and the lucky few who offered some (relevant) morsels via Reddit:
"There's a scene at the end that literally had everyone SCREAMING, everyone gasped… like it was a big no way for everyone."
---
---
"I don't give a fuck about Batman or DC and even I clenched onto a knee and was shook. It's the biggest mic drop."
"YES! Definitely a sequel. That's the "Oh shit" moment. I genuinely felt like they're gonna start a whole collection of Robert Pattinson Batman movies and circle through different villains maybe?"
Exhibit B – The Curious Case of Barry Keoughan
According to The Hollywood Reporter, Warner Bros was testing two different cuts of The Batman with audiences: one featuring a certain actor portraying a certain iconic role. The prevailing theory? Barry Keoghan – who's been listed on The Batman cast as Gotham police officer Stanley Merkel (partner to Jeffrey Wright's Jim Gordan) – will actually take up the mantle of the Joker.
While this may all seem like the hair-brained ramblings of a man sent over the edge – and granted, most of our pop culture content produced by yours truly usually is – there's further evidence to support Barry Keoghan being introduced as the Joker in The Batman, beyond the equally hair-brained speculation of the Twittersphere and provocative + specific name-dropping of Keoghan by THR.
Last month, the Eternals and Dunkirk actor's own brother, Eric Keoghan, spilled the beans on social media, revealing Barry had been cast as the Clown Prince of Crime. As you can imagine, the post was deleted shortly after.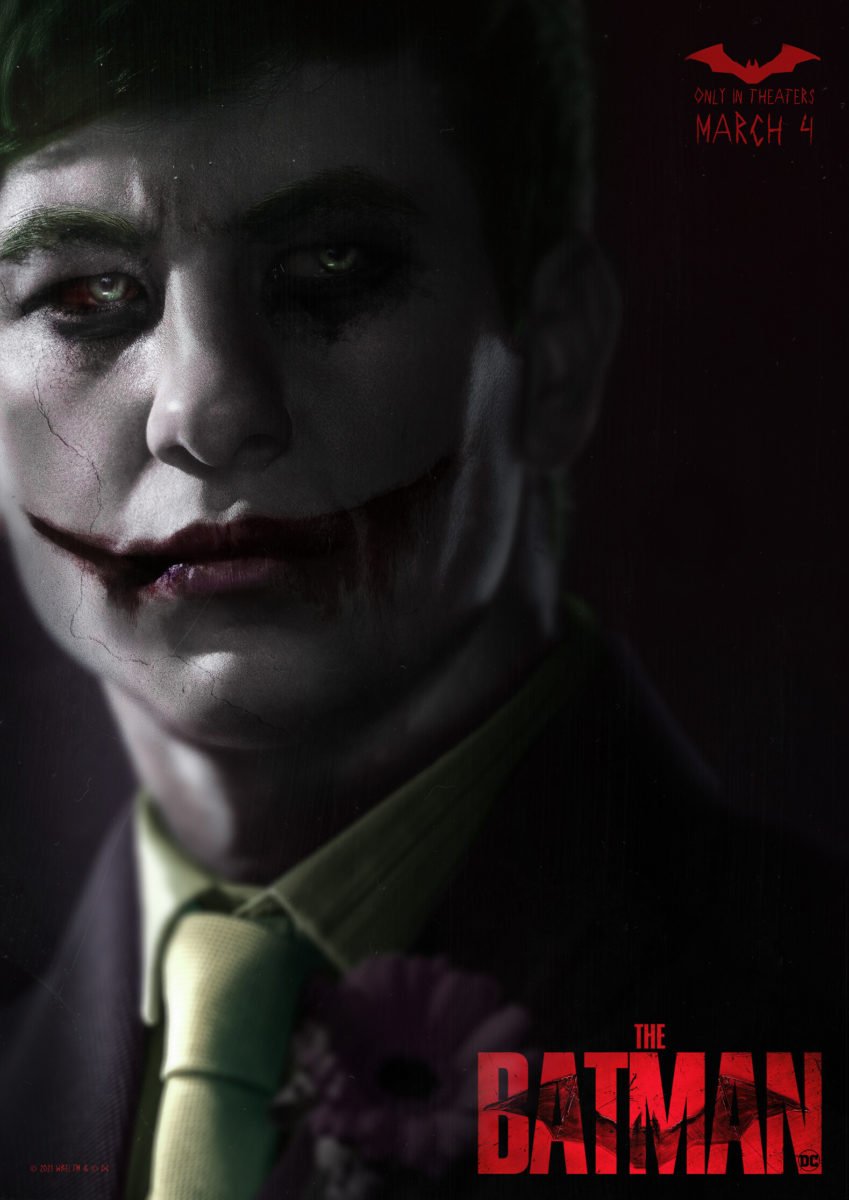 Perhaps Matt Reeves has taken a page out of Christopher Nolan's playbook after all, who told press his infamous Joker-card tease in Batman Begins wasn't intended to set up a sequel, only to blow our tits off with The Dark Knight starring Christian Bale and Heath Ledger soon after.
"It wasn't really about setting up a sequel," Nolan would later explain in 2012.
"I wanted [the audience] to leave the theatre with their minds just spinning. Batman has arrived. That was always the snap of the ending."
---
---
"It wasn't really until months after the film came out that I said, 'OK… now I want to know who the Joker is.'"
RELATED: 'The Batman' Is Almost 3 Hours Long Without Credits
The upcoming cinematic affair has been written, directed, and produced by Matt Reeves, with cinematography accomplished by Greig Fraser (Zero Dark Thirty, Rogue One, Dune), and music by Michael Giacchino (Mission: Impossible – Ghost Protocol, Rogue One, Jurassic World Trilogy). Robert Pattinson is joined by Andy Serkis as Alfred, Zoe Kravitz as Catwoman, Jeffrey Wright as Commissioner Gordon, Colin Farrell as The Penguin, Paul Dano as The Riddler, and John Turturro as Carmine Falcone.
As for the matter of a release date, The Batman is scheduled to hit Aussies theatres on March 3rd of 2022 – check out the official synopsis and trailer below.
Two years of stalking the streets as the Batman (portrayed by Robert Pattinson), striking fear into the hearts of criminals, has led Bruce Wayne deep into the shadows of Gotham City. With only a few trusted allies — Alfred Pennyworth (portrayed by Andy Serkis), Lieutenant James Gordon (portrayed by Jeffrey Wright) — amongst the city's corrupt network of officials and high-profile figures, the lone vigilante has established himself as the sole embodiment of vengeance amongst his fellow citizens. 

When a killer targets Gotham's elite with a series of sadistic machinations, a trail of cryptic clues sends the World's Greatest Detective on an investigation into the underworld, where he encounters such characters as Selina Kyle/Catwoman (portrayed by Zoë Kravitz), Oswald Cobblepot/The Penguin (portrayed by Colin Farrell), Carmine Falcone (portrayed by John Turturro), and Edward Nashton/The Riddler (portrayed by Paul Dano). 

As the evidence begins to lead closer to home and the scale of the perpetrator's plans becomes clear, Batman must forge new relationships, unmask the culprit, and bring justice to the abuse of power and corruption that has long plagued Gotham City.