Limits simply don't exist for KFC. The merchants of the finger-lickin' good stuff have tested the waters deep-fry oil with gaming, taken the hotel industry by storm, and as we reported just yesterday, entered the drone game by launching an aerial delivery program right here in Australia. What could possibly be next for the House of Chookie? Has the Colonel fallen to his knees and wept for there were no more worlds to conquer? Not quite. Because now, KFC is having a stab at throwing its very own music festival at Cockatoo Island headlined by local session lords Peking Duk.
Dubbed the KFC FEASTIVAL, Sydney Harbour's greatest event of 2022 will also be your extremely-limited opportunity to taste the Peking Cluk burger (which comes free with admission all day long). Created in collaboration with TikToker Dimsimlim, this bad boy features a slab of KFC's Original Recipe fried chicken coated in a hoisin glaze topped with dry spring onions, cucumbers, as well as cabbage slaw.
"We're cluckin' stoked to be teaming up with KFC to pair together two of our favourite things: good tunes and good food," says Reuben Styles and Adam Hyde of Peking Duk, who are set to unveil a brand-new live show they've been tinkering away at for over two years.

"As lovers of the fried gold, working with KFC to create our own burger really is the dream, plus we can't wait to play our music for you [at the festival] while you're eating the burger – the perfect score to the perfect meal at Cockatoo Island."
---
---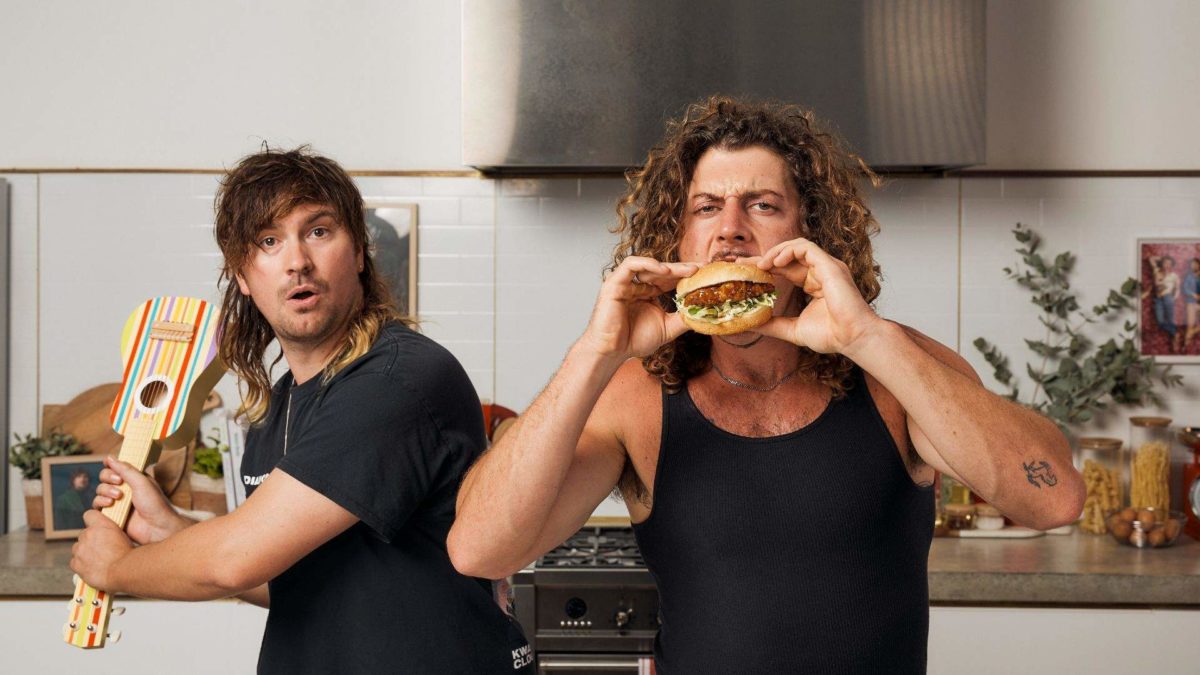 RELATED: KFC Has Begun Delivering With Drones In Australia
"Get clucked, go cluck yourself, cluck off, and have a clucking great time on Cockatoo Island with the boys."

Adam Hyde
Aside from their mouthwatering namesake, the ARIA-winning duo will also be supported at the inaugural KFC music festival on Cockatoo Island by fellow Aussie fan favourites: Yolngu rapper Baker Boy – fresh off the release of his latest album – Thandi Phoenix, and Ebony Boadu.
"KFC's commitment to the music industry has never been more important, given the pressure the industry has faced in recent years," Kristi Woolrych, Chief Marketing Officer of KFC Australia.
"We're proud and excited to be able to partner with such amazing talent not only on an incredible gig but to be able to cement our music relationship with the launch of the first artist collaboration product in Australia."
It all goes down on March 13th of 2022. Tickets for KFC's FEASTIVAL experience is now available to purchase for $50 plus fees via the link below – here are the key times:
Gates Open: 2:00 PM
Local DJ's: 2:00 PM
Ebony Boadu: 3:15 PM
Thandi Phoenix: 4:00 PM
Baker Boy: 5:00 PM
Peking Duk: 6:00 PM
Feastival ends: 7:00 PM