If there's one thing Amazon Prime Video have proven they can do well, it's produce a violent and bloody series about superheroes – bordering on the uncomfortable – breaking the mould of all the polished, idealistic, and family-friendly Marvel joints that dominate the modern culture. Currently, The Boys is fast-becoming its own independent screen universe with a confirmed spin-off series, aftershow, etc. And on the animated front, it'll soon be joined by Invincible, co-created by Robert Kirkman (The Walking Dead) and starring Steven Yuen (also The Walking Dead), which has just dropped a very promising first trailer.
Based on the cult hit Skybound/Image comic of the same name developed by Kirman, Cory Walker, and Ryan Ottley, Invincible follows 17-year-old Mark Grayson (portrayed by Steven Yuen), who is the son of the world's most powerful superhero, Omni-Man (portrayed by JK Simmons). Inheriting his father's abilities – super strength, flight, invulnerability, etc. – on face value, it appears to be another vanilla coming-of-age tale with a flavour-of-the-month hook. That is… until the plot twist is revealed.
Without spoiling what's ahead – and I personally urge you not to investigate any further online – as hinted in the trailer, Mark discovers daddy dearest's legacy isn't all that it seems. As you'll discover, this isn't a series about clean-cut cape crusading, championing justice and afterschool morality, nor anything audiences have come to expect from a superhero outside of Amazon's catalgoue. In terms of the character scale, Omni-Man certainly leans more towards the Homelander end of the spectrum as opposed to Clark Kent / Superman.
---
---
RELATED: 'The Boys' Season 3 Will Feature An Extremely R-Rated Storyline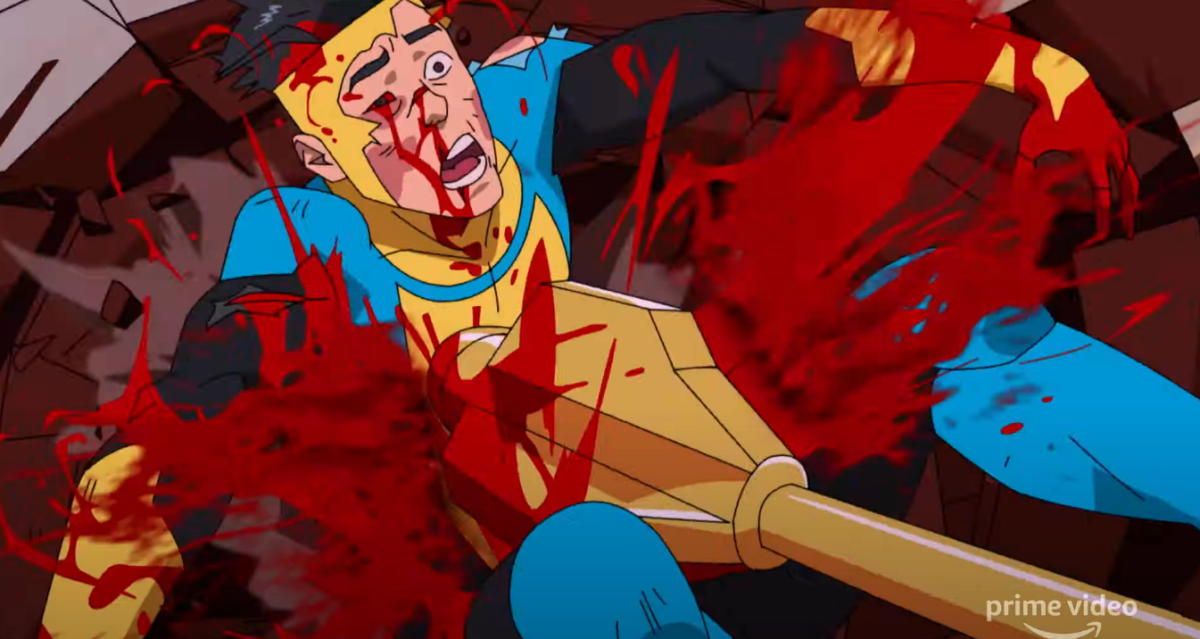 More exciting than the story concept is, of course, the stacked cast. In addition to Yuen and Simmons, here's a run of some familiar names you can expect a vocal appearance from:
Sandra Oh (Grey's Anatomy, Killing Eve)
Seth Rogen (Knocked Up, This is the End)
Gillian Jacobs (Community, Love)
Andrew Rannells (Black Monday, Girls)
Zazie Beetz (Deadpool 2, Joker)
Mark Hamill (Star Wars)
Walton Goggins (Justified)
Jason Mantzoukas (Brooklyn Nine-Nine, Big Mouth)
Zachary Quinto (Heroes, Star Trek)
Mahershala Ali (Moonlight, Green Book),
Jon Hamm (Mad Men, Baby Driver)
Ezra Miller (The Perks of Being A Wallflower, Justice League)
Djimon Honsou (Blood Diamond, Captain Marvel)
Jonathon Groff (Mindhunter, Looking)
Justin Roiland (Rick & Morty)
Melise (The Flash)
Kevin Michael Richardson (The Simpsons, Family Guy)
Grey Griffin (Avengers Assemble)
Ross Marquand (The Walking Dead, Avengers: Infinity War + Endgame)
Khary Payton (The Walking Dead)
The first three hour-long episodes of Invincible season 1 will premiere via Amazon Prime Video on March 26th with new episodes releasing every Friday thereafter (season finale scheduled for April 30th) – watch the first trailer above.