In the past few weeks, the world has shown a surprising amount of solidarity in an effort to help those affected by the fires currently ravaging Australia. Though it's safe to say no one expected this helping hand found in the heart of Seminyak.
Over in the land that has long been adopted by many Australians through tourism, Botanica bar & restaurant has been raising funds in true Aussie fashion. Their choice of philanthropic medium? A bootleg Bunnings sausage sizzle complete with a Bali twist.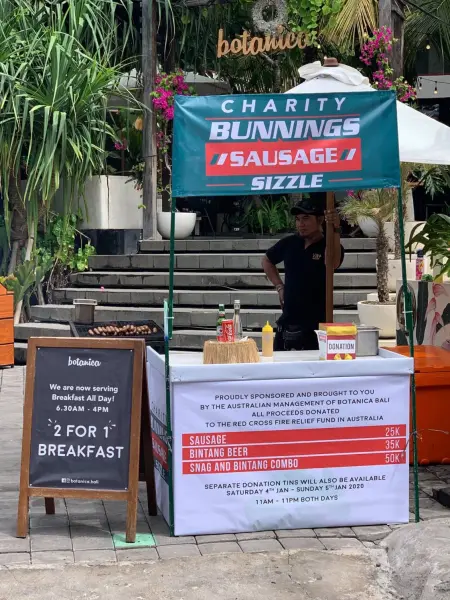 Those within the vicinity of this incredibly warm gesture will be able to enjoy a classic snag with all the onions and condiments for just 25K (AU$2.58) – as well as a nice and frosty Bintang for 35K (AU$3.61).
---
---
And for the practically non-existent minority of those who don't enjoy a snag or Bintang, there's also a simple donation box to contribute without ingesting anything.
This noble endeavour came together in the matter of a single afternoon. Of course, things tend to be accomplished a little quicker in Bali where there's an apparent lack of copyright laws. Even so, I don't think the Bunnings head office would mind lending out their name for this cause.
By the last reports, the bootleg Botanica Bunnings snag stand collected as much as AU$800 in a single day. All proceeds have been pledged towards the Red Cross Fire Relief Fund.
Onya, Botanica.
For those of you who want to contribute in your own way, hit the links below to help out our firefighters doing it tough on our behalf:
RELATED: Bunnings Release Their Very Own LEGO Set Complete With Snags.