There was something electric about witnessing the GameStop (NYSE: GME) saga unfold last year. Challenging everything the ordinary punter had come to understand about investing power dynamics – i.e. institutional vs retail – the mad lads over at r/WallStreetBets held the line and put the squeeze on short-selling hedge funds like Melvin Capital… the latter of which recorded eye-watering negative returns of 39% throughout 2021. Real triumphant David and Goliath shit. Sure, nothing will ever compare to witnessing it in real-time. But HBO's forthcoming documentary Gaming Wall Street promises to offer an entertaining retrospective if nothing else.
Directed by Tobias Deml (Hangman, Drifter) and narrated by Kieran Culkin (Succession), based on the trailer released today, the two-part affair won't just revisit how a band of netizens made financial giants bleed for the meme, championed by living legends like Keith Gill AKA u/DeepFuckingValue AKA Roaring Kitty – but also explore how the events essentially exposed the system's greatest flaws. After all, Wall Street's big dogs had been manipulating stock prices for decades. r/WallStreetBets & Co. simply flipped the script.
RELATED: Fun Fact, LEGO Is A More Profitable Investment Than Gold Right Now
---
---
Here's some background info on the GameStop saga for the uninitiated (an excerpt from a more extensive article published when it first kicked off):

Similar to many brick-and-mortar retail fronts during COVID-19, GameStop was struggling to keep its head above water during the pandemic. Prior to the pandemic, it hadn't exactly been smooth sailing either, given the growing consumer trend of purchasing video games online as opposed to in person. Heading into 2020, the company posted US$470 million in net losses, would permanently close over 300 locations, and have a negligible stock price of around US$3.25.
The turning point occurred in August when Chewy founder and prolific investor Ryan Cohen acquired a 13% stake in GameStop. A few months later in November, Cohen penned a letter directed to the company's board which certainly didn't pull any punches when it came to addressing major errors; from being left behind with the times, wasting billions in capital, and surrendering considerable market share. Naturally, this letter gained a lot of public attention, leading Cohen and two other associates of the former's RC Ventures to be appointed to the GameStop board.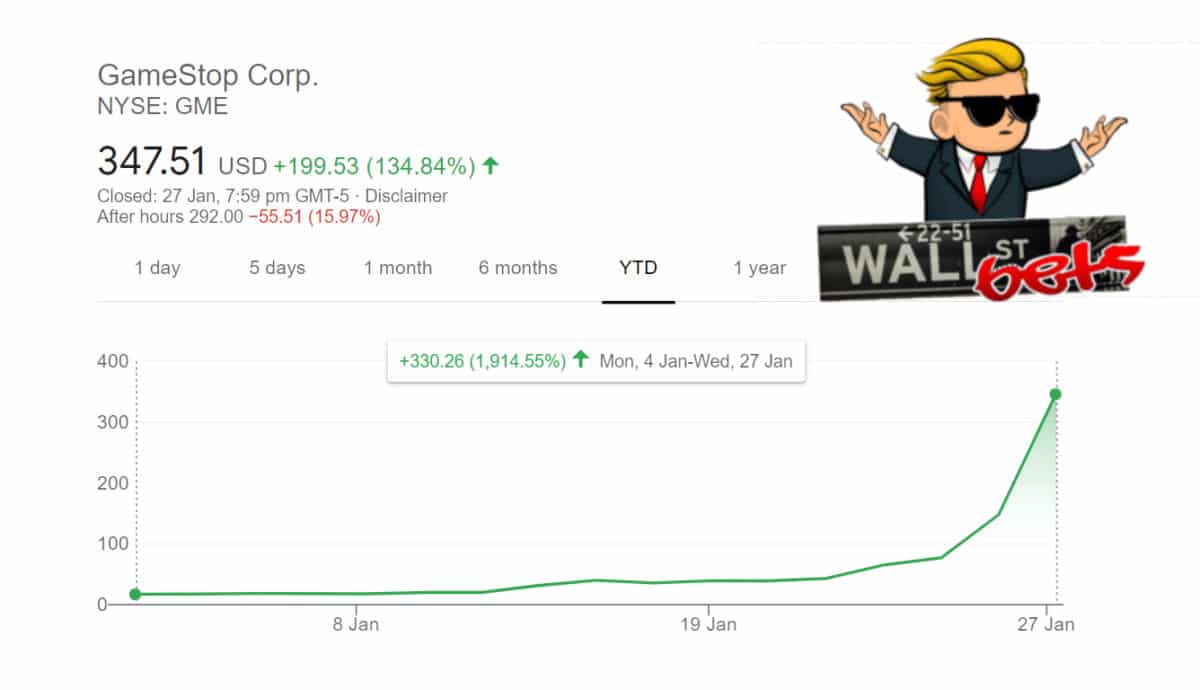 RELATED: The World's Richest Lost $223 Billion In The Stock Market This Month… Except For Warren Buffett
As noted by Bloomberg, many viewed Ryan Cohen as GameStop's "messiah" (stocks surged from US$20 to just under US$38 after the announcement), while others believed he was the perfect bait for retail investors. The big dogs of Wall Street moved quickly to bet against GME by shorting the hype train as it left the station. Taking notice of said shorts and determined to honour their self-styled anti-establishment description – "Like 4Chan found a Bloomberg terminal" – that's when r/WallStreetBets decided to intervene, banding together for a historic short squeeze in defiance of the "boomers."
A guideline titled "Bankrupting Institutional Investors for Dummies, ft. GameStop" was published to the 2 million-strong Reddit community which basically outlined how they could profit by forcing short sellers to abandon their positions and buy back GME stocks at a huge loss. This was their chance at a multi-billion dollar "fuck you" to those who they deemed arrogant and undeserving. So they got to buying… and buying… and buying. Momentum picked up and the rest is history.
Gaming Wall Street hits HBO Max and Binge on March 3rd of 2022 – check out the trailer above.