Any discussion to be had about the quality of HBO's Winning Time: The Rise of the Lakers Dynasty has been benched for the time being for a more pressing debate about its historical accuracy. Leading this charge on this front has been none other than the real-life "Showtime" Lakers of the 1980s who, as you can imagine, have quite a bit to say.
The criticisms range from Magic Johnson claiming he wouldn't watch it, Kareem Abdul-Jabbar writing an incredibly thought-provoking piece about his own issues with the show, to Jerry West threatening legal action against the show for defamation. HBO responded to these claims with a statement in the same vein as the opening title card to each episode, which assures the audience that certain story elements are indeed fictional. It read:
HBO has a long history of producing compelling content drawn from actual facts and events that are fictionalized in part for dramatic purposes. Winning Time is not a documentary and has not been presented as such. However, the series and its depictions are based on extensive factual research and reliable sourcing, and HBO stands resolutely behind our talented creators and cast who have brought a dramatization of this epic chapter in basketball history to the screen.
RELATED: HBO's 'Winning Time – The Rise Of The Lakers Dynasty' Confirmed For A Second Season
---
---
From this statement alone, it seems that HBO wants to have its cake and eat it too. They want to draw you in with the promise that it'll tell the story of the Showtime Lakers while hiding behind the fact that it's a silly comedy about the socially adrift 80s when confronted with any sort of criticism.
The accuracy of Winning Time is important. When you're using the names and likenesses of real people – many of whom are still alive, mind you – there's an obligation to tell their story correctly (documentary, drama series, or otherwise).
As the show approaches the truth rather broadly, we'll frame the main points of discussion around each major character. We'll also give the creators of the show the benefit of the doubt, and consider why some aspects of the story were potentially altered.
RELATED: 'The Crown' Season 4 – Fact vs Fiction
Dr Jerry Buss (John C. Reilly)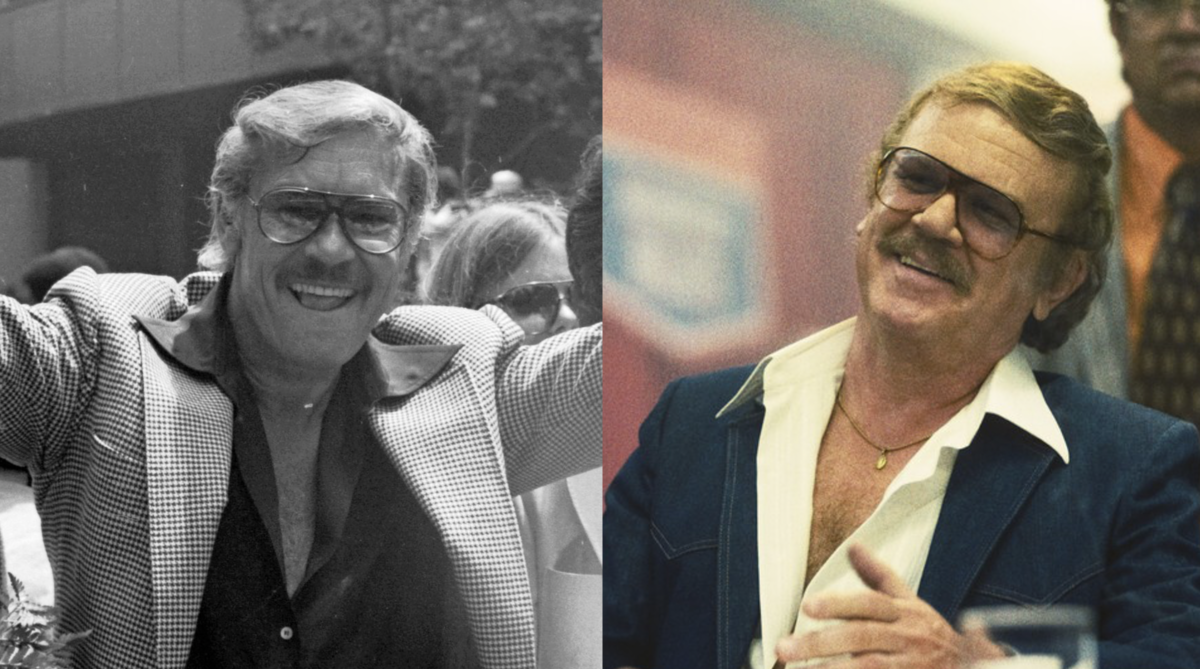 It was the role that ended the legendary partnership between Will Ferrell and series director/producer Adam McKay. So already, it had a lot to live up to. And to his credit, John C. Reilly delivers.
The visionary entrepreneur could have easily been depicted as an incredibly unlikeable egomaniac caught in a maelstrom of celebrity and money. Thankfully, Reilly brings an endearing quality that rings true to the way his real-life counterpart is described by the people that loved him.
In Jeff Pearlman's book Showtime: Magic, Kareem, Riley, & the Los Angeles Lakers Dynasty of the 1980s – which serves as the primary basis for the series – the mentor-mentee relationship between Dr Jerry Buss and a rookie Magic Johnson is shown to be incredibly important, similar to what was outlined in the HBO series.
---
---
As for the timeline, they've condensed the run of events to coincide with his first season as the owner of the Lakers. Buss' mother (played by Sally Field) actually battled cancer much later, as did a lot of his financial troubles depicted in the show. It's understandable that the series felt it could resolve all of these with the big game in the final episode, but it makes you wonder where they're headed for future seasons having already burned through several years worth of history in just ten episodes.
Jerry Buss receives his props as an innovator in the world of basketball entertainment, although he didn't invent courtside seats, nor did he give Jack Nicholson free season tickets (these aren't artistic liberties worth getting too upset about). His daughter Jeanie, on the other hand, probably didn't get enough credit.
While this inclusion of the current controlling owner and president of the Los Angeles Lakers is likely a result of HBO's aggressive winking at the audience, they certainly sell her story short. Jeanie Buss did not immediately work for the Lakers at 17 years old when her father bought the team. Instead, she earned a business management degree from the University of Southern California and acted as a general manager of the Los Angeles Strings, a World Team Tennis franchise.
Magic Johnson (Quincy Isaiah)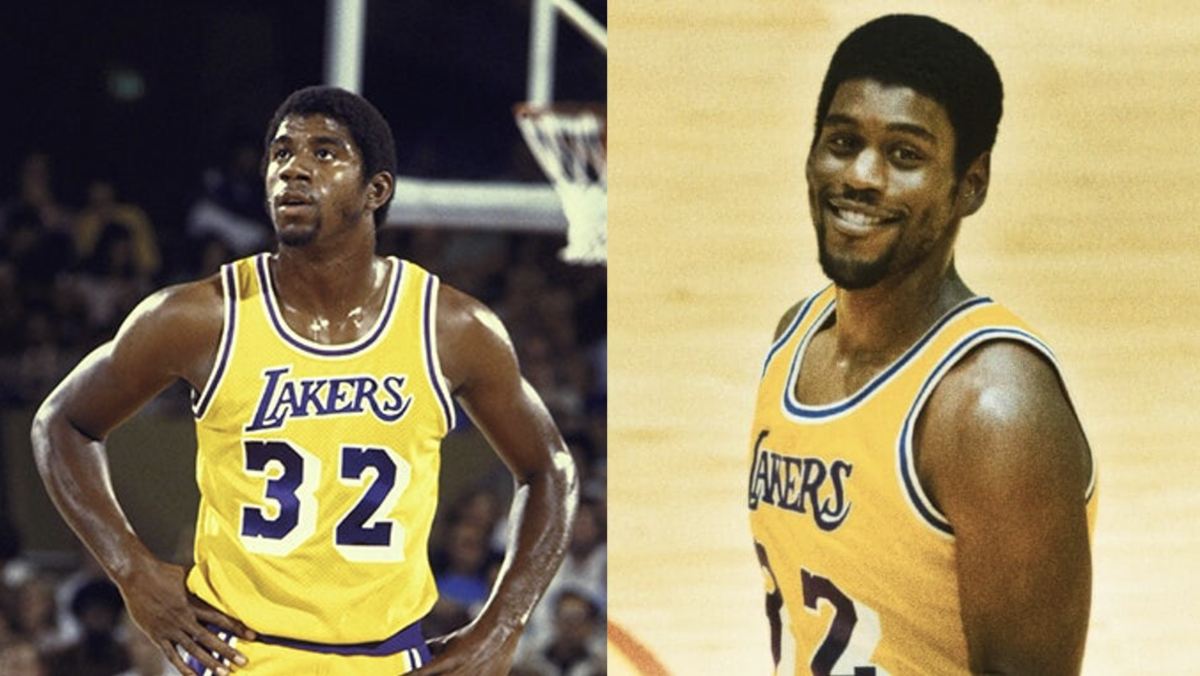 Another highlight from the show is Quincy Isaiah's Magic Johnson. Magic was MJ before MJ and capturing the charisma and star power of such an iconic athlete is a tall order, especially for a relatively unknown actor. Isaiah brought a lot of charm and excitement to the early days of Magic Johnson.
There are aspects of the story that reeks of Hollywood embellishment. The bit where he attends Donald Sterling's party – with the joke about an "all-white" dress code being borderline eye-roll-worthy. Then Magic proceeds to play a one-on-one game against his Lakers teammate Norm Nixon (played by his real-life son, DeVaughn Nixon) dressed in a mid-summer fur coat and gets destroyed. All rubbish. The bit about not signing with Nike and missing out on a lot of money, however, is absolutely true.
Pretty much any of the games you see are completely fabricated. The Lakers did not go on a losing streak only to break it with a narrow victory in their first game against their rival Boston Celtics. Magic did not happen to be in his hometown playing the Detroit Pistons on Christmas. All of that simply makes for good television. Another thing element worth crediting involves Winning Time's ability to capture the visceral excitement of basketball and Magic Johnson on the court. The sport has so much cinematic potential and cinematic was what they accomplished. The Larry Bird rivalry and idolisation of Dr J are also quite well done.
One of the more accurate games featured was his debut game against the San Diego Clippers, wherein Kareem hits a buzzer-beater and Magic ran and hugged him as if they'd won a championship. Was an infant Kobe Bryant actually in attendance? Probably not. Although his dad was playing for the other team. This was more than likely just a fun nod to another Lakers icon.
Jerry West (Jason Clarke)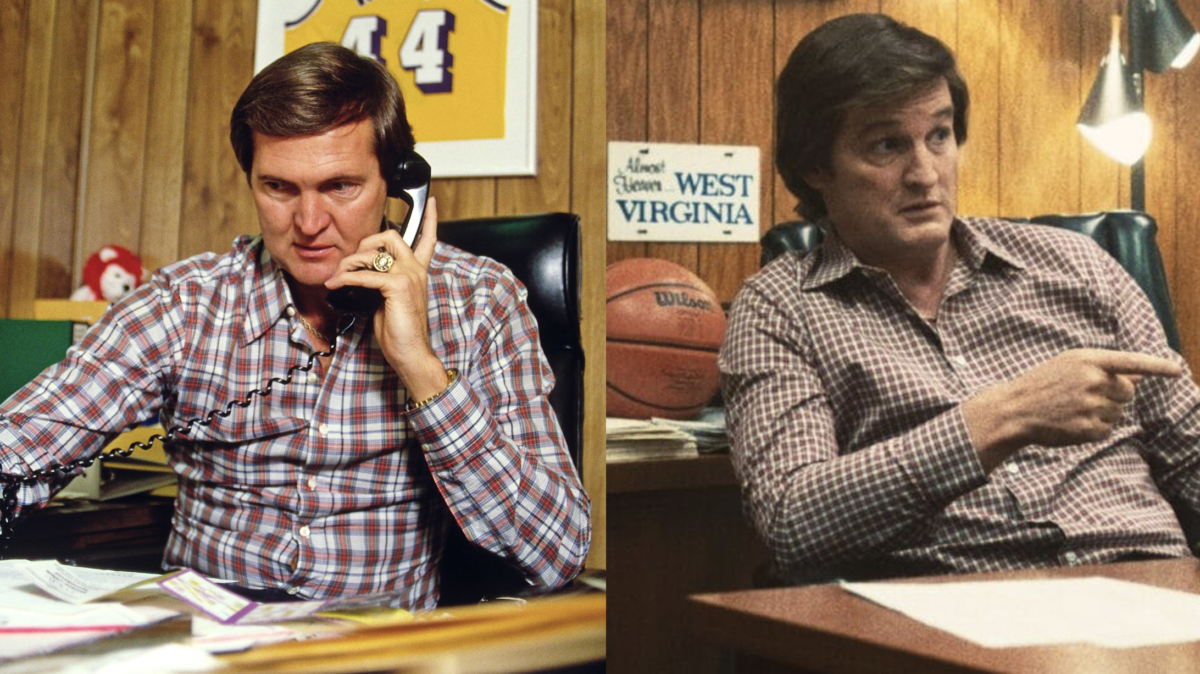 Here's where the show lost a lot of favour from the audience it really wanted to impress. The decision to reduce Jerry West, an extremely well-respected figure among both the Lakers and the NBA at the time, to comic relief is one of the more inexplicable changes from HBO.
---
---
It's hard to blame West for threatening legal action against HBO here. Seriously, what the hell were they thinking? The man behind the official NBA logo is far more than an angry caricature hellbent on victory. He never smashed any golf clubs or threw trophies out windows. For a man that has openly discussed his own issues relating to mental health (namely depression) for quite some time now, it was a bizarre choice for them to turn it all into a punchline.
More than anything, the problem is the perception of West in relation to other characters in the show. Even if West lost his temper as much as the show portrays, this would not be treated as some joke, as he was a man of great importance in the world of basketball. If Michael Jordan yelled at you, the response isn't: "Hey, look at that silly idiot getting so frustrated."
A prime example of a departure from accuracy in Winning Time is when head coach Jack McKinney banned West from sitting in on practices during an earlier episode. This was presumably inspired by coach Phil Jackson doing a similar thing, but not only was that decades later — it was also understood to be incredibly disrespectful at the time. There is no way McKinney would have been able to do that to Jerry West in 1979. If the goal was to be subversive for the purposes of humour, the depiction of Jerry West greatly missed the mark.
Kareem Abdul-Jabbar (Solomon Hughes)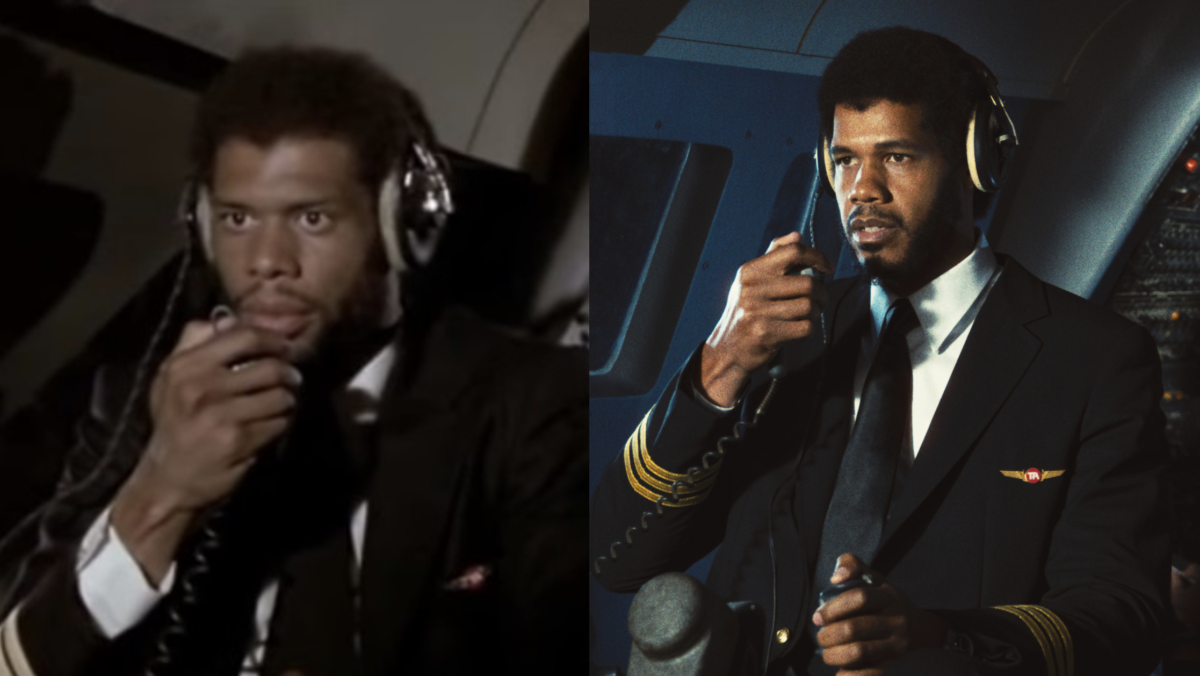 Kareem Abdul-Jabbar is, by far, one of the most fascinating athletes in all of professional sports. Very few can rival his on-court resume and his commitment to civil rights activism over the years has come to define his legacy.
Here, his story is sidelined a touch. Winning Time offers the backstory of Kareem with a great deal of accuracy. For some reason, it isn't really addressed beyond that. He's reduced to looks of consternation and vaguely antisocial behaviour. His desire to play basketball coming back to him seemingly returns out of nowhere and there's no further word on his frustrations with the societal treatment of African Americans in the United States.
As previously mentioned, Kareem has had a lot to say about the accuracy of Winning Time. He assures us that having battled leukemia, heart surgery, cancer, fire, and racism, "a negative portrayal of me on a TV show has no effect on me personally."
Kareem did, however, take issue with the series depicting him telling the kid from Airplane! to "fuck off." He denies this ever happened – which is apparently contentious – and feels the cheap gag included for shock value impacts his charity, The Skyhook Foundation, which aims to help inner-city kids.
In Jeff Pearlman's book, he writes:
---
---
"In the modern history of the NBA, there has never been a more socially retarded superstar than Kareem Abdul-Jabbar."
"This is, admittedly, harsh. It is also, admittedly, fair. His track record for mistreating people is epic, but not as intentional as one might believe. There is Aspergers-type quality to the longtime Laker, an inability to properly read people or situations. Such does not make Kareem Abdul-Jabbar a bad guy. It simply makes him an oft-clueless one."
Paul Westhead & Pat Riley (Jason Segel & Adrien Brody)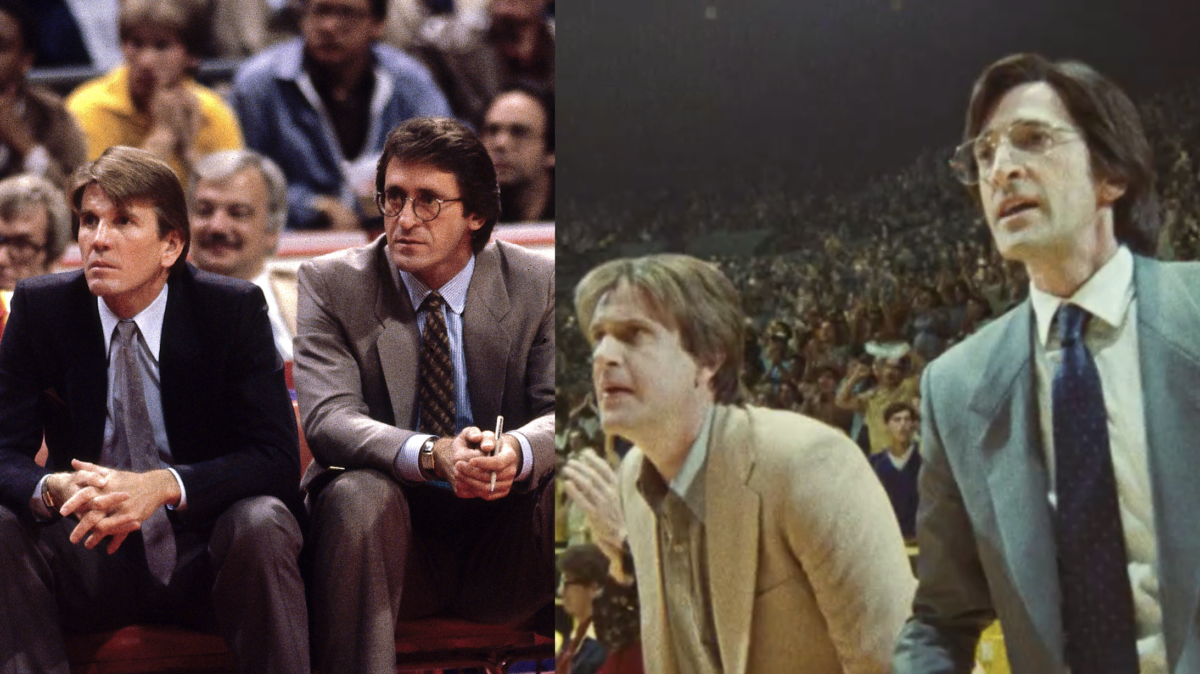 If Pat Riley is known for anything, it's the courtside suits. The show has a lot of fun showing "the guy before the guy" when it comes to Pat Riley's status as a fashion icon. In Winning Time, we get to see the man that would ultimately inspire the Gordon Gekko aesthetic in the months prior to his discovery of hair gel. Like Anakin Skywalker putting on Darth Vader's helmet, the show treats Riley donning an Armani suit for the first time as a pivotal moment.
He's paired here with Jason Segel's Paul Westhead following the bicycle accident of Jack McKinney, which left the latter hospitalised and unable to fulfil his duties as head coach. Westhead, a former Shakespeare professor, was then thrust from his role as McKinney's assistant to head coach of the Lakers. While the accident itself is executed with a lot of accuracy, Winning Time will have you believe that Westhead was completely out of his depth and that the team struggled with him early on.
In reality, the team was successful with Westhead pretty much right from the jump. The show attempted to mirror Westhead's circumstances with classic Shakespeare conventions, i.e. tragedy forcing his character into taking upon responsibility that he isn't ready for. Kind of a cool idea for the professor, but he wound up looking complete inept in parts of the show, which was likely untrue. Either way, it'll be interesting to see whether they continue his Shakespearean arc into tragedy for Winning Time season 2 when [spoilers] Westhead loses his job because Magic doesn't like him.
The drama with Spencer Haywood being kicked off the team for his abuse of cocaine also occurred differently. As you can probably imagine, the team never got to vote on whether a player was kicked from the team or not — it was purely a decision of the coach. Likewise, Haywood's goal of "killing the Lakers" was actually just directed at Westhead, not the team. And Kareem wasn't the one to convince him it was a bad idea — it was Haywood's mother. Pretty much that entire subplot is pure Hollywood shenanigans.