BBC's Peaky Blinders is a crime drama that has captivated the attention of millions during its five-season run – present company included. So it should come as little to no surprise that Peaky Blinders season 6 is in the books. And based on what has been revealed thus far, we're all in for one hell of an instalment (as per the norm).
Is Peaky Blinders Season 6 confirmed?
Show creator Steven Knight has not only outlined the next season, but also completed writing the upcoming season 6 in its entirety – calling it "the best yet". A claim supported by series star, Emmett J. Scanlan, who described the scripts as being "so fucking good".
"We've talked to Cillian Murphy and he's all for it, and the rest of the principal cast are in for it," Knight told BBC.
---
---
"We are definitely doing [series 6 / season 6]."
Initially, the plan was to throw in the towel after season 5. What stopped this terrible fate from coming to fruition? For one, the immense popularity – which snowballed from an average viewership of a couple million on traditional television circa 2013; to multiples of that across both traditional television and streaming services in present day. For another, Knight has long held a vision of how he'd ideally bookend Peaky Blinders as a series.
In 2018, after winning a BAFTA for Best Drama Series, here's what Knight told the press:
"My ambition is to make it a story of a family between two wars. So I've wanted to end it with the first air raid siren in Birmingham in 1939. It'll take three more series to reach that point."
Previous to that, Knight had expressed a similar sentiment, elaborating on the motive and philosophy behind this narrative choice.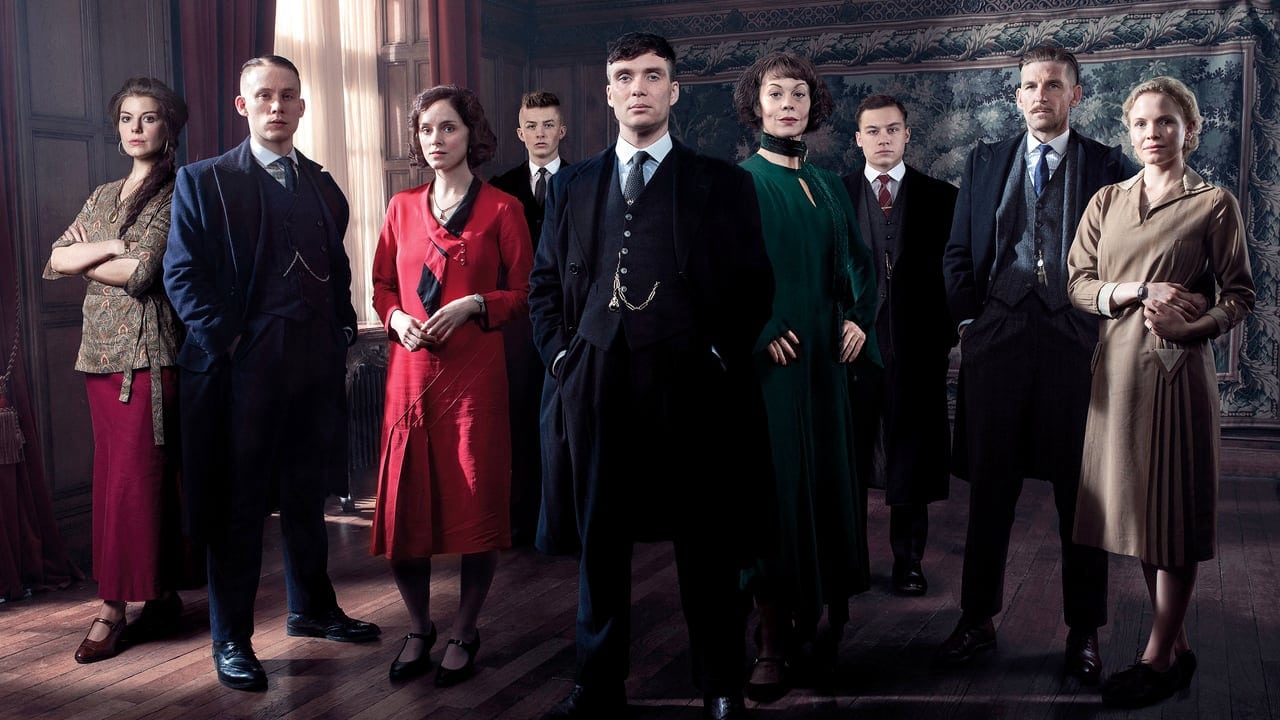 RELATED: The Real-Life Story Behind Thomas Shelby & His Peaky Blinders.
---
---
"In my mind this story is the story between two wars. The end of the chapter of these people's lives and this society is when the Second World War begins. Because it all changes after that, after the demolitions and the council estates, it's a different world."
In other words, if this awesome sounding concept is to be practically executed, Peaky Blinders season 6 will need to burn through the 1930s all the way up until 1939. How this is going to be accomplished? Time skips, maybe. The odd montage here and there, perhaps.
While the world won't be receiving Peaky Blinders season 7 / series 7 despite earlier coverage indicating otherwise, Steven Knight has promised the Shelby saga will "continue in another form." That's right: we're getting a Peaky Blinders movie.
"[I'm] going to write the feature which will be set in and shot in Birmingham," Knight revealed last month at the BFI London Film Festival.

"And that will probably be the sort of the end of the road for Peaky Blinders as we know it. It's a fully formed idea and it has a beginning, middle, and end. And I think it's going to be a fitting conclusion to the story told so far."
According to Variety, Steven Knight is also considering the possibility of expanding the Peaky Blinders universe with "shows related" to the main story – avoiding the term "spin-offs," which he isn't particularly fond of. Though should such a project be given the green light, Knight has already stated he wouldn't necessarily be supervising them; rather he'd "pass on the baton" to another creative with a vision.
What will the sixth season of Peaky Blinders be about?
[Spoilers Ahead]
As you may recall, Peaky Blinders season 5 concluded on a cliffhanger. In a rare turn of events, the very plan masterminded by Thomas Shelby OBE (portrayed by Cillian Murphy) did not yield desired results.
To refresh your memories: the assassination of MP Oswald Mosley (portrayed by Sam Claflin) failed – though you'd only need to Google the real-life historic fascist to discover that wouldn't be the end for him, unless Knight was looking to Tarantino this whole shindig à la Inglorious Basterds/Once Upon A Time In Hollywood; Aberama Gold (portrayed by Aidan Gillen) met a rather stabby death, ostensibly joining his equally deceased son, Bonnie Gold; Polly Gray (portrayed by Helen McCroy) has resigned from Shelby Company Ltd; and finally, season 5 closed with the famously level-headed Tommy Shelby putting a gun to his head in manic frustration.
---
---
According to director Anthony Byrne, Peaky Blinders season 6 will reportedly pick up immediately where season 5 left things off.
"The very first image you will see will be back in that field, with Tommy with a gun to his head and then we will move on from there and resolve that amazing moment."
RELATED: 'Peaky Blinders' Movie Begins Filming In 2023
Based on previous seasons – as well as just how the Shelby family narrative cycles episode to episode from great falls to great heights, rinse, repeat, etc. – it's safe to assume there's definitely a "fix" on its way for the dilemmas last posed. By the BH count, there are three (3) key issues that Mr Tommy Shelby needs to address before anything else during season 6:
Hunt down the traitor who leaked intel surrounding his plan to assassinate Oswald Mosley
Potentially avenge the death of the Gold family, Aberama and Bonnie, by breaking the truce with Jimmy McCavern -hopefully by rallying the Peaky Blinders to absolutely merc the Billy Boys gang in a slick action sequence
Quell the rising rebellion led by cousin Michael Gray (portrayed by Finn Cole) who has been steadily distancing himself from the Shelby family and outwardly expressed ambitions to overtake Tommy Shelby – leveraging his newfound US narcotics/business connections
It's worth noting that while Aberama Gold appears to have shuffled off his mortal coil, we've learned that no one in Peaky Blinders is truly dead unless we never see them again, e.g. Tom Hardy's Alfie Solomons, who miraculously reappeared with vaguely any explanation in season 5 after what seemed like a definite end (which incidentally took place during season 4's finale). Also, all those damn faking death rouses from Danny Whizbang to Arthur Shelby – I think we're at #4 now. Speaking of Alfie, his role in the coming seasons is a bit of a mystery given this freshly bequeathed "ghost" status. Whatever the case, there's no doubt that Hardy/Solomons will be stealing scenes.
On the topic of dead, Tommy Shelby's deceased wife Grace (portrayed by Annabelle Wallis) has hinted at a follow-up return. Not so much as a living and breathing character again like in the case of Alfie Solomons, but almost certainly as yet another hallucination. Wallis recently re-Tweeted a video of her character with the caption "She has some unfinished business…" 'Nuff said.
she has some unfinished business… https://t.co/Jzlchhddde

---

---

— Annabelle Wallis (@WallisAnnabelle) May 27, 2020
RELATED: Jason Statham Was The First Choice To Play Thomas Shelby In Peaky Blinders.
Michael's wife Gina Gray (portrayed by Anya Taylor-Joy) is apparently set to play something of a pivotal role this time around. More specifically, "whoever her family are" as they make themselves known and instigate the "second option" Gina herself mentioned after Michael fails to overthrow Tommy.
"Well Gina is obviously American and she comes from quite an influential American family, who are not overtly a crime family," says Byrne.
"But there's a lot of grey there and that's sort of teed up to be delved into in the next season."
Director Byrne has also teased the arrival of a female character who "gives Tommy a run for his money" and "challenges him in a different way". Even more intriguing is the fact that this female character is brand new. In other words, not the three you probably have in mind right now.
"She's certainly not a protagonist and I don't know if she's an antagonist. It's similar to Mosley… she has a similar ideology, and that's challenging for any character… they don't have guns or a gang, but they have an ideology that's like a virus and it's more dangerous than anything."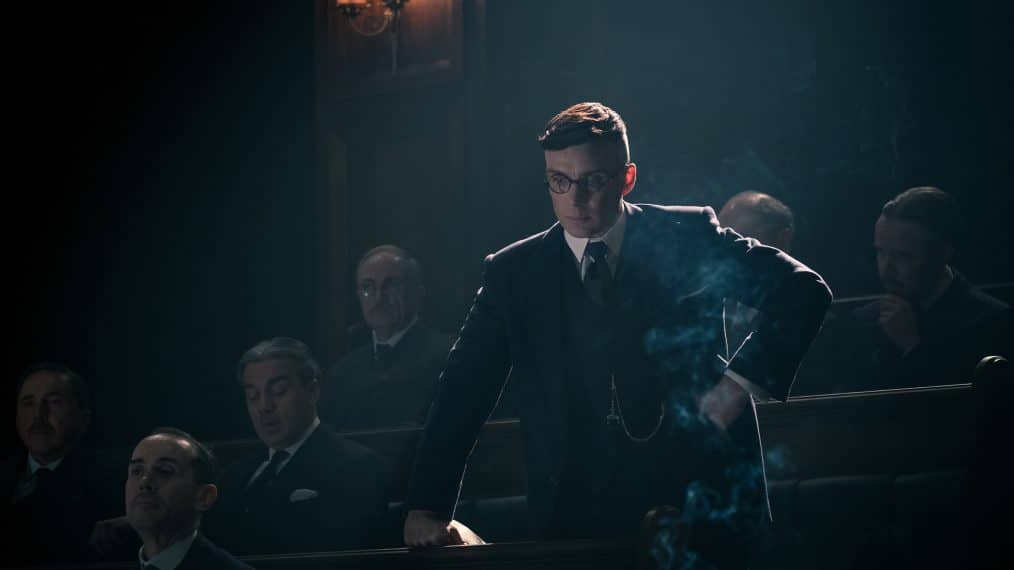 And what of the reason we all tune in, Thomas Shelby? What clues involving his character arc have been fed to the hungry masses? Season 5 depicted an almost overwhelming loss of control on his part, hence the closing scene. Despite all this, Steven Knight wants him to somehow regain control and turn it around.
"My intention always has been to redeem [Tommy Shelby] so that at the end, he's genuinely a good man doing good things," says Knight.
---
---
"It's all part of the trajectory of Tommy Shelby. Where his plans work, until they don't and then he's pulled back, always pulled back to where he's from… and I want to see [him] knighted – Sir Thomas Shelby."
"He wouldn't get knighted because people think he's great, he'd get knighted because he's done a favour. But even then, is he accepted?"
Considering the fact that Peaky Blinders season 6 needs to tie up all the loose ends of season 5 in the span of half a decade to make that 1939 series finale, it appears we have quite the action-packed run on the way.
Do we have a Season 6 release date yet?
Peaky Blinders season 6 was supposed to premiere at the end of 2020. Given the whole issue of COVID-19 being a global disruption, however, a 2020 drop date is highly unlikely. Damn near impossible the more you learn about it.
As mentioned earlier, the writing and storyboarding aspects have already been completed. Physical production, on the other hand, was slated to kick-off in earnest this year – towards the end of March into late July. And lest we forget the mandatory six months post-production period reserved for editing, marketing, etc.
RELATED: Cillian Murphy Hints An Emotional 'Peaky Blinders' Finale Is On The Way
"We were so close to the start of filming season 6," director Anthony Byrne told the press.
---
---
"Months of hard work by our very talented, dedicated and hardworking crew. Sets were built, costumes were made. Cameras and lenses tested. Locations were booked. All the prep was done. It's a real shame not to be able to make it for you at this time."
"In an ideal world it would be great to be prepping again towards the end of the year with a view to start shooting early next year. That feels achievable, whether that's true or not, I have no idea.
"We will be back as soon as we can, I promise," says Cillian Murphy.
"Causing chaos and knocking heads as usual."
As of October 2021, it has been confirmed Peaky Blinders season 6 has officially completed filming, approaching the finish line for editing. Granted, the calendar still hasn't been explicitly marked by BBC, Netflix, or otherwise just yet. But the official Peaky Blinders Twitter account uploaded a painfully brief teaser clip earlier this week captioned: "#PeakyBlinders series 6. Early 2022 on @BBCOne and @BBCiPlayer." Series director Anthony Byrne then followed up with a repost of said first look teaser clip on his personal Instagram with a very promising update:
"We're coming for you sooner than you think."
Previously, it was rumoured the Peaky Blinders season 6 / series 6 release date was destined to land somewhere in Spring of 2022 (US) – meaning anytime between March to May next year. "Sooner than you think", however, implies it could now be between January to February. In other words, we're just a few short weeks away from witnessing the epic and "emotional" finale.