It's a sad truth that all good things must eventually come to an end, including the latest season of a certain hit Adult Swim animated series. After one of the stronger batch of episodes in recent history which included everything from forbidden romances with an elemental deity… forbidden romances with a horse semen extractor… giant incest babies in space… and a delightful Goodfellas meets Power Rangers instalment… Rick And Morty season 5 only has its finale left. Thankfully, co-creators Justin Roiland and Dan Harmon are making it worth our while by making it an hour long affair – but there's a catch with the release date.
While fans have been enjoying an uncharacteristically on-schedule release timeline – a happy consequence of COVID-19 and the ongoing pandemic – they'll have to wait until early September before the Rick And Morty season 5 finale will be available to stream. Arriving in two parts, the coming episodes have been dubbed 'Forgetting Rarick Mortshall' and 'Rickmurai Jack' (obviously referencing break-up comedy Forgetting Sarah Marshall and Samurai Jack). The description for 'Forgetting Rarick Mortshall' simply reads "Two Crows, broh. These guys are mad smart.", while 'Rickmurai Jack' offers nothing more than "Tryin' something new, broh. Doin' it big." Whatever those sentences mean.
Based on the friction between Rick Sanchez and grandson Morty Smith hinted throughout the entirety of season 5 so far, accumulating with every fresh mistake, in addition to the title of the first part, this finale may very well explore the possibility of what Rick is without Morty and vice versa – in both a story and existential sense. And the footage provided in the teaser below is only further confirmation. After messing with Rick's portal gun, Morty challenges his grandpa to find a replacement for him, at which point Rick produces a "Wheel of Better Things Than Morty" for a spin; featuring options such as half a Paul Giamatti, Sentient Shit, Gene With Donkey Brains, Garbage Goober, Bag of Meat, Kyle 2.0, and more.
---
---
RELATED: 'Rick & Morty' Creator Dan Harmon Is Developing A New Animated Series
Not to get too ahead of ourselves here, but the hour-long format may very well be a test run for a potential Rick And Morty feature-length movie, which has been previously alluded to by producers.
"I wouldn't be shocked if there was one that comes down the pipeline someday," Scott Marder tells Digital Spy.
"But I feel like every episode is a movie. I'd like to see what a movie would be. A movie would feel like the equivalent of a trilogy. We just pack so much in. It'd have to be pretty epic."
Regardless of whether a movie ever becomes reality, staff writer Alex Rubens has already revealed production is so far ahead… the writing process for Rick And Morty season 7 has already begun.
"Am I allowed to say we started writing Rick And Morty season 7? If not, we didn't and I'm not," Rubens tweets.
Dan Harmon himself has previously alluded to the fact that both season 6 and season 7 was in the works during a panel session at the Adult Swim Festival last November – which, in conjunction with Ruben's spill, is confirmation enough.
---
---
"I think we're working on [Rick And Morty] season 7 right now, I can't even keep track," Harmon admitted.

"I wouldn't know if I were spoiling season 5 or season 6."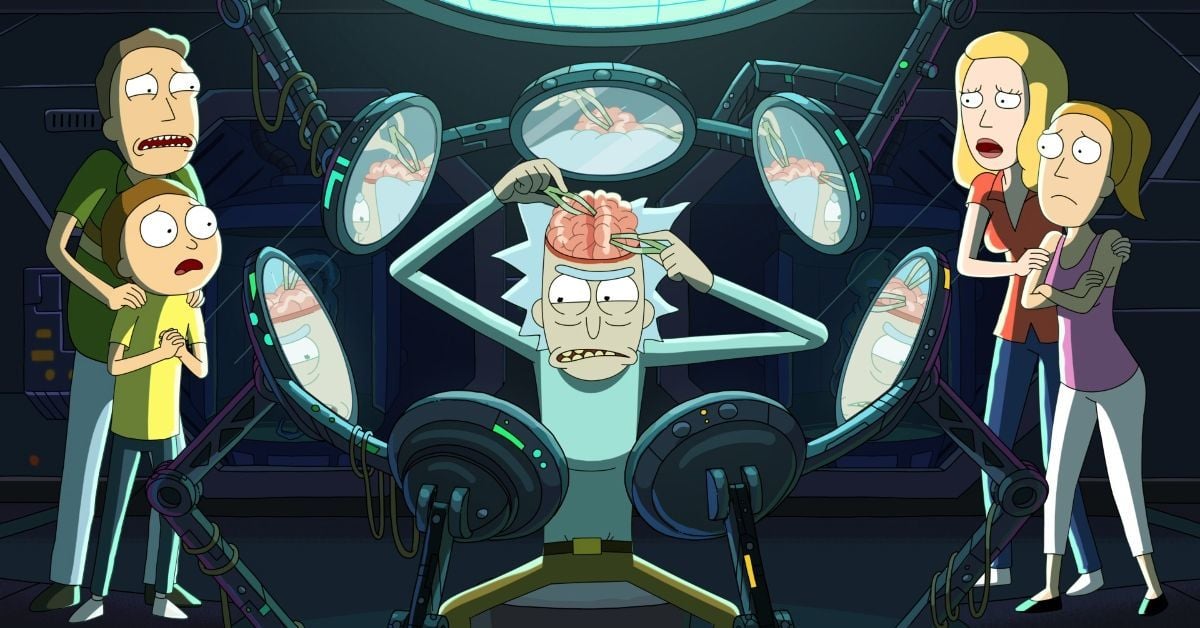 RELATED: 'Rick & Morty' Season 7 Is Already Being Written
"We're more on schedule than we've ever been. [COVID-19] kind of makes you have to focus on the whole process when you don't have this office environment anymore."
"Everyone has to run this bee colony remotely, so the honey just gets made more consistently… It's working for us."
In 2018, Adult Swim commissioned a total of 70 new episodes. After the conclusion of the fifth season, another 50 remains on the docket. But it certainly won't be all we're receiving. Earlier this year, the network announced a Rick And Morty spin-off series is on the way. Centred on the Vindicators – first introduced via the season 3 episode 'Vindicators 3: The Return of Wordender' – at this stage, it's unclear how closely this will tie in with the main series (i.e. how much Rick Sanchez and Morty Smith we'll actually get to see). According to Collider, it'll star Supernova, Vance Maximus, Alan Rails, Crocubot, as well as Noob Noob in a timeline before their season 3 appearance/demise.
The two-part Rick And Morty season 5 finale currently has a release date of Sunday at 11 PM, September 5th over in the US – meaning it'll land on Netflix here in Australia on the evening of September 6th.
Watch the promo below.