That house on the beach paid in full. Travelling anywhere in the world your heart desires. The ever-present knowledge that the bills are taken care of, dining out without ever having to check the price column of the menu. Whatever form it takes, whatever the name you've chosen to give it – "the dream", "one day", "fuck you money" – it all essentially comes down to financial freedom.
The end result is all too familiar – maybe because we as a generation have been collectively fantasising about it for the majority of our existence – but the long and disciplined journey towards it is a detail many neglect to familiarise themselves with.
Typically, financial freedom follows a progression of these stages:
---
---
Dependent – as in financially dependent on others, the only options you have generally being short term ones.
Solvent – AKA "survival mode", your earnings just exceed your expenses, begin to meet financial commitments.
Stable – you consistently meet your financial commitments, begin to pay off debts, begin to actually save (but you're not debt-free just yet).
Security – you've accrued some funds to fall back on, perhaps successfully manage your own wealth, begin to invest and built a solid investment base.
Independence – the end goal is in sight, you have some solid long term investments, investments which are enough to fund your lifestyle.
Freedom – the moment you've been waiting for, everything is practically taken care of, i.e. basics, comforts, luxuries, etc.
Abundance – the ascended level above 'Freedom'; you now have far more investment income than you need, so much so you should probably think about beneficiaries.
---
---
So how do we get from living paycheque to paycheque – to this coveted financial freedom?
1. Define your short term & long term goals
There's no use in living someone else's dream. Think real hard, and don't rush the process – what do you want out of life? Maybe it's forty acres of farmland to grow pineapples, a barn full of rescue puppies tucked away in a corner. Maybe you want a taste of that James Bond life – flying up the front, lavish threads, unrestrained nights. Maybe it's hell simple – continue going to work, day-to-day, commuting in a [whatever dream car].
Goals – both short term and long term – make your objectives concrete. They outline commitments and encourage you to push through when no one else will bother to pay any meaningful attention. Without goals, there is no purpose, and without purpose, you cannot develop consistent financial habits. So grab some sticky notes, think of a number, and display it on the fridge. Say it with me, "We're really doing this."
2. Budget with your "survival number" & "comfort number" in mind
The best way to gain any clarity with your personal finances is by tracking it diligently. From here on out, your financial status is a goddamn fortress. Not a single dollar comes in and not a single dollar goes out without you knowing who, what, where, when, and why.
In addition to your goals, your budget will serve as the very foundation of the game plan. Figure out your "survival number" – what you need to keep the lights on. Figure out your "comfort number" – what you need to enjoy the niceties of life. But more importantly, figure out:
anything you

don't

need and can feasibly cut out.
anything you

do

need to save by a rough deadline for your next play, i.e. investments.
There are endless apps that can facilitate your budgeting endeavours. While at times, it may get difficult to anticipate what may be required given human existence is inherently unpredictable. But it's a start, and sometimes, a start is all we can ever really hope for in this lifetime.
3. When shit hits the fan…
As we mentioned before, human existence is inherently unpredictable. At the drop of a hat – God forbid – a loved one could fall ill, the world economy could collapse, and an endless cloud of uncertainty could hang over your heads. Or in the case of 2020, all of the above.
The antidote to the unpredictable is rigorous planning. Again, refer back to that "survival number". What do you need to get by and for how long is it sustainable? Take a look at your budget, set aside a portion of savings for a rainy day. If you ever need it, it's there. If you never need it – great, you'll still have some savings to play around with in any case.
---
---
Though I recommend doing something productive with said spare savings, the standard procedure usually being a savings account. The step above that? Once you're on top of your emergency fund, consider investing spare cash in a rock steady mutual fund verified by years of performance, an equally performing ETF, or better yet – a new age option like the Spaceship investment app.
The Spaceship app holds a few key benefits going for it. For one, some of the lowest ongoing fees – with zero transaction fees and no payment required for balances $5,000 or below. For another, it offers two investment options to choose from, as well as an alternative to investing through ETFs (such is the modus operandi of other apps like Raiz, formerly Acorns).
4. Protect your neck (both figuratively & literally)
Emergency funds only provide some reassurance. It goes without saying you can't live off a finite amount of money this early on. Not free of certain issues and the odd obstacles inevitably popping up down the road, that is. Which is why it's a necessity to protect your number one asset – you. More to the point, your earning potential.
Income protection. Injury/illness protection. Permanent disability cover. Life insurance. Depending on where you are in life, you may want to consider these safeguards to help ensure in the worst-case scenario, not only will you be able to access some funds, but your family and loved ones will be offered some protection as well. Remember, it's not always solely about you.
5. Invest in assets
This section is an area rich for exploration. It deserves an entire article dedicated to the expansive and often times nebulous topic of investing itself. But for the sake of keeping this brief, tight, and digestible, let's focus on the basics.
Money in a savings account is all very well and good. Money in a super fund is just obligatory. But as for the rest of that spare capital? Unless it's tucked away for something pressing and of the moment, that money isn't living up to its fullest potential. Naturally, every financial adviser from here to the Cayman Islands will probably tell you to invest in some assets – preferably ones that don't depreciate nor come attached with too many ongoing costs.
Property and land have been the traditional option for many; as have commodities and savings bonds – but do you really want to spend all your time researching these? The recommended course of action, however, will likely involve a diversified share portfolio. What it has over all the above – under the right circumstances because nothing is guaranteed in the 21st century – includes:
the chance to build your wealth on the go
the opportunity to hold your assets just the click of a button away
while also being far more liquid.
What do I mean by 'liquid'? Try offloading 50% of a house before lunch and get back to me.
---
---
The usual advice often prescribed includes doing your research, speaking to the experts, and playing it how Warren Buffett would play it – aim to sniff out intrinsic value from something you can comprehend with long term potential.
And with the Spaceship app in the palm of your hands, investing is easy, more convenient, and fee-free (until you reach the $5,000 milestone). All the intellectual heavy-lifting has already been taken care of on your behalf; and once you sign up in just a few minutes, you too can start investing with as little as you'd like. Not to mention, in two extremely digestible investment portfolios to suit your style:
Spaceship Universe Portfolio: Constructed with an "invest where the world is going" mantra in mind. This investment route will venture towards handpicked companies by Spaceship's investment team such as Tesla, Amazon, Facebook, Spotify, and Slack.
Spaceship Index Portfolio: Designed for those who want to follow the current market. This investment route will venture towards some of the largest companies – in Australia and overseas.
Cop the Spaceship app on IOS or Android here.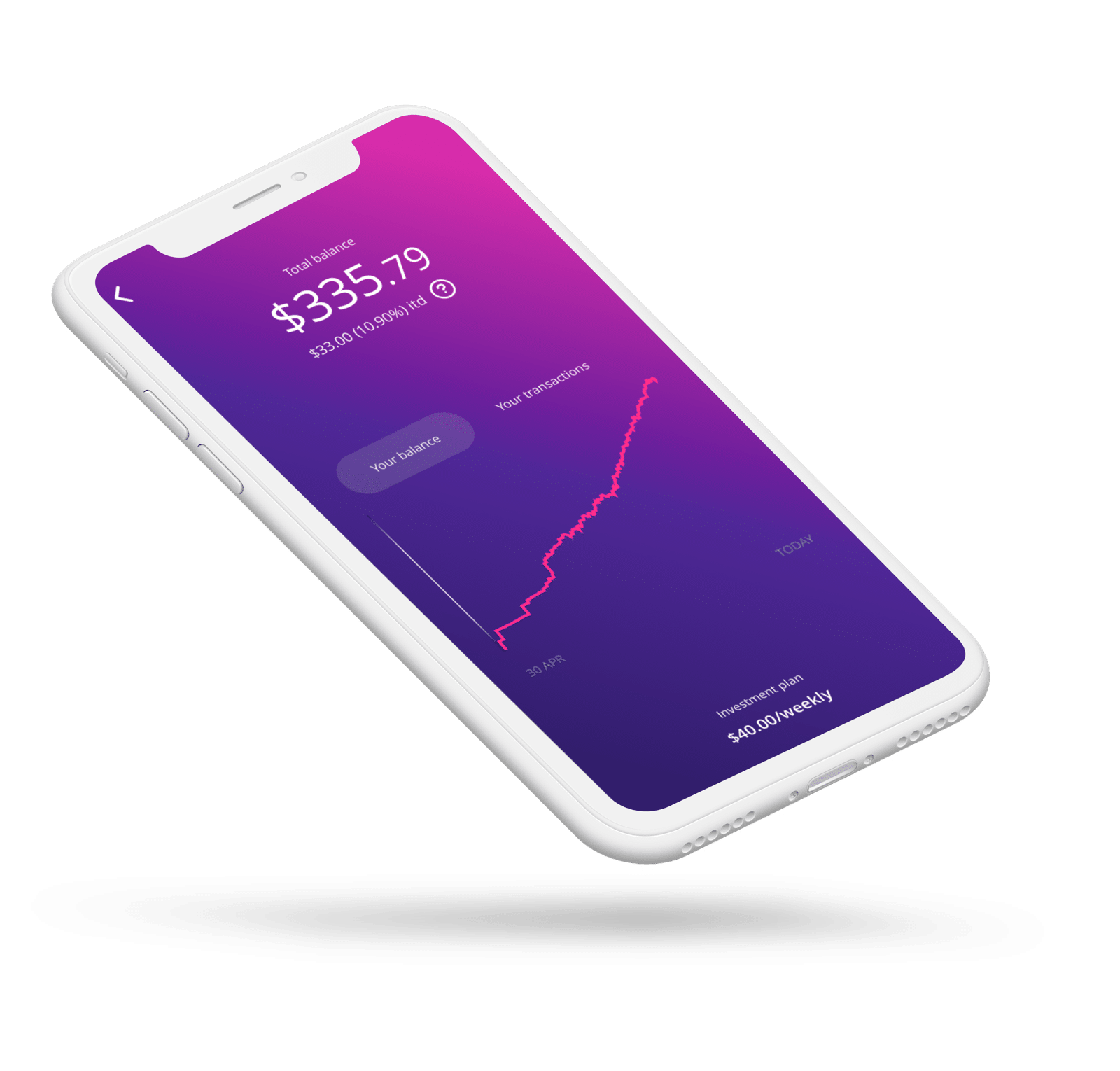 We covered the Spaceship App in more depth after its initial launch in 2018 here.
This advertorial has been sponsored by Spaceship Capital Limited (ABN 67 621 011 649, AFSL 501605), the issuer of the Spaceship Universe Portfolio and Spaceship Index Portfolio (Spaceship Voyager). Any advice is general only as it does not take into account your objectives, financial situation or needs. You should consider whether Spaceship Voyager is right for you by reading the relevant product disclosure statement and the Additional Information Document (available on at spaceshipinvest.com.au) and obtaining appropriate financial and taxation advice. All investments have an element of risk. As share markets go up and down, so too can the value of your investment. Please consider the risks involved before you jump on board. Spaceship is available to Australian residents only. Thank you for supporting the sponsors who help make Boss Hunting possible.
Feature Image: Wally (because if you own a Wally yacht, safe to say you've achieved your goal of financial freedom).
---
---