If you've wandered through Collingwood over the last couple of years, you'll likely have experienced it as a cool Melbourne suburb, filled with almond latte-sipping Doc Martens enthusiasts, almost all of whom own greyhounds. It certainly wasn't always as trendy, but one of the consistently compelling elements of Collingwood has been the converted Foy & Gibson warehouse loft apartment buildings, bringing a New York sensibility to an originally low-rise suburb.
We're focusing specifically on 17/79 Oxford Street, Collingwood, which in addition to being a perfect example of the high-ceiling, exposed bricks and beams apartment, was also recently listed for sale, offering a peek into one of Melbourne's architectural anomalies. The warehouse conversion was completed in 2013 by the Rexroth Mannasmann Collective architects, who drew inspiration from Charles Garnier's Opera de Paris to create a sense of opulent lightness in a space that was once dark and musty.
Originally, the Foy & Gibson buildings were former warehouses and factories that belonged to one of Australia's earliest department store chains, founded in Collingwood in 1883. Established using the same principles of Paris's Le Bon Marché department stores, Foy & Gibson weren't simply retailers, but also manufactured everything in-house from furniture to hats at factories like this Oxford Street location.
---
---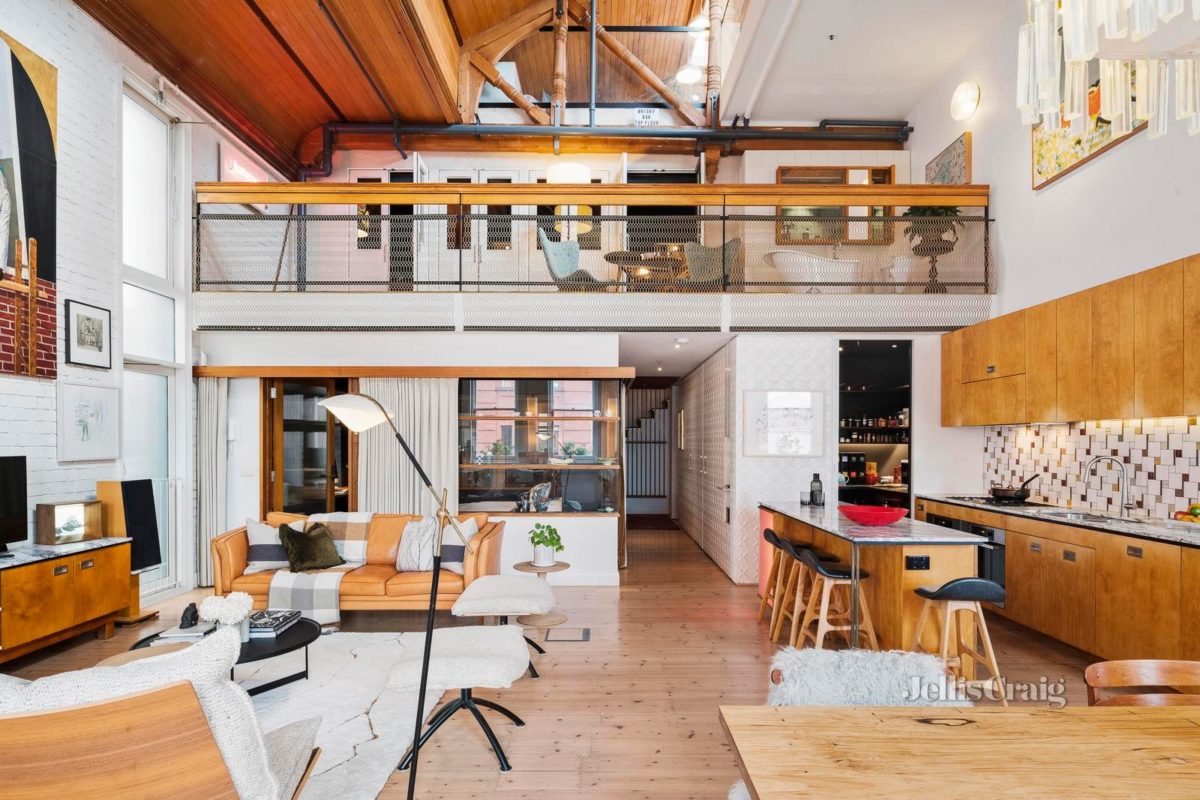 RELATED: Le Corbusier's Spirit Lives On In Melbourne's New Fawkner House Apartment Building
The apartment covers a trio of levels that contain three bedrooms and a couple of bathrooms, which have been arranged carefully by the Rexroth Mannasmann Collective architects to deliver an equivalent sense of tension that a theatre space provides. The architects have sought to achieve this by considering three main spaces in the Opera de Paris theatre, and applying a similar division to the three levels the apartment is split over.
Upon entering the apartment, you're immediately immersed in a luxurious entrance foyer of richly patterned carpets and gold rods that form a partition to the staircase. Complimenting the original brickwork walls is the Oregon-trussed cedar cathedral ceiling, bringing an undeniable sense of grandeur and significance while serving up ample real estate for hanging artwork in the process.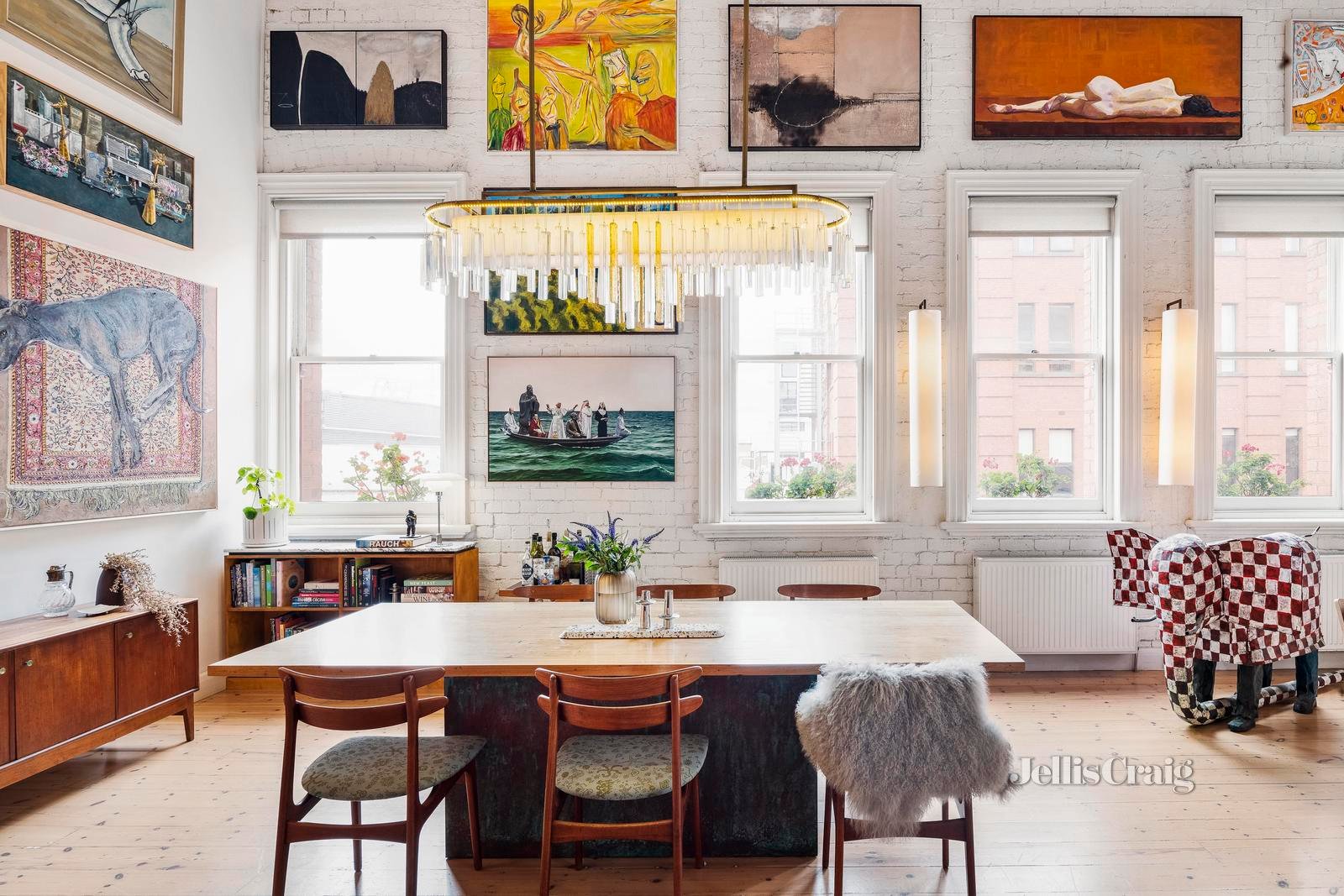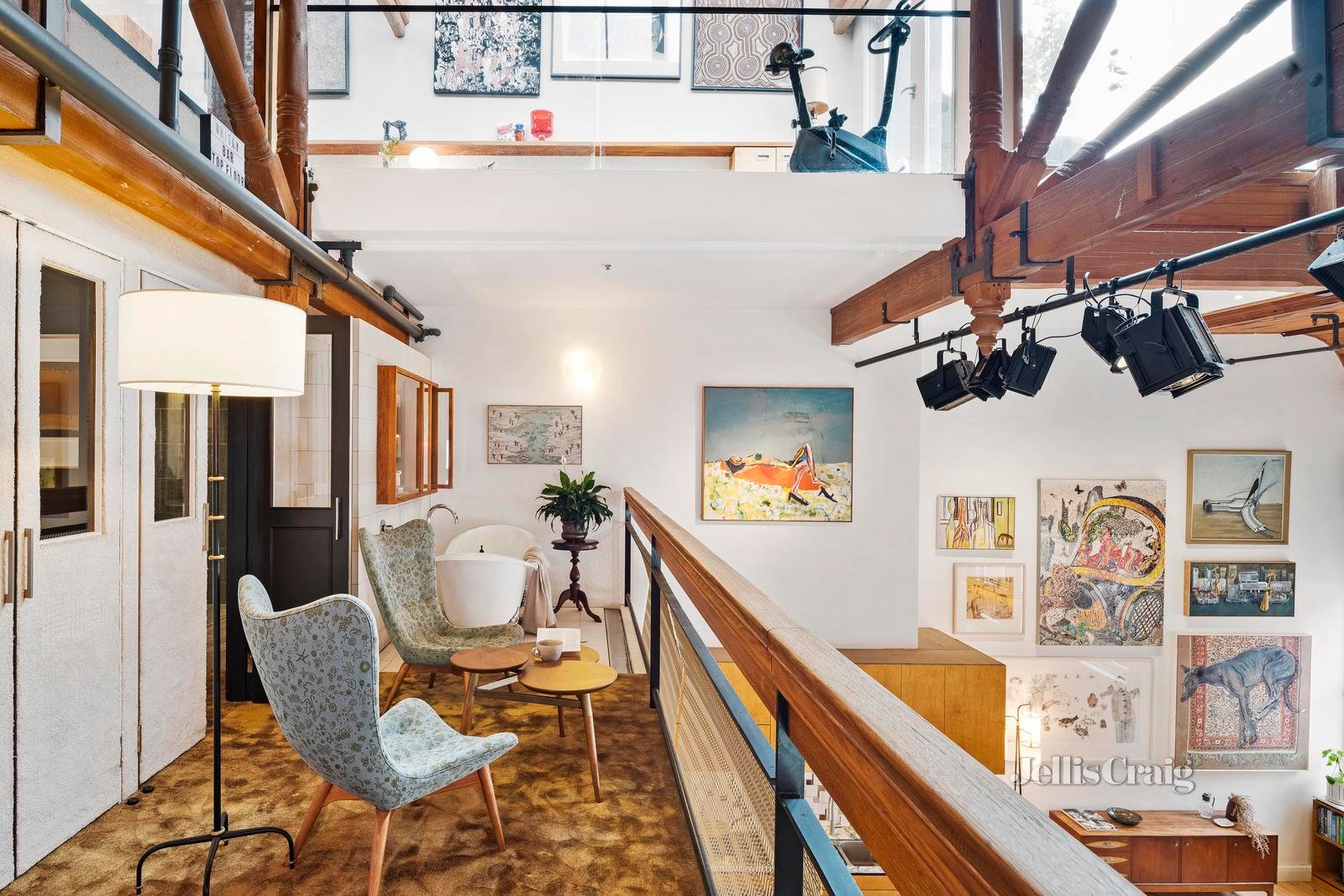 The kitchen and living spaces are palatially light-filled, with a marble Miele kitchen fit-out boasting asymmetrical tiling and a walk-in pantry. You'll also find the laundry, bathroom and an office-come-guestroom on the entrance level of the apartment.
On the next level, you're treated to a mezzanine balcony complete with a bath, which in turn gives way to another bathroom, as well as the master bedroom that features a large ensuite and built-in wardrobes. Finally arriving on the top level, it's a single bedroom that is definitely the coziest thanks to its exposed wooden ceiling and intricately carved beams. The upper bedroom walks directly onto the rooftop balcony, which would be a hard spot to beat on a summer's afternoon with a spritz in hand.
All considered 17/79 Oxford Street, Collingwood, is a rare gem in an increasingly cookie-cutter environment where developers approach apartment buildings with a maximalist vision in Melbourne's inner suburbs. If you're the lucky one to step it up in the upcoming auction, enjoy your beautiful new apartment, and if you feel like showing a fan around, don't hesitate to get in touch (I'm only down the street).