Call us crazy, but based on some of the architectural monstrosities we've encountered from the Gold Coast, we don't exactly have high expectations of the area when it comes to palatial real estate. Bellagio La Villa, on the other hand, goes against the grain. Oozing with old world charm and reminiscent of France's chateaus, this sprawling property may very well wash the bad taste out of our mouths layered by the gaudy likes of 26-32 Knightsbridge Parade East.
Private, exclusive, secure – this slice of Tallebudgera Valley represents one of the most significant residential holdings on the Gold Coast, over 48 hectares to be exact, and might even go down in history as the most expensive sale of its kind in all of Queensland as of 2021, if all goes to plan.
Beyond the gilded gates and treelined driveway, you'll find grand proportions which evoke a sense of occasion at every step. Featuring polished marble floors, double-storey ceilings garnished with ornate 18th-century cornices, crystal chandeliers, imperial staircase, rooms grander than the next, granted… this won't be everyone's cup of tea. For those of you who we haven't lost just yet, however, you're in for a treat.
---
---
RELATED: Gold Coast's 'The Palms' Attracts Over 600 People To Its Auction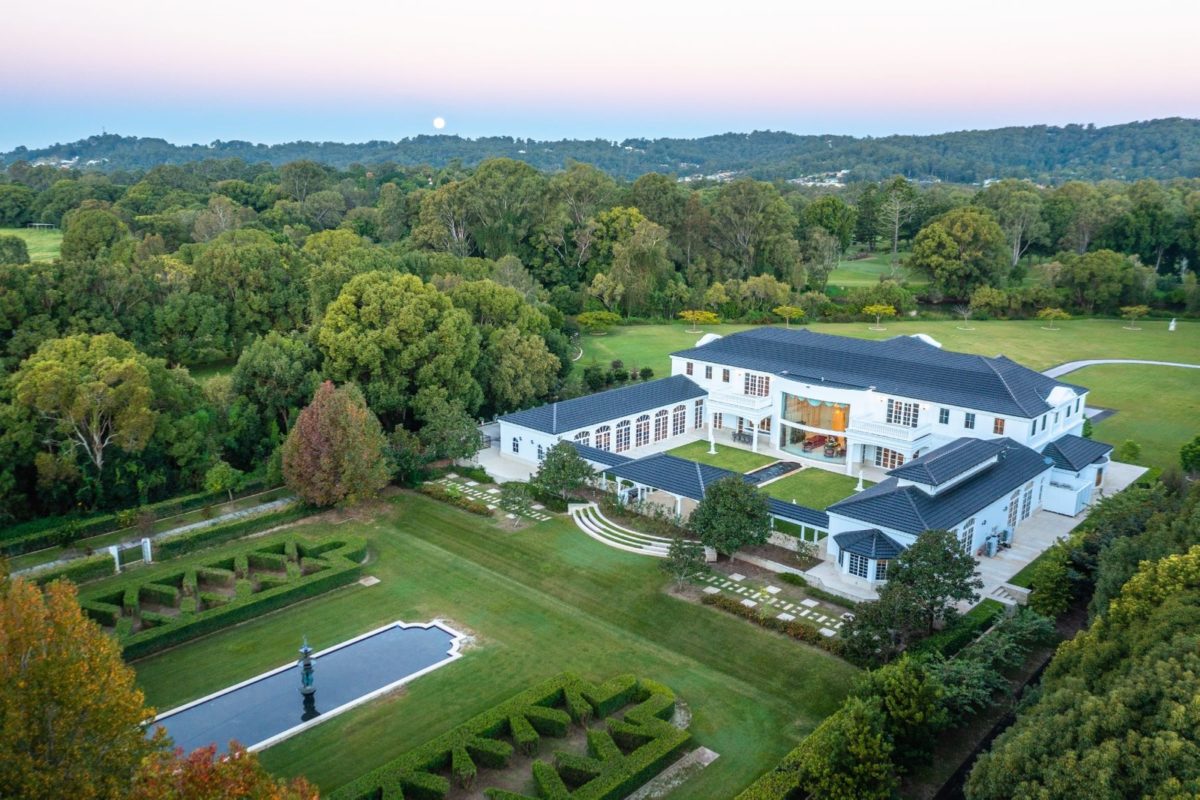 Here are some top-line highlights:
10 bedrooms (all ensuites), incl. an expansive master w/ dual dressing rooms, twin freestanding baths, & more
10 bathrooms
grooming salon for pets
formal living room
formal dining room
high-end + fully-fitted kitchen
heated indoor swimming pool + outdoor pool
spa/hot tub
well-equipped gym
home office to TKOB (take care of business, for the uninitiated)
formal garden ("… verdant lawn and manicured gardens capable of hosting the hugest milestone celebrations and dinner parties.")
horse stables
caretaker's cottage
open land to develop or not develop
Oh yeah… and there's a Rolls-Royce parked somewhere indoors. Though the keys to that bad boy probably doesn't come with the keys to this stately pad.
While the listing indicates pricing is available upon request only, Chinese billionaire and current owner Riyu Li had initially considered offloading the Gold Coast estate for a lofty $50 million, before coming back down to Earth and slashing the price to $33 million in April. One can only imagine there's a bit of wiggle room given how it's still on the market collecting dust.
Check out Bellagio La Villa below.