"Now for sale" may be a tad misleading. Especially given the fact that this Highland Park residency at 2700 Point Dr has been on the market since 2012. So why is this news? Aside from the obvious Last Dance hype, the price for Michael Jordan's Chicago Estate has been reduced. Again. Right down to US$14.9 million (AU$19.4 million) – almost half of its original US$29 million asking price.
His Airness has had some trouble selling off this modern day palace due to its highly customised design. I guess not everyone wants a regulation-sized basketball court, cigar room, card room, or putting green at their family abode.
But who knows – maybe you might dig the massive 23 emblazoned on the front gate. Though one can imagine selling this pad won't get any easier with COVID-19, regardless of how much Last Dance hype there might be.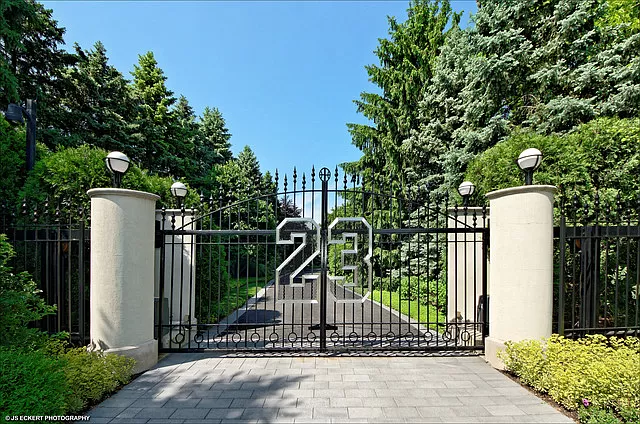 The property itself sits atop seven acres of "… immaculate landscaping, evergreen trees, a forest preserve, fish pond, and a long driveway from the front gate…" – all of which offers complete privacy.
Check out the gallery below:
9 x bedrooms
15 x full bathrooms
4 x half bathrooms
1 x hell of a kitchen
1 x regulation-sized basketball gym
1 x workout room
1 x circular infinity pool w/ grass island
1 x putting green
1 x tennis court
1 x card room
1 x home cinema
1 x game room
1 x cigar room
1 x wine cellar
1 x fourteen-car garage
And yes, it all comes fully furnished… according to MJ's own taste.
Find out more about Michael Jordan's Chicago Estate located at 2700 Point Dr, Highland Park Chicago here.