With half of Australia wondering why its so cold after just a fortnight of winter, a Mediterranean retreat sure seems like a very reasonable trip to plan at the moment. If Greece is on your bucket list, then make sure you take the time to leave the mainland behind and venture out to the idyllic Noūs Santorini hotel, just an hour light from Athens.
It's a quintessential Greek island holiday destination, from the modest white houses and blazing sunsets, to the uninterrupted views and slower pace of life, there's a lot to love about what this 5 star resort has to offer. Situated in the heart of the Cyclades islands in the Aegean Sea, the Noūs Santorini hotel opened its doors to guests this month for the first time, offering a blend of classical luxury and pared back minimalist architecture.
The result is the 121 room hotel that is comprised almost entirely of private bungalows, each with their own secluded pool. Desigened in a collaborative effort by Athenean architecture firms Divercity Architects and MPlusM, the hotel is the first venture outside of the Greek capital for the owners Yes! Hotels.
---
---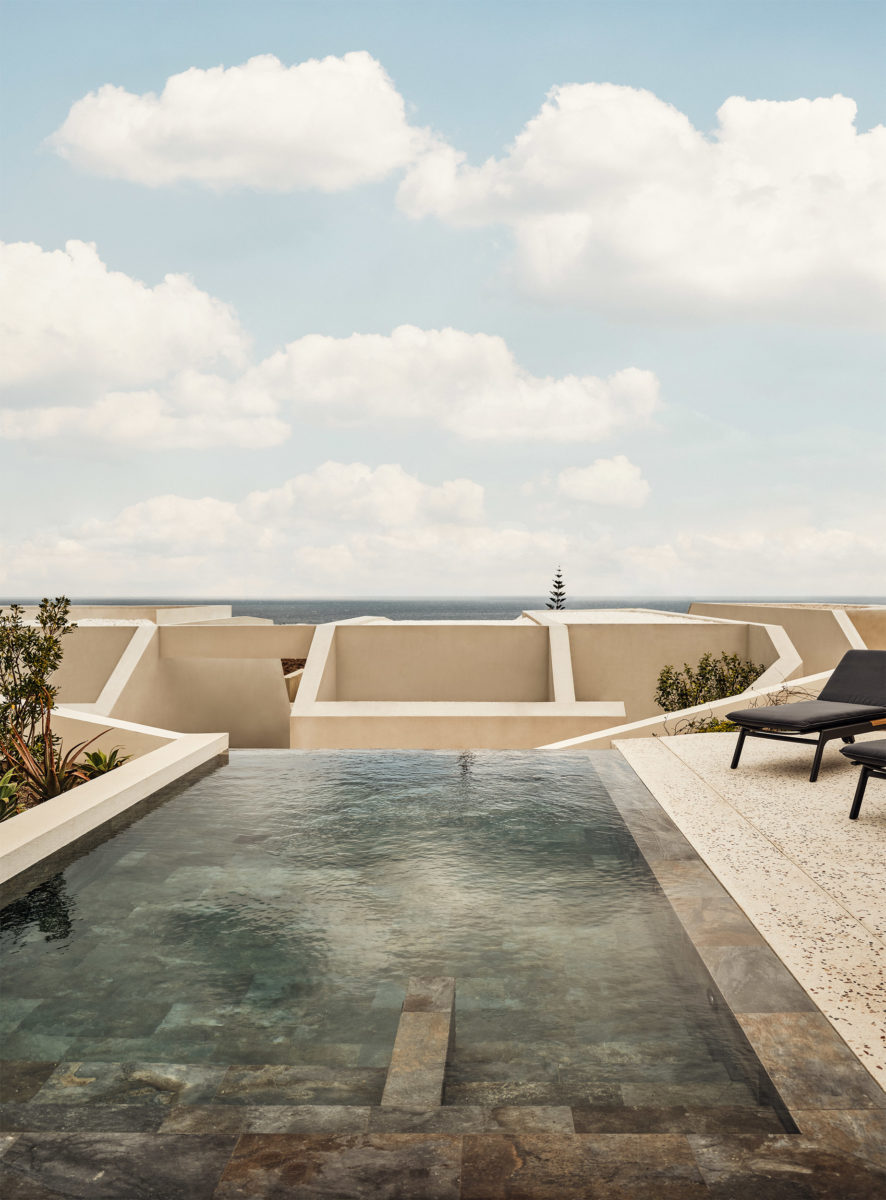 RELATED: Villa Apollon Is The Ultimate Beach House On A Secluded Greek Island
The hospitality group behind Yes! Hotels, Donkey Hotels, is a family owned business led by Dakis Joannou, a renown industrialist and art collector who is widely regarded as one of the world's foremost contemporary art patrons. As you'd expect from an owner with such a depth of good taste, Noūs Santorini hotel is a study in restrained elegance thanks to its warm but neutral colour palate, filled with local craft and patterns inspired by the archaeological murals of the island.
The rooms are immaculately furnished, with coloured stone floors and ample raw timber trimmings, all of which are bathed in the light of the glaring Greek sun. As you might expect, the hotel also contains a restaurant with a menu focused around locally sourced ingredients, including the wine list.
A room in the Noūs Santorini hotel starts around $530 per night for the standard room, up to $1,300 per night if you want breakfast included with your pool bungalow. So don't spend your entire winter freezing Down Under, hop on a plane and enjoy a couple of weeks in the sunny Cyclades islands.