Attendance figures exceeding 600 were recorded this past weekend at the auction of coveted Gold Coast property, The Palms. Located at 13 Deodar Drive in Burleigh Heads, according to Kingfisher Realty agent Conal Martin, the event will go down in history as the biggest on-site auction ever experienced by the area.
"No one could believe it," Martin tells news.com.au.

"The gates to the property were shut at 10 AM… people turned up afterwards but they were too late. They had to stand outside and watch the live stream on their phones."
In the weeks leading up to its eventual sale, The Palms had (understandably) achieved viral status on Facebook across a number of galleries and reposted listings. Flaunting exceedingly tasteful interiors rich with Harbour American Oak timber flooring, custom Australian brassware, Italian terrazzo tiles, Santorini Claystone feature walls, not to mention plenty of opportunity for natural lighting, as you'll discover in the gallery below… it's a breathtaking slice of Palm Springs on our very own sunburnt shores meets award-winning aesthetic curation.
---
---
RELATED: Bloke Pays $17 Million For Melbourne Penthouse After Seeing It On Instagram
"Through the stunning custom front doors, you will be whisked away to a beachside oasis," reads the listing's description.

"The Palms showcases exceptional attention to detail from the bespoke joinery to the light palette of timber enhanced by irrigated greenery and brass accents all of which is complemented by natural feature stone walls."

"The open floorplan seamlessly characterizes the relaxed lifestyle Burleigh is renowned for, taking full advantage of indoor/outdoor living with the use of cavity glass stacker doors and bi-folds, perfectly opening to create a harmonious flow of space throughout the entire downstairs living area."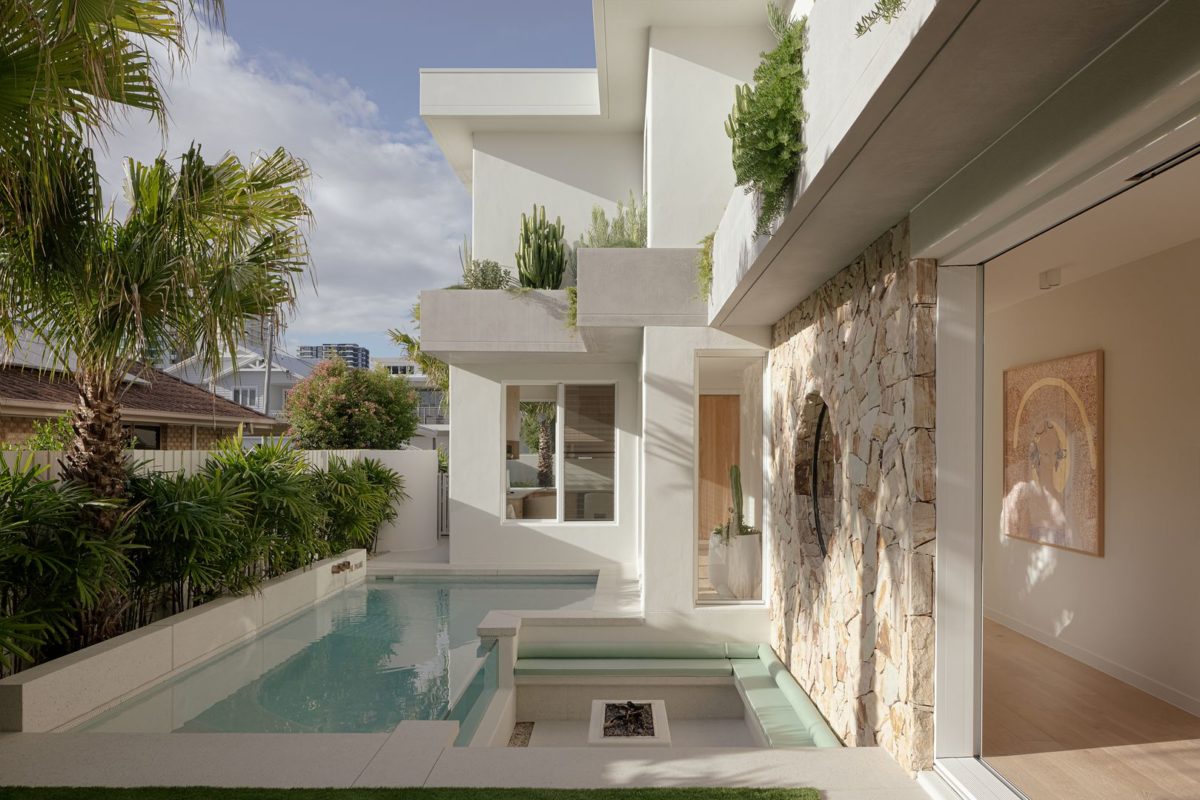 Notable features include the following:
4 bedrooms (incl. dedicated guest accommodation wing)
3 bathrooms (incl. freestanding stone bath, triple shower w/ overhead skylights, dual sinks)
Gourmet kitchen w/ Smeg Dolce designer appliances + quality stone benchtops
Wine cellar w/ 2 x wine fridges + outdoor beer fridge
Sunken fire pit
Glass edge pool
BBQ area
Home office
Custom Australian brass tapware, mirrors, & lighting fixtures
Hebel flooring
Expansive high ceilings (3 metres in most areas, 6 metres in the kitchen)
Integrated surround sound speaker system
4-car garage
400-metre walk from Burleigh Beach
After interest was narrowed down to six potential buyers – one of which was corresponding remotely via phone – The Palms located at 13 Deodar Drive, Burleigh Heads was sold to the highest bidder fully furnished + styled by Kira & Kira for $3.75 million.
Check it out for yourself now.