Even big-name celebrities are feeling the property market crunch these days, with renowned fashion designer and style God, Tom Ford, being forced to dramatically slash the price of his incredible New Mexico ranch.
Ford first listed the 22,000-acre property in 2016 for a whopping US$75 million, but after failing to find any interested parties after three years, he's decided to drop the price by US$27 million, leaving the current asking price sitting at a cool US$48 million.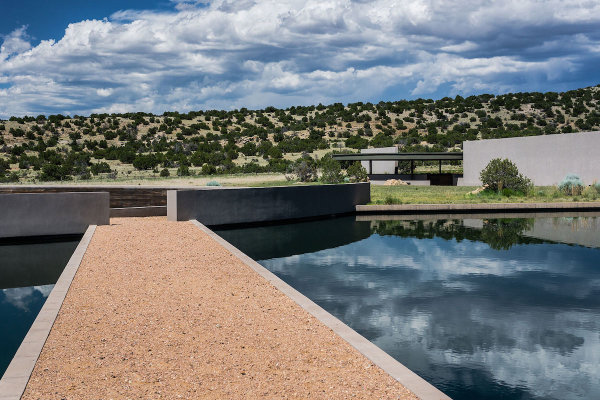 Originally known as Cook Ranch (the previous owner was rancher Bill Cook), Ford changed the name of the property to Cerro Pelon (Bald Hill) Ranch when he took ownership in 2001.
---
---
One of the first things he did after buying the ranch was commission Japanese architect Tadao Ando to create a single-story modern concrete compound overlooking a reflecting pool. He also brought in Pritzker Prize-winning Ando to design the main living quarters; a long, flat-roofed home with an open design that features a living area that flows into the bedroom.
The ranch is also home to Silverado, a western movie set used in a variety of films over the decades. Originally built in 1984 and used for the film Silverado, the mock town has also shown up in Wild Wild West, All The Pretty Horses, Cowboys And Aliens, 3:10 to Yuma and even in 2011's Thor.
The property also contains stables (Ford is a big fan of horse riding), a tennis court, two private guest houses designed and built by architects Marmot Radziner, staff quarters, a hidden warehouse, as well as a private runway with an accompanying hanger.
There are no details on the interior of the main home, but considering Ford's taste, we can only imagine how tasteful it must be.
If you want more details about the ranch, visit kevinbobolskygroup.com and be sure to check out Jason Statham's oceanfront Malibu pad that just went on the market.
RELATED: Beverly Hills mansion comes with a dinosaur skeleton for an extra $2 million
---
---