The annual summer holiday is a sacred thing, as the scene of countless collected childhood memories and the perfect way to unwind after a year of hard work behind your desk. It's this cherished period that the Villa Apollon was built for, as the perfect holiday home designed by the award-winning Block722 architecture studio.
Tucked away into the hills of southern Lefkada, a Greek island to the east of the mainland, Villa Apollon is a quietly unassuming residence that offers a minimalist slice of heaven to its residents. Built near a rocky outcrop that meets the turquoise waters of the Mediterranean Sea, the home is nestled in lush low-lying greenery that the architects used as a source of inspiration for some of the design elements of the dwelling.
The compound is comprised of two main buildings, one of which is the light-filled main residence thanks to an expansive series of skylights and floor to ceiling windows that offer views across the sparkling waters. The second is the four-bedroom guest residence, which is connected to the main residence by a series of open-air paths and terraces. Unadorned concrete has been used as a restrained template for both of the buildings, complemented by material details such as terrazzo, teak wood, and stone, to complete the elegant visual impression.
---
---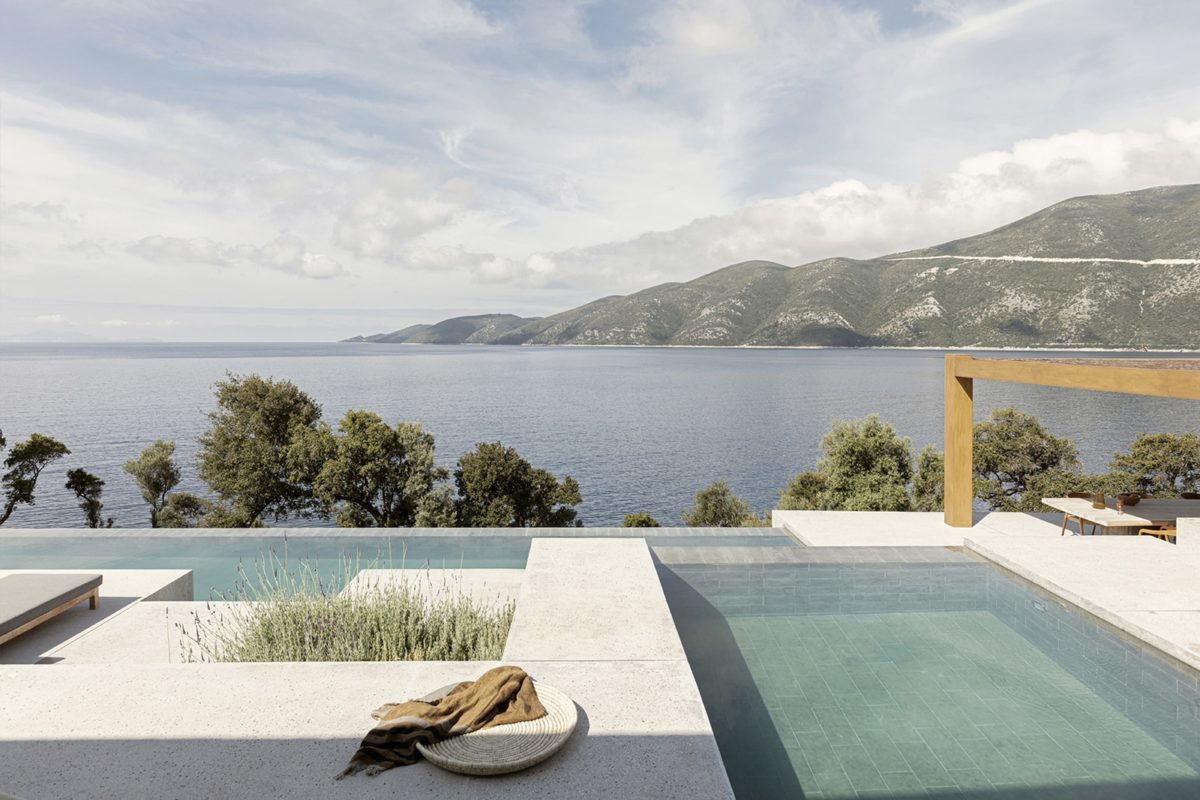 RELATED: Iconic Slim Aarons 'Poolside Gossip' House Sells For Record-Breaking Price
Boasting a neutrally tiled infinity pool, palatial outdoor entertaining areas and an intimate living and dining space indoors, it really is one of the most considered holiday homes we've covered on Boss Hunting. With lightly-toned timber finishings integrated into the doorways, ceilings and furniture, as well as elevated details such as cut stone basins and fireplace, it's a home that truly embodies the natural environment around it.
The firm that authored the design of the home, Block722, was founded over a decade ago by architect Sotiris Tsergas and interior designer Katja Margaritoglou. The two have blended their combined Greek and Scandinavian heritage tastefully in their work, with a rustic and minimalist approach to design that celebrates the best of tradition and contemporary taste. If you're not thirsting for a European summer holiday this year after seeing Villa Apollon by Block722, you'd better study the gallery below a little closer.