There are few cocktails more effective than an easy-made gin and tonic on a sunny afternoon. Powered by the quintessentially British spirit, this most popular concoction of all the many gin cocktails in the world has been a staple ever since the simple recipe was invented in the 16th Century. And while the tonic part of the equation is equally important and varied, it simply wouldn't exist without gin. The reason why G&T is so popular is that it can showcase its headline spirit like no other cocktail in existence, accentuating just how incredibly deep the industry goes when you're thinking about a topic as contentious as the best gin Australia has to offer.
Why Australian gin? We all know London is a pioneer when it comes to the botanical spirit, but Australia has really spearheaded a modernisation of the gin industry, regularly producing some of the best gins in the world. As such, you'd be wise to do some digging on where to find the best gins in Australia from stalwart labels such as Never Never Distilling Co, Cape Byron Distilling, Archie Rose Distilling Co, Four Pillars, Patient Wolf, Cape Byron Distillery and The West Winds Gin.
Infused primarily with juniper, think of gin as a highly adaptable palette, wide, welcoming and ready to absorb the flavours of different botanicals. The flavours are always determined by said botanicals used. That is the herbs, seeds, flowers, plants or spices that have been added during production. That is why there is an endless range of gins on the market, each instilled with a sense of place and distilled with the admirable goal of delivering the very best gin Australia has ever seen.
---
---
Best Australian Gins Overview [Not Ranked]
---
How Gin Is Made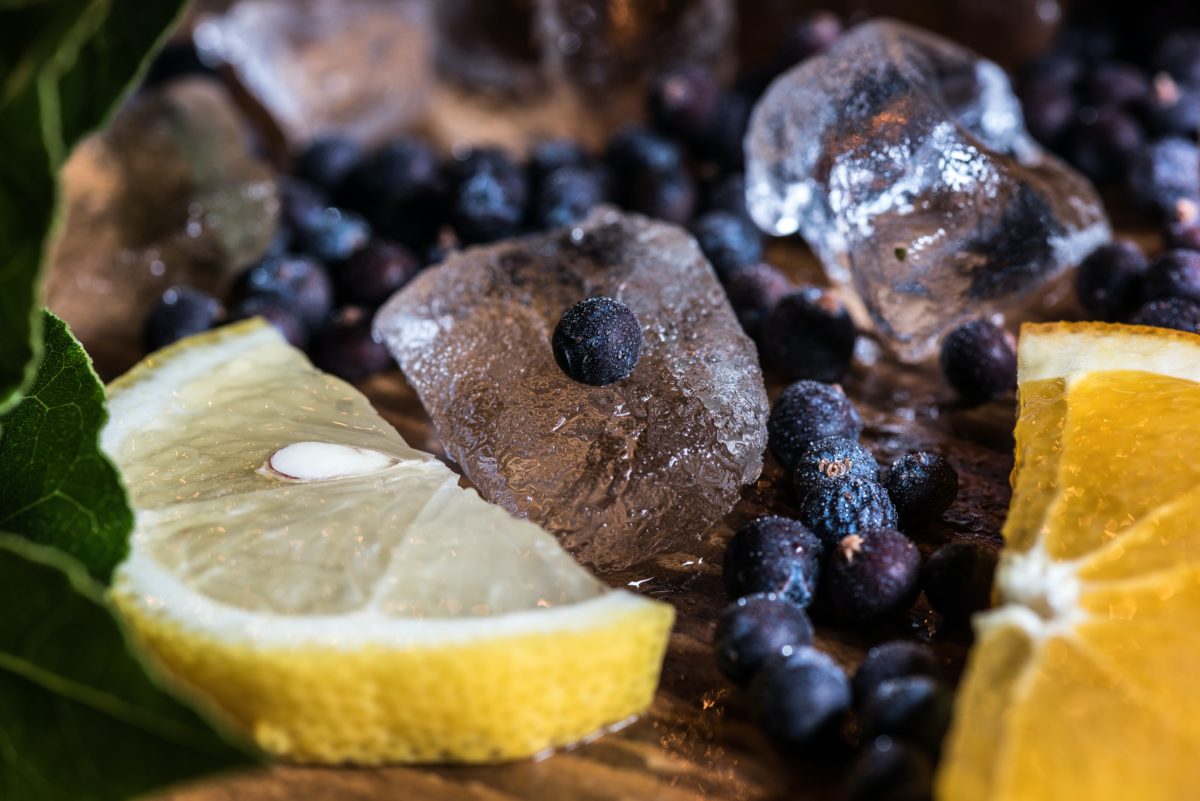 While lesser men brush it off as a less complex spirit, gin deserves our full attention and there are the serious complexities and depth behind some of the best Australian gins. Blending the signature flavour of juniper berries with unique local botanical notes from each distiller's region, the variations in these ingredients create a huge range of gins with very different profiles. So there's plenty to keep you hooked on the local gin scene, whether the distiller has focused on using something like lemon myrtle, fresh green apple, Shiraz grapes river mint, blood orange, finger lime or even fresh ginger.
Different distilling techniques are employed along with different equipment to help dial in the exact extraction of botanicals these distillers want to infuse into their gin. This further adds to the great range of gins out there and is one of the primary reasons why we'll never stop seeing new and exciting gins being released around the world.
There should be no such definitive declaration as "I hate gin." Unlike the best vodkas and best Tequilas on the market, gin is always going to be so incredibly varied and flexible that no two gins are ever going to be the same. Fortunately for us, Aussie distilleries are at the top of their game when it comes to crafting a good drop of gin, so when you're trying to track down the best Australian gin brands you've got plenty of choices to get around.
We're here to help. We've compiled a list of the best Australian gins to stock in your liquor cabinet the next time you need to mix up your mates a batch of fresh G&Ts. Or just any other gin cocktail. Just like gin, there are plenty of ways in which to use the spirit, so you should also think about some of the best G&T alternatives (luckily for you, we've got an article on that here).
---
The Best Australian Gins & The Distilleries That Make Them
Never Never Distilling Co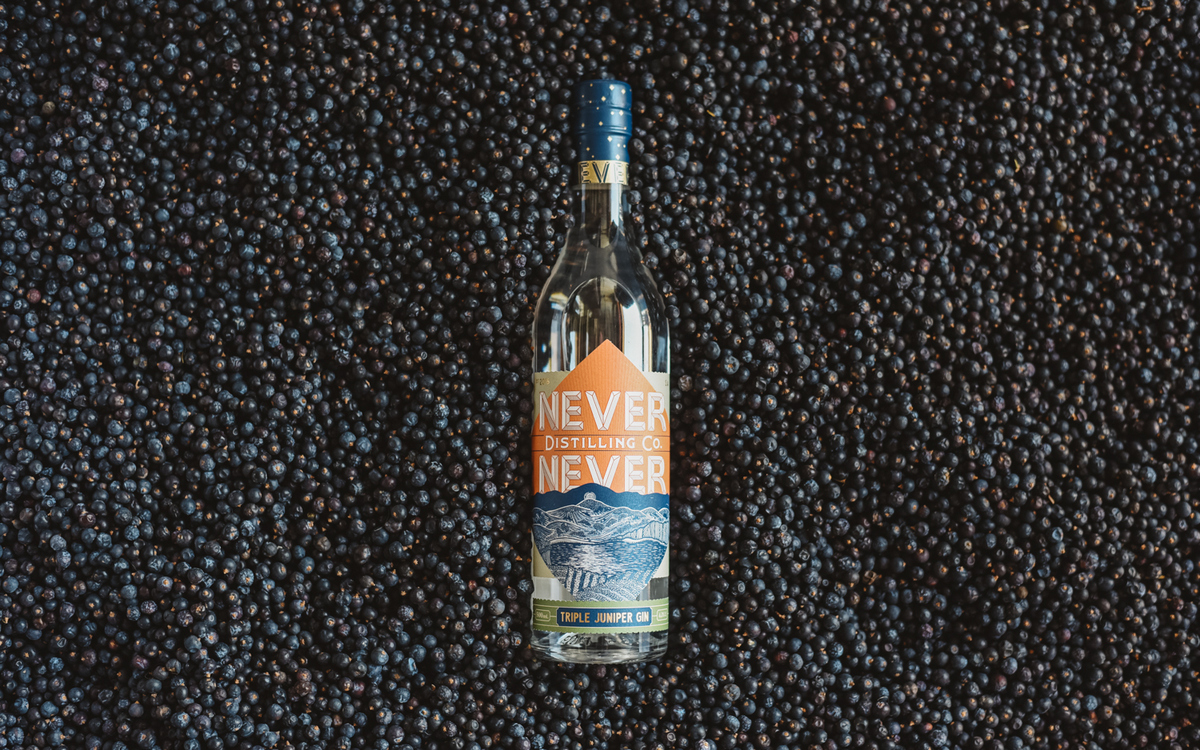 Best Australian Gin: Triple Juniper Gin
Never Never Distilling Co has really emerged as one of Australia's MVPs over the past few years, managing more than just a few international awards and putting forth some of the best gins the country has ever showcased on a world stage. From the special releases like the latest Dark Series Oyster Shell Gin, a celebration of Australia's coastline worked up in collaboration with Melbourne's Society Restaurant, to the classic Tripe Juniper Gin, Never Never Distilling Co offers plenty for gin lovers to get across.
With the exciting Dark Series continually pushing the boundaries of Australian gin, it's always worth sipping outside of the core range to see what new trends the McLaren Vale distillery, just under an hour drive outside of Adelaide CBD, is pushing.
Although it's the Triple Juniper Gin that we can't get enough of. The triple-concentrated production process has led to a consistently smooth gin that loads up on the fresh and floral juniper character best known as the classic gin flavour, then complemented by eight other botanicals including coriander seed, orris root, angelica root, lemon peel, lime peel, cinnamon, liquorice root and Australian pepper berry.
---
---
What you'll get from the Never Never Distilling Co Triple Juniper Gin is an exceptionally silky gin that's not overly sweet, avoiding any subtle flavours and doubling (or should we, tripling) down on the sophisticated classic profile that gin drinkers the world over are familiar with.
---
Archie Rose Distilling Co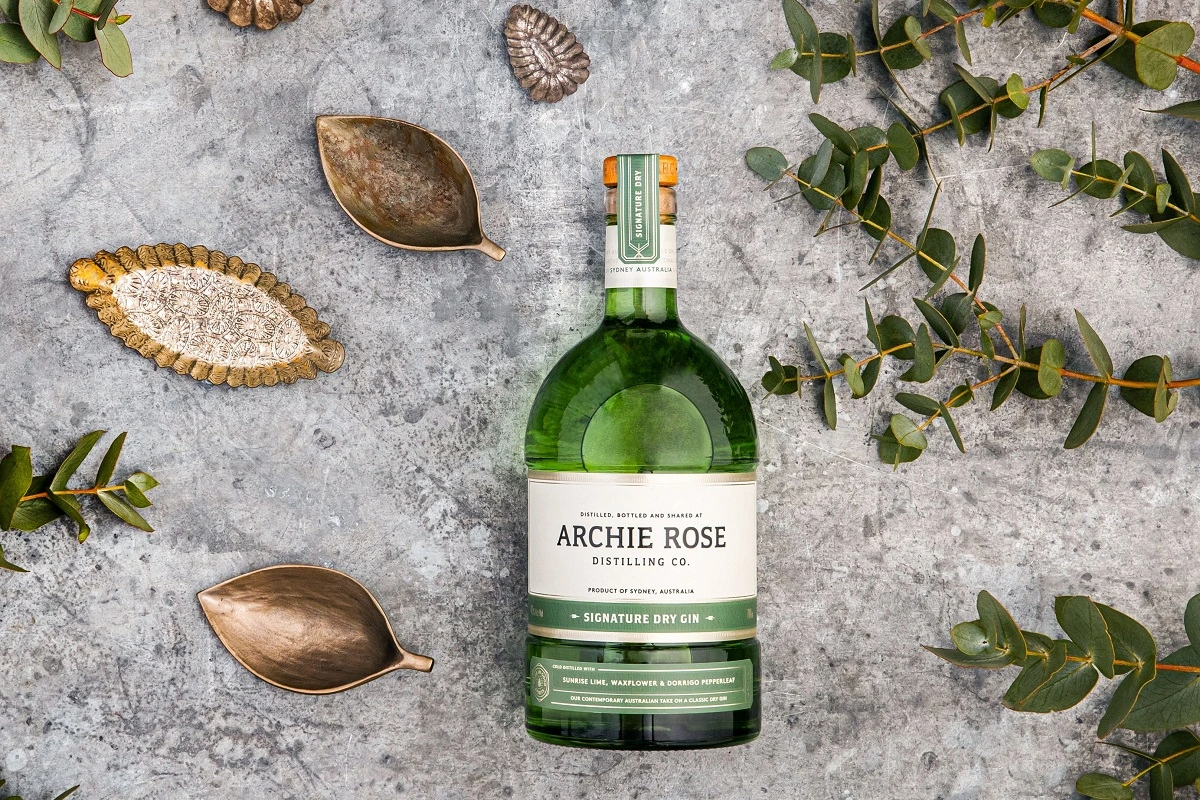 Best Australian Gin: Signature Dry Gin
Located just 5 km from the Sydney CBD in the suburb of Rosebery, Archie Rose Distilling Co is a fitting tribute to the first colony's gin craze of the 1800s. The boutique distillery also doubles as an award-winning bar, pushing an excellent cocktail list featuring their signature 'Distiller's Strength Gin'. With 16 individual botanicals for a bold taste, it's perfect for a clean G&T or your favourite cocktail.
Archie Rose Distilling Co is now one of the most prolific in the industry, constantly and consistently pushing out impressive, award-winning spirits across gin, rye whisky and vodka. All three spirits are considered equally important for the Sydney distillery's immense growth over the years, although arguably Archie Rose Distilling Co is most recognised as a gin distillery.
That's because the Signature Dry Gin is too hard to separate from the company. For many Aussies, it's the best gin in the country. And while that's debatable, the decidedly modern take on a classic dry gin is hard to deny.
Distilling the botanicals in bespoke copper vacuum stills using a cold distillation process, Archie Rose is able to retain the clarity and natural richness of the gin's many different botanicals. Them being the native sunrise lime, Geraldton waxflower, Dorrigo pepper leaf, river mint, blood lime and lemon myrtle, used alongside more typical botanicals like juniper and coriander.
What you'll get is a lot of citruses and pine notes on the nose, followed by a rich and solid palate of spicy peppery notes and many different layers of sweetness all held strongly by that classic dry juniper backbone.
---
Manly Spirits Co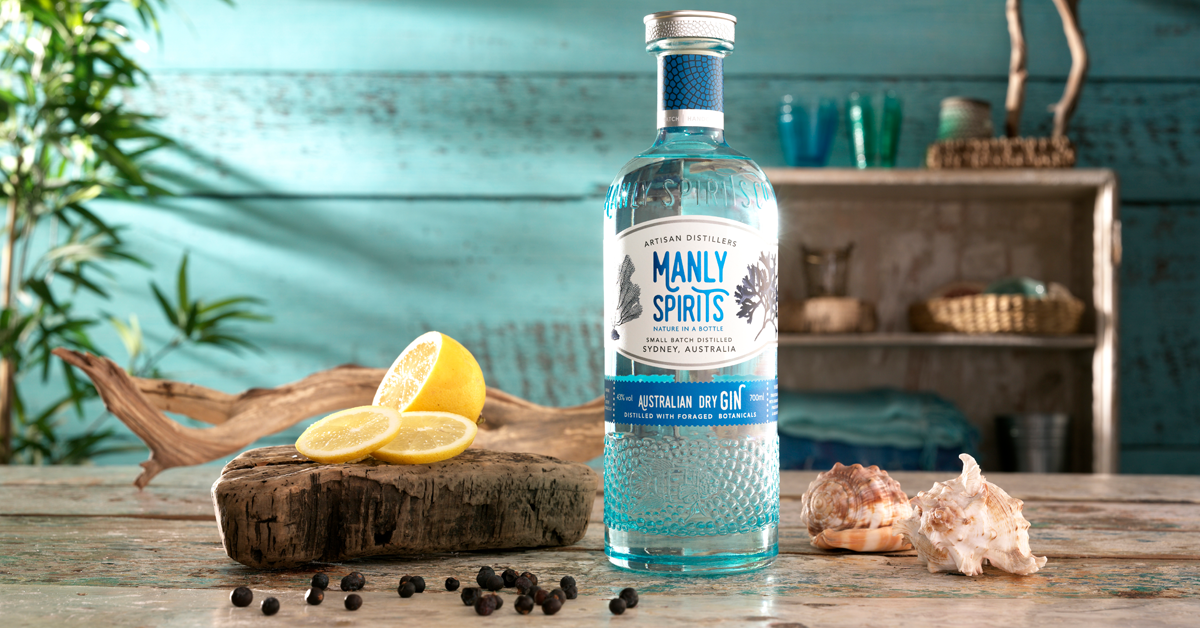 Best Australian Gin: Australian Dry Gin
Manly Spirits Co has really been making waves (no pun intended, I guess) these past few years, popping up as healthy competition to Sydney's other gin distilleries and confidently strutting through with a lineup of both classic and unique Australian gin expressions that have seen many awards both locally and internationally.
You could go for the distillery's excellent and fascinatingly deep Lilly Pilly Pink Gin with its all-natural raspberry-infused pink hue or the bold honey-roasted wattleseed profile of the excellent Ruby Dusk Gin, but we're sticking with the classic here.
---
---
The Australian Dry Gin may taste familiar, but Manly Spirits Co clearly know how to take a tried-and-tested archetype and use the freshest Australian botanicals to lift those earthy notes yet retain exceptional balance with the bright and fresh flavours of citrus, marine and juniper.
---
Poor Toms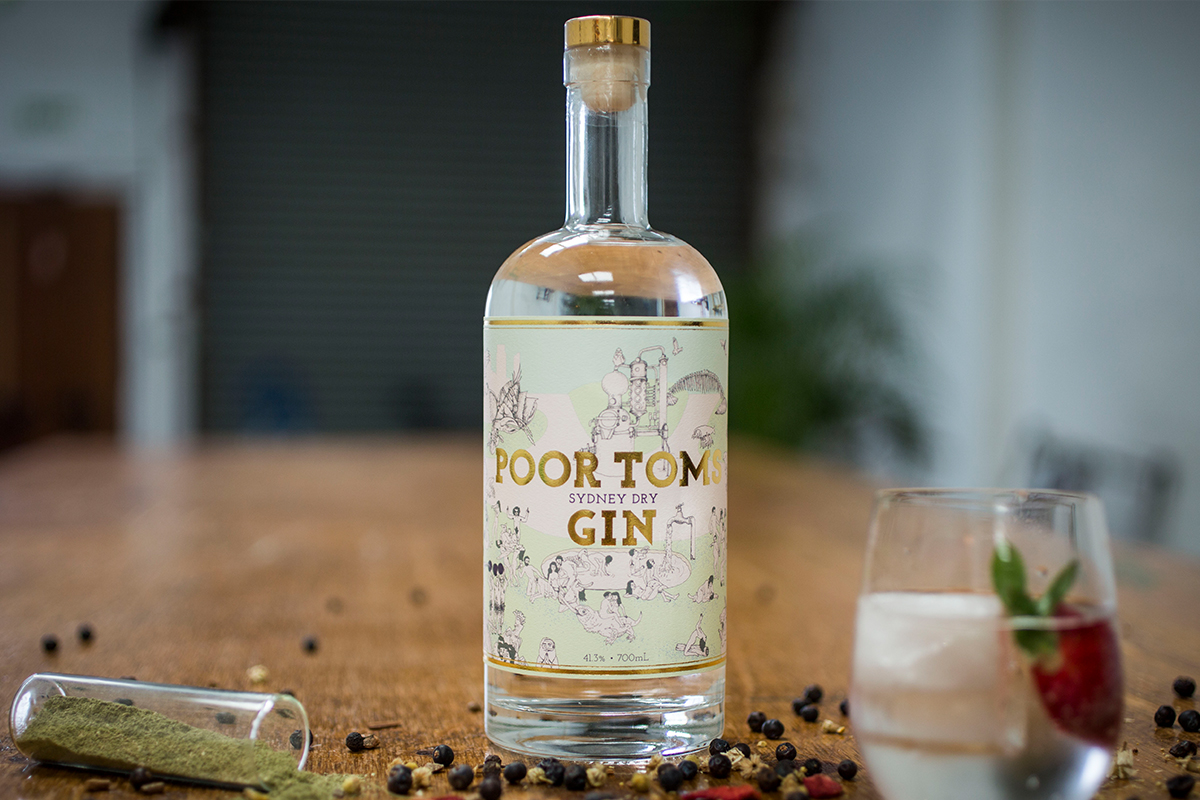 Best Australian Gin: Sydney Dry Gin
Another Sydney-based distillery, this time in the brewery-laden hipster enclave of Marrickville. Poor Toms Distillery likes to regularly flip the script on the classics, making the most of Australia's bountiful produce when it comes to botanicals but balancing that with elegance and a sense of traditionalism some of the other more experimental gin distilleries often compromise on.
Having picked up a gold meal at the 2017 San Francisco World Liquor Awards, the Poor Toms Sydney Dry Gin is the classic style done differently. Yes, there's that overarching juniper backbone to hold it all together, but Poor Toms has managed to work a sweeter, more delicate and sessionable profile by using fresh green apple, native strawberry gum leaf and chamomile.
The rest of the recipe for this craft gin is made up of lemon myrtle, coriander seed, angelica root, cinnamon, cardamom and cubeb pepper. Get out that lemon zest, make up a G&T with a bottle of Sydney Dry Gin and enjoy one of the best Australian summer cocktails you could mix up.
---
Cape Byron Distillery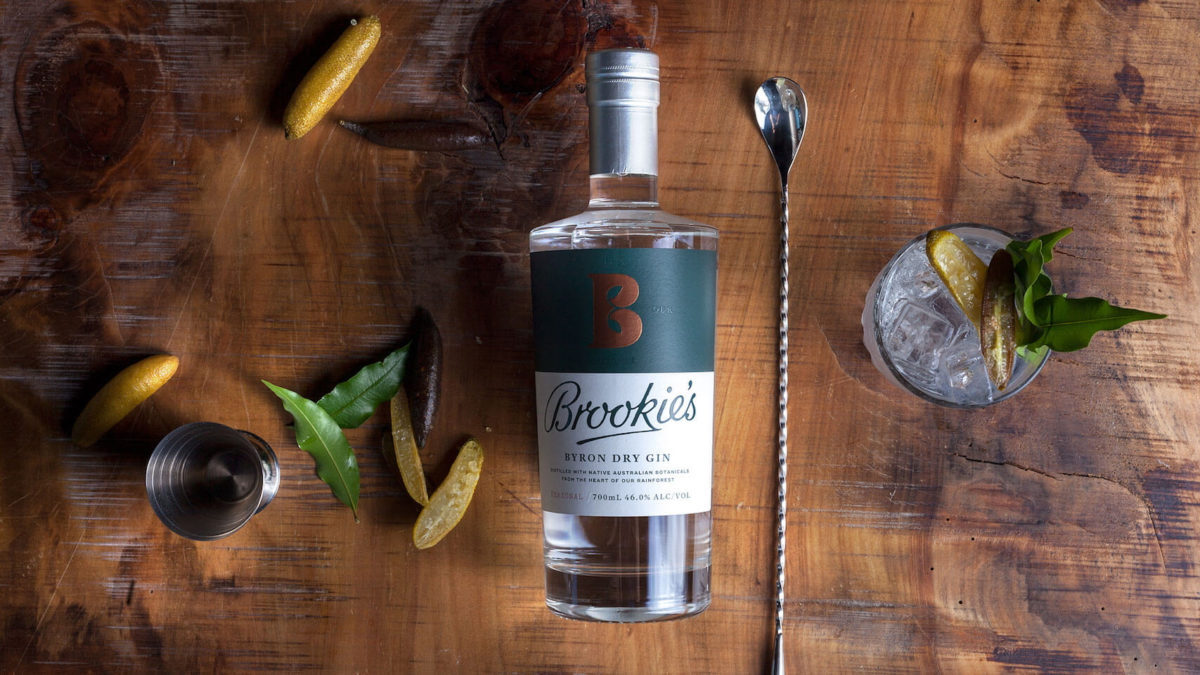 Best Australian Gin: Brookie's Byron Dry Gin
Located in McLeods Shoot, Cape Byron Distillery is another big winner for New South Wales and a reliable producer when it comes craft gin. The Brookie's Byron Dry Gin is the signature of this distillery for good reason, retaining a very reasonable price point and yet offering a quality gin that can easily stand toe-to-toe with some of the best from Never Never Distilling Co and Four Pillars.
The location has a lot to do with this. McLeods Shoot is a vast and bountiful part of New South Wales, and Cape Byron Distillery has a very productive rainforest sitting just nearby the site. Native botanicals are foraged from here and handcrafted on a farm in the hinterland of Byron Bay, distilled with a sense of balance into a classic London dry gin with a tremendous body and a palate that doesn't feel overstuffed despite being made up of 25 different botanicals.
---
23rd Street Distillery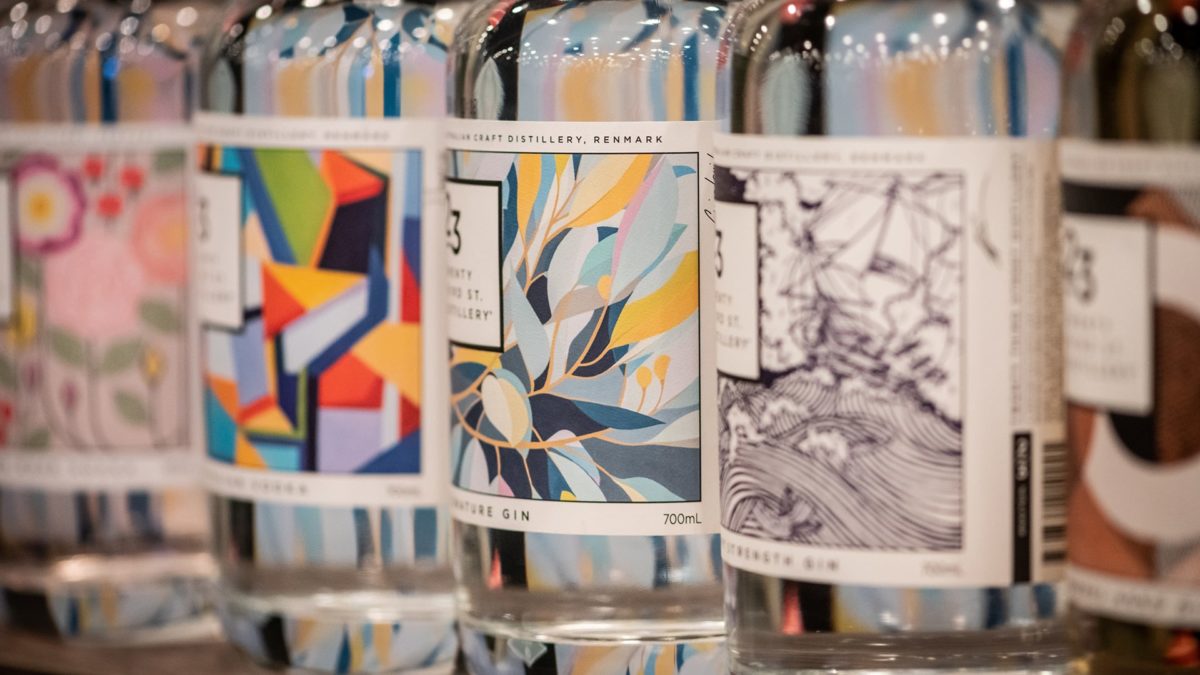 Best Australian Gin: Signature Gin
With restored copper stills which once made up Tintara winery in McLaren Vale, 23rd Street Distillery uses the history to create a unique offering on the market. Tapping into local botanicals, their Signature Gin embodies citrus flavours from Riverland mandarins and limes for a refreshing bite.
While the South Australian distillery is equally well known for other spirits such as rum and brandy, it's this signature gin that speaks the most of both the location and the process. The spices come through with this particular expression a bit more than they would similar classic style gins, cut through with a freshness similar to finger limes in the finish.
---
---
You also may want to try the distillery's Violent Gin which draws heavily on the mellowness of wattle seed set against the peppery spices of fresh juniper and pine.
---
Four Pillars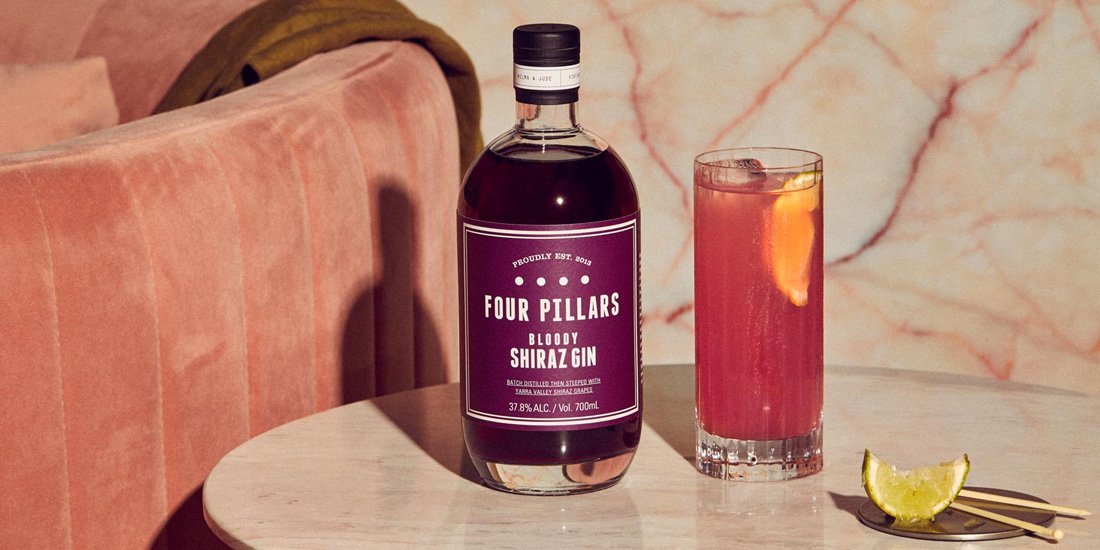 Best Australian Gin: Bloody Shiraz Gin
You knew Four Pillars was coming up sooner or later, and while this list isn't ranked, we figured we'd highlight some of the lesser-known Australian distilleries first before getting to this industry behemoth.
Almost all Australian gin distilleries come up in the shadow of Four Pillars' deathless popularity, both locally and abroad. It's not unfounded, and Four Pillars is by no means overrated.
The constantly sold-out and very hard-won Four Pillars Bloody Shiraz Gin is a revelation for many and has pulled in more than just a few licks of international attention to our shores. The grape based gin started out as an experiment back in 2015, taking the classic Four Pillars Rare Dry Gin and adding local cool climate Shiraz grapes that had been steeped in high-proof gin for eight weeks before pressing.
Along with juniper, pepperberry, cassia, star anise, lavender, angelica, lemon myrtle, orange coriander and green cardamom, those shiraz grapes play off an already solid and complex palate with a heap of sweet ripe fruit. Use this to mix up a G&T and you'll taste why the annual release almost always sells out in an instant.
And of course, Four Pillars are almost always bringing out new releases. Just recently, the company put out a cracking Fresh Yuzu Gin and a few years ago they released a very unique collaboration with QT Hotels with the coconut and almond-flavoured Ordered Chaos Gin.
---
Adelaide Hills Distillery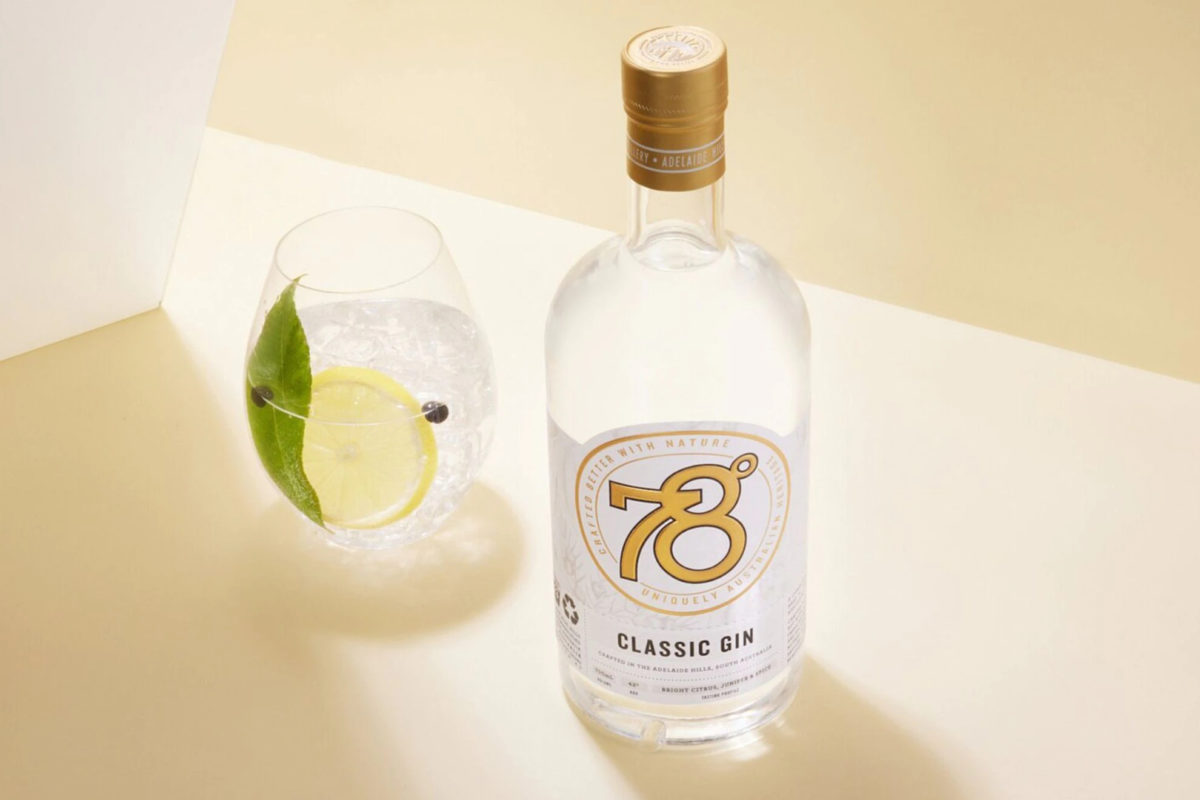 Best Australian Gin: 78˚ Classic Gin
Focusing on differentiating the distillation process, Adelaide Hills Distillery uses a careful approach to crafting its spirits. Making the most use of pure Adelaide Hills water, the team here employ a vapour distillation method using a unique column and basket technique purposed towards retaining as much of the flavours and aromas of the various botanicals used.
Though Adelaide Hills Distillery may have only one gin in its core range, it's a true beauty and a testament to how some of the best Australian gins almost always come out of South Australia. The 78˚ Classic Gin is mostly distinguished from the competition by a resinous mid-plate flanked by the more typical citrus and floral notes with a long lingering spice thanks to the juniper's delicate flavours.
---
---
Equally worthwhile is a special edition Sunset Gin more recently released, sporting a profile built of strawberry gum and bush apple alongside juniper and rosella. The highly flavourful gin won Double Gold at the San Francisco World Spirits Competition for 2022, so it's worth the $80.
---
Applewood Distillery
Best Australian Gin: Coral Gin
Applewood Distillery pays tribute to Indigenous Australians by using only native ingredients, showcasing the many distinctive flavours of the great southern land with a great sense of vibrancy and flavour. The citrus and spice focus of Apple Distillery's signature would elevate any G&T, but the unique Coral Gin is actually the best from this distillery.
Priced at $70 with a lolly pink hue, the beautifully nuanced gin bangs on the more oceanic and floral flavours you'd find hanging onto to Australian coastline. Seaspray and cliffside succulents have been used with savoury berries to capture the Australian hinterland.
The gin goes well in with a good quality tonic and a slice of ruby grapefruit but the better way to serve this is with some lemon juice and raspberry syrup. It may not look like the hardiest of gins, but it sure echoes that sense of place Applewood Distillery is so good at illustrating with their quintessentially Australian gins.
---
Old Young's Distillery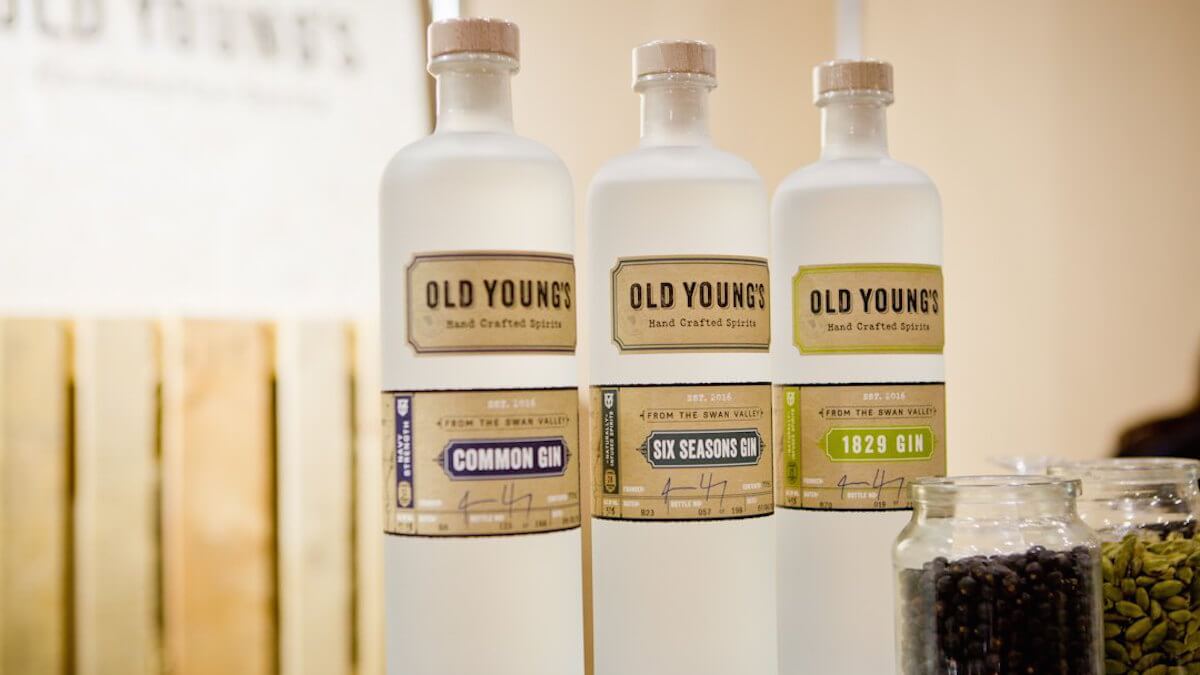 Best Australian Gin: 1829 Gin
With lifted notes of cardamom and coriander, Old Young's 1829 gin is a sure shot for gin drinkers who really like to dial up the spice. The Western Australia distillery is located in Swan Valley and often floats under the radar given it's not from one of the more coveted regions like South Australia, Victoria and New South Wales.
The underrated nature just makes this Aussie gin that much more appealing for gin drinkers wanting to try something new. Yes, you'll get that citrus on the front but I guess it's the team use of rare Tuscan juniper that veers the palate to something deeper and more opulent on the back-end. Needless to say, if you want to take your classic martini to the next level, this $75 gin is a no-brainer despite its rather dull-looking bottle.
---
The West Winds Gin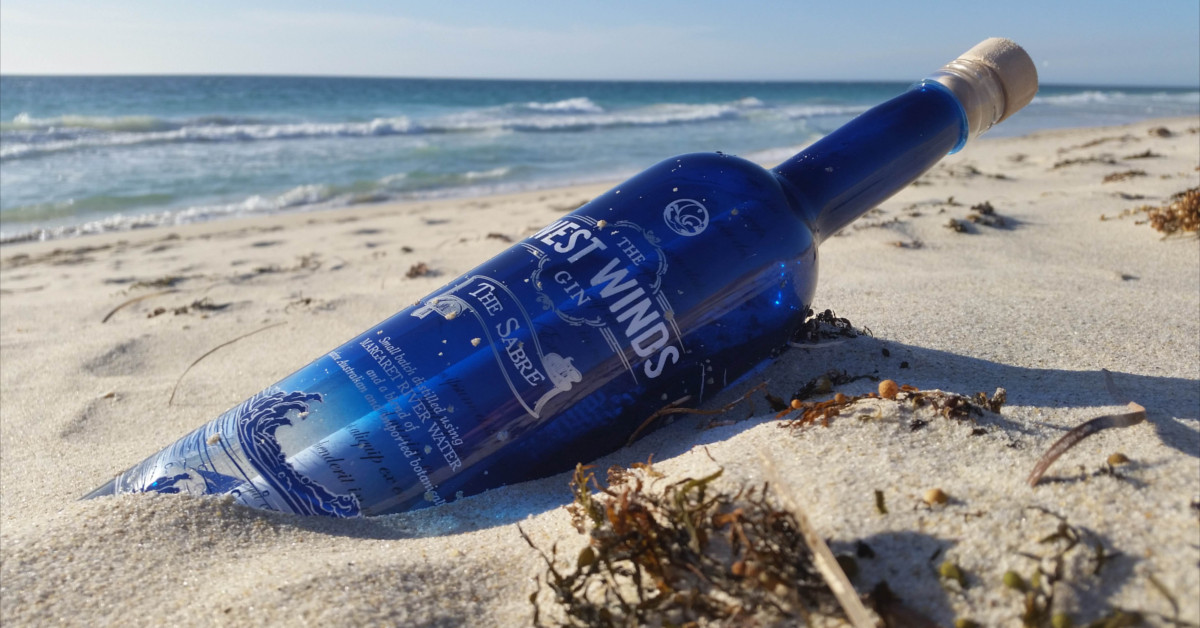 Best Australian Gin: The Sabre
While Old Young's Distillery, listed above, is one of the more relatively obscure distilleries in Western Australia, the same can't be said for The West Winds Gin. Located in the very productive and valuable Margaret River, long known as a hotbed of Australia's finest produce on that side of the country, the distillery uses local botanicals and rainwater to give its signature gins a very clean, pure palate that's open and incredibly adaptable to the various natural flavours. It's easily some of the best gin Australia has seen to date.
The Sabre, West Wind's flagship offering, started winning awards just one month after it launched. Bright and aromatic, it's not hard to taste why this is known as one of the very best gins in Australia, drawing some creaminess from the use of wattleseeds but managing a very balanced overarching palate of juniper and coriander seed. What's even better is that The Sabre is one of the least expensive premium gins you can find in Australia, with a very reasonable RRP of $60.
---
---
---
Melbourne Gin Company
Best Australian Gin: Dry Gin
Established in 2012, Melbourne Gin Company has become one of the more ubiquitous along the east coast of Australia, consistently producing award-winning gins out of the Yarra Valley. And while plenty of different gins have popped up from the company in recent years, it's the classic Dry Gin that's still our top pick and a no-brainer when looking for the best gin Australia has on offer.
Along with rainwater from Gembrook, the very modern gin maintains an open palate to let those 11 botanicals really come through, lifting all the exotics to the front so what you'll get is a lot of angelica root, orris root and cassia park before a mid-palate rush of macadamia, sandalwood, honey lemon myrtle, grapefruit and organic navel orange. Although it all comes back to juniper in the end, this well-rounded and very smooth gin is considerably complex for something so classic in style.
---
Patient Wolf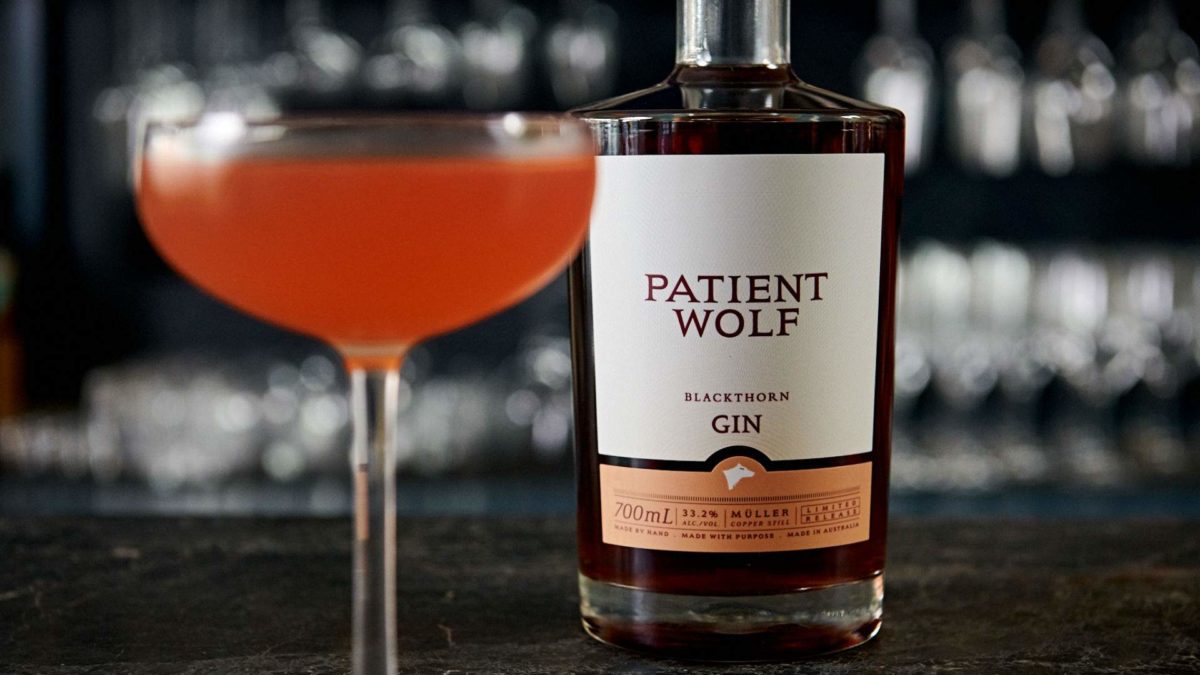 Best Australian Gin: Blackthorn Gin
Started by a pair of Brunswick mates, Patient Wolf has perfected the art of a true Aussie sloe gin. While the company also makes a cracking premium dry gin, it's their take on a classic sloe that's so interesting, featuring freshly handpicked sloe berries that have been steeped in Melbourne Dry Gin before being lightly sweetened and released.
The best part here is that the Blackthorn Gin isn't as sugary and syrupy as some of the lesser sloe gins out there, retaining a rather solid backbone that's richly layered with juniper and spice to help with the long and very dry finish. Throw this one into a negroni and thank us later.
---
The Canna Co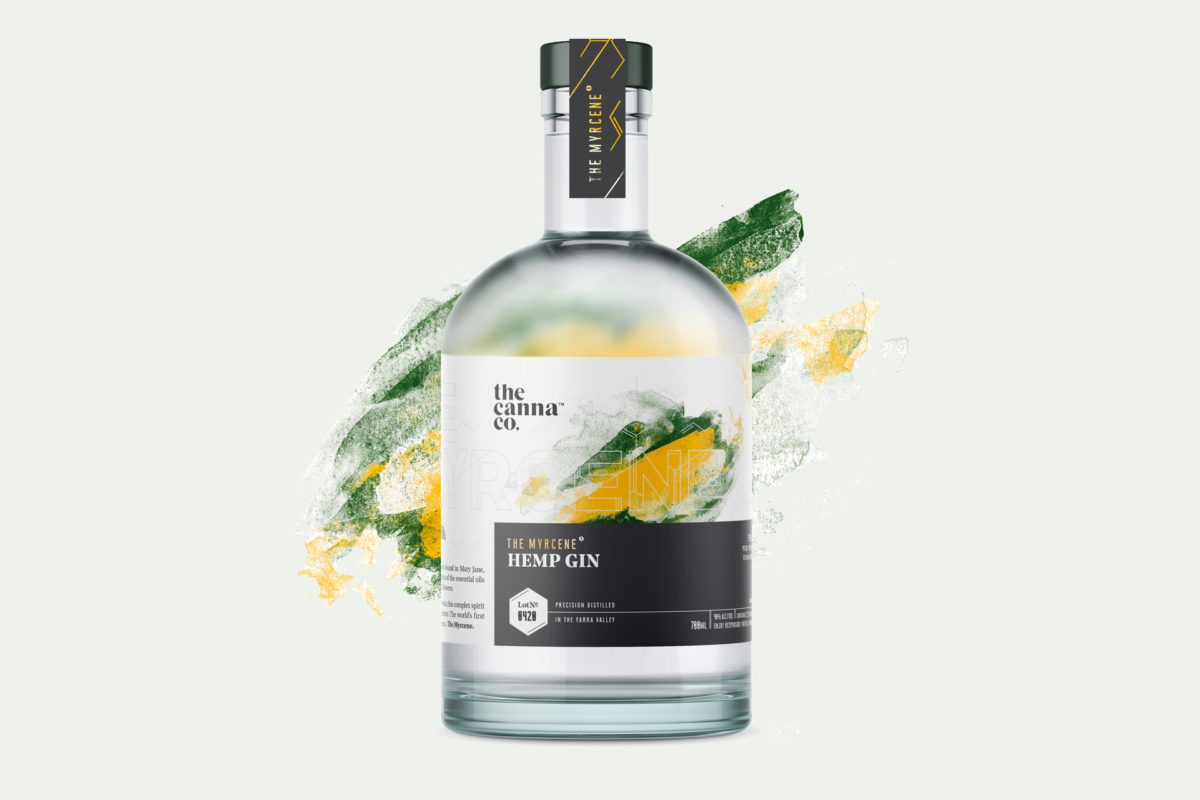 Best Australian Gin: Myrcene Hemp Gin
Cannabis-infused products may still be nascent afterthoughts in Australia, with the country nowhere near the level you'd find over in the US. Back in 2018, The Canna Co (formerly known as The Cannabis Company) – an ambitious Melbourne startup – set out to change that and ended up creating what is now the only cannabis alcohol to ever win an award at the San Francisco World Spirits Competition.
Although it's divisive – you'll definitely have at least one mate who hates it with a passion – the Myrcene Hemp Gin is small-batch crafted in Healesville and helps cut through the Myrcene essential oil, which is the most abundant terpene in cannabis, by using lavender, pine forest and sage along with more woodland flavours like rosemary, resin, cloves and woody spices.
The complex bill is held together tightly by juniper, retaining a really solid structure that holds incredibly well in a G&T and even better in a negroni. As long as you're willing to fork out $100 for a divisive gin that you may or may not like, it's well worth having a bottle of Myrcene sitting on your shelf.
---
The Abel Gin Co.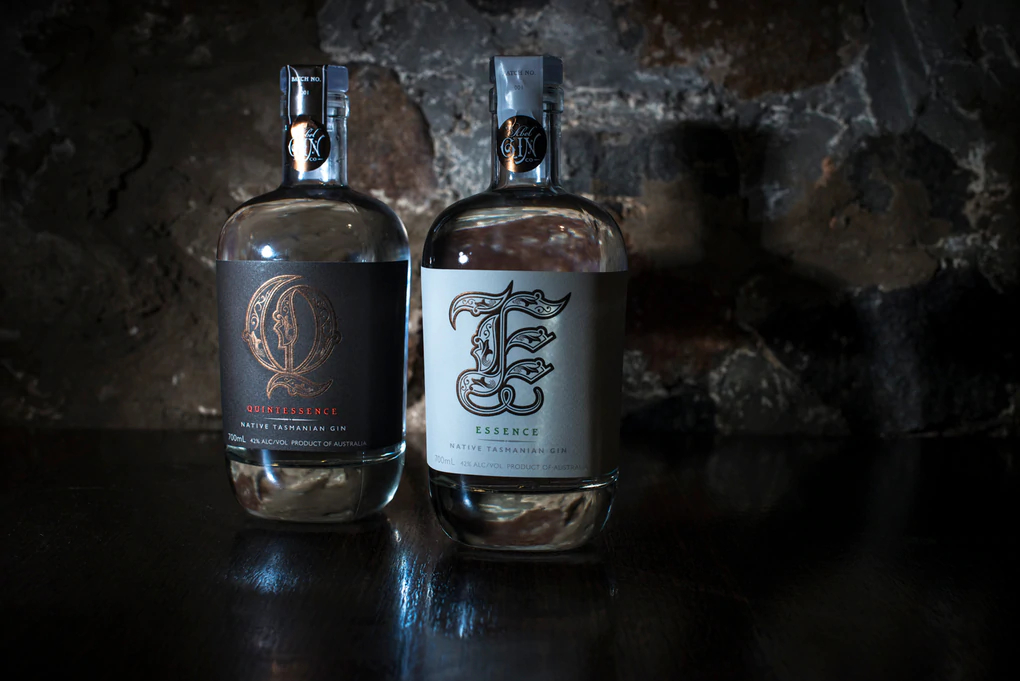 Best Australian Gin: Essence Gin
Crafted by a former winemaker and restaurateur, this Tasmanian distiller's Essence Gin is a true tribute to the island state. With floral notes coming from local tea tree blossoms and roses, its fine taste is a delicate accompaniment to a G&T and a sophisticated alternative when you're looking for something a bit different to the classic dry style gin.
But of course, that's no surprise. Tasmania has long been the seat of some of Australia's finest distilleries across numerous spirits, so seeing The Abel Gin Co set itself apart successfully is just a testament to Tassie being our most valuable produce basket.
You'll be paying a bit of a premium for it though. At $83, Essence Gin is one of the priciest on this list but forking out the extra $10 really isn't much considering you'll have a great time playing around with this in your favourite gin cocktails.
---
Forty Spotted Gin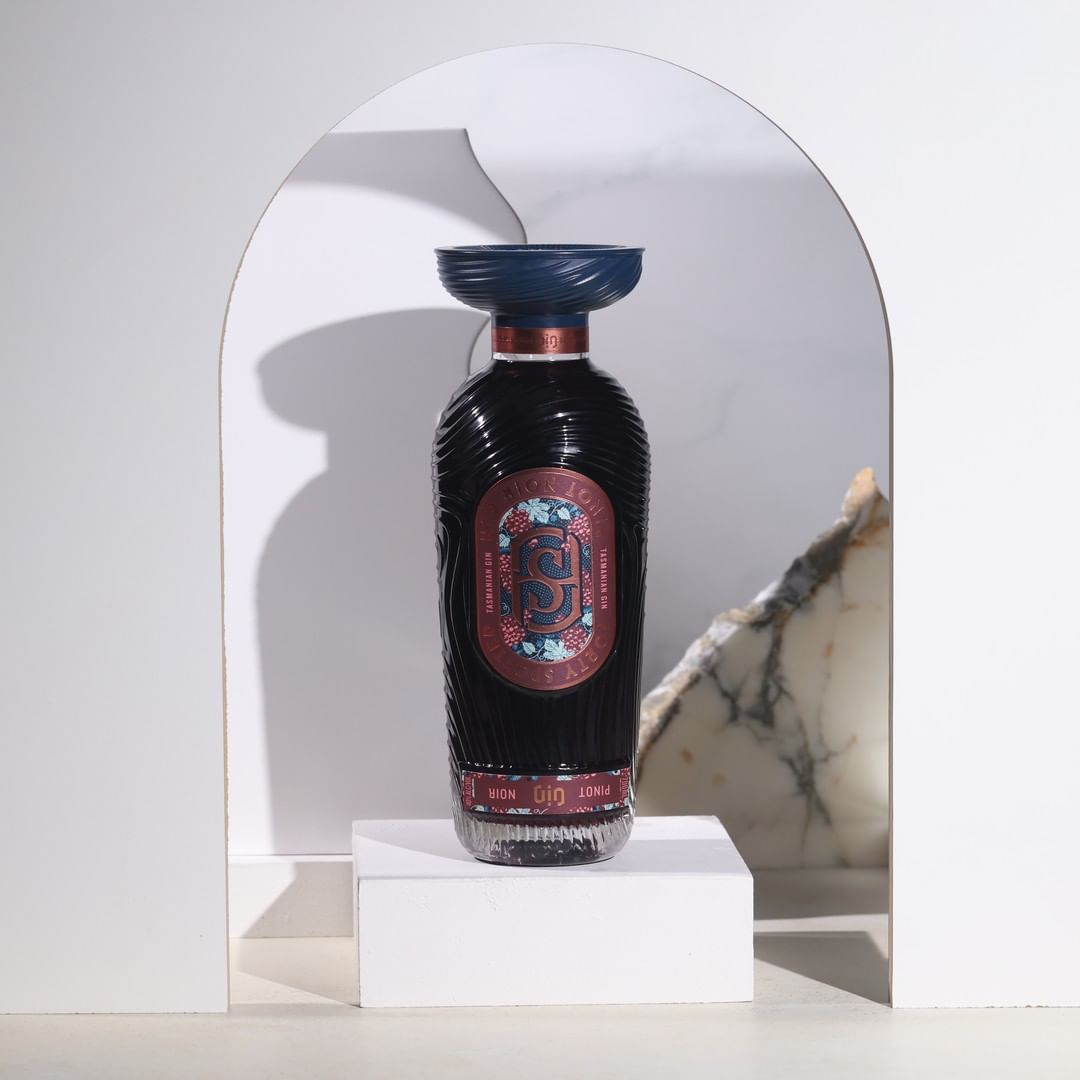 Best Australian Gin: Pinot Noir Gin
Although Forty Spotted's Rare Tasmanian Gin has become the flagship for Lark Distillery, more and more accolades are pointing towards Pinot Noir Gin being one of the best to come from the island state.
Using Tassie Pinot Noir grapes with a firm grasp on warm spices and a slightly tangy edge from Tasmanian pepperberry, this entry into the great grape-infused gin boom is a very worthy alternative if you've been trying to get your hands across a Four Pillars Bloody Shiraz Gin to no avail. This isn't a compromise, and at times this Pinot Noir based gin is actually preferable thanks to a more subtle spice on the finish.
---
Bass & Flinders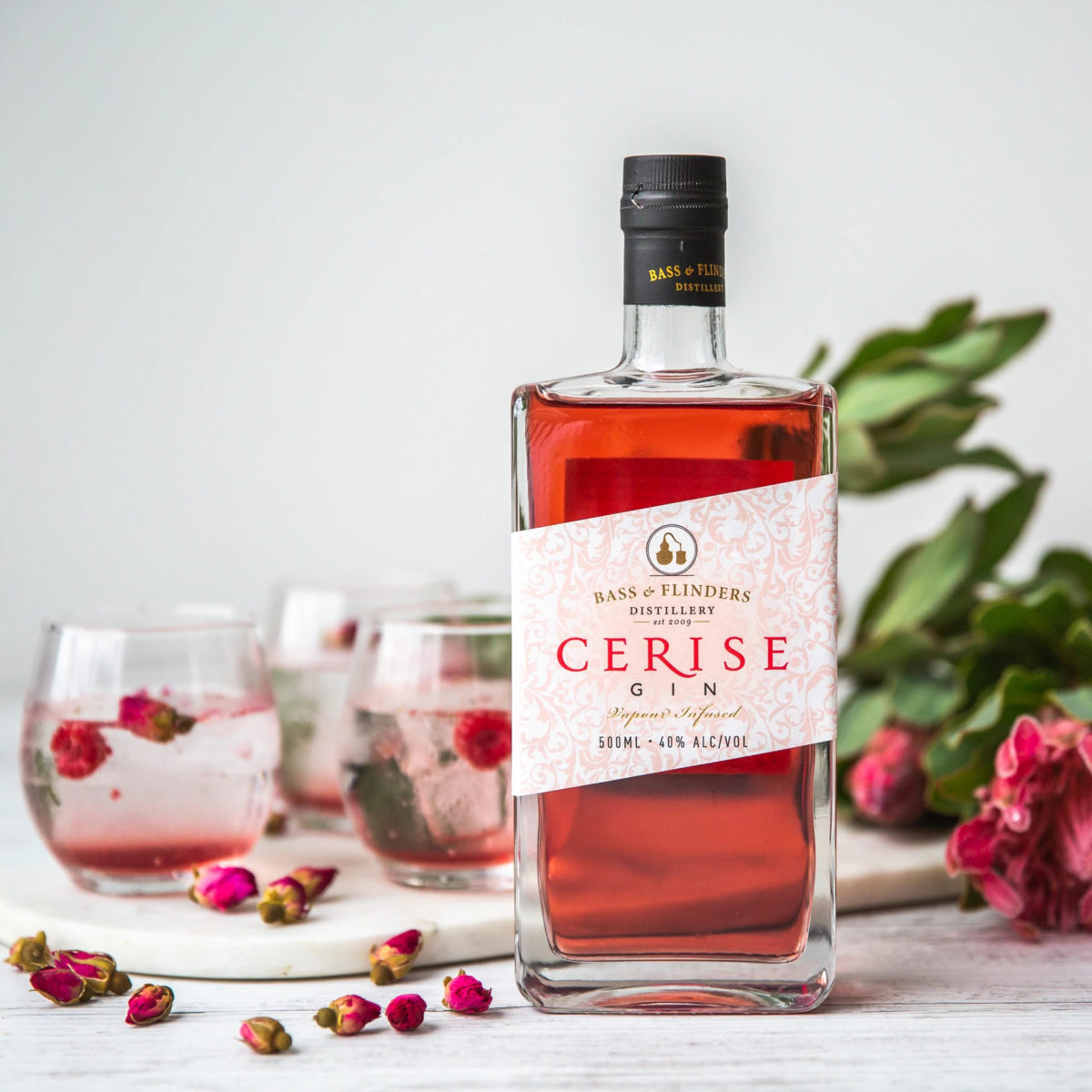 Best Australian Gin: Cerise Gin
As one of the more expensive gins on this list, Cerise Gin from Bass & Flinders is appropriately premium both in look and style. Cherry, raspberry and vanilla help bring a different dimension to gin, softening the juniper berries by leaning closer to a dessert-style gin, complemented by hibiscus rosella and a hint of orange for some of the best gin Australia has on offer.
Although when you think about dessert and spirits you'll usually want to reach for a whisky, like the recently released The Macallan Rich Cocao, this elegant 100% shiraz-based gin is a nice alternative for when you're feeling something a bit sweeter and comforting. Use it to sweeten up a negroni and you'll see what I mean.
---
Best Gin Australia Has To Offer – Frequently Asked Questions
What makes Australian gin unique?
Australia was made for gin production. There are so many unique and rich botanicals grown in Australia so it's no surprise that Australian gin is considered some of the most forward-thinking and flavourful in the world.
What are the best Australian gins to buy right now?
Some of the best Australian gins to buy right now include Never Never Distilling Co.'s Triple Juniper Gin, Four Pillars Bloody Shiraz Gin, Forty Spotted Pinot Noir Gin and Adelaide Hills Distillery 78˚ Classic Gin.
Who makes the best gin in Australia?
While there are countless distilleries producing gin in Australia, some of the most reliable names include Never Never Distilling Co, Four Pillars, Adelaide Hills, Patient Wolf and the West Winds Gin.