American rye whiskey is always going to be a mainstay of the industry, constantly muscling through with its spicy, savoury palate in an eternal struggle against bourbon's sweet tooth. No matter how many times the love of rye whiskey is overshadowed by the popularity of American bourbon, it's clear that no whiskey lover's collection is complete without several of the best rye whiskeys sitting on that shelf. No idea where to start? You've come to the right place.
If you've already had your fill of Australian whiskies, and you've spent a considerable amount of cash building up a Japanese whisky collection, skew your tastes towards something a bit drier and more savoury. American rye whiskeys come with a considerable history behind them, leaving the disastrous prohibition-era behind and trailing a great renaissance that has helped ferry the American whiskey industry in the modern age.
What is Rye Whiskey?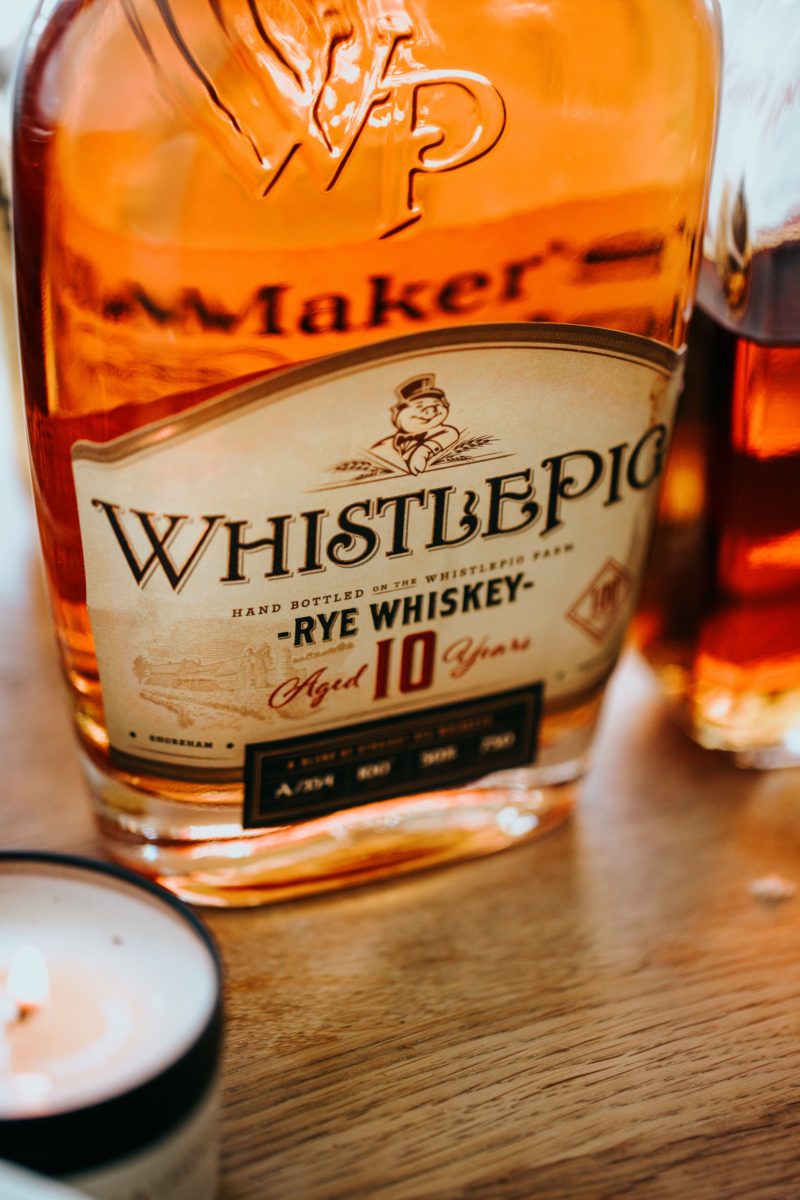 First, let's get the nomenclature out of the way. It isn't "best rye whiskies," nor is it "rye whisky". You've got the 'e' here, simply because rye whiskey is staunchly American (or, in some cases, North American) in character and production.
---
---
Rye whiskey is tightly defined with a mash bill of at least 51% rye, which is usually complemented by varying degrees of corn and malted barley. This typically means that rye distillers use around 5 times the amount of rye that you'd find in a bourbon, which translates to 5 times the amount of spice. Compare this to a bourbon's corn-driven, syrupy sweetness, and it wouldn't be hard to pick apart straight rye from straight bourbon in a blind taste test.
Problem is, rye is tougher to sell than bourbon, for obvious reasons. The latter is always going to be more palatable and is more popular amongst bartenders who want their cocktails to be sweeter, not drier.
As such, a lot of the best rye whiskeys use plenty of corn in their recipe as well, often relegating the spice to a supporting role. A more reasonable expectation from the palate of your typical rye whiskey would be a spicy front-palate of peppery fruits and mint, gradually melting into those more caramel notes on the finish. Rye lovers swear by this kind of complexity, and those with a taste for something a bit more sophisticated than a bourbon would agree that very little compares to the best rye whiskeys.
Our Top 11 Rye Whikeys For 2021
Van Winkle Family Reserve 13 Year Old Straight Rye Whiskey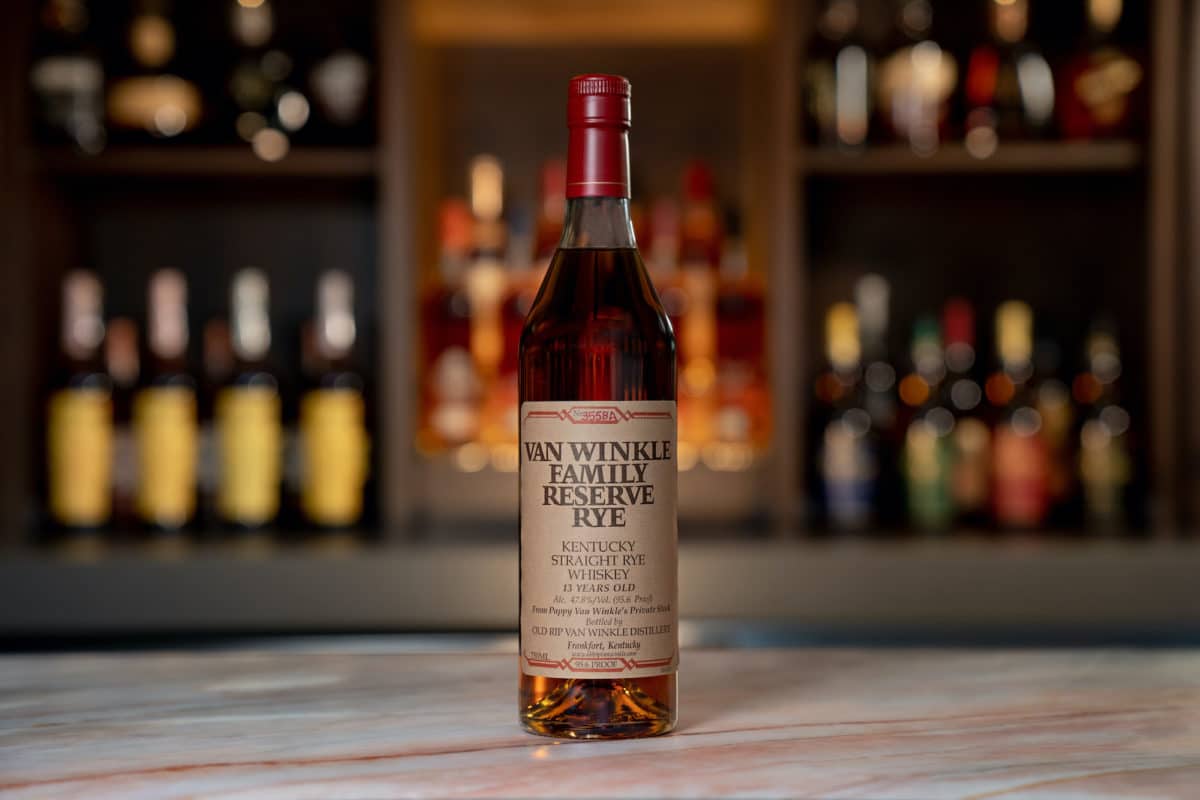 We might as well kick this list of the best rye whiskeys off with what is arguably the most sought-after rye whiskey in the world. That'd be Van Winkle Family Reserve, a prestigious expression from the category-leading Buffalo Trace Distillery, sharing the same company as the signature Buffalo Trace brand, as well as Eagle Rare, Colonel E.H Taylor, and Sazerac Rye.
Stamped with a glowing score of 94 in Jim Murray's authoritative whisky bible, this is one of the oldest rye whiskeys available on the market, and the maturity is obvious. From the textured nose of chestnuts and spice, through to the palate of cocoa, white pepper, and vanilla, and the long finish of complex caramels, there's no mystery as to why this is the top choice when the more discerning whisky lovers are after a rye whiskey that really elevates the category.
Expect to pay a pretty price. Anything bottled by the Old Rip Van Winkle Distillery in Frankfort, Kentucky is typically hard to come across in Australia. Wading through the rarity is worth it though, especially if you're after a rye whiskey that's sure to impress, whether as a dram over ice, or in a hardy Old Fashioned.
---
Elijah Craig Rye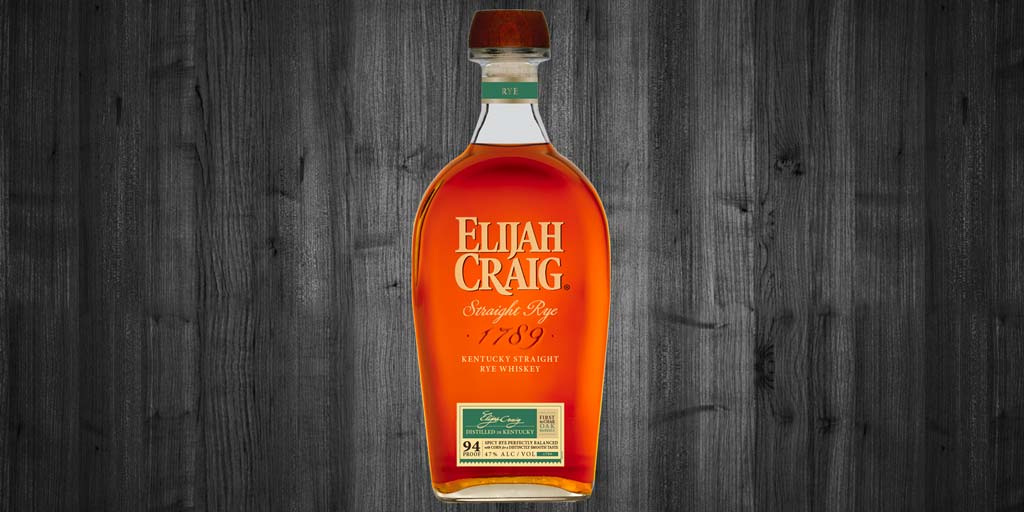 Elijah Craig is best known for producing some of America's most popular modern bourbon, but its producer, Heaven Hill Distillery, switched it up in 2019 by introducing their very first rye to the mix. Although I use the term rye very lightly. Elijah Craig Rye falls into that category of "barely legal rye" that could just as easily be mistaken for a bourbon, due to its mash bill of 51% rye, 35% corn, and 14% malted barley.
---
---
As good as rye is, bourbon is always going to sell better. And this kind of mash bill is more common than most would like to admit, as it's what drove the rye resurgence post-prohibition and made the category a bit more palatable for the mainstream. So seeing barely legal rye being sold isn't that much of a surprise for a commercially-minded distillery. The problem is, not many of them are actually any good. This one is, and it's a testament to how reliable Heaven Hill has been throughout the years.
The Kentucky straight rye whiskey brings a lot of black pepper and summer fruits to the nose, which is a bit deceptive as the palate is more caramel sweetness. The rye character subtly comes through towards the end, with nutmeg and rye grain sneaking in beneath that overarching sweetness. And yes, it's pretty much bourbon at this point, except when you get to that lasting rye spice on the finish, which brings in the intensity and is the primary reason we're including it on this list. Consider it a hybrid if you will, a betrayal at worst, but there's no denying that the Elijah Craig Rye redeems itself by the end.
---
Sazerac Rye 18 Year Old Rye Whiskey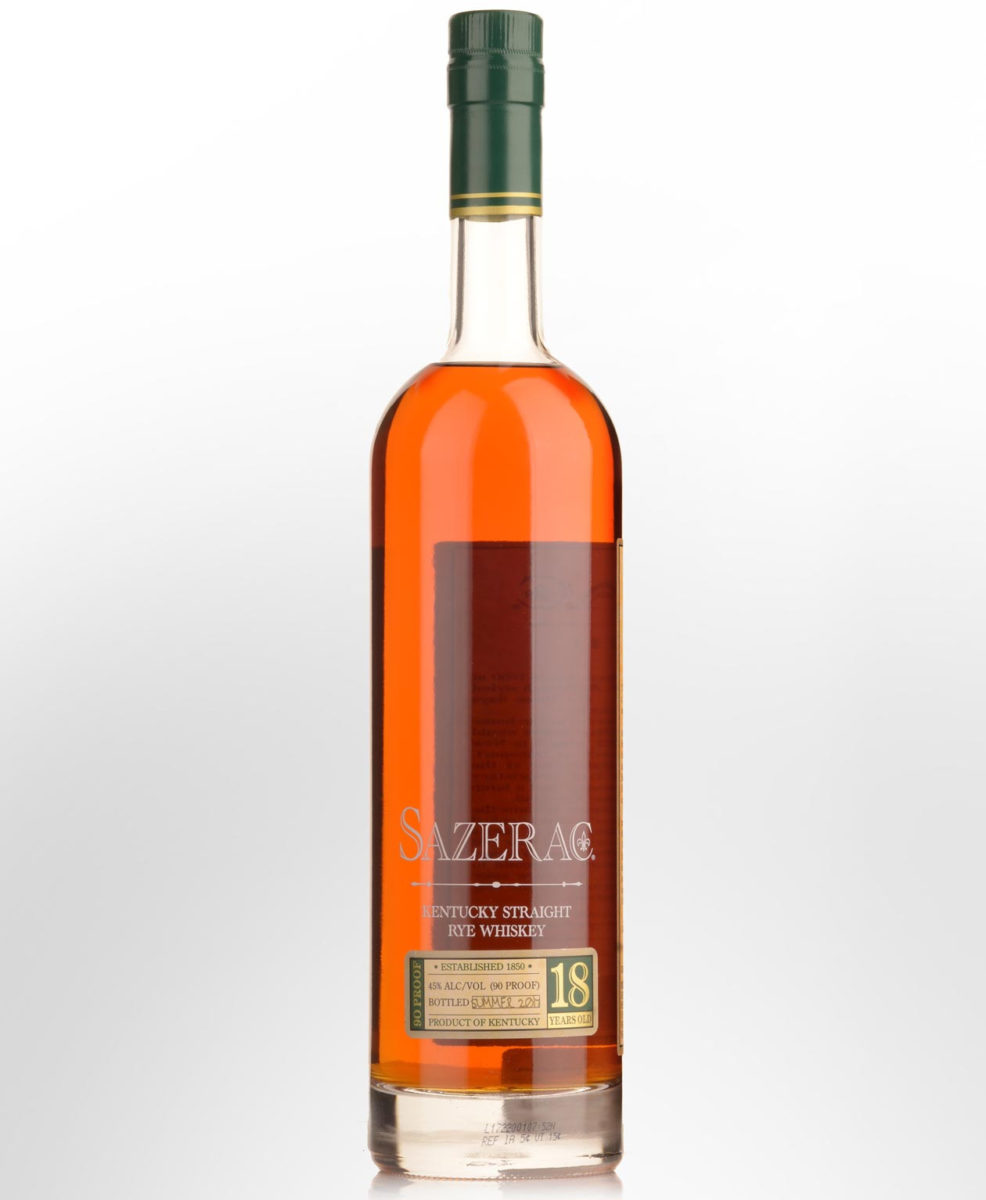 Mining the Buffalo Trace Antique Collection is usually the best way to zone in one of the best rye whiskeys for your collection. After all, Buffalo Trace is the most awarded distillery in the world and is regularly cited as Distillery of the Year on numerous panels. Their "best of the best" collection includes this highly prized Sazerac Rye 18-Year-Old, a yearly release that has been a favourite amongst rye whiskey fans since 2000.
Double distilled and driven mainly by Minnesota rye, this beastly expression is a tough, 90-proof showcase of mellow baking spices and dry sweetness overlapping the more subtle notes of cinnamon, pepper, and vanilla. It's, of course, shaped as a homage to the Sazerac Coffee House, which was founded in 1850 on Exchange Aley in New Orleans, and has the distinction of being the home of the Sazerac cocktail – widely regarded as "America's First Cocktail."
Much like the other Buffalo Trace legends, it's hard to come across this beauty in Australia. When you do, expect to fork out anywhere between $1,000 and $1,500.
---
White Dog Rye Mash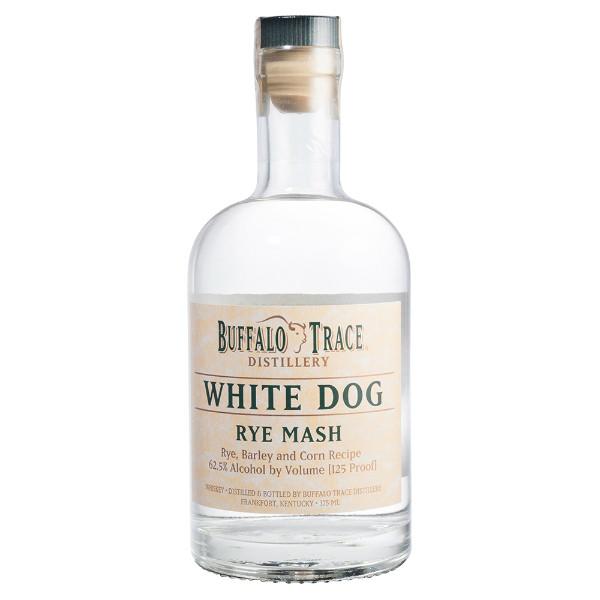 The White Dog Rye Mash is the definition of no-holds-barred, nodding to the fact that some of the first whiskey distilled in American was straight rye, and making absolutely no apologies about the gloriously high-proof distillate. You're looking at a 62.5% ABV with this one, which slips right down the gullet with a serious hold on spicy rye, tempered by some hot buttered corn on the palate to help smooth it all out, and a bready character – almost like rye bread.
The young, naked whiskey might not work as well with cocktails unless you're looking to add a bit of a dry, spicy profile. But you'll be damn glad you had this one on hand when your mate asks for something extra stiff. If you're knocking this back straight, it might be hard to pry apart the differences between the White Dog Rye Mash and a smooth Moonshine, but once that finish leaves its impression, there's no mistaking for this for anything but a rye whiskey. And for those who like it extra strong, consider this amongst the best rye whiskey you can have sitting on that shelf.
---
Russell's Reserve 6 Year Rye Whiskey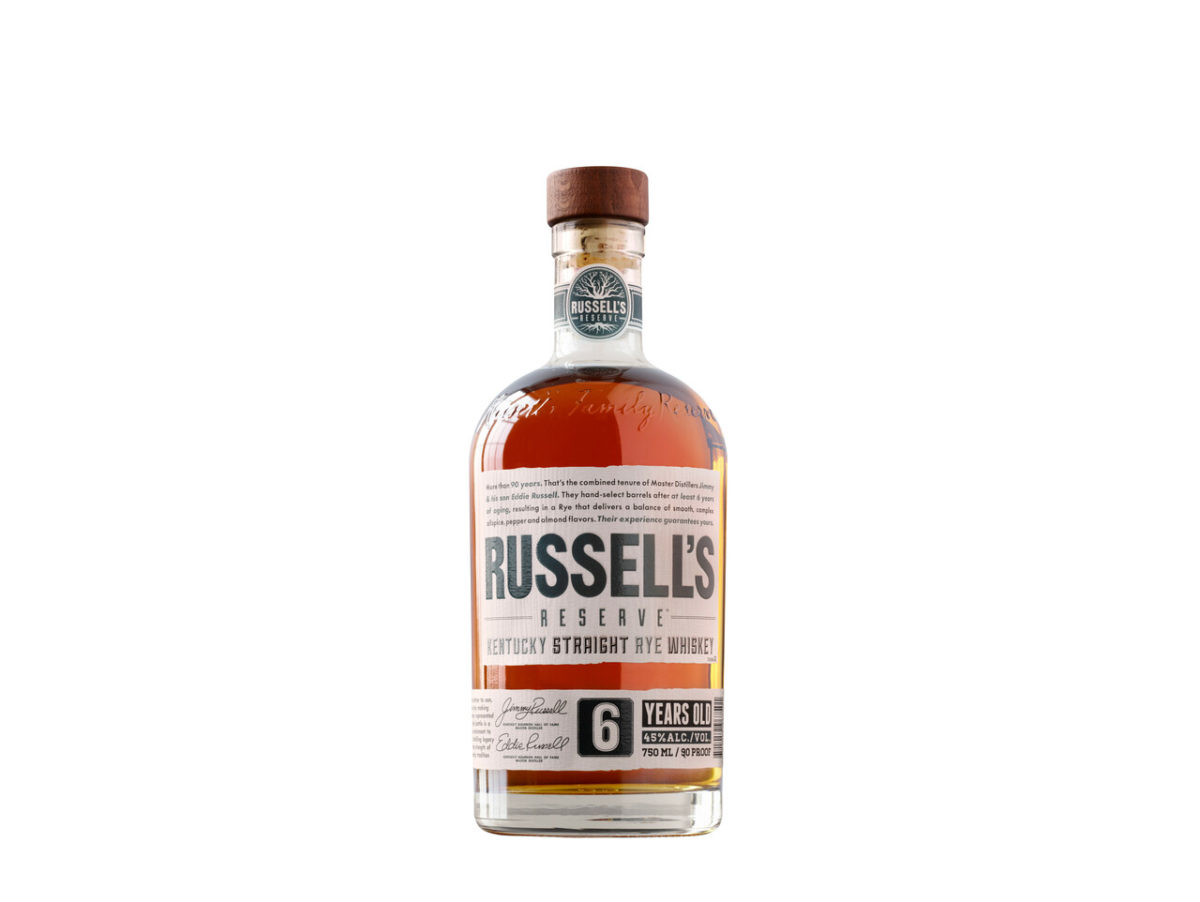 The team at Wild Turkey released the Russell's Reserve 6-Year-Old Rye Whiskey back in 2007, and it's been a staple at American cocktail bars ever since. The best value here is for an Old Fashioned that needs a heavy dose of spice. Much like the Elijah Craig Rye, the mash bill plays it dangerously closed to bourbon (52% rye, 36% corn, 12% barley), so it's safe to expect something a bit sweeter and more complex from the relatively low-proof rye whiskey.
---
---
Low proof rye whiskeys are generally better for cocktails, but sipping this one neat is perfectly fine. Especially when you've got a creamy palate that's bursting with sugar, vanilla, and a faint charred oak to help reign in those baking spices characteristic of a classic rye mash bill and the charred oak barrels this the liquid is taken from.
It's also a nice little number if you're looking for a cheap Kentucky rye whiskey that doesn't skimp on quality.
---
Whistlepig 10 Year Old Straight Rye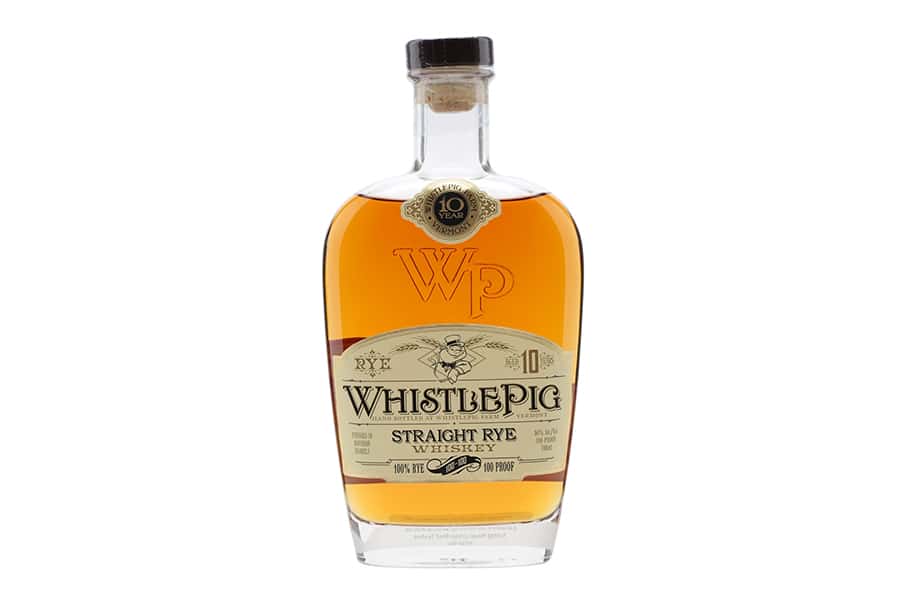 Here's one of the better-known rye whiskeys and often what the first sip you'd get if you rocked up to any bar outside of America and asked for stiff single barrel rye. This rye whiskey isn't without a bit of controversy though. For a while, WhistlePig claimed that the rye was made in Vermont when it was really made of imported straight rye whiskey from Canada. That's thankfully changed now, and WhistlePig is hand bottled at 100-proof (50% ABV) on a farm in Shoreham, Vermont, although they still source a lot of their whiskeys from Canada, and Indiana.
It's far from a cheap rye whiskey, with WhistlePig typically synonymous with premium in the category. Not as premium as some Van Winkle, but certainly up there nonetheless. This has a lot to do with the very refined palate you can expect, with the typical nose of allspice followed through with vanilla and caramel on the front, and mint and rye spice on the back. The butterscotch finish screams bourbon, but you'd be hard-pressed finding a rye loyalist that doesn't enjoy this straight rye whiskey every now and then.
---
Whistlepig Boss Hog VII: Magellan's Atlantic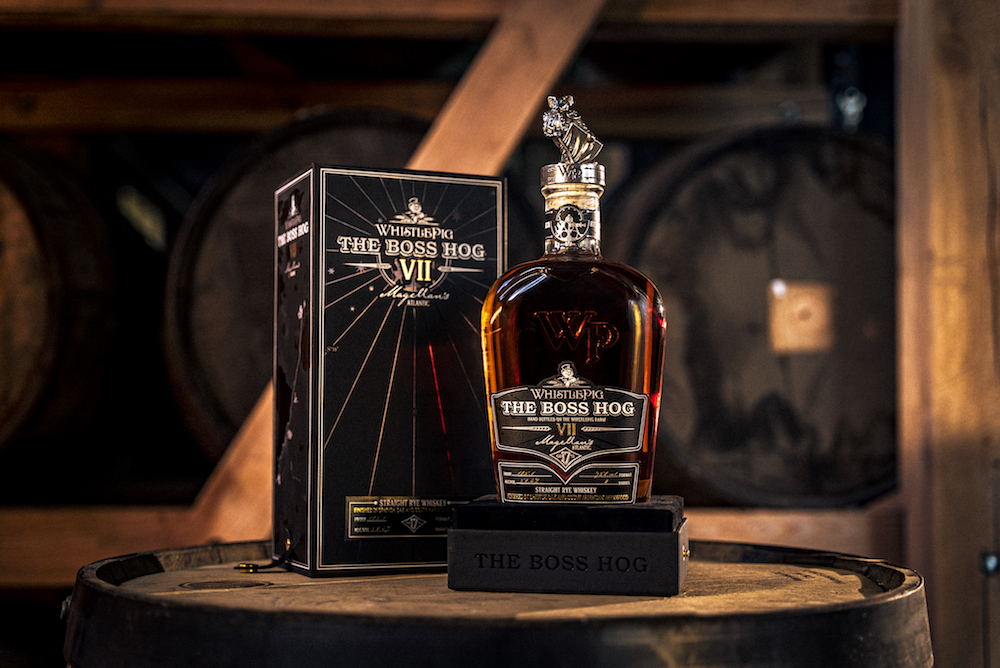 Here's another one from Whistlepig that's well worth a mention on this list of best rye whiskeys. The Boss Hog VII: Magellan's Atlantic is the Vermont distillery's most adventurous release to date, starting on a base of 17-year-old rye aged in American oak, then hopping across to spend 3 weeks in Spanish oak, and 3 days in South American teak oak.
The complexity is clear for those who have been lucky enough to get their hands across this bottle, which can easily fetch over $1,000 in Australia. The incensed palate of spice, sandalwood, and cinnamon is a nice break from your typical rye whiskey, and it's all pulled together by that caramel sweetness that creeps in underneath and takes over on the finish.
It's rare, but worth the effort.
---
Angel's Envy Finished Rye Whiskey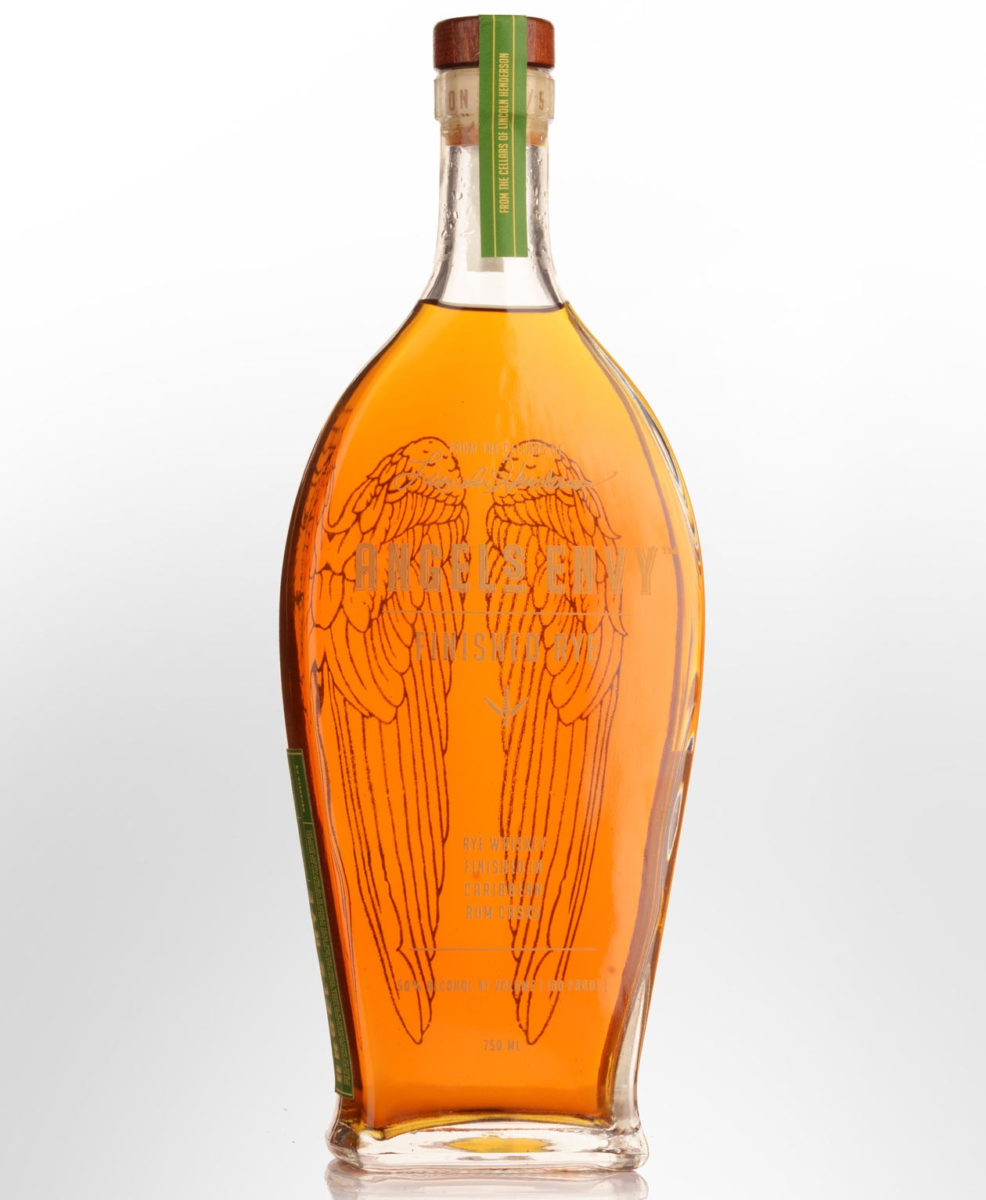 A bit of rum character goes a long way with Angel's Envy Finished Rye Whiskey. Like most of the rye whiskies on this list, consider yourself lucky if you come across a bottle. Stock always sells out ridiculously fast, with this 95% rye whiskey getting most of its distinction from being finished in Caribbean rum casks.
---
---
The result is clear. Vibrant, spicy notes of cinnamon and mint are folded through rich maple syrup, nutty toffee, subtle tropical fruit, and a dry character that's been described as resembling graham crackers. Reviews often refer to this rye whiskey as "high-testosterone," so don't let that tropical fruit flavour trick you into thinking this is anything but rough-and-tumble rye more than ready to give those classic cocktails a swift kick.
---
High West Double Rye Whiskey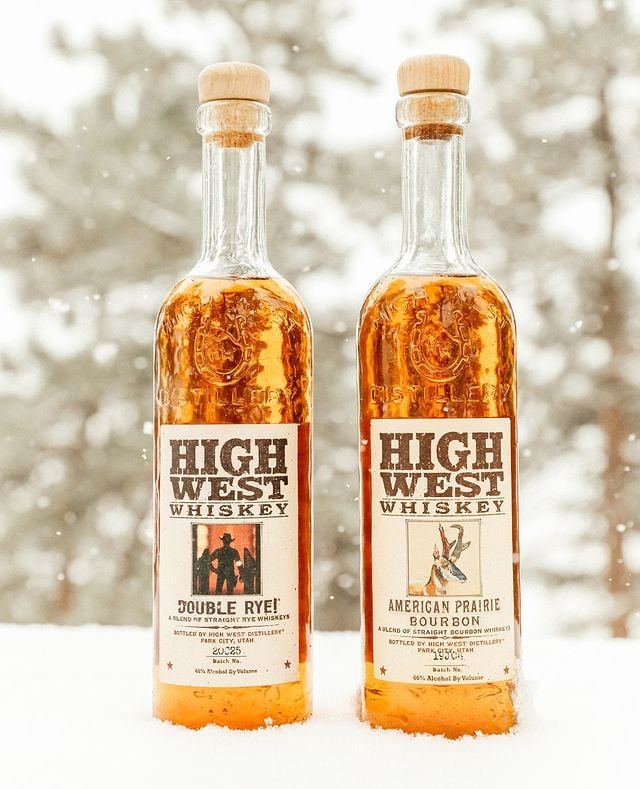 You're probably sick of hearing about rye whiskeys where you'll have to put in massive effort to even get your hands on a bottle. High West Double Rye Whiskey is your very affordable, relatively accessible solution. It's not hard to spot this on the shelf at your local liquor store, with the spicy rye an easy favourite amongst Aussie bartenders thanks to its unusual combination of charred oak, vanilla wafer, clove, muddled mint, apple strudel, and dried banana.
The High West Rendezvous Rye is just as popular, but the Double Rye is a bit more refined and softer, making it work much better in cocktails that need a bit of uniqueness to the palate. It helps that High West is one of those rye whiskey brands that's got plenty of clout in the industry, and while it may not have the allure of Whistlepig or the rarity of Van Winkle, you're still going to impress by pulling a bottle of this from behind your home bar.
---
Colonel E.H Taylor Straight Rye Whiskey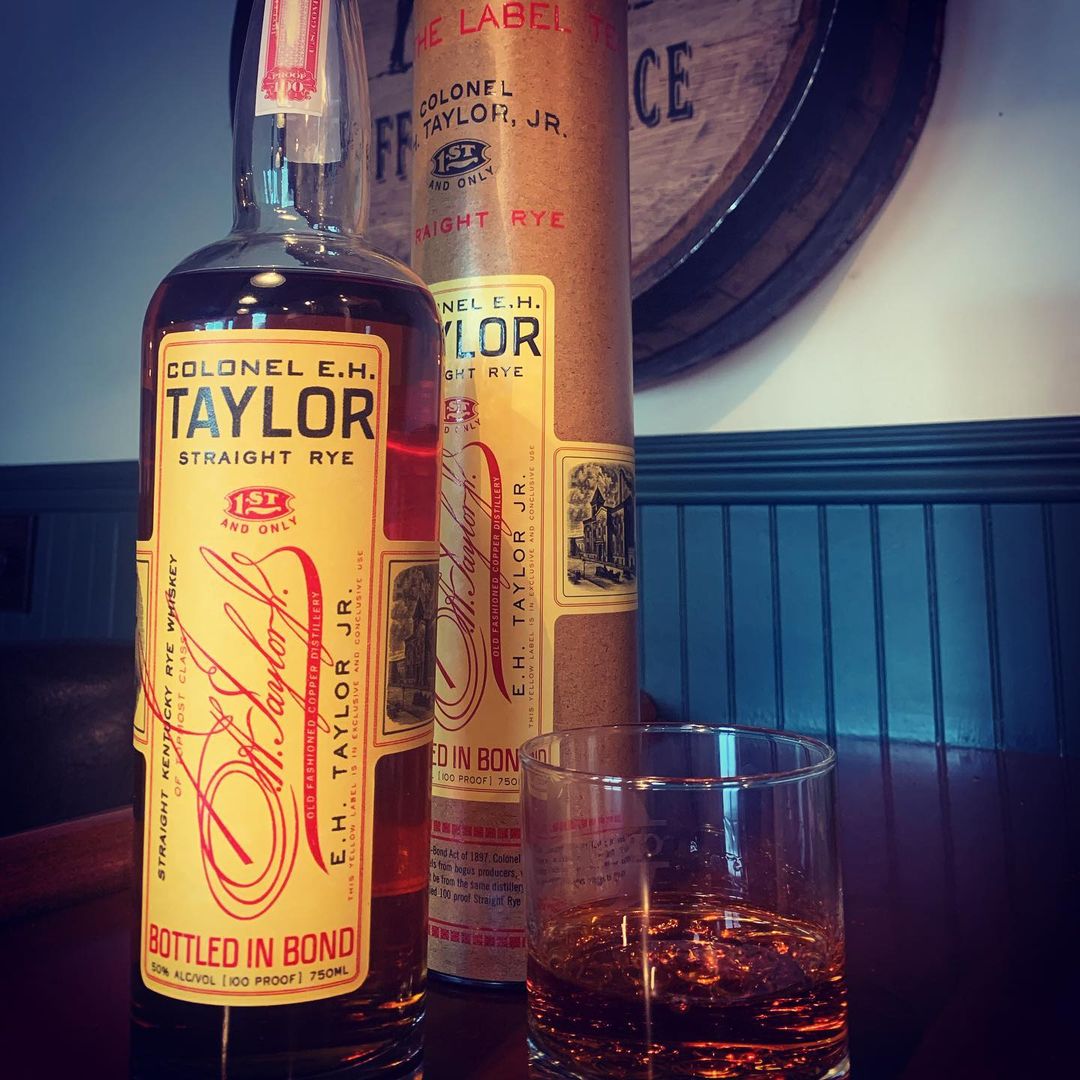 Back to the rarities. Coming straight from Buffalo Trace's acclaimed E.H. Taylor lineup, this is one straight rye whiskey with a serious herby kick. It's bottled in bond, meaning it is the product of a single distiller in a single season and aged for a minimum of 4 years in a federally bonded warehouse before being bottled at 50% ABV, and is distinctly different from much of the other ryes you'd come across from Buffalo Trace.
The difference is that, unlike Sazerac Rye, the Colonel E.H. Taylor Straight Rye has a mash bill that doesn't use any corn at all – just rye and malted barley. You can forget the bourbon sweetness in this case, instead of tipping towards more savoury flavours with a lot of dried fruit, black pepper, and fresh dill on the nose, followed by dark spices from the front to back palate. That oaky dry finish caps it off nicely, making this a clear favourite for those who like their malted rye whiskey super hard.
---
Rittenhouse Bottled In Bond Straight Rye Whisky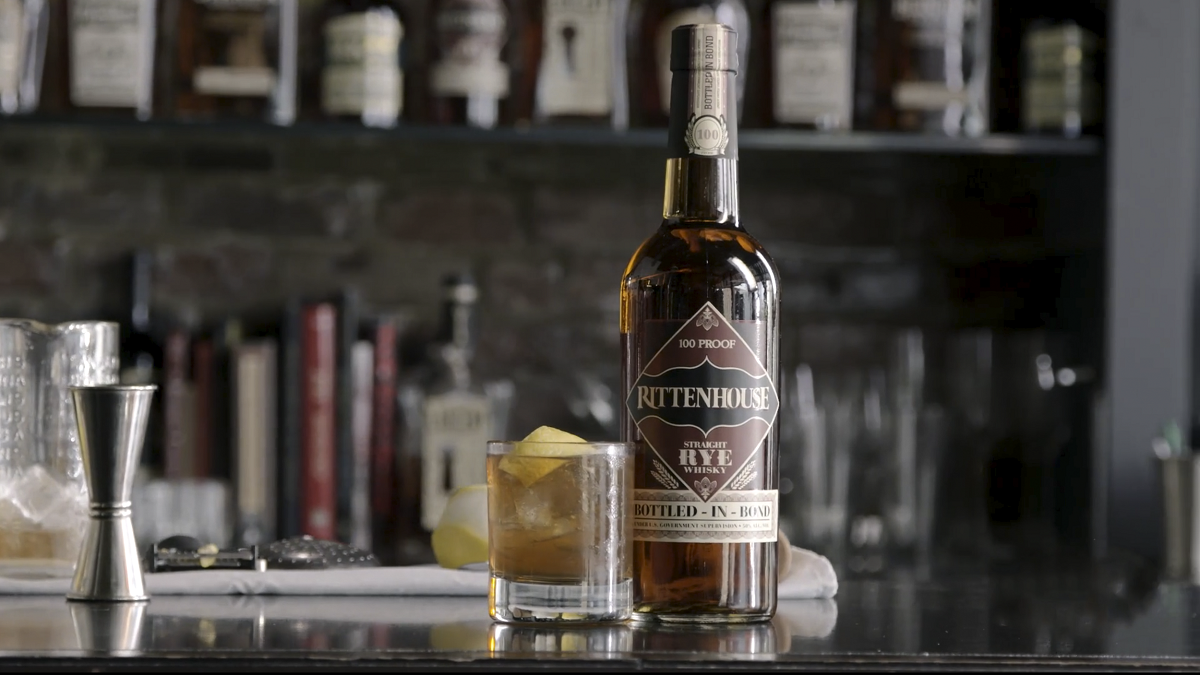 Big, bold, and easily accessible across Australia (it's stocked at Dan Murphy's), the Rittenhouse Bottled In Bond Straight Rye Whiskey is a gorgeous 100-proof expression that is buoyed by a lot of history. In the rye industry, Heaven Hill Distillery received plenty of accolades by reviving the Rittenhouse Rye brand, which has been around since prohibition.
Dark cherry and vanilla mostly defined the profile here, but those waves of subtle spice overlaid with pipe tobacco and caramel on the finish is what usually wines drinkers over. Use this in an Old Fashioned and watch your mates scramble back for more.
---
Best Rye Whiskeys – Frequently Asked Questions
What are the best rye whiskey brands on the market?
If you want a good, reliable rye whiskey then the brands you should be looking out for are primarily Van Winkle, Sazerac, Whistlepig, and Rittenhouse.
---
---
What's the difference between rye whiskey and bourbon?
The difference is all in the mash bill. If it uses at least 51% rye, then it is a rye whiskey. Conversely, if it uses 51% corn, then it's bourbon. Rye has a spicier kick while bourbon is much sweeter. Note that Canada is a bit less strict on this, so their rye whiskeys may not even contain any rye.
Why is rye whiskey not as popular as bourbon?
Rye whiskey has gone through more ebbs and flows than its sweeter cousin over the years. Since prohibition, rye largely fell out of favour because tastes leaned towards something a bit more complex. At the turn of the century, rye started to mount a swift comeback and is now considered amongst the most popular whiskeys in the world.