Historic single malt scotch whisky – Bowmore – is making a big play for older age-statement releases with their ongoing Timeless Series, this month announcing two new additions: a 27-year-old whisky bottled at a cask strength of 52.7% ABV; the other, a 31-year-old single malt, which spent its last two years in Spanish oak Matusalem Sherry-seasoned butts. Both releases will be strictly limited edition of just 3,000 bottles each.
As the Islay distillery's Master Blender Ron Welsh puts it, the Bowmore Timeless Series was created with the idea of careful selection of the right casks at the right time. Spirits are bottled when they reach their peak and develop the full potential of character, evoking a delicate balance to ensure profiles are optimised to further Bowmore's already solid reputation for consistency, depth, and flavour.
Much like The Macallan did with last year's The Red Collection – which was headlined by a 78-year-old whisky – Bowmore was partnered with an independent filmmaker to put together a short film announcing the new releases. And while The Macallan tapped the abstract mind of Spanish artist Javi Aznarez, Bowmore has called upon the considerable talents of Fresh film director and artist Thomas Vanz.
---
---
Vanz, known for his hypnotic and vivid works typically associated with galactic concerns, has translated the whisky-making process as a rich – as he says – "galaxy of beautiful chemical reactions… made up of complex movements and colours."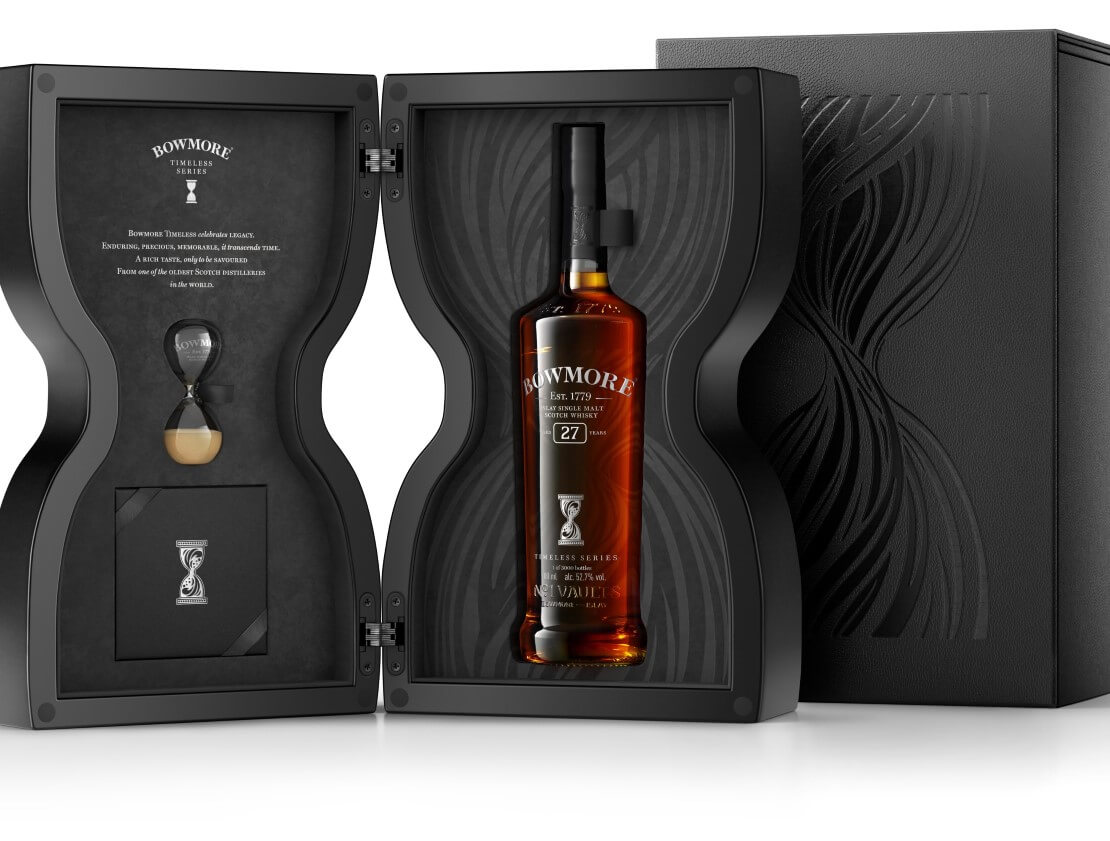 "This is my interpretation of the Bowmore universe, from where it begins to the final character," says Vanz.
"To collaborate with a single malt with such a remarkable legacy and from an awe-inspiring place is a first for me and I relished the opportunity to explore Bowmore in my own way."
The more accessible 27-year-old whisky was matured in Sherry and ex-Bourbon casks for 15 years, followed by 12 years in first-fill oloroso butts, after which it was bottled at the aforementioned cask strength of 52.7% ABV. Official tasting notes describe the whisky as having a primarily fruity flavour with notes of Sherry, fresh leather, tobacco, and beeswax throughout the palate.
The 31-year-old single malt may be a bit harder to get a hold of, but the hard-earned purchase will no doubt be worth it. The whisky was matured in ex-Bourbon casks for 29 years and finished for its final 2 years in Spanish oak Matusalem Sherry-seasoned butts before being bottled at 45.5% ABV. The resulting whisky apparently carries a profile of floral notes, honey and vanilla sweetness, and a lighter note of peppermint.
Each expression comes in a rather dramatic looking black box that also includes an hourglass to nod to the series' name. The 27-year-old will be available for US$1,525 (~AU$1,967), while the 31-year-old will retail for US$2,100 (~AU$2,709).
As mentioned above, the 31-year-old may be a bit harder to find, since it's being released as a Global Travel Retail exclusive. Given international travel is a bit harder to come by at the moment, you might need to jump through a few hoops before getting your hands on this rare whisky. Both whiskies will be released this month.
---
---
Bowmore have created an online digital experience to celebrate the Timeless Series, along with Vanz's dramatic visuals. Head to the link below to check it out.