There are very few home coffee machines that make viable replacements for barista-made coffee, and trying to find one that won't stretch your budget – like a $10,000 La Marzocco GS3 MP commercial machine would – isn't as easy as it may seem, given the amount of variety out there. Yes, there are quite a few that claim to have found the perfect balance between the reasonable price tag of a home coffee machine and the rich detail of a commercial-grade coffee machine, but just as many fail to live up to the hype. The Breville Oracle Touch has, for a good few years now, been an easy exception to that unfortunate rule, more or less delivering what it sets out to do – present the best countertop coffee machine money can buy.
The BH office has been using the Breville Oracle Touch coffee machine for around two months now, and so involved in our daily life it has become that we simply cannot picture a weekday without hearing that integrated conical burr grinder work its way through Single O coffee beans with the sole intention of giving the 58 mm brushed stainless steel portafilter 22 – 26 g of high-quality coffee. Yeah, 26 g. It sounds like a lot of coffee, and it is, but more than not, the results justify whatever the Oracle Touch is doing to deliver those consistent, well-balanced coffee shot of espresso each and every time for use in your morning coffee.
And what is it doing? Quite a lot, really. The Breville Oracle Touch is a semi-automatic coffee machine, which differs from the extremes of a manual coffee machine – where you'll need to do all the work with precision and sophistication to get your perfect extraction – and a fully automatic coffee machine – where you'll need to be quite adept at pushing a single button and watching lazily as the machine does everything for you with little to no nuance. Both extremes have their limitations, and so consider the Breville Oracle Touch a happy medium – a rare balancing act that demands (and deserves) a standing ovation each and every time it juices out that near-perfect coffee shot.
---
---
I write "near-perfect" because Breville the Oracle Touch isn't without its issues, from a slightly overzealous steam wand from the dedicated steam boiler, that can puff up milk excessively at times, to the fact that you can't adjust the dose of coffee delivered into the portafilter for tamping unless you play around with the hardware inside.
RELATED: The Best Coffee Machine For Home Baristas In Australia
Breville Oracle Touch Design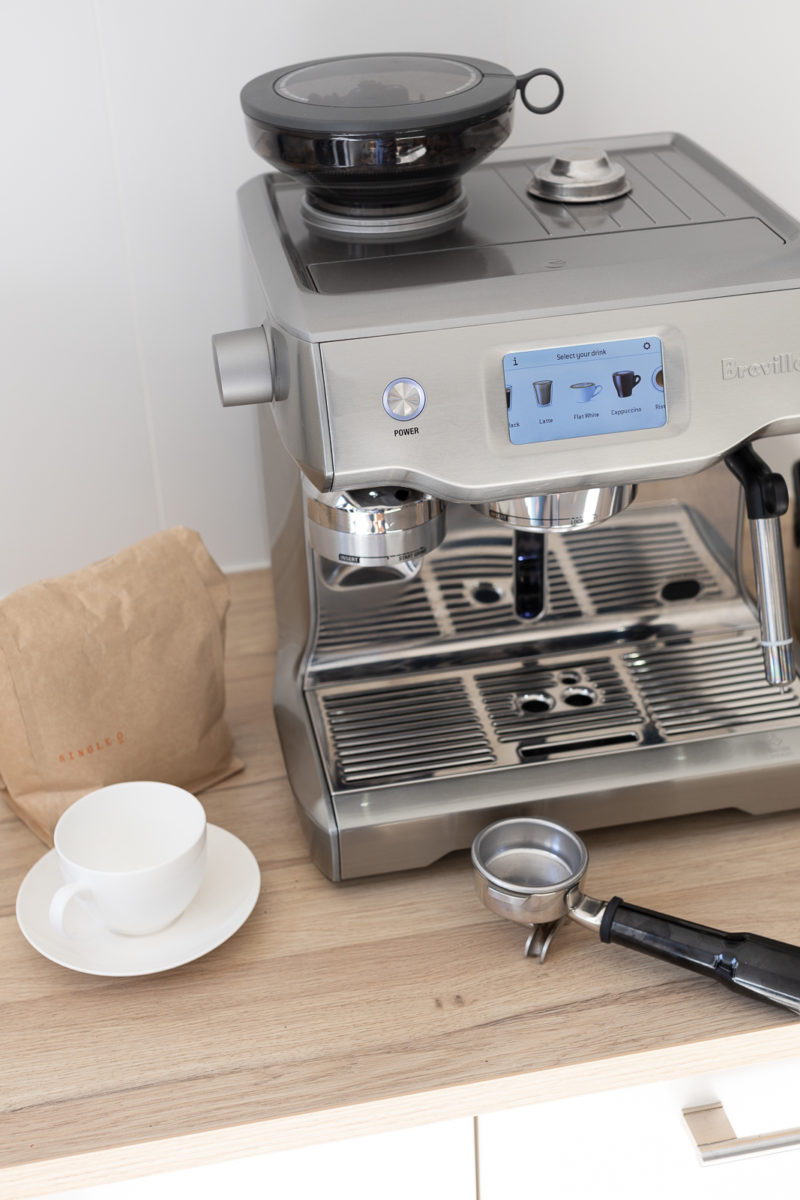 Some coffee machines are too blocky and bloated, some are a bit too gaudy or polished and look more like design features than functional coffee machines, and some are just plain old boring. The Breville Oracle Touch looks like it means business without being an obnoxious piece of kit that'd easily stretch your kitchen space thin.
Brushed metal finished surfaces look sturdy with mirror polish steel accents for an industrial look that manages to avoid the overly technical aesthetic and go for something seamless and approachable. It may seem like coffee machine design is a dime a dozen, but having the amount of features that the Breville Oracle Touch has, yet still coming up with something elegant is an impressive feat.
Also impressive is the fluid, intuitive touchscreen that can be easily navigated so you can select exactly the type of coffee you want. With the simple touch of an icon, the machine seems to know exactly what parameters to set so you end up with the ideal extraction. The touch screen operation simplifies the whole process and adds a visual element to it as well.
In my experience, there are only a very small handful of times where I felt like the machine was over extracting, which is the kind of minimal issue you'd want for a home coffee machine with such a punchy price tag.
Given this is a dual boiler espresso machine (so you can brew and steam milk simultaneously), you also have an 800 ml boiler for producing sufficient steam pressure and dialling in a desired milk texture in the provided 500 ml milk jug. The interesting thing about this jug is that the spout is angled in such a way that makes it easier to experiment with latte art while you're pouring some of that finely puffed, soft milk into your single or double shot of balanced tasting espresso. It's a small detail, but one that's important to highlight because it shows just how keen Breville's eye has been with the aim of making this the ultimate home coffee machine that'll appeal to the pros just as much as the amateurs.
---
---
The provided jug is, however, just a touch large for single serves of milk, with the wand's temperature monitoring band often sitting just above the milk line, which leads to inconsistent programmable milk temperature and ruins that goal of cafe quality coffee. Yes, the Breville Oracle Touch coffee machine automatically textures milk, but that doesn't mean what you get is always going to be great unless you've been exacting with your settings.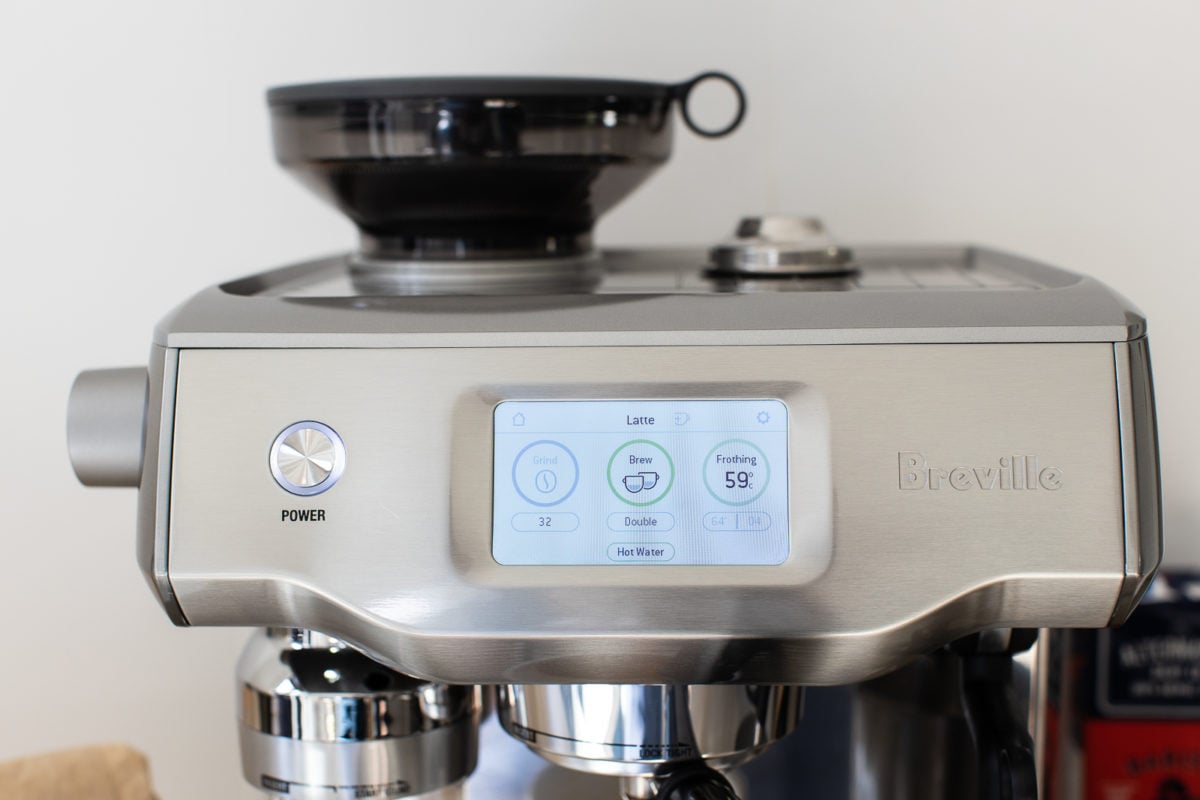 RELATED: 25 Best Coffee Shops In Melbourne
In terms of cleaning, Breville has also made taking care of the Oracle Touch quite easy. Simply wipe down the drip tray, empty the portafilter of unwanted coffee granules and make sure the steaming wand is relatively clean before you set it back to automatically run its own water to clean the funnel. Given maintenance is a major issue with some other coffee machine brands, Breville has clearly gone far firming up the company's reputation for dependable kitchen appliances that are built with the premium consumer in mind.
My favourite external design feature is the fact that the machine can prop itself up on three wheels so you can smoothly move it around should you need to rearrange your counter space without lifting the hulking device. It weighs around 10-15 kg, which isn't much but given the chunky format feels like too much of an effort to shift around. Suspending the machine on wheels and moving it around like it was a Rimowa suitcase is something I don't see on many home coffee machines.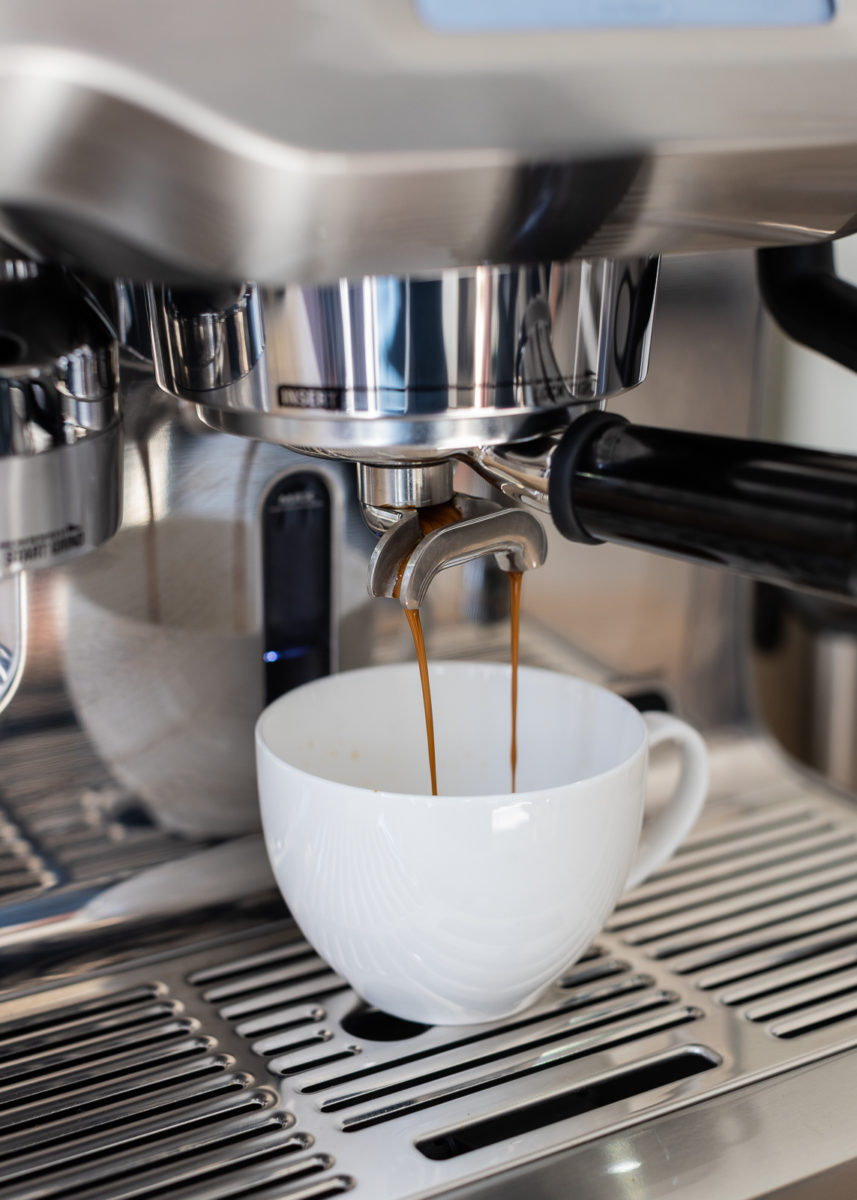 Internally, the design that best defines the Breville Oracle Touch is the exacting dual boiler mechanism. Each of the dual stainless steel boilers has a PID, which basically acts like a hypervigilant thermostat to control the temperature of the water, separately. Compare this to a single boiler, where you'd have to brew coffee and wait for the water to reach the ideal temperature for texturing the milk. What you get is a massive misalignment and poor results.
The basic idea here is to use optimal water pressure and pre-infusion to extract and expand the ground coffee for ideal results.
Having a PID boiler and a PID group head with digital temperature control means consistency. Consistency means coffee that won't have you running to your barista. Because at the end of the day, if you have a home machine but you still prefer barista-made coffee, then you're wasting money. Consider the opposite and the machine pays for itself after a year and then starts actually putting money back into your pocket.
The only slightly awkward thing about the Breville Oracle Touch design is the big kob on the side. You turn it and the knob adjusts the grind size quite reliably. There is a noticeable difference between levels, so it's not just a tokenistic feature. The problem is that the big knob feels too clunky and lethargic to spin. Not that it matters too much; you can adjust the grind size with the touchscreen as well, via a simple slider that skews either fine or coarse.
---
---
I should add that the removable water reservoir is massive. You can pour from the top of the machine and watch the level through the front, which gives you a clear view of just how big the capacity is. Even with the office making, between all of us, 4-5 cups of coffee per day we would very rarely need to re-fill twice in one week.
Function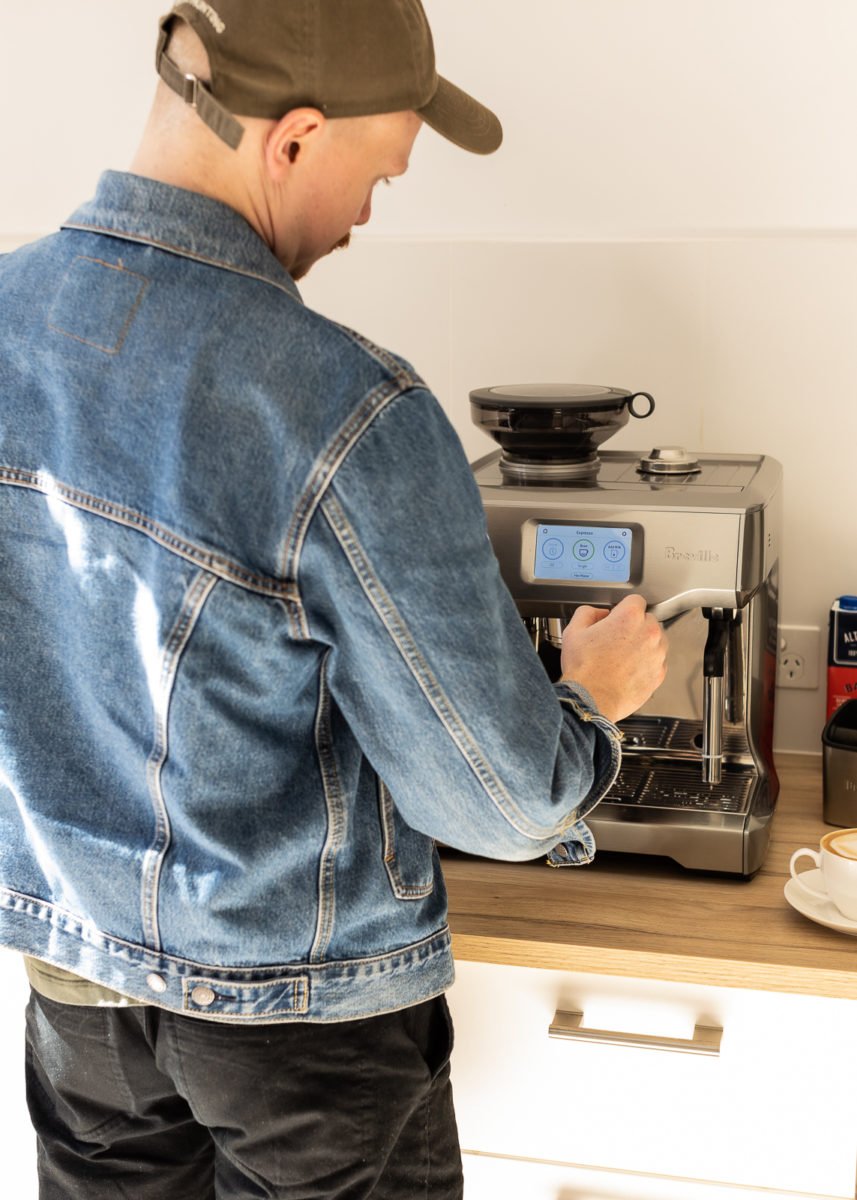 One thing I have found is that, as above, the milk frother can be a bit overzealous with steam. That's where the beauty of the Breville Oracle Touch comes into play – you can adjust the temperature and texture of the milk, and the machine responds accordingly. And yet the steaming wand is harder to dial in than say the grind size or the water temperature. It took several turns before I landed on a milk frother setting that actually gives me the kind of soft mouthful that I'd want from a milk coffee with rich sweet milk and enough texture that I could theoretically pour that barista quality silky micro if I was more talented – and patient – than I actually am.
This is because at the end of the steamer is a little thermometer that constantly measures the temperature of the milk with the idea of frothing it up, and heating it up, perfectly each time. It clearly doesn't work as well as it should, but there is one way you can help. Put the jug in the freeze for a good few minutes before filling it up with milk, because at the end of the day cold milk is always going to texture better when it's being heated up by the steam. Room temperature milk doesn't texture nearly as well.
Let's stick with the milk frothing for a bit because despite how overworked it is, it's still one of the most impressive features the Breville Oracle Touch holds compared to similarly priced coffee machines. What I've found with the steam wand is that it's smart enough to foam your milk as a function of whatever style of coffee you've selected. Start with a cappuccino and the wand will make sure the texture is light with a softer mouthfeel. Choose a flat white and the milk is noticeably thicker with a very dense texture – the preferred choice for Australian coffee drinkers.
The auto-tamping can be an issue, but that's only if you're overly concerned with the very small details. Perfectionists – of which I am not – might want to buy their own separate tamper to make sure the puck is as smooth as possible so water runs through consistently. But what the machine turns out each time is more or less going to lead to ideal extraction, as long as you make sure the grind is not too coarse, and not too fine.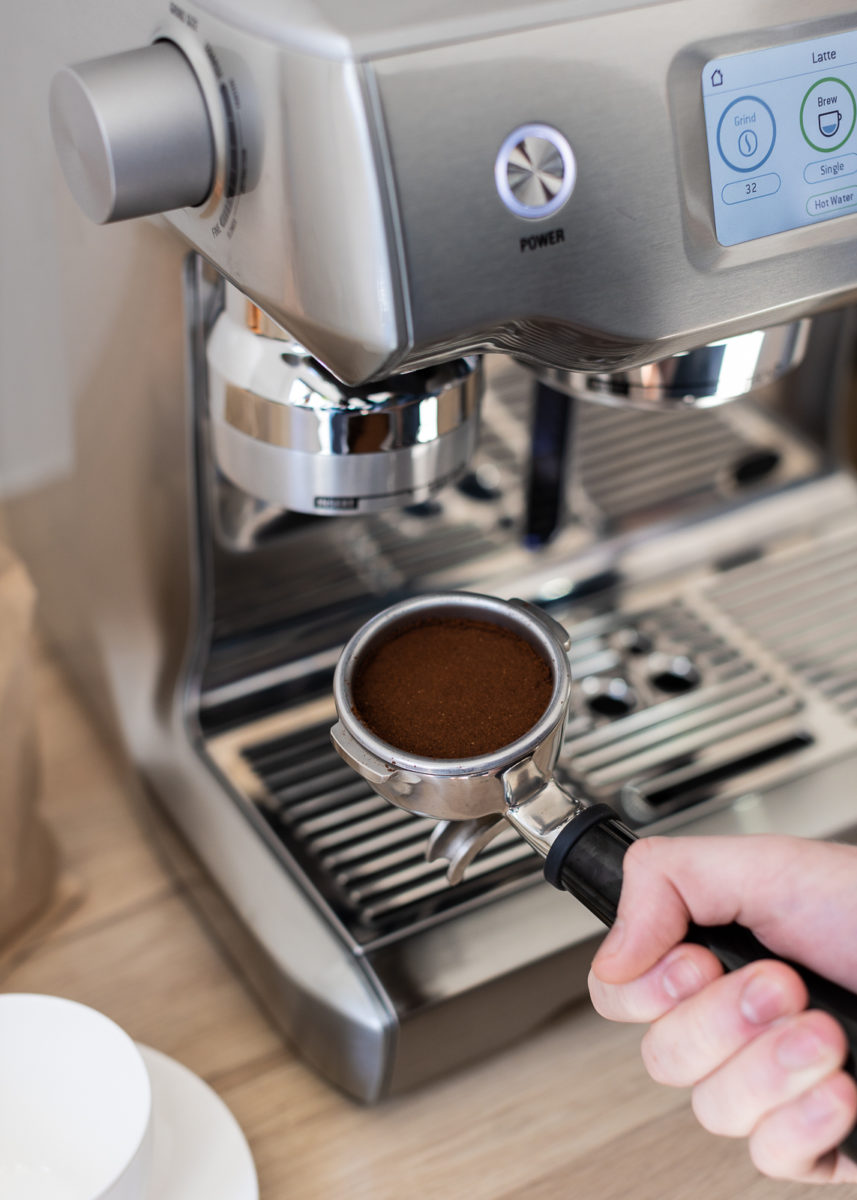 RELATED: The Ultimate Pour-Over Coffee Guide
That's the thing I like most about the Breville One Touch. You can play around with some of the finer details, but for the most part, the One Touch is instructional and guides you through making a coffee without you needing to crawl down the YouTube rabbit hole.
Breville has included smart technology so the machine is not only able to automatically dial in the optimal settings for each coffee you choose but also constantly monitor water temperature and make small adjustments accordingly.
---
---
I do wish Breville included programmable tamp pressure and pre-infusion as parameters you can also play around with, but clearly, the company wanted to make sure this was as intuitive a process as possible for a wider audience. Coffee snobs may be put off by this and run to their barista, but the rest of us won't mind at all.
Impression
Breville has set out to make the ultimate home coffee machine, and there's little doubt that they've succeeded here. Although it isn't without its smaller issues, the Breville Oracle Touch satisfies that sweet spot between commercial-grade and consumer-grade, focusing on consistency to keep you from craving cafe coffee each morning and burning through your coffee funds.
Given how easy it is to get a decent cup of coffee without any specialised knowledge, using the Breville Oracle Touch is a breeze. Everyone in our office has various levels of experience when it comes to coffee, but we can all use it just as easily and pump out results that, importantly, keep us in the office.
Value
You're looking at around $3,299 for a Breville Oracle Touch, and that's if you're looking for the best price. That's not a tag to consider lightly, but if you have multiple people using the coffee machine then it's no stretch to say the group saves more than $10 per day. That means that after one year, as mentioned above, the machine pays for itself. Beyond that year, the machine starts saving your household some money. The value here is a no-brainer, so it all just depends on how much the machine stops you from running to your local barista.
There aren't many machines that can do that. I've owned and played with many different coffee machines over the years, and while I'd use them for convenience, I'd still prefer coffee made at my local cafe. The Breville Oracle Touch is the closest a machine has come to changing that. I have no doubt that most people would feel the same.