Just a few months ago Scotland's BrewDog Craft Beer Company changed the game with their creation of the world's first craft beer hotel at their US-base in Ohio. Now, if you're headed to Ohio for a boozy holiday, you can get the party started a little earlier by boarding the world's first craft beer airline.
Brewdog Airlines is all about drinking great beers at high altitudes. To celebrate this, they even created a new brew that tastes better in the sky. In terms of creating a beer fit for altitude, Cathay Pacific did something similar when it launched an altitude-conscious bottled beer back in 2017. However, on Brewdog Airlines, that's only the first of many brew-focused touches.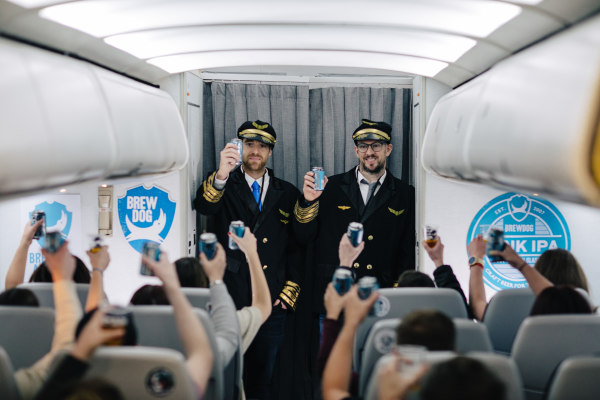 Passengers on Brewdog Airline's Boenig 767 will enjoy a beer tasting, tuck into a BrewDog-inspired menu paired with matching beers, watch the brewery's BrewDog Network, and receive a branded eye mask and blanket. Once the plane lands, there's an included tour of BrewDog's Columbus facility and a brewery-hopping day trip to Cincinnati. Staying at The Doghouse, the brewery's hotel, is an added fee.
---
---
The flight leaves from the UK to America on February 21, 2019, and then returns on February 25, 2019. If you're hoping to climb aboard and then stumble off, you'll need to be of BrewDog's Equity Punks, Brewdog's term for its shareholders. After becoming an Equit Punk, the costs will be £1,250 per person (or £2,250 for two people sharing a room). That said, the brewery is also giving away ten spots, so test your luck and see if you're set to spend the end of February drinking beers in Ohio.
RELATED: Inside the world's first craft beer hotel with a shower fridge for shower beers