Presented in Partnership with Dan Murphy's
Aussies and beer go together like a sausage in bread, and over the past few years, more and more of us beer lovers are moving past the traditional big name lager and seeking out brews that offer something a bit more interesting and flavoursome. To help sate this new found demand from Australian consumers, the number of craft breweries in Australia has more than doubled to over 400 with no signs of slowing down.
Having 400 breweries around the country however, means a lot of choice down at the local bottle-o, so to help beer drinkers choose the right beer for the right occasion, the team at Dan Murphy's this month launched their new Beer Discovery Guide. To help us get acquainted with the guide and see what one of these Aussie craft breweries was like, we were invited out to one of Melbourne's most exciting new breweries, Boatrocker, to spend a day on the bay fishing followed by a brewery tour with owner Matt Houghton. Tough life.
---
---
We were treated to a leisurely midday pickup from the Docklands (which may have hurt our chances with the fish) and hopped aboard a beautiful 35ft Mustang for a cruise down the Yarra, into the bay, and down to Mordialloc to pick up Matt for some fishing. Unfortunately the fish weren't biting but it was a great way to chat to Matt about the history of Boatrocker Brewery while sampling their classic Pale Ale, the 'Jungle Jive' Sour IPA (the first Australian brewed sour beer), and the raspberry flavoured 'Miss Pinky' which might just be the most refreshing beer we've ever had and definitely great for ladies looking to flip the top off a cold one.
After pulling in our rods (and throwing back our hefty haul), we jumped in the car for a quick 5 minute drive to from Mordialloc Pier to Boatrocker which is located in a warehouse down the road in Braeside.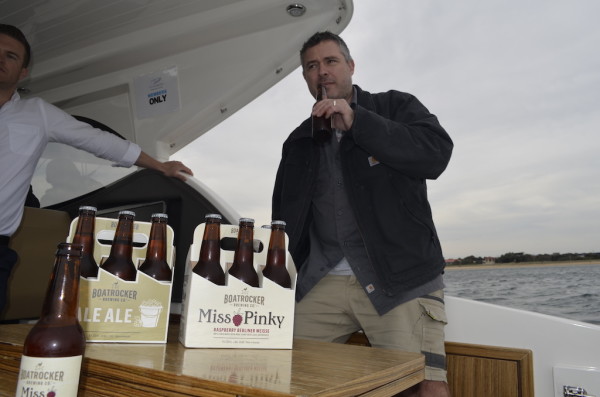 Started in 2009 by Matt Houghton and his wife Andrea, Boatrocker Brewery initially brewed under contract before opening their own brewing facility in 2013 and they've been expanding their operations ever since, with over 90,000 litres in production at any given time. A life long beer fan who based his backpacking trip through Europe in his twenties on beers that he wanted to try, you can tell that this is a true labour of love for Houghton whose eyes light up as he talks us through his journey from brewing dreams to the reality of starting and running a fledgling craft brewery.
Over charcuterie and oysters in the warehouse which also doubles as a bar/tasting room/event venue, we work our way through five of Boatrocker's stable of beers (they have 23 in total) consisting of
Pale Ale, 4.4% – which is very hoppy with some brilliant tropical fruit flavours and unlike almost any other pale ale we've tasted before.
Queen Alpha Pale Ale, 5.0% – An American style Pale Ale, Boatrocker's first brew and probably the most 'sessionable' of the range.
Hop Bomb I.P.A, 6.5% – Another American style brew, this one packs a punch with a heavy malt base and strong citrus flavours on every sip.
---
---
Pacific Stout, 7.5% – A few of these deceptively light stouts and you'd be well on your way. Very tropical for a stout and super tasty.
Miss Pinky, 3.4% – Truly one of the most unique beers we'd ever tasted, the Miss Pinky drinks more like a fizzy raspberry cocktail (Dan Murphy's #8 beer trend is beer cocktails) than a beer and definitely one to try on a hot Summer's day.
With 23 beers on tap at Boatrocker it would've been a large one had we got through them all, but with one brewery like this producing such a versatile and varied range, it's easy to understand how you can get lost amongst the choices; and that's exactly why Dan Murphy's have launched their Beer Discovery Guide.
The guide examines the current trends and predictions in the craft beer world, telling the stories behind the breweries, styles, and people that get your beer on to the shelves. Exploring the 11 top trends you'll quickly learn that limited edition brews and dessert beers (think espresso stout) are all the rage in the world of beer right now. If you're a little sick of your standard beers and looking to diversify, but don't know where to start – you're in luck. Pick up a copy online or at your local Dan Murphy's.