Are hard seltzers a revolution, or a fleeting alt-alcohol trend that'll fizzle as fast as vapourised cocktails? It might be tempting to side with the latter, but with the way this market is rolling along, it's looking like a major step forward for the "better for you" drinks movement. Labels like White Claw have swiftly become big players in the North American market, to the point where the alcoholic seltzer sector is expected to be a US$2.5 billion market as early as next year.
So, you've heard of White Claw – but what exactly is a hard seltzer?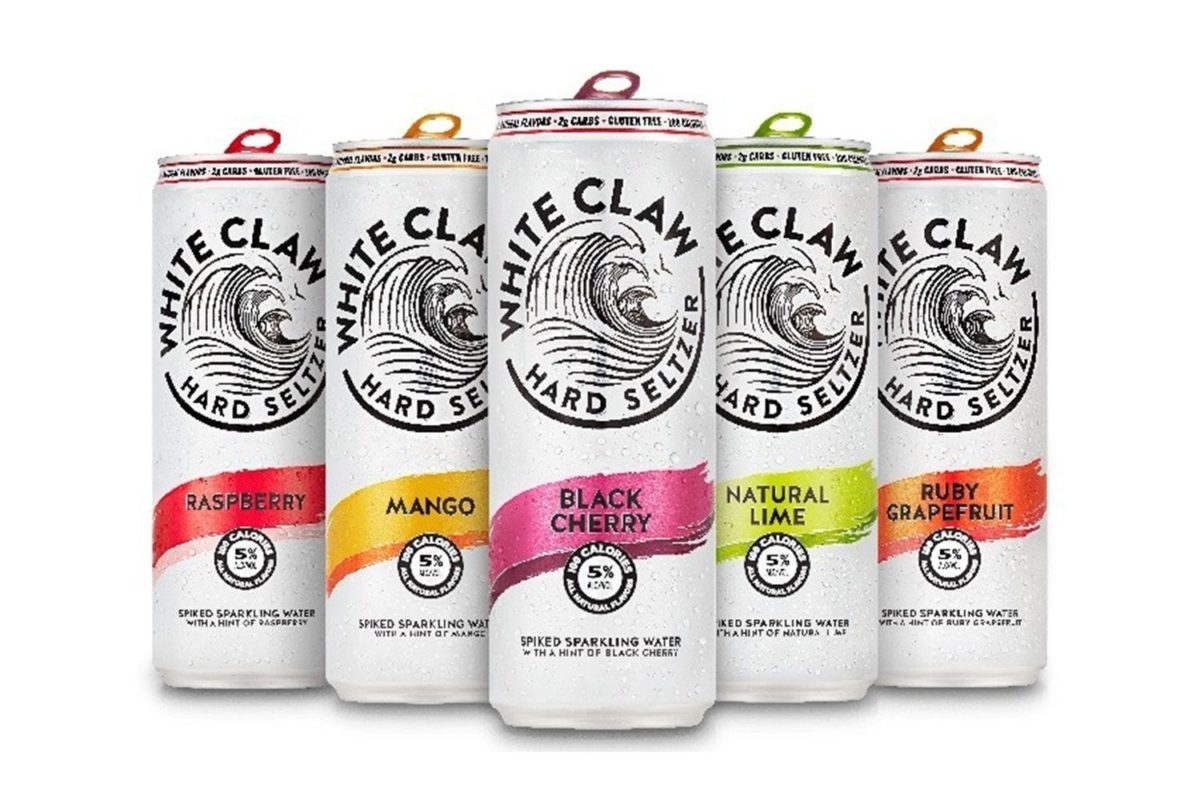 The answer is as simple as soda or sparkling water that's been spiked with alcohol and finished with (usually natural) fruit flavours. The alcoholic beverage used as a base can either be naturally occurring, thanks to natural fermentation, based on a brewing process or simply an old fashioned triple-distilled vodka. Whether it's made or mixed, hard seltzer fits into the health-conscious, 'sober curious' zeitgeist with a barely-there caloric density that typically ranges between 60-90 calories per can, hardly ever exceeding the 100 calorie barrier.
Increasingly, craft breweries are making the easy switch to supplement their existing ranges with a few hard seltzers. And it's a smart move, seeing as brewing a hard seltzer requires little equipment and usually doesn't require an additional license. The combination of little effort and the potential to grab a slice of a burgeoning market is evidently hard to resist, seeing as some of Australia's best craft breweries are already making their own seltzer, alongside the bigger names like Lion, Asahi, and Carlon & United Breweries. Hard Seltzer has even taken attention from light beer and craft beer production at times.
---
---
Popularity has been so swift in Australia that there is now a dedicated online store entirely dedicated to hard seltzer, simply called The Seltzer Store.
To give you a bit of perspective on just how big hard seltzer (sometimes classified as a flavored malt beverage) is getting, we've rounded up the brands currently available in Australia. As you can see below, there are plenty of choices already, with the multitude of seltzer labels swelling considerably since late 2019, all competing for your attention before summer hits.
Hard Seltzer Brands Available In Australia
---
Fellr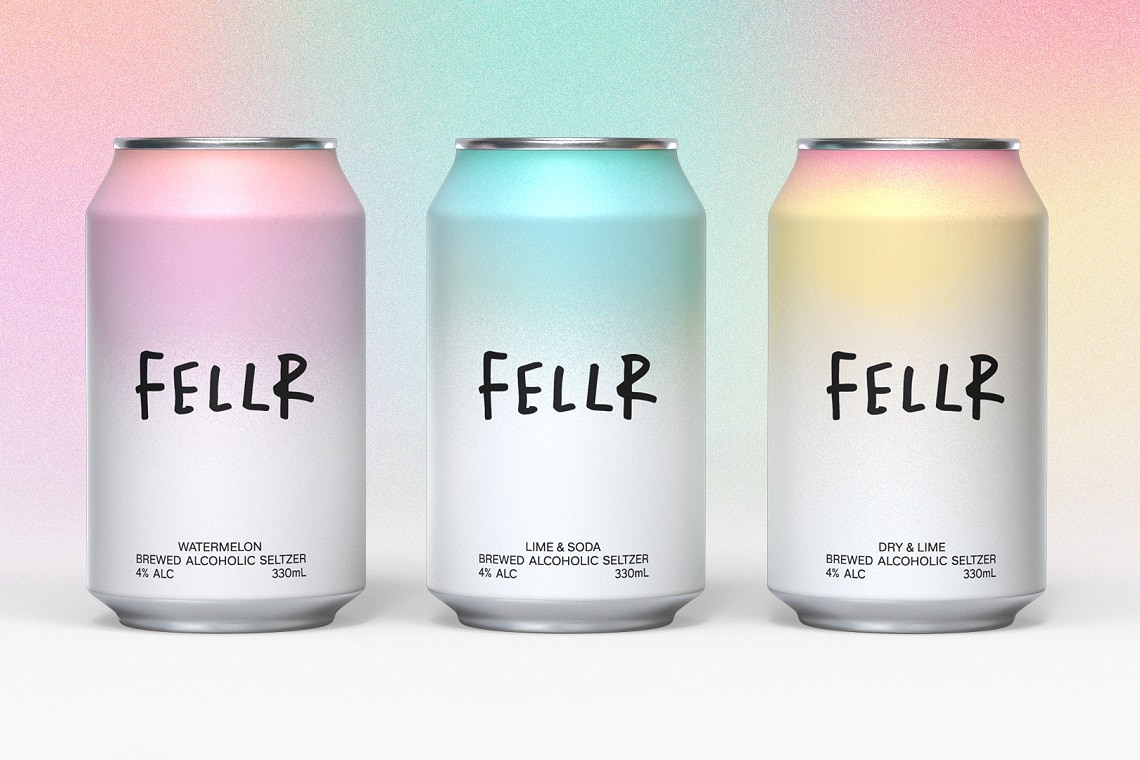 Although Fellr wasn't the first hard seltzer to hit the Australian market, it's one of the most recognisable (arguably just behind White Claw) and is firmly established as a favourite amongst drinkers. The brand was created by two Sydney blokes, Andy Skora and Will Morgan, who left their day jobs at the top of this year to tackle the pre-mix category hard. With a focus on simplicity, they've formulated one of the more refreshing and lighter seltzers around, brewed in Sydney at just 4 per cent ABV with a gluten free alcohol base and summer-twisted, coast-inspired flavours like watermelon, dry & lime, and lime & soda. At only 83 calories per can, it's got the 'small body, big taste' approach that defines this growing category, yet retains a rounded and full mouthfeel thanks to a custom developed brewing method.
---
Hard Fizz
A couple of mates from the Gold Coast and a handful of notable Aussies including Paul Fisher & Hayden Quinn sit behind the funky flavours of Hard Fizz, which has a massive presence on social media and is fast becoming one of the most recognised hard seltzer brands in the country. The caloric count sits stands somewhere in the middle of the crowd, with just 77 calories per can and the comforting "99% sugar free" and "gluten free" labels. All-natural flavours have been used to work up a three-can range which ranges from lemon & ginger, and orange & mango, to watermelon & berry. Get ya Friday Fizz on.
---
Belvedere Organic Infusions
While not technically a hard seltzer, the new Belvedere Organic Infusions is pretty much based on the same idea. It's a super-premium range of RTD vodka sodas with some botanical infusions in a clear attempt for the iconic Vodka brand to keep up with the increasing demand for natural and organic tinnies with fewer calories and little-to-no sugar.
The cans are made with certified organic Belvedere Polish rye vodka coupled with a tightly curated blend of organic fruit and botanical infusions with some sparkling water. Each can has less than 83 calories, with options so far including lemon & basil (with "a touch of elderflower"), blackberry & lemongrass (with "a hint of sage"), and pear & ginger (with "a drop of linden honey"). Chances are if you like your typical hard seltzer, you'll take to this new range immediately.
---
Desert Dry
Desert Dry is the newest seltzer in Australia, worked up by Lion's development team to bring something new and different to the growing market. The Vodka-based seltzer pays homage to the landscapes of Australia, presenting a darker, drier take on the seltzer craze with dry ginger ale and citrus for a refreshingly crisp palate. Each can of Desert Dry sits at 1.2 standard drinks and 4.5% ABV, which positions it as one of the best drinks you can have floating in the esky come summer.
---
---
---
Vacay
Vacay is the first seltzer brand in Australia to be worked up in collaboration with an award-winning sommelier – Alex Kirkwood – who was bought on-board by the new Sydney-based label to help develop the flavour profiles of raspberry, lime, Kakadu plum, and 'pure'. Brewed off a malt base, the alcoholic water has all artificial colours and preservatives removed before all-natural ingredients are infused and then carbonated, resulting in a seltzer that's vegan-friendly and less than 62 calories per can.
---
Quincy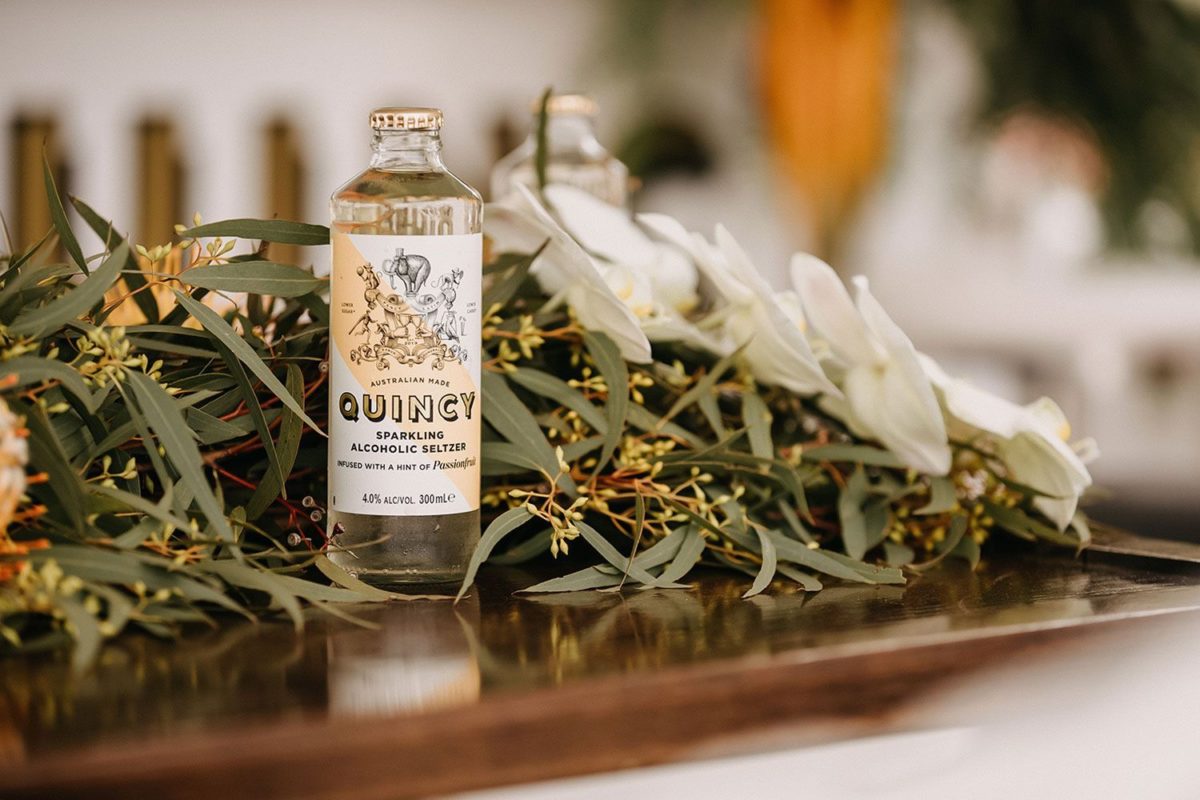 Quincy has been around since late last 2019 as Australia's first hard seltzer and one of the few to use fermented rice alcohol. Drinks giant Lion, which is owned by Japanese company Kirin, is the sizable shadow behind Quincy, giving it a considerable push into the market which is why you can easily find it at most Dan Murphy's, Liquorland and BSW stores across the country. Its low bitterness and crisp, dry finish sets this gluten-free seltzer apart and has already proven a summer favourite, keeping it simple with lime or passionfruit flavours.
---
Fizzer
Melbourne's Moon Dog brewery is no stranger to experimental releases, so it's not surprising to see them make the incremental leap to hard seltzer so quickly with Fizzer. And they've been quite playful with the pivot, deviating from seltzer's established flavour profiles and messing around with four standouts: strawberry & cream, Passiona-inspired tropical crush, piney limey (pineapple and lime, obviously), and the Weiss bar-like coco mango. If you're going to dive headfirst into a new and increasingly competitive drinks market, you might as well have a bit of fun with it, right?
---
Great White
The team at Margaret River brewery Cheeky Monkey have entered the ring with their own inventive to take on a hard seltzer, off-shooting to the standalone label Great White. Already stocked in places like Dan Murphy's and BWS, the gluten-free seltzer comes in either black cherry, raspberry, or orange & grapefruit, sitting at a saintly 97 calories per can.
---
Chirpy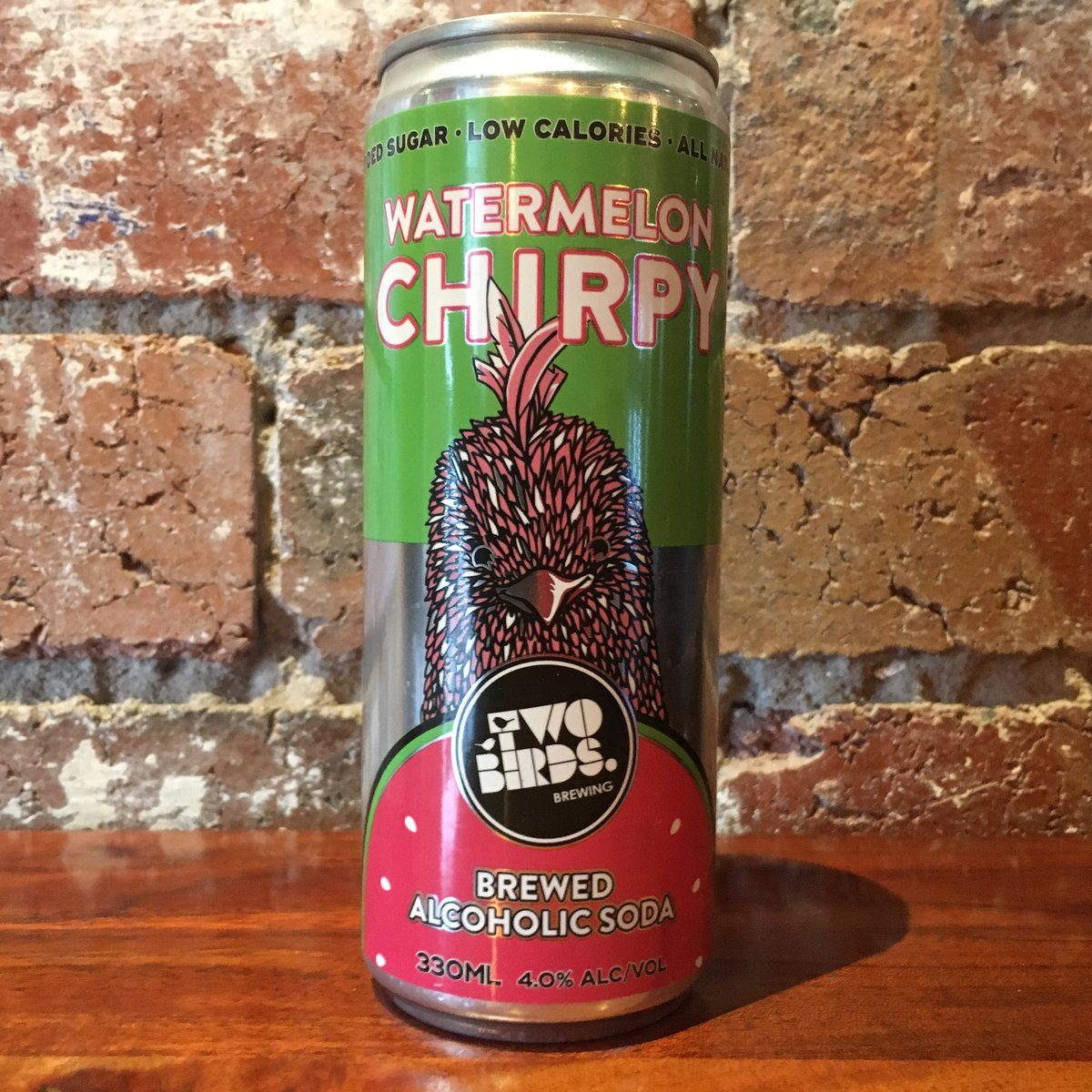 Two Birds is another Melbourne brewery that's sidestepped beer momentarily to try their hand at a seltzer. Although they've branded Chirpy as simply a soda in an effort to avoid the label which they obviously aren't rushing towards given that there's only one flavour: watermelon. Then again, this is a brewery known for their bold brews, like taco beer, so there'd be little surprise if they were to pump out a few more flavours before summer hits.
---
Saintly
You wouldn't expect a sugar-free, zero-carb drink from the same team behind the Australian push for infamously sweet Rekorderlig cider, yet seltzer continues to bring out the health-conscious in all. The newly created Saintly brand is easily found at any Dan Murphy's or BWS and comes in either mango, watermelon & mint, lime, or pink grapefruit flavours. Those first two flavours sit at what seems to be the standard ABV for seltzer, that being 4 per cent, but the latter two push things up to a bit to 6 per cent – if you want more of a buzz, go for those.
---
Good Tides
Asahi-owned Good Tides is designed a bit differently to most other seltzers available in Australia; instead of the brew method employed by most, this drink takes Australian sparkling water and spikes it with premium triple distilled Vodka O before adding a hint of natural fruit flavours. The zero-sugar seltzer is gearing up for its first Australian summer with both lemon & lime, and raspberry flavours, so if you would prefer a vodka-based seltzer, Good Tides should do the trick.
---
Hint
Kiwi brand Hint has hit Australian shores, bringing another seltzer based on triple-distilled vodka, though this time using New Zealand's famously crisp water from Bay of Plenty. Sitting at the low end of the calorie scale, with just 66 calories per can, the zero-sugar seltzer is carbon filtered and is distinguished by its crisp finish. Launching in Australia recently, Hint can be bought from Dan Murphy's with either citrus or watermelon vodka.
---
---
---
Lust Liquor
Straight from Sydney's Northern Beaches, Lust Liquor's modest range of vodka-based RTDs should be looking at a huge uptick come summer, thanks to their sole lime & soda seltzer. It's only slightly higher in ABV (4.2 per cent) than your average seltzer, naturally sweetened with zesty lime, a smooth citrus body, and clocks in at 88 calories per can.
---
Wildspirit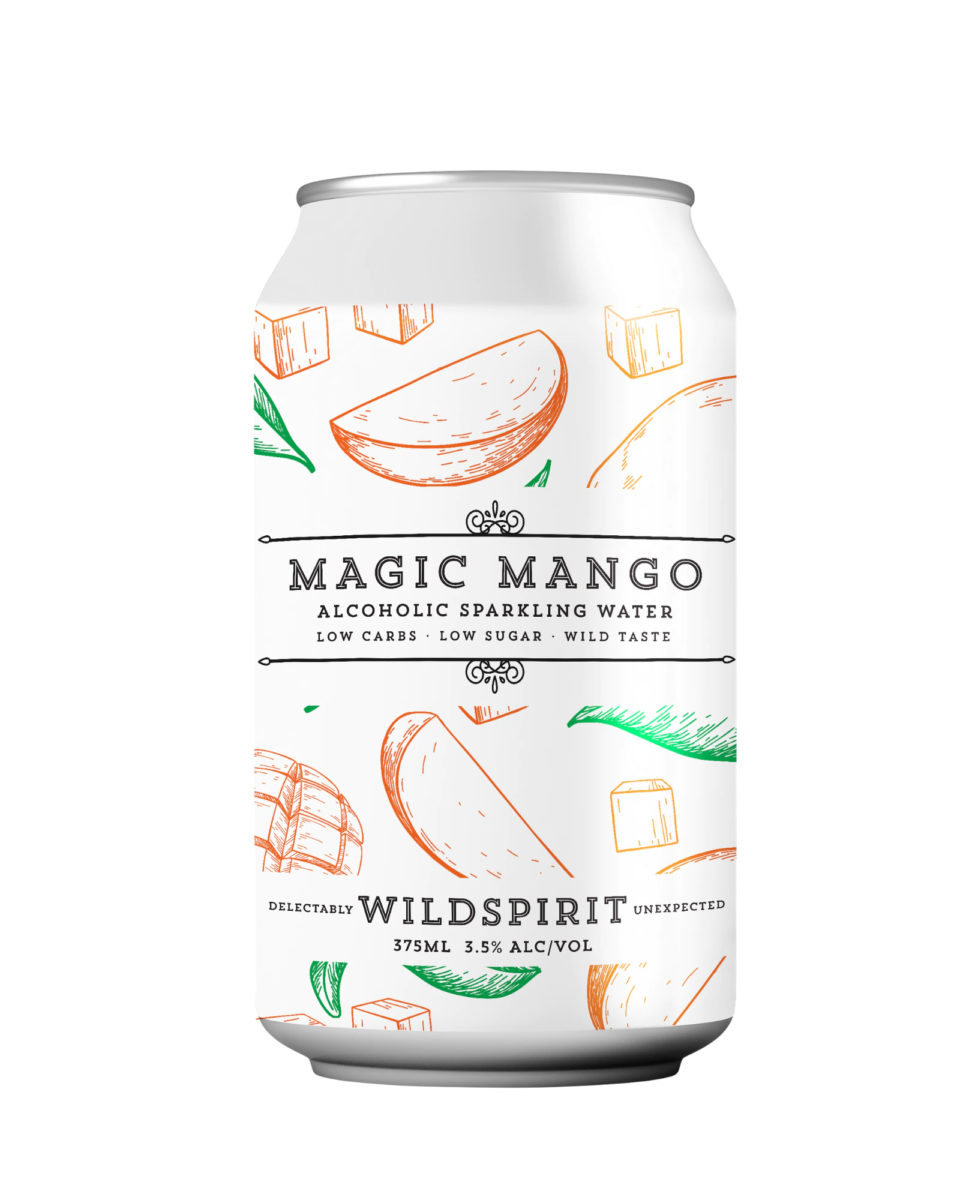 Part of Sydney's Dad & Dave's Brewery, Wildspirit Distilling Co. has put out a four-flavour range of hard seltzer, cutting a bit below the average alcohol content at 3.5 per cent ABV. They use a gluten free grain-spirit base to craft what they claim to be a superior tasting seltzer, spread across lime, passionfruit, mango, and raspberry flavours.
---
Smirnoff Seltzer
It was only a matter of time before Smirnoff jumped on the seltzer train, throwing their own hat in the ring with three varieties of the zero-sugar spiked water. The cans sit at a nice 5 per cent ABV and come in lime, passionfruit, or raspberry rosé flavours.

Most recently, the brand has introduced a mango flavour to its range and, like the others, sits at 70 calories for
---
Rainbird
With an ABV of between 6 and 8 per cent, the Woolworths-backed Rainbird from Pinnacle Drinks is one of the stronger seltzers on the market. Liberty Coast (also on this list) comes from the same family but sits at a much more modest alcohol content, with Rainbird clearly the pick for drinkers who like a stronger punch. The cans come in 'natural' or lemon-lime flavours, with each packing in 135 calories.
---
Liberty Coast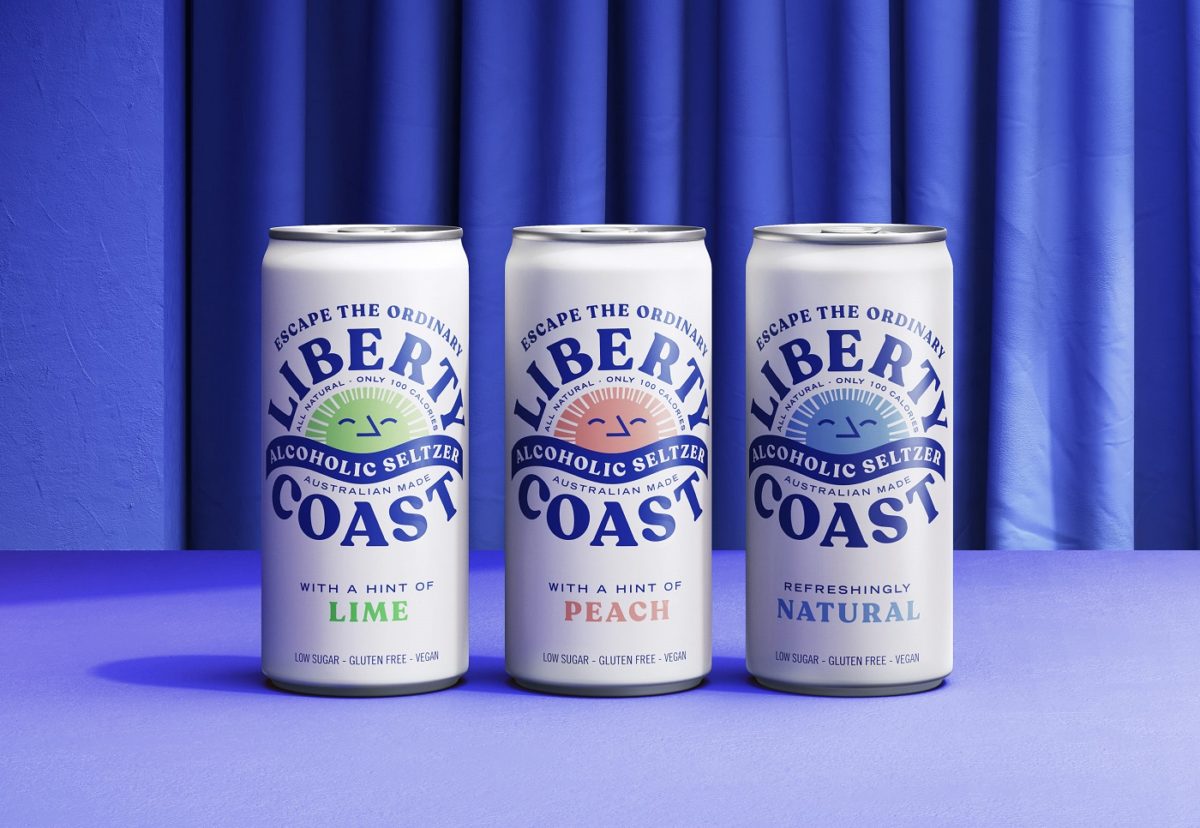 As with Rainbird above, Liberty Coast has the comfortable backing of Woolworths' Pinnacle Drinks, coming in at a sesh-friendly 3.5 per cent ABV and 63 calories per can. Clearly, Pinnacle want to fill out both ends of the seltzer spectrum, even if the flavour range is so far limited to just raspberry and lime.
---
Sunly
Trust Byron Bay favourite Stone & Wood to enter the seltzer market in style. Sunly's eye-catching slim cans in their sorghum-brewed range echo the quintessential flavours of Australia, spanning blood orange & grapefruit, native Davidson plum & berry, or ginger & lemon.
Given Stone & Wood has now been fully purchased by Lion, Sunly Seltzer also now falls under the same brand that produces the likes of Tooheys and XXXX.
---
White Claw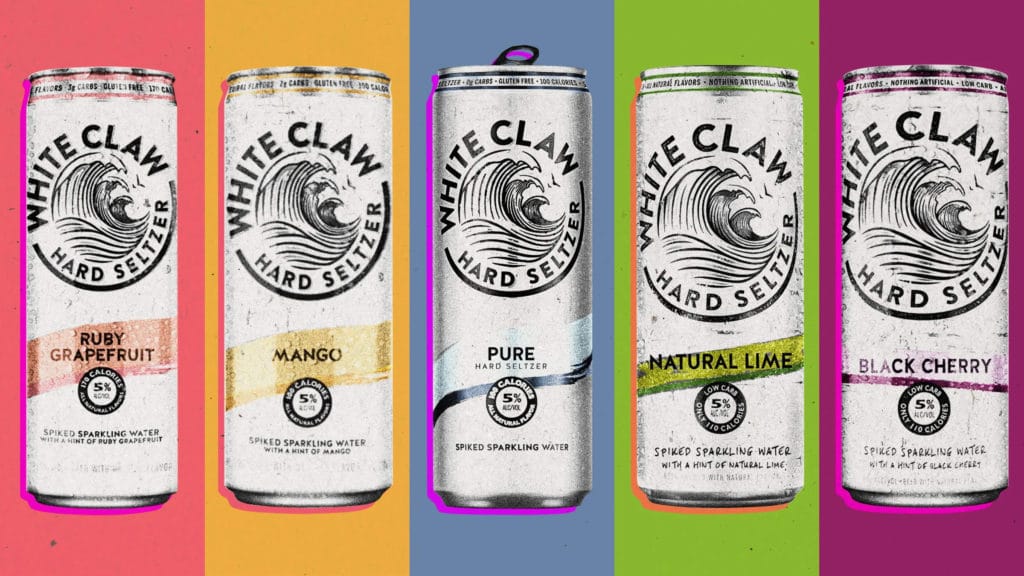 You can't have a hard seltzer revolution in Australia without the brand that started it all. We have Lion the thank for bringing the unstoppable White Claw to Australia, and oddly cutting the ABV down to 4.5 per cent – that's 0.5% less than in the US. There's little doubt White Claw will be just as successful over here though, with the first wave of release sporting popular flavours like ruby grapefruit, mango and natural lime. It shouldn't be long before the other White Claw flavours hit our shores too, bringing in watermelon, raspberry, tangerine, and black cherry.
---
---
---
'Ray
Straight out of Footscray, Hop Nation's 'Ray (named for the eternally hip Melbourne suburb) is as simple and straightforward as the drink's minimally designed cans. Cutting above average at 4.5 per cent ABV, Ray comes in three naturally brewed hard seltzer flavours, ranging from peach to watermelon & mint, and lemon & lime.
---
Actual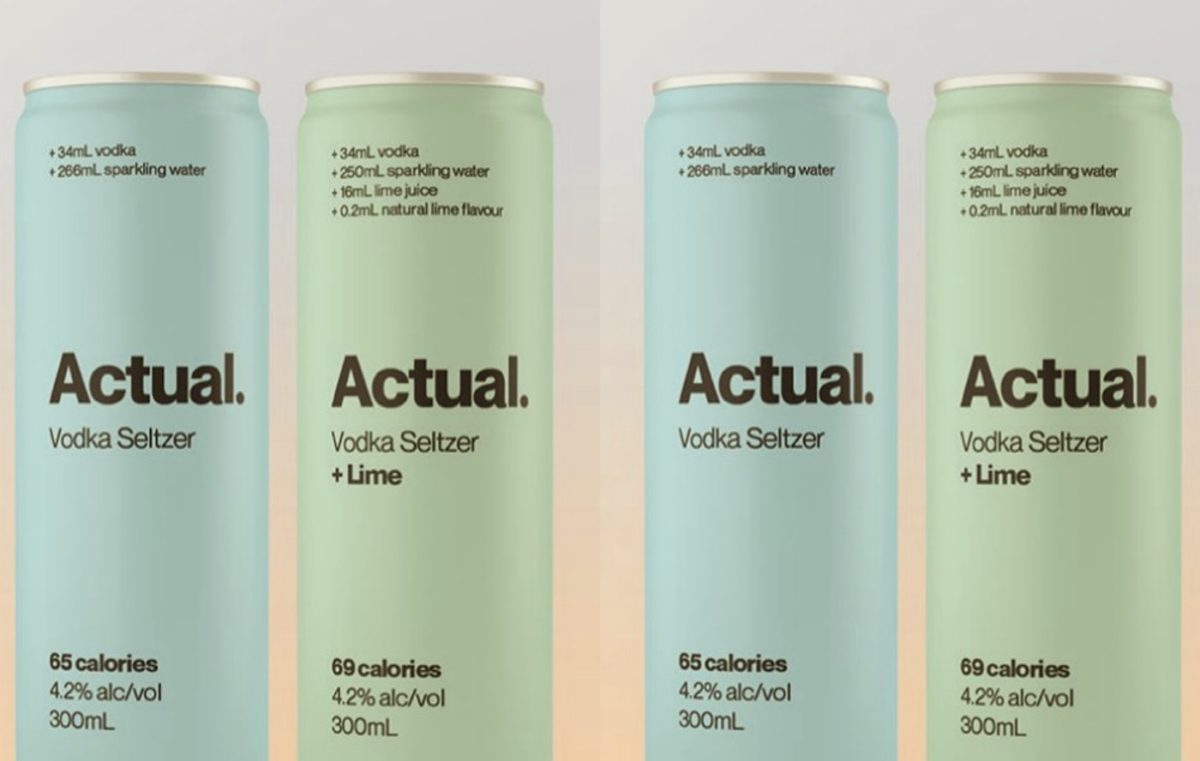 It'd be unexpected for Carlton & United Breweries not to throw themselves at such a high-octane market as hard seltzers. With Actual, they make a well-timed play ahead of summer, pushing out their take with just two flavours: pure (vodka and soda), and lime, with the latter using actual lime juice instead of just extract.
---
Tidal Artesian
A sub-brand of Mornington Peninsula's St Andrews Beach Brewery, Tidal Artesian, gets a bit slick with their interpretation of the hard seltzer craze, making use of pure water from an underground spring with yeast, cane sugar and malted barley. The sharp focus on purity comes across in just two flavours, either yuzu citrus, or lime.
---
Sips
Melbourne-based independent water brand Sips Sparkling has made the leap to triple-distilled vodka-based hard seltzer with 'Sips', planting roots firmly in the tastes of Australia – much like Stone & Wood have – with four flavour-forward varieties: lemon & lemon myrtle, pink grapefruit & Davidson plum, raspberry & riberry, and cucumber with mint & strawberry gum. It's definitely a major step away from the standard flavours of watermelon and lime, offering something a bit different (and much fruitier), to the scene.
---
Delvi
Delvi claims their hard seltzer is 'tree to tongue' in a nod to the farm-to-fork movement, focusing on locally farmed and organic ingredients used with pure Australian waters. It's certainly a way to stand out, crafted into the two distinct flavours of either blood orange, or desert lime.
---
Lost Palms
As one of the only hard seltzers coming down from the sun-soaked Queensland, Lost Palms have put forth a namesake entry that's brewed from rice and blended with real fruit. At 4.5 per cent ABV, the spiked seltzer sticks to the tried-and-tested flavours of peach, and watermelon.
---
Coast
Representing Victoria's coastal town of Torquay, Coast rolls out of Blackman's Brewery, sticking close to the classic profiles with watermelon, blood orange, lime, and cucumber & mint flavours. Physical stockists are limited to Victoria at the moment, but these gorgeous looking cans can be bought online directly as four and sixteen packs, or in a mixed pack.
---
NoSh
Another one from the Victoria's Surf Coast, NoSh Boozy Seltzer comes from Torquay Beverage Company and has already been given a considerable boost in reach from a partnership with Woolworths. The attention-grabbing brand has only two flavours so far, focused on fruit with either peach, or mango & pineapple, but both contain a comfortable 5 per cent ABV.
---
---
---
Somma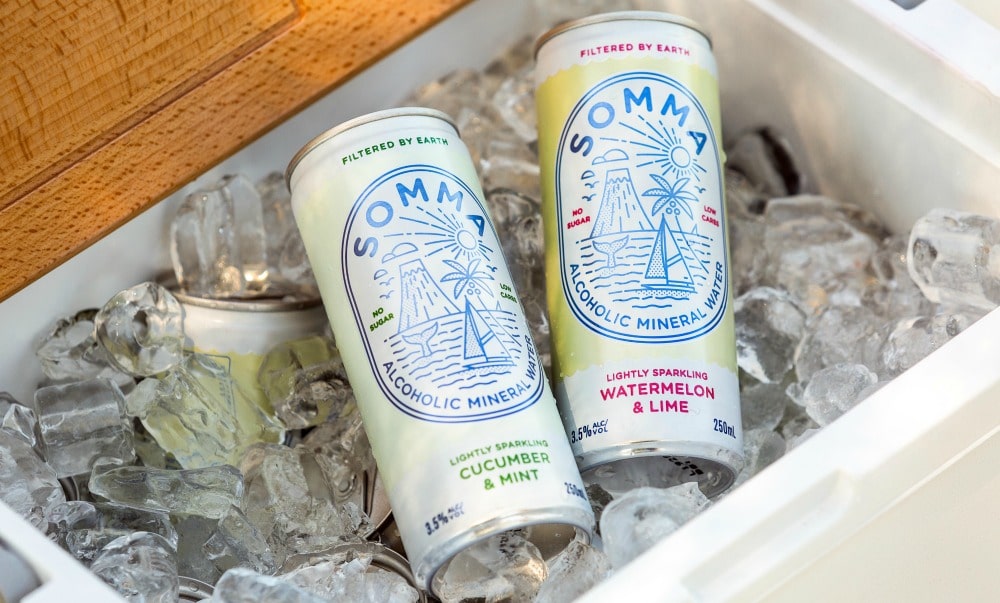 Like Quincy, Somma got in early, hitting Australian shores late 2019 with the backing of Coles. Marketed as alcoholic sparkling water, without the official hard seltzer label, the vegan-friendly drink uses water drawn from an extinct volcano in regional Victoria and comes in just two flavours: cucumber & mint, and watermelon & lime.
---
Splash
Small-batch hard seltzer Splash launched earlier this year from co-founders Jeff Gobbels and Neighbours actor Olympia Valance, committed to the artisanal approach and aiming to offer the cleanest vodka-based RTD on the scene. Just two flavours come from this young brand: raspberry, and lime.
---
Sunny Eddy
Born on Sydney's Northern Beaches, Sunny Eddy is a triple distilled gin-based seltzer that builds with sparkling water and a "hint of real fruit flavour". You're looking at less than 1g carbs, 0 sugar, and 76 calories across three vibrant flavours – crisp pink apple, lime & cucumber, and blood orange & grapefruit.
---
Brookvale Union's Boozy Seltzer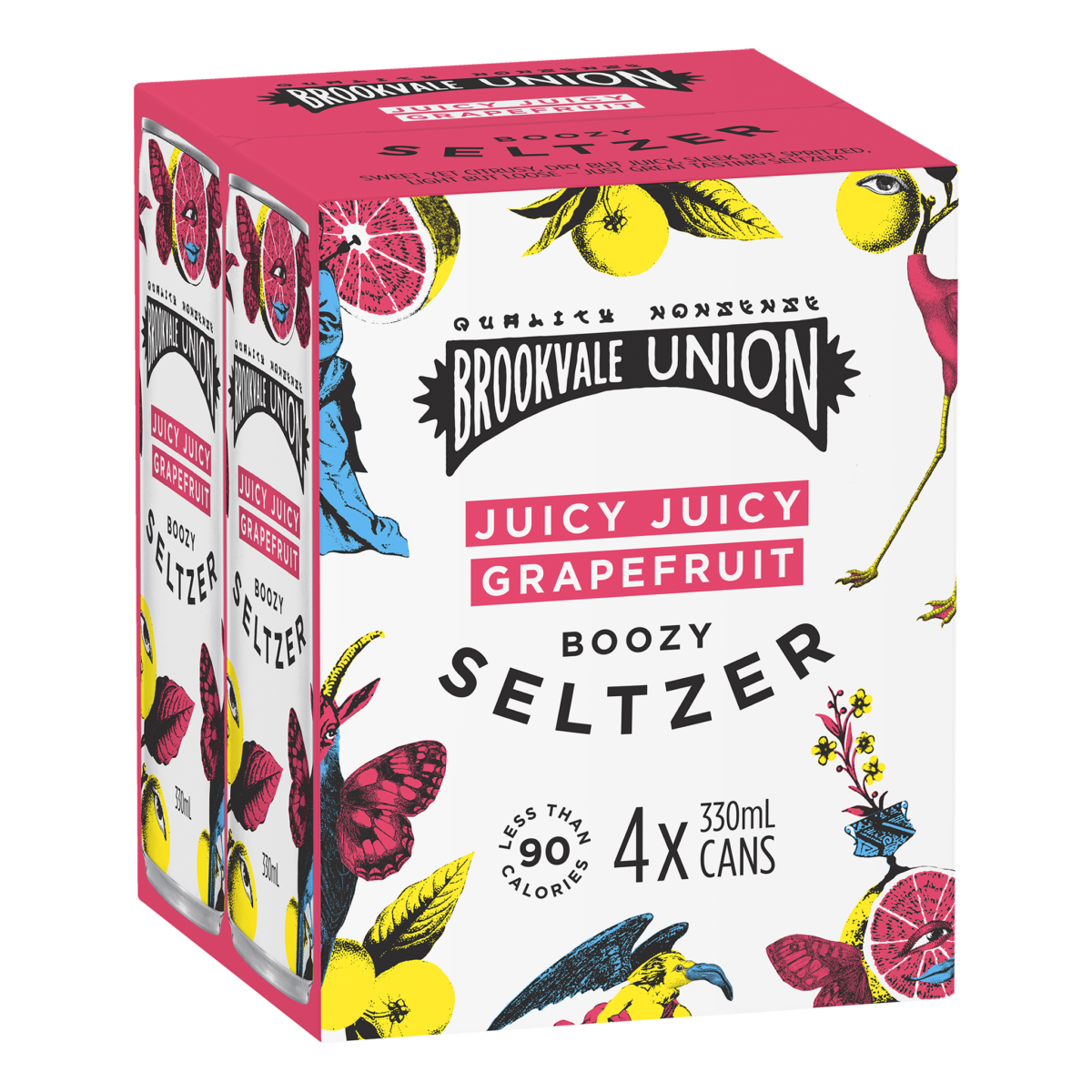 Another one that can be traced to Carlton & United Breweries, Brookvale Union enter the market by adding Boozy Seltzer to their range, landing on the flavours of lime & orange bitters, and juicy grapefruit.
---
ARC
Based along the Great Ocean Road, ARC is a newly launched hard seltzer brand was started by uni mates Thomas Hogan and Jeremy Irwin, joining the Australian-only approach, employed by the likes of Sips and Delvi, by crafting flavours with native ingredients. Here you've got mango & finger lime, and pink grapefruit & lemon myrtle, waving the flag high for the country's growing seltzer market.
---
Staple
While not officially a seltzer, Sydney born Staple Drinks uses the concept of the classic RTD, but with a healthy, convenient twist. Putting the staple mixes you know and love into a can (kicking off with Vodka, Lime & Soda and Gin, Soda & Cucumber incoming), the boys are hell-bent on delivering a quality, with real juice and the finest raw ingredients used to make the most delicious beverage possible.
---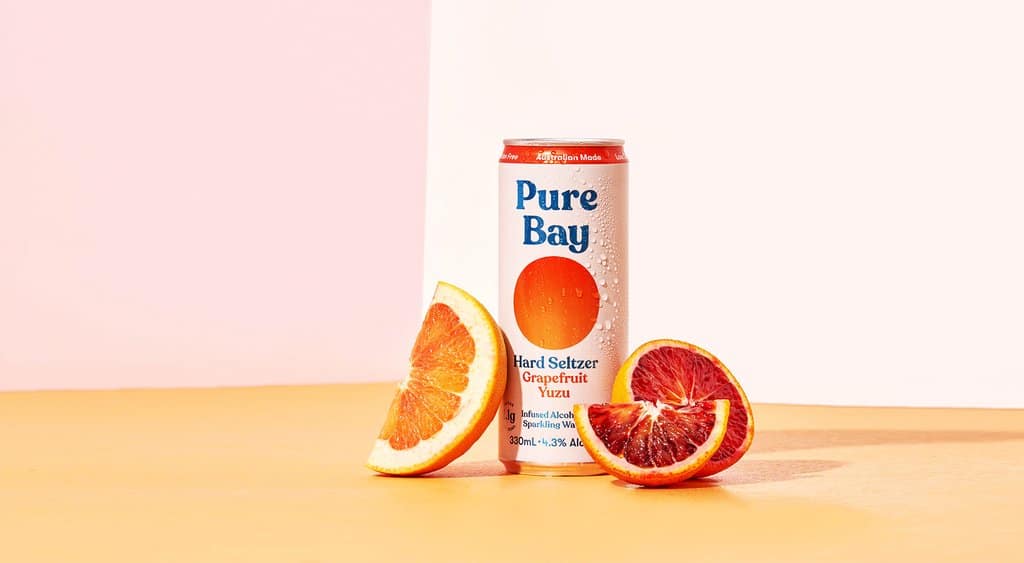 Pure Bay Hard Seltzer
Coming straight from Melbourne is Pure Bay Hard Seltzer, one of the newest kids on the block with a sharp focus on freshness. The refreshing, crispy mouthfeel is a result of the naturally brewed rice fermentation process, which is capped with adding vodka to the all-natural flavours which, for now, include Lemon Lime and Yuzu Grapefruit. Currently, you can grab these online or from BWS stores across Australia for $22 per four-pack of 330ml cans, which pack 4.3% ABV and 99 calories each.
---
Three Peaks Seltzer
Sydney born Three Peaks Seltzer claims to be "Australia's first *true* hard seltzer", inspired by cool, crisp mountain air with five flavours: grapefruit, raspberry, passion fruit, lime, and watermelon. Made with purified seltzer water, alcohol extracted from natural products, and natural fruit flavouring, Three Peaks sits at 100 calories per can with a 4.3% ABV.
---
---
---
Basic Babe
If you're looking for a plant-based hard seltzer give Basic Babe a crack. Using carb-free alcohol and natural fruit flavours, the brand packs in just 55 calories per can. You can take your pick from three flavours: watermelon, every berry, and ginger & lime.
---
Pals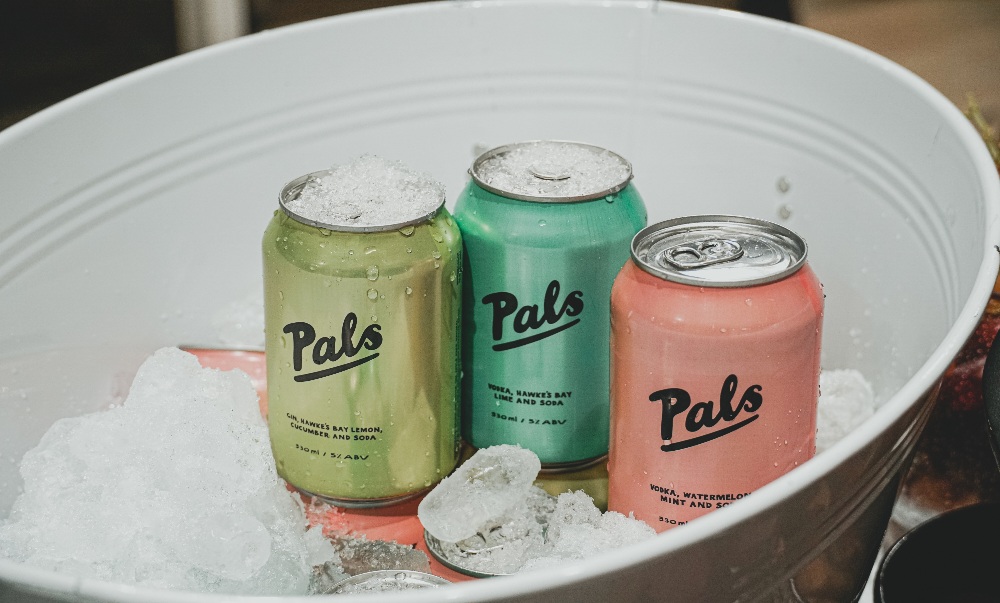 Pals is one of the newest brands on the market when it comes to Australian seltzers and low carb ready-to-drink mixes. Although these actually come from across the ditch, made in New Zealand's Hawke's Bay and benefiting for the top-quality produce available in the region. With only 29 calories per 100ml (cans are 330ml each), Pals is in a good place to compete with brands like White Claw and Fellr, especially with a generous range of distinctive flavours. The selection spans a simple vodka with Hawke's Bay lime and soda, the popular vodka, watermelon, mint and soda, American Whisky with Hawke's Bay apple and soda, and more.
---
Wavee
Although Wavee only offers a strawberry and a mango flavour of their hard seltzer so far, this Australian seltzer brand is surely going places. There's little doubt their range will expand sooner or later, but for now what they've got tastes quite good. And it's got a nice bit of balance too, with only 90 calories per can at 4.5% ABV.
5PM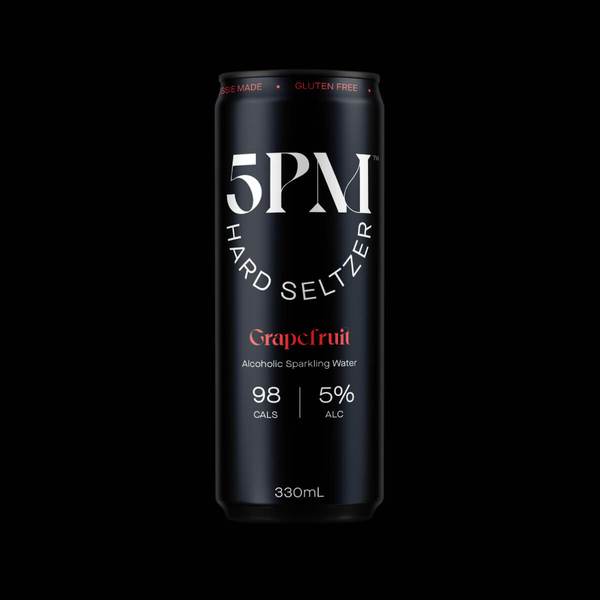 5PM Hard Seltzer was launched back in December and has been going strong with just 3 flavours – watermelon, grapefruit, and berry pomegranate. Each can contains 98 calories and sits at 5% ABV, plus they stick out amongst the other hard seltzers on the shelf at your local BWS or Dan Murphy's, simply because the cans are midnight black as opposed to bright and colour label that's become somewhat synonymous with hard seltzer.
---
Hard Seltzer In Australia – Frequently Asked Questions
What goes into a hard seltzer?
Hard seltzer is usually built with vodka as the base, although sometimes the alcohol comes from fermented cane sugar with flavours and carbonation added after the process.
What is the most popular hard seltzer brand in Australia?
While there are plenty of hard seltzer brands on the market now, the most popular so far include White Claw, Vacay, Smirnoff, and Fellr.
Can you get a hangover from hard seltzers?
In addition to just being lighter for the body, with less sugars than RTDs and less carbohydrates than beer, hard seltzer also hydrates much better than most alcoholic drinks on the market. They also contain a very low concentration cogeners, a chemical byproduct of fermentation that can contribute to hangovers, compared to dark spirits and red wine.